For the Miami Heat to beat the San Antonio Spurs in the 2013 NBA Finals, LeBron James must continue to make his teammates better.
Can MIA win the NBA Finals if LBJ scores under 20 PPG?
That's exactly what he did in a must-win Game 2, and Miami exited AmericanAirlines Arena with a decisive 103-84 victory. He finished with just 17 points on 7-of-17 shooting, but his game-high seven assists—and pick-setting performance—fueled the win.
"I've done more and lost before," said James after his 18-point, 18-rebound, 10-assist outing in the Heat's 92-88 Game 1 loss, according to the Associated Press via ESPN.
He explained that shouldering the scoring load—like he did against the Orlando Magic in the 2009 Eastern Conference Finals—doesn't directly translate to wins. Complete team efforts do.
Miami's team effort in Game 1 was pitiful. Chris Bosh finished 6-of-16 from the field and Dwyane Wade shot 2-of-7 in the second half. No Heat outside the Big Three converted more than three field goals in the contest.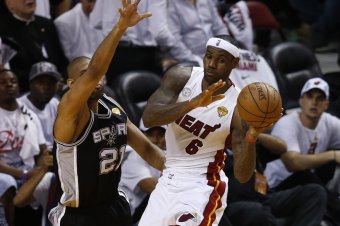 Derick E. Hingle-USA TODAY Sport
If Wade, Bosh and company didn't improve, James would be forced to shoulder the scoring load if Miami wanted to avoid a sweep. Determined to prevent any of that from happening, James put his teammates in position to succeed, and they did just that on Sunday night.
Mario Chalmers shot 6-of-12 for 19 points, Bosh 6-of-10 for 12 and Ray Allen 3-of-5 for 13, proving to be the difference in the outcome. Mike Miller and Chris "Birdman" Anderson chipped in nine points apiece off the bench.
James played the role of distributor to perfection and said postgame that he will continue to strive to do so, as Brian Windhorst of ESPN reported:
I already know what we have here. I don't really read into it of what people want more of me or whatever the case may be. I will continue to find my shooters, if they're open. And I will continue to try to put pressure on the defense. If I draw two, I'll find my shooters. I have confidence they're going to knock them down.
The Chalmers-James pick-and-roll combo combined 18 points on 7-of-9 shooting, according to ESPN.
James also passed up numerous open shots in the second half. Kawhi Leonard and Danny Green backed off and created several feet of space between them and James, refusing to let the MVP attack the rim.
The strategy failed, as it provided James with enough time to set up his teammates with even better looks.
If James would've flipped the switch to superhero mode and put the team on his back on Sunday—win or loss—his supporting cast would be entering Game 3 still cold from their Game 1 woes. Due to his selflessness, they'll now enter Game 3 hot.
James' performance as a facilitator saved the series. If he continues to spark his teammates, the Heat will win their second straight NBA championship.
David Daniels is a breaking news writer at Bleacher Report and news editor at Wade-O Radio.