For the first time since 1979, two Original Six behemoths will battle in the Stanley Cup Final, but which team will be victorious in Game 1? The Boston Bruins are coming off an unprecedented sweep of the stacked Pittsburgh Penguins, and the Chicago Blackhawks dethroned the Los Angeles Kings.
The Bruins were considered the underdog against the Penguins, but they dominated, battered and de-feathered the Penguins in four short games.
The Blackhawks have been a favorite for greatness all year long. They are the Presidents' Trophy winner, they just dethroned the reigning Stanley Cup champs and they have a pretty good roster.
None of this matters heading into Game 1 because a lucky bounce can ultimately change a game and the fate of a series. Wednesday night will be a night for hockey, and it should be a great battle between two teams with different strengths.
Viewing Info
Time: Wednesday, June 12 at 8 p.m. ET
Where: United Center, Chicago
Series: Tied at 0-0
TV: NBC


Key Storyline: Battle of Strengths, Bruins' Defense vs. Blackhawks' Offense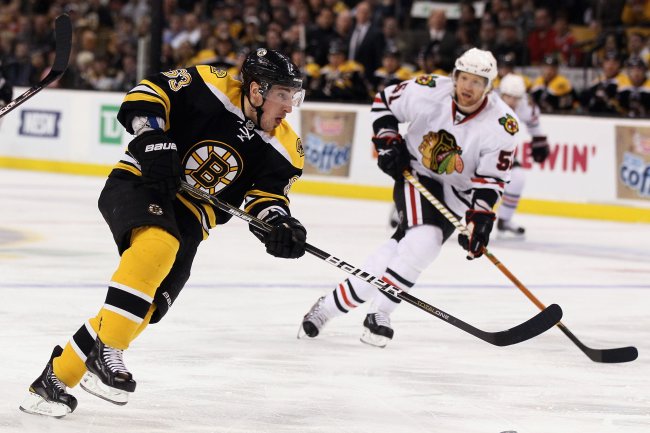 Elsa/Getty Images
The Blackhawks have an elite offense led by Patrick Sharp, Marian Hossa, Patrick Kane and Jonathan Toews. Each has a versatile skill set allows them to take control of a game in a positive way.
Against the Los Angeles Kings the Blackhawks' offense was a difference-maker, and the Bruins' defense will have the tough task of shutting them down. Or will it be easy?
No offense to the Blackhawks, but the Bruins' defense and two-way forwards just rendered the NHL's best offense useless in four consecutive games. While the Blackhawks' offense is impressive, it was weaker than the Penguins for most of the playoffs.
Sidney Crosby, Evgeni Malkin, James Neal, Jarome Iginla, Chris Kunitz, Brandon Sutter and Pascal Dupuis were non-factors against the Bruins, and the same could happen to the Blackhawks.
The Bruins have a blueprint on how to shut down a star-studded offense, and this is a storyline that will be talked about all series long.
Key Matchup: Zdeno Chara vs. Blackhawks' Top Line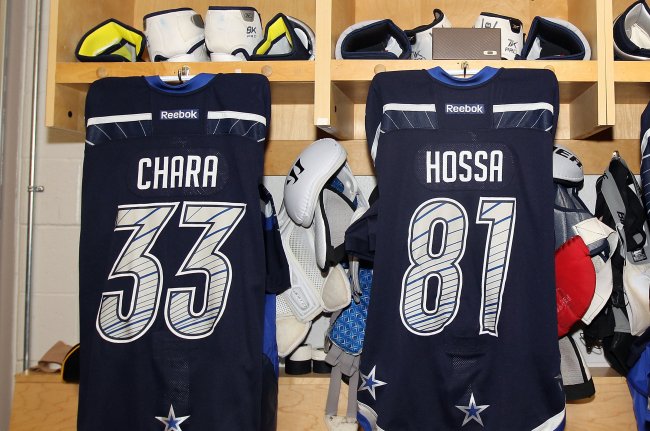 Christian Petersen/Getty Images
Zdeno Chara was a thorn in the side of the Penguins, and he made some amazing stops with only seconds remaining in Game 4 of the Eastern Conference Final. During this series Joel Quenneville can get creative, because he has multiple forwards he can throw out against the Bruins' top defense pairing.
Claude Julien will likely repeat what he did in Eastern Conference Final by using Patrice Bergeron against secondary threats, and this could be a strategy the Bruins use against the Blackhawks' many threats.
Chara was able to shut down two of the NHL's top players in Evgeni Malkin and Sidney Crosby, so he should be able to handle whatever the Blackhawks throw at him.
Injury Report (via TSN)
Boston Bruins
Gregory Campbell out for remainder of playoffs with broken leg.
Chicago Blackhawks
No injuries.
Bruins' Projected Lineup

Forwards
Line 1: Brad Marchand, Patrice Bergeron, Jaromir Jagr
Line 2: Milan Lucic, David Krejci, Nathan Horton
Line 3: Chris Kelley, Rich Peverley, Tyler Seguin
Line 4: Daniel Paille, Kaspars Daugavins, Shawn Thornton
What goaltender would you rather have on your team?
Defensemen
Line 1: Zdeno Chara, Dennis Seidenberg
Line 2: Andrew Ference, Johnny Boychuk
Line 3: Torey Krug, Adam McQuaid
Goaltenders
Tuukka Rask
Anton Khudobin
Blackhawks' Projected Lineup
Wayne Gretzky was the last player before Patrick Kane to score a hat trick, clinching a Stanley Cup Final berth. (via @EliasSports)

— SportsCenter (@SportsCenter) June 9, 2013
Forwards
Line 1: Bryan Bickell, Jonathan Toews, Patrick Kane
Line 2: Patrick Sharp, Michal Handzus, Marian Hossa
Line 3: Brandon Saad, Marcus Kruger, Michael Frolik
Line 4: Andrew Shaw, Dave Bolland, Viktor Stalberg
Defensemen
Line 1: Duncan Keith, Brent Seabrook
Line 2: Niklas Hjalmarsson, Johnny Oduya
Line 3: Michal Rozsival, Nick Leddy
Goaltenders
Corey Crawford
Ray Emery
Blackhawks Will Win If...
The Blackhawks take Game 1 of the Stanley Cup Final if they keep playing their game. It is a simple concept but they have been a streaky team throughout the playoffs. Since trailing 3-1 against the Red Wings the Blackhawks have won seven of their last eight.
The Bruins have a number of two-way players who will generate offense from playing tight defense, so the Blackhawks will need to be aggressive on offense when opportunities present themselves.
Against the Bruins the Blackhawks will have to play solid defense, and as long as the Blackhawks are smart with the puck they will win Game 1.
Bruins Will Win If...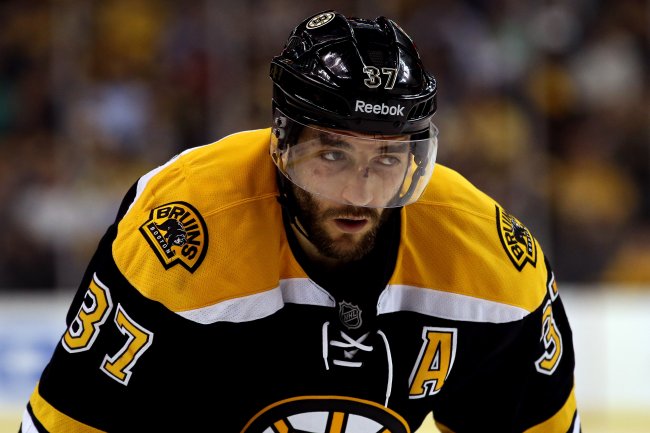 Bruce Bennett/Getty Images
The Bruins just swept the Pittsburgh Penguins, and they need to forget all about it. While they should be proud that they shut down a top offensive team, they can't play cocky against the Blackhawks.
The Bruins will win Game 1 on the road if they play physical and establish a forecheck. The Blackhawks won't be able to match the Bruins' toughness, and the speed of the Bruins' lineup should enable them to pin the Blackhawks in their own zone from time to time.
When looking at the Bruins entire roster it is hard to find a weakness because each player plays responsible hockey and earns their ice time. There is a perfect blend of each line, and it will be very hard for Joel Quenneville to match lines with the Bruins.
Prediction: Boston Bruins 3, Chicago Blackhawks 1
The Bruins are the best remaining teams, and they will prove that with a victory in Game 1. Tuukka Rask is the hottest goalie in the playoffs; the Bruins' defense just held the NHL's top offense to two goals and the physicality of the Bruins will wear down the Blackhawks over time.
The Bruins have been dominant since escaping the first round against the Toronto Maple Leafs, and they will prove in Game 1 that the series is theirs to lose.