5 Draft Prospects Who Would Be a Perfect Fit for the Toronto Raptors
Chris Humphreys-USA TODAY Sports

As things stand right now, the Toronto Raptors will not be making any selections in the upcoming 2013 NBA draft.
The team's first-round pick is in the hands of the Oklahoma City Thunder, after a series of moves that saw Kyle Lowry land in Toronto and James Harden with the Houston Rockets. Their second-round pick was sent to the Memphis Grizzlies in the three-team trade involving Rudy Gay and Jose Calderon.
However, this doesn't mean the Raptors should/will stand idly by and not make some sort of an attempt to secure a late pick.
It's going to be difficult. There are several large contracts on this roster that would be challenging to move in trades where draft picks could potentially be sent Toronto's way.
No team currently in the lottery would be willing to give up their pick for an overpriced talent, at least one would assume.
The ideal situation for the Raptors would be to somehow snag a late first-rounder or second-round pick by way of purchasing one or dealing away an expiring contract 2013-14 contract (Aaron Gray, John Lucas, Linas Kleiza).
New general manager Masai Ujiri is no stranger to striking gold late in the draft, as he did while the GM for the Denver Nuggets. Kenneth Faried (11.5 points, 9.2 rebounds) was selected by Ujiri with the 22nd pick back in 2011.
There are many questions surrounding the quality of players and lack of stars in this year's class, but with Ujiri's eye for talent, perhaps he can find a young prospect who can perfectly mesh with this basketball team.
*All statistics and projections courtesy of sports-reference.com and nbadraft.net
Begin Slideshow

»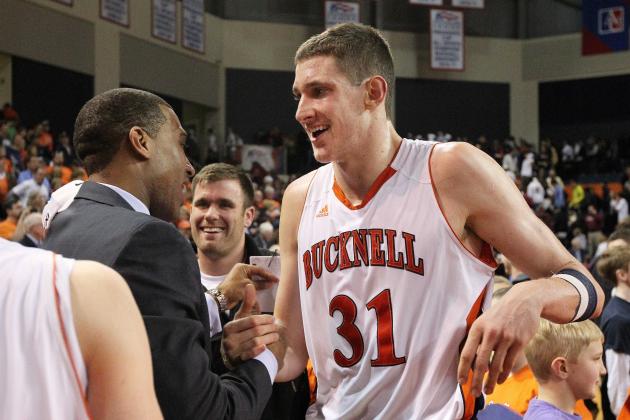 Matthew O'Haren-USA TODAY Sports

Age: 21
Projected: late second round
2012-13 statistics: 34 games played, 31.7 minutes, 18.7 points, 50.9 percent from the field, 11.1 rebounds, 2.3 assists, 2.4 blocks.
Standing at 6'11" and weighing in at roughly 240 pounds, Mike Muscala has a frame that will make him more effective at the center position, at least early in his career.
He has the fundamental basketball skills that every big man should strive to have. He has an underrated back to the basket game and can shoot from the low block with either hand.
He can also step out and nail the 15-foot jumper, although his post game has become polished enough to the point where he doesn't need to rely on it nearly as much.
His athleticism leaves a lot to be desired, and the level of competition he went up against at Bucknell wasn't exactly top notch, but for a potential late second-round pick, the Raptors could do a lot worse.
Muscala would work well as a second- or third-string center on this roster. He's easily coachable and a great team defender, which Dwane Casey will certainly appreciate.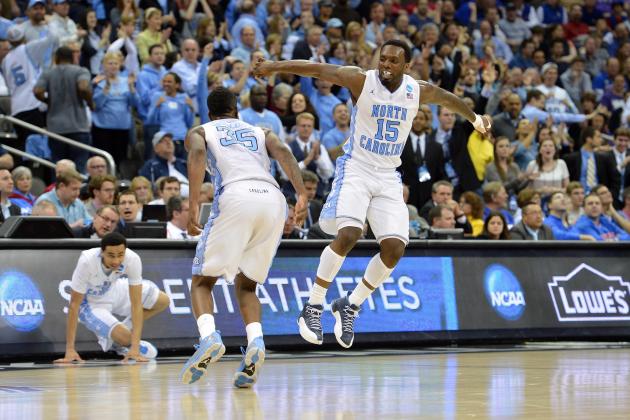 Peter G. Aiken-USA TODAY Sports

Age: 22
Projected: late first to early second round
2012-13 statistics: 35 games played, 31.4 minutes, 13.9 points, 48.3 percent from the field, 43.6 percent from three-point range, 6.5 rebounds, 2.9 assists, 1.3 steals.
In three years with the Tar Heels, Reggie Bullock hit 188 total three-pointers. His 43.6 shooting percentage from behind the arc ranked 15th overall in college basketball last season.
The Raptors need more players who can spread the floor and hit three-pointers, having finished only 24th (34.3 percent) in the league.
Bullock struggles to create his own shot off the dribble, having averaged just 2.1 free-throw attempts per game in his junior year. His ability to shoot will never be in question, but can he add to his arsenal in the NBA by improving his ability to attack the basket, rather than just settling for jumpers?
He would be instant offense off the bench, similar to the role Alan Anderson had this past season. There is a lot of depth at the wings on this roster, however, Bullock would immediately become one of the more reliable long-range shooting threats.
As good as he is on offense, his defense shouldn't be ignored either. Three-point shooters tend to be specialists who offer little on the defensive end.
That's not the case with Bullock. He's an outstanding perimeter defender with great hands and length that will give opposing wing players more than they can handle.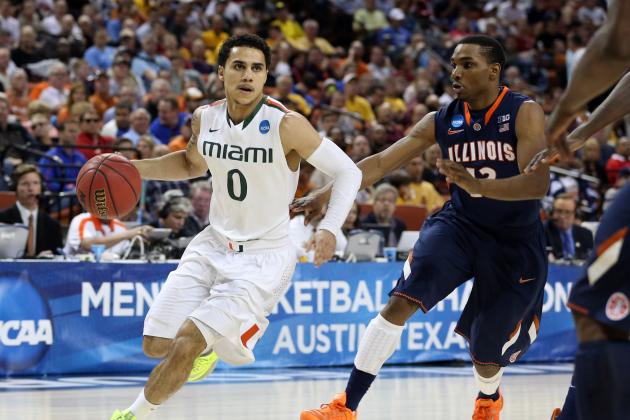 Jim Cowsert-USA TODAY Sports

Age: 20
Projected: mid-to-late first round, possibly lower
2012-13 statistics: 36 games played, 36.4 minutes, 14.5 points, 47.9 percent from the field, 3.8 rebounds, 4.6 assists, 2.0 steals
Shane Larkin made quite the name for himself this past season, leading the Miami Hurricanes to their highest ranking in school history (No. 2 in AP Top 25 Ranking).
He's living proof of that old adage that it's not the size of the dog in the fight. At 5'11" and 170 pounds, Larkin would immediately become one of the smallest point guards in the NBA.
Chris Paul, Ty Lawson and Nate Robinson are proof that smaller guards can thrive in a big man's game, so Larkin's stature shouldn't be held against him. It may become an issue when defending larger guards, but his amazing speed should help compensate as he adapts to the pro level.
He wouldn't be challenging Kyle Lowry for his spot as the starting point guard any time soon, and that's not what would be expected of Larkin. Still, the Raptors need a point guard who can not only put up points when required, but run the offense efficiently and effectively as a member of the second unit.
Larkin has all of those capabilities and more.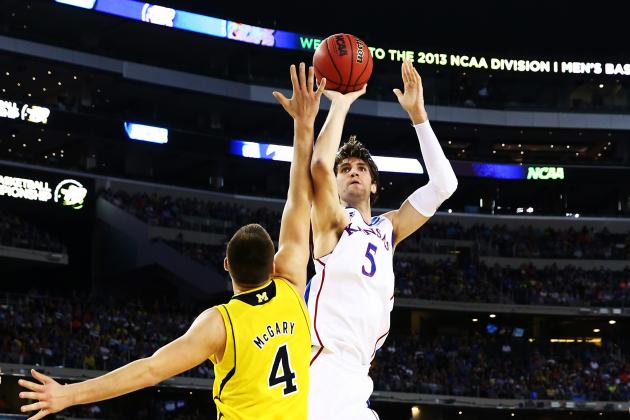 Tom Pennington/Getty Images

Age: 23
Projected: mid-to-late second round
2012-13 statistics: 37 games played, 30.9 minutes, 13.7 points, 58.2 percent from the field, 8.5 rebounds, 0.9 assists, 3.9 blocks
Jonas Valanciunas is the center of the future for the Raptors, so any big man Toronto pursues will be someone able to thrive in a backup role and not take minutes away from the young Lithuanian.
In many mock drafts, Jeff Withey is going as high as pick 20 and as low as the second round. His age may be keeping a lot of teams out of the loop, as players who stay the full four years at college tend to fall on many boards.
One team's trash could be another's treasure, so if Withey does fall enough to where the Raptors can (possibly) take him, they should strongly consider it.
According to Draft Express, Withey was the top finisher in college basketball last season, converting 79 percent of his non post-up situations. He does struggle to create his own shot (73 percent of his field goals were assisted), but that's not really his game.
As a former volleyball player, Withey uses his incredible leaping ability and length to play above the rim. He has a knack for blocking shots and using his size and 7'2" wingspan to his advantage on the defensive end.
He's a safe pick. With Valanciunas firmly locked in at the 5-spot, the Raptors can afford to go safe and pick a reserve center with upside.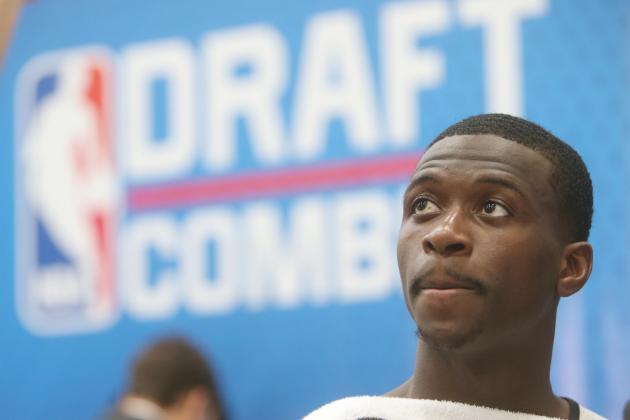 Jerry Lai-USA TODAY Sports

Age: 21
Projected: early-to-mid second round
2012-13 statistics: 11 games played, 37.3 minutes, 14.6 points, 41.6 percent from the field, 5.0 rebounds, 5.5 assists, 2.0 steals
Myck Kabongo could be one of the big sleepers in this draft, especially if he falls to the second round, as he's being projected to do.
There are some red flags to his game that the Raptors should well aware of before considering him, though.
As good as he is at attacking the basket, his ability to shoot the basketball with any range is very worrisome. If he could somehow develop a consistent enough jump shot, it would keep the defense honest and allow him more breathing room to get to the basket.
Being suspended for 23 games clearly derailed his progress and development as a basketball player, so it's going to take him a little more time for him to reach his full potential as a pro.
Using a second-round pick on Kybongo is the ultimate low-risk, high-reward situation. His great size and wingspan (6'3", 180 pounds, 6'6" wingspan) make him an intriguing option at the point guard position.
It also shouldn't be underestimated how special it would be to have a young Canadian prospect playing for the Toronto Raptors. Yes, this team has had homegrown talent before (Jamaal Magloire), but Kabongo is someone who can have true longevity with this franchise. By contrast, Magloire's career was winding down when he joined Toronto.