The Good, the Great and the Awesome from SmackDown 6/7/13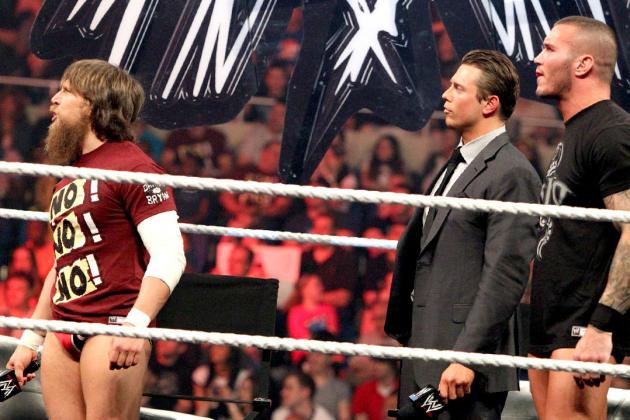 Photo Credit: WWE.com
As the winding road to WWE Payback continues, World Wrestling Entertainment invaded Long Island, N.Y. for this week's SmackDown.
The evolution and elevation of Daniel Bryan continued as he once again starred, teaming with "The Viper" Randy Orton to meet WWE Tag Team champions Seth Rollins and Roman Reigns in the main event.
Kane, desperate to try and keep his team with Bryan together, stood up for his former championship partner as he did battle with Ryback.
Elsewhere on the show, Dolph Ziggler announced his return to Raw this Monday, Fandango picked up a win over hometown boy Zack Ryder and the feud between Damien Sandow and Sheamus took an interesting turn.
As the storylines heading into the June pay-per-view event continue to develop and the Payback card takes shape, here is a look at the good, great and awesome from the June 7 edition of SmackDown.
Begin Slideshow

»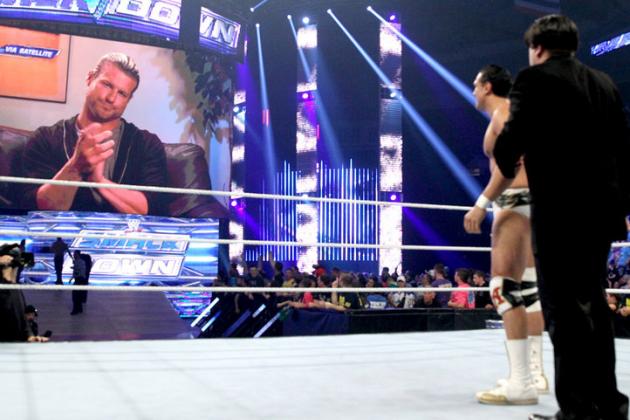 Photo Credit: WWE.com
Curtis Axel beats another world champion

The opening contest of the evening pitted Chris Jericho against the newest Paul Heyman client, and third generation Superstar, Curtis Axel.
Axel looked good in the match, hanging in there with Jericho, which is not an easy feat for an inexperienced performer. To his credit, Jericho went out of his way to make Axel look good, and the result was a competitive match.
The tease of CM Punk's music provided a distraction to Jericho and allowed Axel to steal the win with a roll-up.
The way the company is going about booking the wins for Axel has created some questions among fans, but in reality, it has been perfect. Thus far, Axel has scored controversial match stoppage, count-out and sneaky wins over the three world champions he has defeated. Eventually, he will have to prove that he can defeat a top star without some sort of screwy finish. When that time comes, the stories that can be told will be plentiful and logical.
As for Friday's SmackDown, the match provided Axel with another big win and it also added to the build of the Jericho-Punk match at Payback.
Nothing to complain about here.
He's back...

Dolph Ziggler made his return to WWE programming on SmackDown, announcing via satellite that he would be at Raw after being cleared to compete by WWE's medical staff.
The World Heavyweight champion has been missing since before Extreme Rules in May and the World Heavyweight title picture has stalled considerably as a result. Ziggler's series of matches against Alberto Del Rio, undoubtedly slated for early summer, were pushed back and Del Rio instead engaged in a mini-rivalry with Big E. Langston.
With Ziggler finally making his return, storylines can proceed and the World champion can resume stealing the show.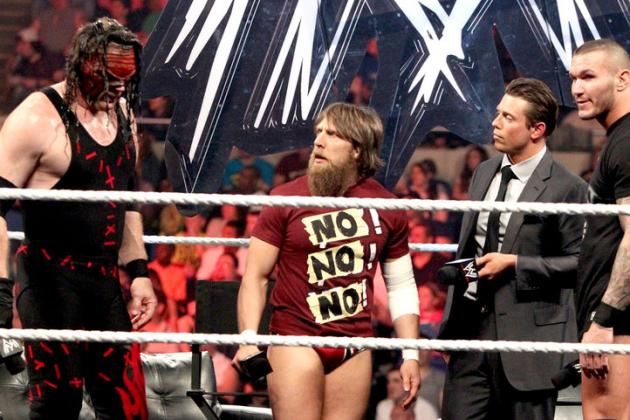 Photo Credit: WWE.com
Miz TV

This week's Miz TV was a solid opening-promo segment that furthered the eventual split between Daniel Bryan and Kane while also adding the element of Randy Orton to the story. The Miz, who has a tendency to overshadow his guests at times, did a good job of standing by and letting the other performers tell their story before Teddy Long arrived and announced the main event.
The segment earns its "great" status because it accomplished its goal without dragging on forever, added another layer to the Bryan-Kane tag team split storyline and set up the night's main event.
If only it were that easy every week...
Damien Sandow rediscovers his aggression

Damien Sandow desperately needed to get the upper hand in his rivalry with Sheamus because, in all honestly, no one really bought him as a threat to the "Celtic Warrior."
Sandow finally got the upper hand Friday night as he unleashed with great anger and rage on Sheamus following the former World champion's Brogue Kick to a TV, on which Sandow was playing a game of chess against computer program Deep Blue.
"The Intellectual Savior of the Masses" assaulted Sheamus, repeatedly bashing his head into a table and leaving him stunned, battered and bruised. The look on Sandow's face after his attack of his latest rival sold the entire segment, as fans got a look at a man who prides himself on being smarter than everyone else but who had been the butt of so many jokes that he finally lost his cool and snapped.
It was a great new layer to one of the best, most underutilized characters on the roster.
Kane vs. Ryback
The semi-main event of the evening featured Kane taking on Ryback in a match that was the direct result of the latter's post-match assault of Daniel Bryan on this past Monday's Raw. Kane, no matter how fed up he was with Bryan earlier in the night, stood up for him and accepted a match with Ryback.
The bout was a clash between two behemoths, with each guy dealing out his power-based offense. In the end, however, a power bomb by Ryback to Kane through a table ended the match via disqualification.
Like Miz TV did earlier in the evening, the match served a number of purposes. First, it was a logical continuation of the Kane-Daniel Bryan story. Second, it continued to make Ryback look like a dominant beast heading into Payback's Three Stages of Hell match against John Cena. Lastly, it hyped said Three Stages of Hell match by, once again, introducing the tables match segment of that bout.
It is multi-faceted storytelling like this that often times goes overlooked when fans criticize the creative team. Like it or not, Kane vs. Ryback from SmackDown is wrestling booking 101.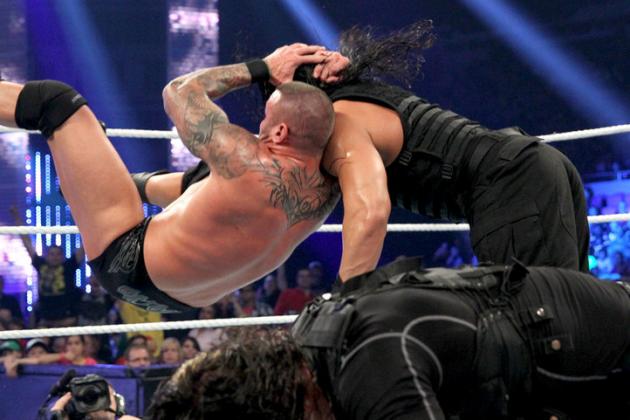 Photo Credit: WWE.com
Daniel Bryan and Randy Orton vs. The Shield

Two of the best aspects of WWE programming and the most underrated full-time performer on the roster took to the ring for the evening's main event. Once again, everyone involved delivered.
Seth Rollins and Roman Reigns represented The Shield and did a solid job of keeping Randy Orton isolated until "The Viper" was able to make the hot tag to Bryan. Similar to recent bouts involving WWE's resident "Flying Goat," all hell broke loose late.
Bryan exploded into the ring, dominating The Shield until ill-timed miscommunication put an end to the onslaught.
Rollins had Orton backed into the corner late in the match and Bryan charged across the ring for a dropkick. Rollins ducked out of the way and Bryan took out his own partner. That did not matter, however, as Bryan quickly applied the No Lock and appeared to have the match won. United States champion Dean Ambrose, however, would interject himself on behalf of his teammates and draw a disqualification.
After clearing the ring of The Shield, Bryan would walk into an RKO by Orton, who had apparently had enough of the former World champion and his determination to prove himself as anything but the weak link.
The Daniel Bryan story has clearly been the best story told in WWE this year. The latest addition of Randy Orton, even if it only leads to a match between he and Bryan at Payback, is interesting because of the heel turn that could come at any time.
Perhaps the trials and tribulations of Daniel Bryan could not only elevate him to legitimate main eventer but also light the fuse for the Randy Orton turn. Either way, fans should be very excited about what the company has done for the Bryan character thus far and, if reports are true, this is only the beginning.