The Good, the Great and the Awesome from Impact Wrestling 6/6/13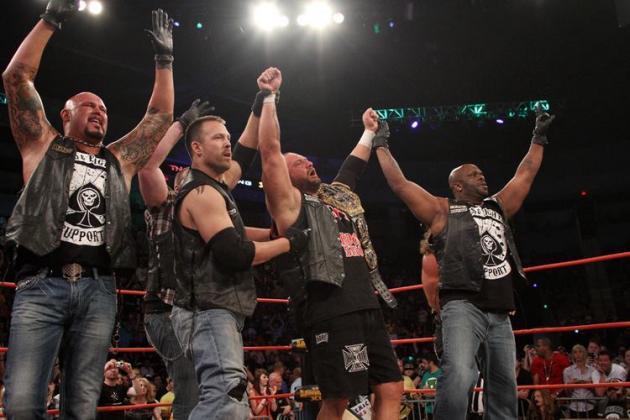 Photo Credit: ImpactWrestling.com
Just days removed from Slammiversary, TNA invaded Atlanta, Ga. for this week's Impact Wrestling!
World champion Bully Ray was riding a wave of momentum following a victory over "The Icon" Sting at the pay-per-view. What hurdles would general manager Hulk Hogan put in his way Thursday night? Would Aces and Eights continue to dominate?
What would the debut of former UFC star Rampage Jackson mean for the landscape of the company, and would anyone try to test the newcomer on his first night?
Abyss is the new Television champion. How would his brother, Joseph, react and what would Aces and Eights have in store for the new titleholder?
The Bound For Glory series would begin to take shape, the change in attitude for Knockouts champion Mickie James would continue and the soap opera aspect of the Bully Ray-Brooke Hogan relationship would rear its head late in the show.
What was good, great and awesome about Thursday's show?
Find out now.
Begin Slideshow

»
Opening Promo

TNA World champion Bully Ray made his way to the ring to kick off this week's episode of Impact Wrestling and wasted no time in trumpeting his victory at Slammiversary. His celebration was cut short, however, as Hulk Hogan made his way to the ring and announced that Bully Ray would face Jeff Hardy in a ladder match later in the evening, the prize being the hammer Ray has repeatedly used on his countless victims hanging from the rafters.
The segment accomplished two things: It continued the rivalry between Hogan and the Aces and Eights president, and more importantly, it set up the evening's main event in a logical manner. The hot crowd only helped make a solid segment that much better.
James Storm, Gunner and Chris Sabin vs. Bobby Roode, Austin Aries and Kenny King

The new Tag Team and X-Division champions teamed to face their top rivals in a six-man tag team match on Impact that was fast-paced and delivered quality wrestling prior to the evening's main event. The interaction between Gunner and Storm and Roode and Aries was solid and hints at potentially great chemistry between the two teams.
Gunner, in particular, was explosive in his late-match hot tag and the crowd ate up everything he did.
Most importantly, the push for Chris Sabin continued as he picked up the win for the babyfaces, pinning former X-Division champion Kenny King to secure the victory.
A textbook six-man highlighting midcard rivalries and providing a tremendous wrestling match.
Jeff Hardy vs. Bully Ray - Ladder Match

The main event of this week's show featured Jeff Hardy and Bully Ray squaring off in a ladder match with a hammer hanging high overhead. The inclusion of the hammer was both brilliant and logical considering how their last ladder match concluded and it gave the company an "out" so that they did not have to put the title on the line.
The match itself was a typically outstanding offering by Hardy and Ray, who have competed in so many matches of so many different types in the past that they could probably wrestle one another in the dark and still deliver a show-stealing effort.
Thursday night, they crafted a dramatic ladder match that focused more on who could get up the ladder and retrieve the hammer rather than delivering dangerous high spots to keep the audience's attention. It worked, and the match itself is deserving of inclusion on the "great" list.
The only thing keeping it from getting there was the lack of a finish.
Mickie James: Heel

The new Knockouts champion has undergone an attitude change as of late, and her performances have benefited from it.
In a backstage segment during Thursday's show, Mickie feigned sympathy for Velvet Sky and the attack she suffered at the hands of Gail Kim a week earlier. She made excuses for not helping Velvet and then brought up Taryn Terrell rescuing Velvet and "stealing" their match at Slammiversary. The former champion went on to tell Mickie that she was healed and that they should have their match later on, but Mickie weaseled her way out of it, claiming to have a match with a woman that Velvet had overlooked while champion.
That woman would be Gut Check winner Taeler Hendrix, who made her first appearance on the show in over a year.
Mickie was great in her role as condescending champion, completely disrespecting Hendrix and looking past her to an easy victory. Instead, the young Knockout proved to be a challenge for Mickie, who eventually had to feign a knee injury of her own in order to catch Taeler off guard and pick up the win.
The current Knockouts champion was so good in her role Thursday night that it is difficult to imagine that she has not been a full-fledged heel in seven years.
Bound For Glory Series Qualifiers

The Bound For Glory series is one of the unique ideas that TNA got right and, as a result, the main event of its annual October pay-per-view event means more than any other match of the year. The top contender is determined via a point system in which wins over other TNA wrestlers actually matter.
This year, rather than naming the competitors in the series, qualifying matches were held to determine which deserving stars would compete for the right to face the TNA World champion at Bound For Glory.
The qualifying matches, which included Hernandez vs. Chavo Guerrero and Samoa Joe vs. Robbie E, are an excellent way to make the series feel even more prestigious and important than it already does.
Brooke Can't Still Love Bully, Can She?

Impact Wrestling went off the air with Hulk Hogan just about to bash Bully Ray's head in with a pipe when Brooke Hogan stopped him. The three exchanged glances as the show faded to black.
In recent weeks, the question has repeatedly been asked as to whether or not Brooke still loves her husband. Thursday night was the latest development in that story.
Regardless of one's opinion of soap opera-like storylines in professional wrestling, the unfolding of the story between Brooke and Bully, with Hulk as the centerpiece, is the type of program that made wrestling so popular during the late 1990s and one that provides an alternative to the straight-forward stories offered on WWE programming.
Rampage Meets the Best

Quinton "Rampage" Jackson made his debut on this week's Impact Wrestling in a moment that was trumpeted as a huge "get" for the nation's second-largest wrestling company.
Jackson met with Jeremy Borash in the middle of the ring and began to cut a very basic, almost nervous promo before the music of 2013 TNA Hall of Fame inductee Kurt Angle played and the Olympic gold medalist made his way to the ring.
In a brief, basic and excellent faceoff between the two, Angle made it clear to Jackson that if he wants to face the best, he had only to look in front of him. Kurt finished with his "It's real, it's damn real" line before shaking Jackson's hand.
The moment was the best on this week's Impact Wrestling because of the intensity that went along with it. Two intensely proud athletes stood across from one another, the professional wrestler making it clear to the newest addition to the roster, a man who has never competed in the sport, that he will not tear through the competition without a fight.
The possibility of a Rampage Jackson-Kurt Angle match is intriguing. Jackson is a tremendous athlete in his own right and being put into a match with Angle, who can deliver a great match by sheer will power, will only help him learn and develop.
There is money to be made from Angle-Jackson, and hopefully the company realizes that and delivers.