10 New England Patriots Who Will Make the Biggest Fantasy Impact in 2013
Jim Rogash/Getty Images

The New England Patriots have been a fantasy football gold mine ever since Tom Brady and Bill Belichick joined forces. In 2001 Troy Brown and Antowain Smith made their mark. In 2004 Corey Dillon posted the best numbers of his career. In 2007 Brady, Randy Moss and Wes Welker set the record books on fire and paved the way for epic fantasy seasons ever since.
Of course the defense played its part as well and was among fantasy football's best during the championship years.
As good as the Patriots have been on the field, they've been just as good in the fantasy score sheets. Of course that was then and this is now. It's June, which means it's almost July, which means it's almost time for preseason fantasy rankings and this year's first fantasy drafts.
So which Patriots will have the biggest fantasy impact in 2013? Keep reading to get a head start on some (very) preliminary fantasy insights. Players are ranked quite simply in the order in which they should be drafted.
Begin Slideshow

»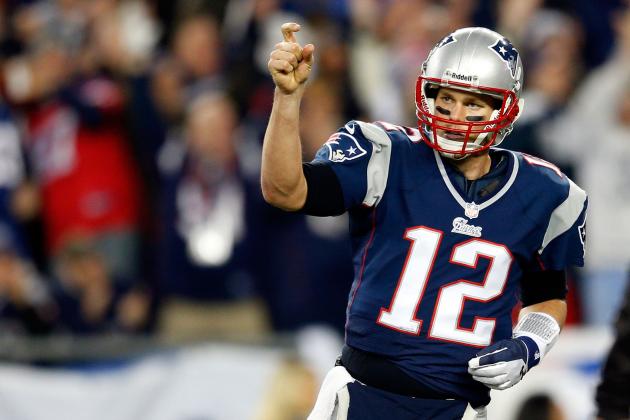 Jim Rogash/Getty Images

Brady not only headlines the Patriots' fantasy ranks, but he's a candidate to lead all fantasy quarterbacks across the entire NFL. Entering his age-36 season, it's reasonable to expect his numbers to fade somewhat, but on the heels of one of his finest years to date, Brady has shown no signs of slowing down.
Over the past three seasons, he's averaged 4,654 yards with 36 touchdowns and just eight interceptions.
With a largely revamped receiving corps, it's fair to wonder how effective he'll be without his old safety valve in Wes Welker, but the Patriots have too many weapons for Brady's production to suffer too much. With Danny Amendola taking over Welker's spot, the Patriots shouldn't experience much downgrade, if any.
Opposite Amendola, rookie Aaron Dobson replaces Brandon Lloyd and offers substantially more upside than what Lloyd brought to the table during a disappointing 2012 season. Dobson has the size, speed and, most importantly, great hands to bring a dangerously explosive outside presence to the offense.
With an improving running game to keep defenses honest, Brady should have no trouble finding his new toys in open space as well as reconnecting with old favorites like Rob Gronkowski and Aaron Hernandez.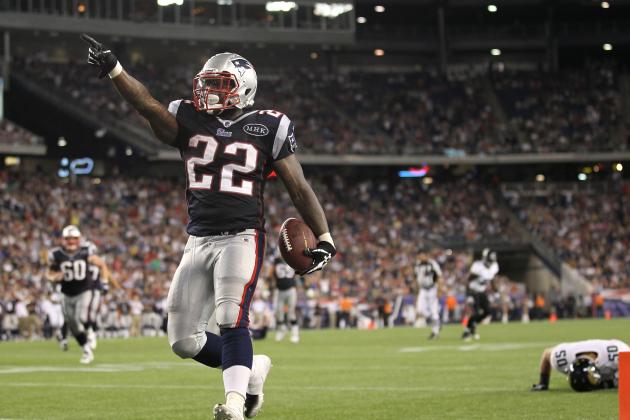 Jim Rogash/Getty Images

Ridley gives the Patriots the sort of bell-cow running back they haven't had since the days of Corey Dillon. In 2012 he ranked among the top 10 players in rushing attempts, yards and touchdowns.
He doesn't catch many passes (just six last season), so his value takes a big hit in PPR leagues. Even in standard formats he'll slide a bit since he won't contribute many receiving yards or touchdowns. Still, there aren't many running backs you can count on for 1,200 total yards with double-digit touchdowns.
The only other area Ridley truly underwhelmed last year was his ability (or lack thereof) to break tackles. According to Football Outsiders, he ranked among the worst running backs in the league in that regard.
Jeff Howe of the Boston Herald reported that Ridley showed up at OTAs noticeably more muscular, so it stands to reason he'll improve in that area as well. With improved yards after contact, Ridley could conceivably post even better numbers than during his breakout season last year.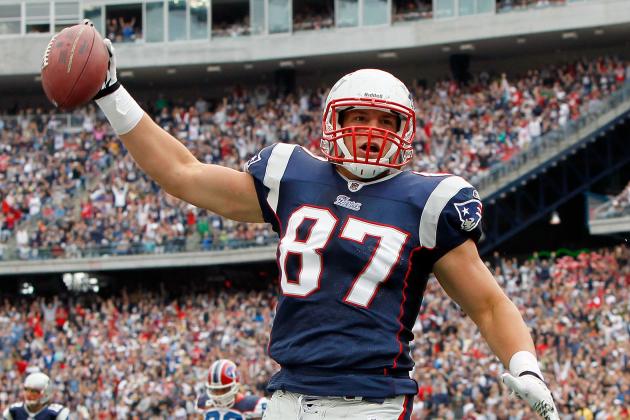 Jim Rogash/Getty Images

When healthy, Gronkowski is one of the most unique and physically dominating players in the entire NFL. Too bad he isn't healthy, at least not right now.
We have no official timetable for when he will return to full strength and he's a candidate for the PUP list, which would keep him out through Week 6, but 10 games of Gronk is still better than 16 games from almost anyone else.
You can stash him on your bench and start someone else while he's out, so it's not like you're getting goose eggs in your lineup without him. That's assuming he even misses any time. He could still recover in time for Week 1.
I think all his offseason woes make Gronkowski an excellent value on draft day. When healthy, he's the best tight end in the game, rivaled only by Jimmy Graham. If his injury concerns push him out of the second round and down to Round 5 or Round 6, he could very well be the steal of your draft.
As things stand right now, I'm knocking him down a round and I'd still take him over any tight end not named Graham.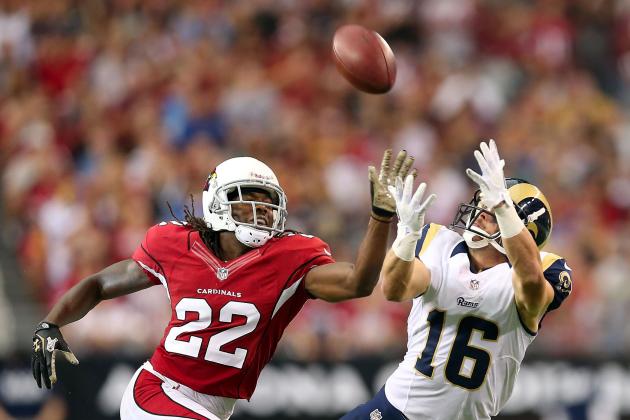 Christian Petersen/Getty Images

Amendola figures to feature in countless preseason breakout lists and for good reason. He's been dubbed a poor man's Wes Welker for a few years now, but in 2013 he'll have an opportunity to shed the "poor man's" label and establish himself as one of the premier possession receivers in the NFL.
All he needs to do is stay healthy.
Amendola missed significant time in each of the last two seasons, but enters 2013 with a clean bill of health. He's been working out with his new quarterback (some guy named Brady) all offseason in hopes of hitting the ground running once the whistle sounds.
Coming off a season in St. Louis where he had roughly six receptions and 60 yards per game, Amendola suddenly finds himself entrenched as the only surefire starting wide receiver for last year's highest scoring offense. Simply extrapolating his previous numbers over a full season would yield 96 catches for 960 yards.
Consider then that the Patriots completed 21 percent more passes than the Rams for 31 percent more yards and 54 percent more touchdowns last season and Amendola's outlook grows even rosier.
Amendola will be playing essentially the same role, but in two different systems. By that logic we can project the fluctuation in his numbers to correspond closely to the difference between one system and the other. Adjusting Amendola's per-game stats to mirror to the more efficient and higher-scoring offense in New England would net him 116 receptions with 1,257 yards and six touchdowns.
Those are eerily similar totals to what Welker posted in 2012 and would mean Amendola isn't such a "poor man" after all.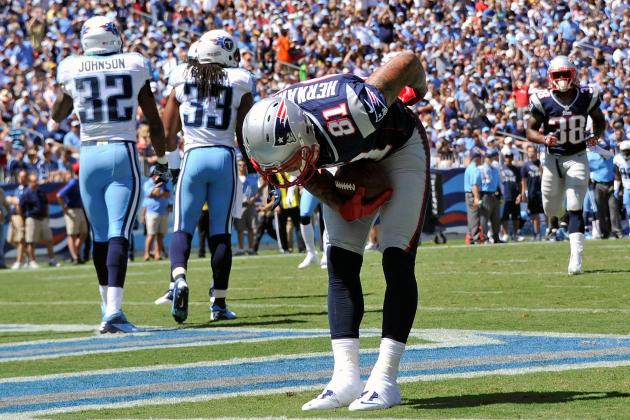 Frederick Breedon/Getty Images

Hernandez sometimes gets overshadowed because he happens to play the same position as Gronkowski, but 2013 could be the year he finally gets his fair share of the spotlight.
With the beginning of Gronk's season in doubt thanks to looming back surgery, Hernandez is poised to play a more crucial role than ever in the Patriots' high-octane offense.
Brady has precious few familiar faces to throw to. Wes Welker and Brandon Lloyd are gone, along with Deion Branch and last year's top receiver out of the backfield, Danny Woodhead. Brady needs players he knows he can count on and right now Hernandez is it.
Assuming a full season of good health (which is always dangerous I know) New England's "other" tight end should eclipse 1,000 yards for the first time in his career, even if Gronk is ready to go from the start. The team's top wide receiver, Danny Amendola, has major injury concerns of his own after logging more games missed than games played during the last two seasons. If he goes down or simply takes a little while to develop a rapport with Brady, Hernandez will see more targets than ever.
With so many volatile roster situations still evolving, don't be surprised if Hernandez leads the team in receptions and yards while acting as Brady's security blanket.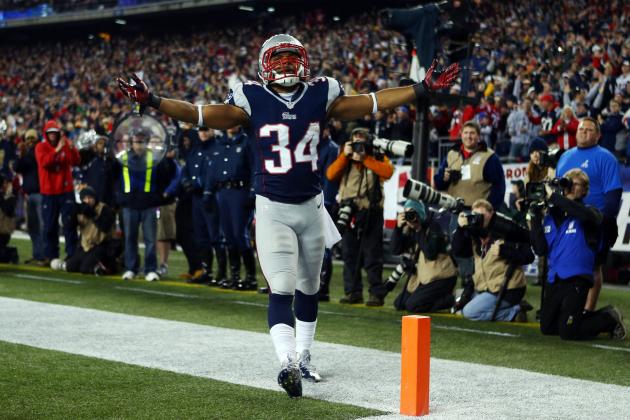 Elsa/Getty Images

After biding his time for most of the last two seasons, Vereen is primed for a breakout campaign in 2013. I detailed Vereen's outlook in a recent running back breakdown and before that in a breakout players column, so I definitely see serious potential here.
With Danny Woodhead now in sunny San Diego, Vereen stands to inherit his role as the team's scat back and primary receiver out of the backfield. Woodhead racked up 747 total yards and seven touchdowns in that role in 2012, and Vereen has the potential to produce even more.
He thrived in a similar role in college, while playing behind Jahvid Best at Cal. I've referenced these stats before, so don't be alarmed if you feel a sense of déjà vu at what follows.
During two seasons as Best's backup and the team's primary change-of-pace back, Vereen averaged over 1,000 total yards and nine touchdowns.
Also, keep in mind that the Patriots actually drafted Vereen ahead of Ridley in 2011. He won't unseat Ridley as the primary ball-carrier, but the Patriots obviously like what he brings to the table and will find ways to maximize his playmaking ability.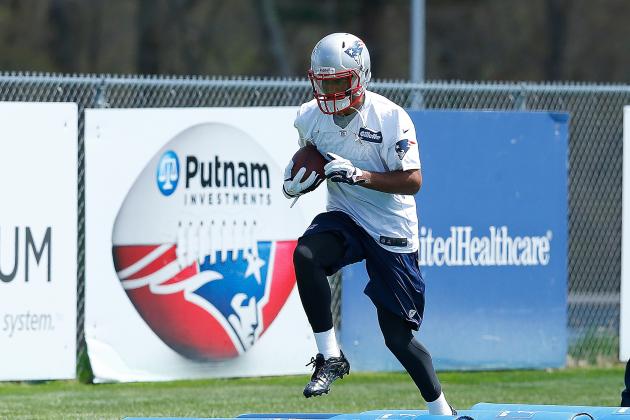 Jim Rogash/Getty Images

The 6'4" Dobson finds himself in the perfect position to have a major impact as a rookie. He'll need to earn a starting role, but teams don't use second-round picks on players they don't think can do that.
His hands became legendary in New England once it was reported he didn't drop a single pass at Marshall in 2012. He isn't a finished product yet, but watch his tape from college and you'll see a receiver with exceptional body control, a natural ability to locate the ball and, of course, those legendary hands.
Add to that his prototypical size and speed (4.43-second 40-yard dash, per CBSSports.com) and you have the blueprint for an NFL "X" receiver.
The only incumbent Dobson needs to beat out for playing time is Julian Edelman, who isn't suited to downfield production. Other than that, the only players in his way are Donald Jones and Michael Jenkins, both of whom offer assured mediocrity, and fellow rookie Josh Boyce.
Dobson is the most gifted of that group and has the upside to challenge for offensive Rookie of the Year honors. Expect him to start opposite Amendola early in the season, if he doesn't win the job outright during the preseason.
Jim Rogash/Getty Images

This isn't one player, but rather the entire Patriots defense. In fantasy football, however, team defenses count as one player on your roster. While New England's defense has been its Achilles' heel in recent years, the unit is shaping up to be among fantasy football's best in 2013.
The Patriots offense should once again rank among the league's best, allowing it to set the tone during games and force opposing teams to play catch up. This year's model is better equipped to capitalize on that predictability than it has been in years.
Second-year man Chandler Jones, rookie Jamie Collins and free-agent signing Tommy Kelly should provide a massive boost to the pass rush, which was led by Rob Ninkovich and not much else last year. The linebacking corps remains one of the team's biggest strengths, led by pro bowler Jerod Mayo and the team beefed up its secondary in a big way.
Aqib Talib, Alfonzo Dennard, Kyle Arrington, Ras-I Dowling and rookie Logan Ryan give the Patriots their deepest and most talented group of cornerbacks in recent memory. With Devin McCourty and veteran newcomer Adrian Wilson along with Tavon Wilson at safety, Bill Belichick has turned (on paper at least) a weakness into a strength.
The defensive roster has the makings of a unit ready to take a major leap forward, led by All-Pro defensive tackle Vince Wilfork. With an improved pass rush and a stronger secondary, New England will net more sacks and force more errant throws. Look for it to rank among the NFL leaders in turnovers as the group comes together.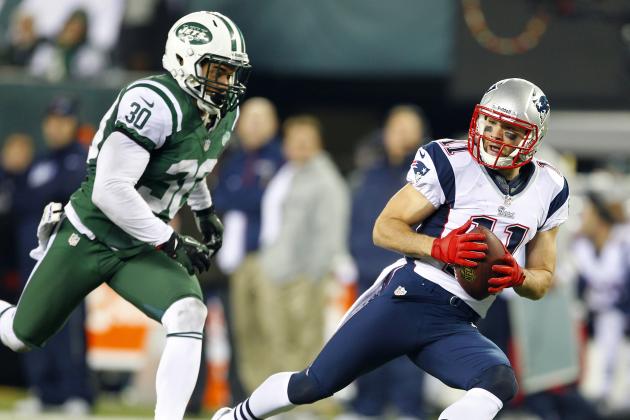 Rich Schultz/Getty Images

Outside of a game or two, Edelman hasn't been fantasy relevant during his pro career. Look for that to change in 2013.
Edelman's shown flashes of productivity in the past, most notably a 10-catch, 103-yard outburst vs. the Houston Texans in 2009, but injuries have slowed him down. Well, that, and playing behind Wes Welker.
Welker's gone and Amendola slides into his spot, but Edelman has still caught more passes from Brady than any other wide receiver on the roster. With Welker out of town and so many new faces in the receiving corps, Edelman may finally be able to carve out a consistent role for himself.
If he's healthy, Belichick will find ways to use him, possibly even as a starting option. I'd say that's pretty unlikely, but he is more familiar with New England's system than any of the veterans or rookies the team added and nothing Belichick does with his roster would truly surprise me.
Speaking of health, the man with the most similar skill set to Edelman who blocks his path to playing time is not exactly a shining example of durability. Amendola's missed 20 games due to injuries over the last two seasons and if he goes down again, Edelman should slide into his spot without missing a beat.
He's worth a late-round look in 14-team leagues. For owners who draft Amendola, Edelman is almost a must-draft handcuff, particularly in PPR formats.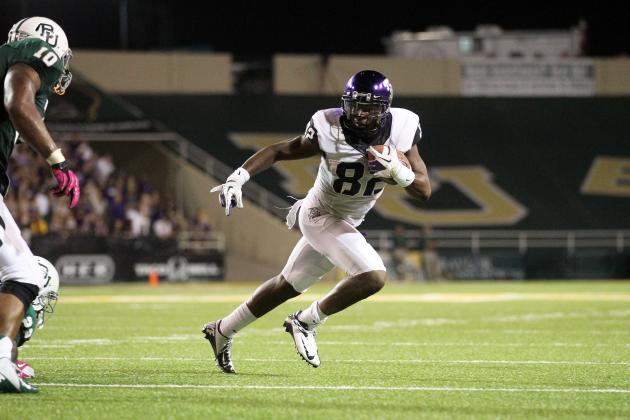 Layne Murdoch/Getty Images

Boyce is the dark-horse contributor of the bunch. He may actually end up producing less than some other players like Michael Jenkins or Donald Jones, but unlike those two, he'll actually be worth drafting if he ever claims one of the top three wide receiver spots.
He isn't draftable in standard 10-team leagues, but in keeper leagues or deep seasonal leagues, he's worth a late-round selection based on his upside alone.
Boyce wowed at the NFL Scouting Combine, finishing among the five best wide receivers in the 40-yard dash, three-cone drill, broad jump and 60-yard shuttle. He also finished second in the bench press (behind recently waived T.J. Moe) and somehow managed to achieve all this with a broken bone in his foot.
His workouts indicate he's one of the fastest, quickest and most explosive receivers in this year's draft class, and that's when he's injured. Imagine if he were healthy.
He was healthy during his three seasons at TCU—he left early after earning his degree in three years—and was highly productive, totaling 161 receptions for 2,535 yards (15.7 YPC) and 22 touchdowns.
Given the Patriots' turnover at the receiver position this offseason, if you're looking at a late-round gamble, Boyce will absolutely be a player to target. Besides Amendola, wide receiver is a wide-open competition, not just for the third spot but for the second starter's spot as well.
With his combination of speed, agility, quickness and intelligence, Boyce has a great chance of working his way up the depth chart even if he begins the year on the bench.