NHL Draft 2013: Best and Worst Case Scenarios for the Leafs in the First Round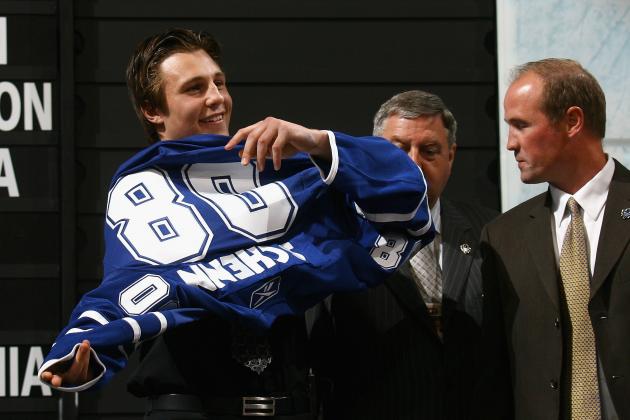 Bruce Bennett/Getty Images

I wouldn't say this is a make or break draft for general manager Dave Nonis and the Toronto Maple Leafs, but it can go a long way towards cementing the Leafs as one of the top young clubs in the NHL.
For the first time in two years the club will own their first round pick, and oddly enough, it isn't in the lottery, its actually 21st.
In whats billed as the deepest draft since 2003 when the likes of Mike Richards, Eric Staal, Dion Phaneuf, Ryan Suter, Thomas Vanek, Zach Parise, Ryan Getzlaf, Ryan Kesler, Dustin Brown, Jeff Carter, and Corey Perry were selected in the first round in 2003.
Even the later rounds were responsible for some gems as Loui Eriksson (33rd), Patrice Bergeron (45th), David Backes (62nd), Jimmy Howard (64th), Joe Pavelski (205th), Tobias Enstrom (239th), Dustin Byfuglien (245th), Matt Moulson (263rd), Jaroslav Halak (271st), and Brian Elliott (291st) were all selected after the first round.
Fast-forward 10 years, and the NHL may have another very deep draft on their hands, with potential all-stars up and down the first round of the draft.
For the Leafs, unless they trade up, they will be unable to nab anyone in the Top Five as Nate MacKinnon, Seth Jones, Jonathan Drouin, Valeri Nichushkin, and Sasha Barkov will all certainly be picked in the Top Five in my opinion—the order yet to be determined.
To state the obvious, I will be excluding those top five players from this list because obviously all of them are best-case scenarios, however probably unrealistic, unless the Leafs make a major move at the draft.
Here are your best and worst case scenarios for the Leafs at the draft.
Begin Slideshow

»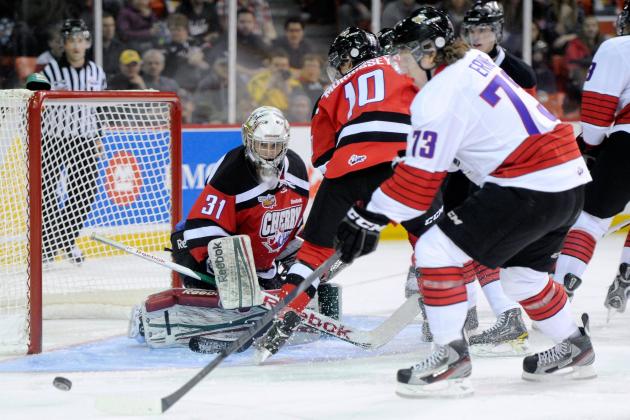 Richard Wolowicz/Getty Images

Best Case Scenario: Halifax Mooseheads G Zach Fucale
Worst Case Scenario: Any Other Goaltender in the Draft
Pretty obvious here, the only goalie to be taken in the first round looks to be Fucale. The Leafs would be wise to avoid taking a goalie in the first round unless somehow Fucale falls to 21st.
After his recent success at the Memorial Cup, I can see the likes of Calgary—who owns three first-round picks, New Jersey, or possibly the New York Islanders taking a flyer on him as both organizations desperately need a starting goalie for the future.
I'm not a fan of picking a goalie in the first round, and I highly recommend avoiding drafting one. Fact is, most professional scouts stink at evaluating under-19 goaltenders. As a result, you often see goaltenders drafted far later such as Henrik Lundqvist and many others shine. Unless the goalie prospect is a can't miss prospect that somehow falls to you, you avoid taking a goalie at all costs.
I'm still in between when it comes to Fucale. Do i think he's a first-round talent? Yes I do. How much of his success was as a result of playing for the Memorial Cup Champion Mooseheads? That remains to be seen.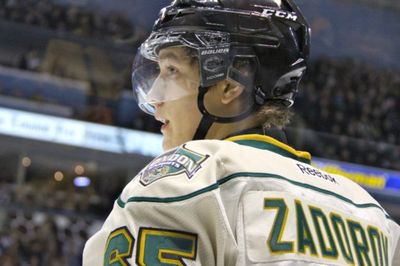 Best Case Scenario: If Nikita Zadorov or Rasmus Ristolainen Fall in the Draft
Worst Case Scenario: Samuel Morin, Madison Bowey or Robert Hagg
Nikita Zadorov will likely be the second coming of Chris Pronger or Zdeno Chara if all goes well for him. At over 6'6" 230 pounds and still growing, Zadorov is a man among boys in the Ontario Hockey League. He's a decent skater for his size, he uses his body quite well, and he's got some offensive talent—namely a rocket for a slap shot.
I highly doubt he's not picked in the Top 12, and he probably won't last past 15, but there is a possibility that if he's still on the board from picks 13 through 17, the Leafs will trade up.
Pairing him with Dion Phaneuf would instantly make Phaneuf look ten times better than he is, much like pairing Mike Komisarek with Andrei Markov did for the Canadiens prior to the Leafs signing Komisarek.
As for Ristolainen, the 6'3" 210-pound 18-year-old is easily one of the top defensive defenceman in the draft. As with Zadorov, Rasmus' offensive game is developing very nicely and he also has the ability to be a Chris Pronger type of defenceman, a shutdown defenceman with 40-point potential. For right now, I'd consider the hulking right-handed defenceman to be more defensive than offensive at this point.
As for Morin, the 6'7" 235-pound monster out of Rimouski had a good year with the Oceanic finishing with 16 points and 117 penalty minutes. He plays a very good shutdown role with the Oceanic, but I still get a Hal Gill vibe out of him. Would I waste a first-round pick on him? Probably not. Unless the big names drop into the teens, I'd avoid a defensive defenceman this early.
Bowie played a very stable and strong type of game with the Kelowna Rockets. He reminds many of Jay Bouwmeester but he uses his size more.
As for Hagg, he'll remind many of Alex Edler if that's his best case scenario, but more likely he'll develop into a role similar to that of countryman Carl Gunnarsson of the Leafs.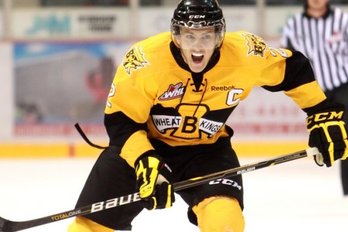 Best Case Scenario: Ryan Pulock
Worst Case Scenario: Josh Morrissey
Offensive defenceman are viewed more like gambles it seems in the NHL draft as opposed to necessary drafts. The likes of Kris Letang, Mike Green and many others have been taken later in the first round, and in some cases, in later rounds.
The Leafs decided to gamble in last years draft and drafted an offensive defenceman with a developing defensive game fifth overall. They selected Moose Jaw Warriors defender Morgan Rielly, passing on the likes of Mikhail Grigorenko, Filip Forsberg, and a slew of other defenceman.
We will have to wait and see if the Leafs were successful with their selection of Rielly.
In this years draft though, unless they luck out and one of the better offensive defenceman fall, the Leafs will likely not be picking an offensive defenceman.
Pulock has power-play quarterback written all over him. Some scouts have him as high as the Top Eight, while others have him as high as 25th. Therefore, it is a real guessing game as to where Pulock will land. Blessed with an absolute rifle for a point shot, Pulock is one of the top power-play defenceman in this years draft.
Meanwhile, Morrissey isn't that bad either. He's been described as a high-risk, high-reward type of defenceman. He is a smooth skater, very active and has a good head for the game. He'll remind many of Jake Gardiner. Morrissey enjoyed a breakout year with the Prince Albert Raiders scoring 15 goals and adding 32 assists in 70 games. He showed a bit of a nasty streak as well with over 91 penalty minutes.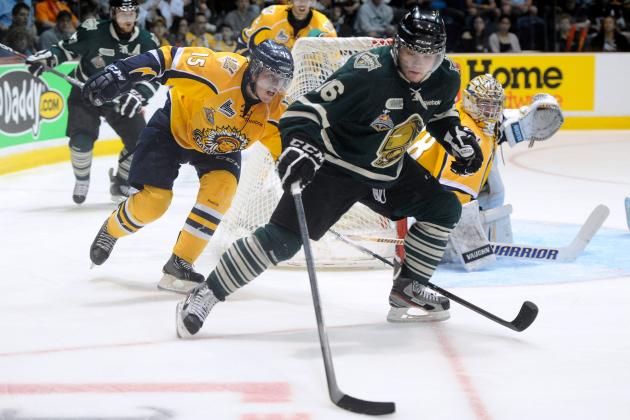 Richard Wolowicz/Getty Images

Best Case Scenario: Sean Monahan, Sasha Barkov or Max Domi
Worst Case Scenario: Nicolas Petan or JT Compher
We're moving onto the forwards now to watch, and we'll first start with playmakers. These are players that have incredible on-ice vision that allows them to find the open man easily, despite not having a ton of room to get rid of the pass.
Barkov is the best all-around playmaking center available in the draft, and he will likely go in the Top Four. You can strike him off the realistic list.
Monahan is probably the best playmaker other than Jonathan Drouin (winger) or Barkov (center) in this entire draft. His stock fell a bit due to a lengthy suspension and playing on one of the worst teams in junior hockey last year in the Ottawa 67's. I still expect Monahan to go in the Top 10, however if he falls, I expect Toronto to try and trade up to get him.
Max Domi has been as high as eighth on some draft boards, and as low as 24th, so he's also a guy who can go anywhere in the draft. However, my best guess is he goes somewhere between 10 and 20.
Domi possesses some of the best hands in the draft and reminds many of former London Knight Nazem Kadri. Domi plays with a slight edge, but nowhere near the level of his father Tie's type of edginess.
As for Nicolas Petan, he played alongside Brandon Leipsic and Ty Rattie in Portland this year and led the WHL in scoring with 46 goals and 120 points.
Both Petan and Domi are very small, but in today's NHL you can get away with being a smaller player, if you have enough skill. These two possess enough skill to allow them to play at the highest level.
Out of the three, I would prefer Domi because I feel the OHL is a tougher league to play in and he goes up against better competition, meanwhile Petan may have had his numbers elevated because he was playing with quite possibly the best pure goal scorer in Canadian Junior Hockey in Rattie. Monahan, like I said, is probably out of the Leafs reach unless they trade up.
Richard Wolowicz/Getty Images

Best Case Scenario: Elias Lindholm, Bo Horvat, Fredrick Gauthier
Worst Case Scenario: Curtis Lazar, Alex Wennberg
I feel that the two-way forward is a very valuable position in today's NHL.
The ability for a forward to play responsibly in both ends of the ice, as well as in all situations, seems like a real caveat to have on a team. The Leafs had that with Tyler Bozak to some extent, but guys like Patrice Bergeron, Pavel Datsyuk, Ryan Kesler, Mike Richards, and Jonathan Toews automatically come to mind when it comes to two-way forwards.
These players go on to win Selke Trophies or at least get nominated for the trophy.
This years crop probably isn't as explosive offensively, but they still project as pretty good two-way forwards with top-two-line upsides.
Lindholm has been projected to go in the top-seven in most drafts I have come across the past few weeks.
As for Horvat, he has been as high as 10 and as low as 28th in some drafts. Horvat, at 6'2" and 200 pounds already has an NHL body and his game has really come around lately. Initially looked upon as an early second-rounder, his play recently has allowed him to surge up draft boards.
Gauthier might be a target for the Leafs. He has a great shot, and even better, he was likely the best defensive forward in the QMJHL last year. At 6'5" and 210 pounds, Gauthier will need to gain about 20 pounds of muscle before he's ready to play in the NHL.
On most mock drafts, they have Gauthier going between 15 and 25, right in the Leafs wheelhouse. I've heard Jordan Staal like comparisons, but the Joe Colborne comparison will always be there too.
If they lose out on those guys, Curtis Lazar of the Edmonton Oil Kings, and Alex Wennberg, not Renberg, of Sweden could also be targets.
Best Case Scenario: Valeri Nichuskin, Anthony Mantha, Adam Erne
Worst Case Scenario: Ryan Hartman, Jason Dickinson, Hudson Fasching or JC Lipon
The best power forward is a real guessing game after the towering Valeri Nichuskin. Because Nichuskin is Russian and the fear he might bolt for the KHL is fresh on all teams' minds, there's a small chance he gets passed by and could fall into the mid teens, much like Mikhail Grigorenko did last year. Nichuskin is rising up draft boards and has drawn comparisons to Evgeni Malkin.
If Nichuskin is gone, I like the two power forwards out of the QMJHL to give the Leafs management a real talking point at the draft. Mantha, at over 6'4" and 200 pounds possesses an NHL-ready body. After scoring 50 goals this past season, Mantha has shown he can finish anywhere.
On the other hand, Erne is a consistent 25-plus goal scorer with a physical edge. While he isn't a big guy, he plays a big guy's game, not afraid to lay a huge body check or stand in front of the net and take abuse. Brad Marchand may be a suitable comparison at this point.
For worst case scenarios, if you can call it that, I have listed Ryan Hartman. He plays a similar game to that of David Backes, but is a little bit smaller and doesn't quite have the scoring ability. He played an integral part in the United States' World Junior Gold Medal winning team.
Jason Dickinson battled through some injuries and inconsistency to battle to a decent season with the Guelph Storm. Known for his ability to constantly be moving, Dickinson will need to add some muscle to battle in front of the net so he can use his hand-eye coordination—yet another strength of his. At 6'2" 180 pounds, Dickinson down the road could be regarded as a steal. He has top-12 talent, but will likely go between 20 and 35 at this years draft in New Jersey.
Fasching and Lipon both had good years with their respective clubs but were relatively invisible at the World Juniors for the States and Canada respectively. Lipon will be going through the draft for the third and final time, and at the age of 20, the Leafs may be able to draft him later in the draft instead.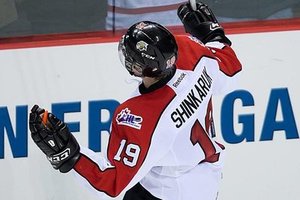 Best Case Scenario: Hunter Shinkaruk or Valentin Zykov,
Worst Case Scenario: Pavel Buchnevich, JT Compher, Kerby Rychel, Anthony DuClair and Andre Burakovsky.
Other than Nathan MacKinnon, there's no real elite level goal scorer in this draft. Hunter Shinkaruk is likely the best there is after MacKinnon.
There's a trio of Europeans, two of which are Russians, that are quickly rising in the rankings as the NHL Draft nears.
Kerby Rychel, son of former Leaf tough guy Warren Rychel is slated to go between 15 and 30 this year. He is a pure goal scorer and can finish anywhere on the ice. It's the consistency that really concerns me and whether or not he'll show that consistency at the next level.
DuClair is a second-round talent that has been on the Leafs radar for a little bit. He probably has one of, if not the best set of wheels in the draft and has the finishing ability too. Question is, do the Leafs trade down a little bit to grab him. It might turn out to be a best case scenario if they can trade down, get DuClair and get another asset like a pick or prospect.