5 Draft Prospects That Would Be a Perfect Fit for the Sacramento Kings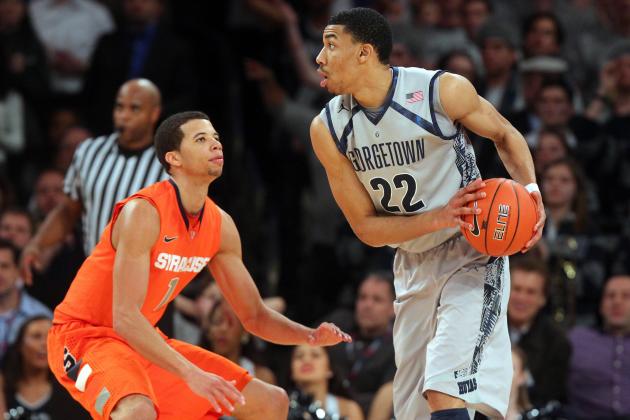 USA TODAY Sports
Otto Porter Jr. might be the best fit for the Kings, but will he be there when the Kings pick at No. 7?
The 2013 NBA draft is said to be one of the weakest in recent memory. That said, there are always impact players in every draft class, even if there are more in some years than in others. And with the Sacramento Kings owning the No. 7 pick, they should have a good shot at adding a good player to their team.
As they prepare for the draft, the Kings need to find out which players would help their team. Part of that process is coming up with a draft philosophy. This entails deciding whether they're going for team needs or just drafting the best player available. From there, they'll be able to identify prospects who fit their system.
I'll try to do the same thing: identify which players would be ideal for Sacramento. One consideration, as it will be for the Kings, is team needs. As it stands, Sacramento's biggest position of need appears to be small forward. Also, regardless of position, the franchise could use capable defenders. So small forwards or players that provide defensive value would fit well.
Yet most importantly, the Kings need to get a good player. That sounds simple enough, but the team missed on the No. 5 pick in 2012 when it selected Thomas Robinson. And while Jimmer Fredette is still on the squad and a contributing player, he hasn't lived up to the expectations that come along with being a top-10 pick.
With all of that in mind, here are five players who would be perfect fits for the Kings.
Begin Slideshow

»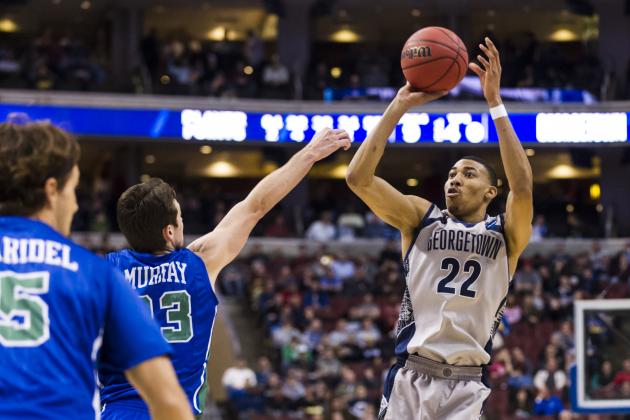 Howard Smith-USA TODAY Sports

Having Otto Porter Jr. fall to them in the draft would be the dream scenario for the Kings. Porter is a solid offensive player. Perhaps most importantly as far as Sacramento is concerned, he's an elite wing defender, and he's a small forward.
Yet most mock drafts have Porter going in the top five, meaning he's unlikely to be there when the Kings select at No. 7. But let's put that aside for a second and focus on the possibility that he is there and what he'd help bring to the table.
First, Porter made drastic improvements in his shooting.
He went from a 22.6 percent three-point shooter as a freshman at Georgetown to 42.2 percent during his sophomore campaign. He's able to pair that range with his ball-handling and driving ability, giving him a solid repertoire.
As was previously mentioned, he'd really help out the Kings on the defensive end. His 6'8", 198-pound frame profiles well at the 3, especially when you consider his 7'2" wingspan. He also saw his rebounding increase from 6.8 to 7.5 rebounds per game, as well as his steals from 1.1 to 1.8.
His skills would fit a team need, not to mention his profiling at small forward would fill the Kings' greatest position of need.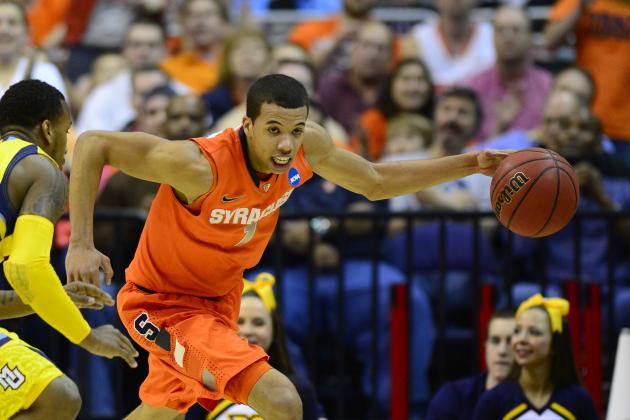 Bob Donnan-USA TODAY Sports

The argument could be made that the Sacramento Kings are already set in the backcourt, especially if Tyreke Evans returns. The team already has a starting-caliber point guard in Isaiah Thomas, a former lottery pick backing him up in Fredette and a solid starter/excellent sixth man in Marcus Thornton.
Throw in Evans and there's simply no room for another guard.
However, the thing about Michael Carter-Williams is that while he's a guard, he brings things to the table things that all of those other options are lacking.
For one, he's a true point guard. His court vision and passing ability helped him rack up 7.3 assists per game at Syracuse this past season. That's nearly equal to the 7.9 combined assists the Kings got from their primary point guards (Thomas, Fredette, Toney Douglas).
Carter-Williams is also known to be an excellent defender. In fact, ESPN's Chad Ford (subscription required) describes him as a "rangy defender who racks up steals." Ford's not lying, as Carter-Williams averaged 2.8 steals per contest.
Also worth noting, Carter-Williams brings serious size to the point guard position. His 6'6" height is bigger than most NBA point guards. It's also much bigger than the team's other point guards (Fredette is 6'2", Douglas is 6'2" and Thomas is 5'9").
The drawback with Carter-Williams is his lack of an outside shot. His three-point percentage of .292 will need to be improved on. Yet with his size, ability to defend and pass the ball as a pure point guard, he'd be a good fit in Sacramento.
Josh H. Holmberg-USA TODAY Sports

We've all heard of combo guards. Well, Anthony Bennett is a bit different—he's a combo forward. He's got the size and strength to play the 4 and the athleticism and shooting range to play the 3.
Ideally, the Kings could get their small forward of the future with the No. 7 pick. The position is the team's weakness heading into the draft, and Bennett could help fill that need.
His shooting range (37.5 percent three-point shooter) and ball-handling ability could profile well at the 3. However, Bennett played the 4 in college, so he'll need to show teams that he's able to handle the transition to small forward.
In the Kings' case, Bennett could help them at either spot. It'd be great if he's able to handle small forward, yet Sacramento isn't exactly set with a top-flight power forward either. Jason Thompson has shown the ability to start, but he'd be an excellent backup in the best-case scenario. The same can be said of Patrick Patterson, not to mention Patterson's contract expires following the 2013-14 season.
And as Derek Page of Hoopsworld points out, Bennett could form an excellent partnership with Kings center DeMarcus Cousins:
Bennett has the tools offensively to score in myriad ways, whether it's with his back to the basket, facing up on the perimeter or even draining three-pointers from the outside. This versatility on the offensive end would go a long way in opening up his prospective frontcourt partner, center DeMarcus Cousins on the block.
It's certainly something to consider.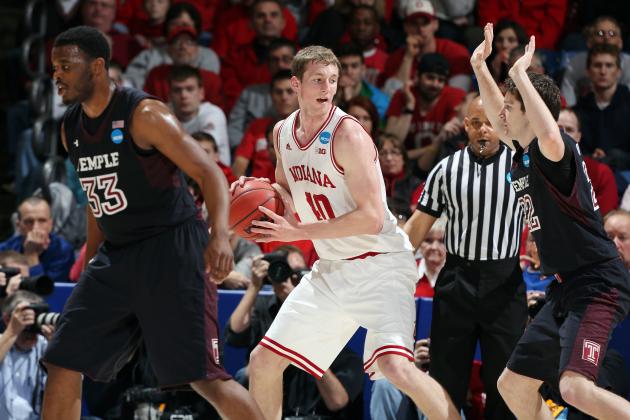 Brian Spurlock-USA TODAY Sports

Even though Cody Zeller played center during his two years at Indiana, he profiles as a power forward in the NBA. That's a good thing for the Kings since they're already set in the middle with DeMarcus Cousins.
Entering this past season, Zeller was envisioned as one of the top picks in the draft—potentially even the top pick. However, he didn't dominate as much as was expected, raising questions about his ability to translate to the next level.
Yet Zeller is starting to put some of those concerns to rest due to his athleticism and shooting range, leading many scouts to believe he can handle the switch to power forward.
Here's what Chad Ford of ESPN (subscription required) wrote about Zeller's recent performance at a draft workout in Santa Monica, Calif:
Zeller told us at the NBA draft combine we'd be surprised by his shooting and he backed up that claim Thursday. I tracked his NBA 3-point shots and he shot 72 percent for the workout. That's terrific, especially for a 7-footer. His midrange jumper was even better. Zeller showed the ability to shoot off the bounce and with his feet set. He was especially effective in the corners, where he shot 80 percent from the field for the day.

Combine that small sample with other known qualities of Zeller -- he's the fastest big man in the draft (both laterally and in sprints), has the highest standing vertical (35.5 inches) of any player 6-foot-9 or taller in our database, great hands and a high basketball IQ -- and the question is: Did Zeller go from being overrated to underrated?
In fact, following Zeller's showing at the workout, he's now drawing comparisons to Chris Bosh and LaMarcus Aldridge, who were also centers in college but successfully transitioned to power forward in the NBA.
So while the 4 spot may not be Sacramento's biggest position of need, if Zeller profiles like Bosh and Aldridge, the Kings could certainly use him.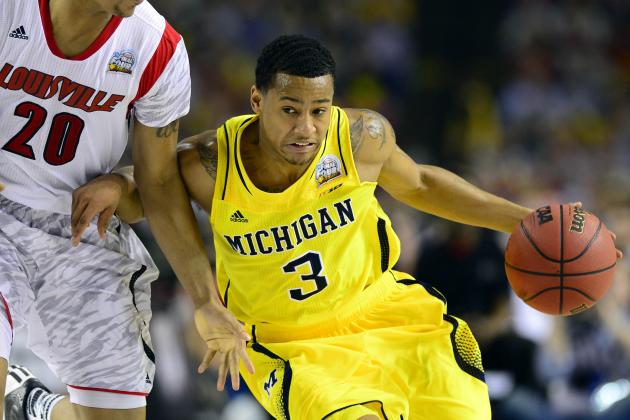 Bob Donnan-USA TODAY Sports

In terms of positional value, Trey Burke won't provide much for the Kings. As an undersized point guard, Burke seems like a clone of Thomas and Fredette. Where Burke might help out most is with his competitiveness and attitude.
Here's what Alex Kennedy of Hoopsworld wrote about Burke's moxy:
Burke is an excellent leader and he makes the players around him better. He also has an unwavering competitive nature. During the draft combine in Chicago, he was asked how he would handle all of the losses that he'd have to experience during his rookie season with a lottery team, but Burke refused to believe that he couldn't turn his team into a winner right away. He had the same attitude as a high school senior when he vowed to become Michigan's starter from day one and fill the shoes of Darius Morris, who had just left for the NBA. He did exactly that and returned the program to prominence.
In a way, that attitude is exactly what the Kings need. Don't get me wrong, that isn't to imply there aren't already competitive players or high-character guys on the team—there are.
But Burke might fit perfectly when considering the circumstances surrounding the ownership change and the hiring of Mike Malone as head coach. All of the turnover provides the organization a chance to alter the culture in the locker room. Bringing in someone like Burke could help to facilitate that transition.
The Kings need players who are willing to get with the program and not rock the boat. That's where Burke comes in. Of course, it doesn't help that he's also a highly regarded point guard.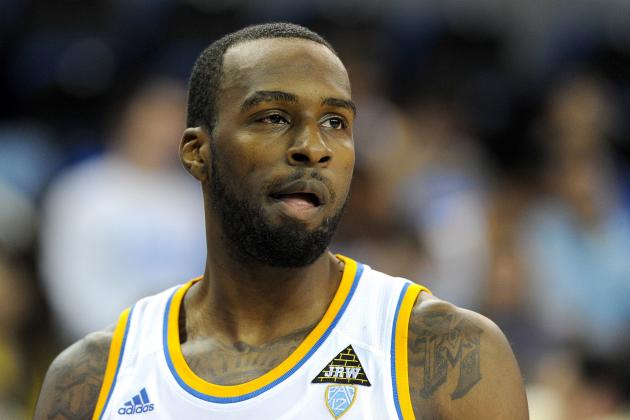 Jayne Kamin-Oncea-USA TODAY Sports

Shabazz Muhammad plays small forward, which could really help the Kings. He's also NBA-ready on the offensive end.
The reason why he wouldn't be an ideal fit with Sacramento is his shoot-first mentality on offense and his lack of defensive value. Both of those weaknesses tend to fall in line with other problem areas on the team.
So while he plays the ideal position, he's not an ideal fit.
Rudy Gobert
The only reason Rudy Gobert is worth mentioning as a possibility is because the Kings had him, along with five other players, in for a workout on Monday. Of the players in attendance, Gobert's the only one who projects as a lottery pick.
Although, even then, the Kings would either have to be awfully enamored with his abilities or be looking to trade back, as Scott Howard Cooper of NBA.com points out:
Rudy Gobert in SAC on Monday. Either agent believes Kings are working to trade down or Kings, at 6, like him a LOT more than other teams.

— Scott Howard-Cooper (@SHowardCooper) June 2, 2013
Follow me on Twitter: @SimRisso.