Ah, thank God. We're back to a modicum of normal fashion in the life of Paul George.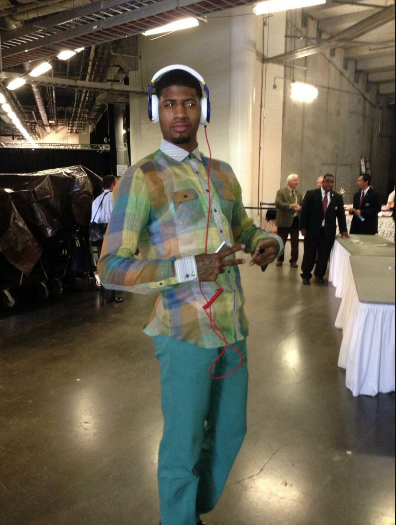 He used to wear outrageous things, but George went back to basics for Game 5 of the Eastern Conference Finals.
The Indiana Pacers small forward donned a humble, multicolor flannel dress shirt with blue-white cuffs and collar, paired with teal pants for his fifth game against the Miami Heat, according to Next Impulse Sports.
Nothing flashy, just a tasteful display of the color spectrum with some fine Masters green slacks.
Remember this is the NBA, where fashion has evolved to its own plane of existence, and the physics are different here.
Basketball fashion operates on a different set of expectations, and the law of relativity is entirely skewed here. To be clear, compared to the get-ups we saw out of George (and other players), his ensemble for Game 5 was the equivalent of blue jeans and a white t-shirt.
While some of us cried, "Hooray normality!" others were less enthused with the outfit.
Paul George's outfit before the game.... #NO

— Bailey Kennedy (@baileyjkennedy) May 31, 2013
paul george, that outfit is not cute boo.

— Shawn Jones (@shawnisgeeee) May 31, 2013
Paul George's press conference shirt looked like a Family reunion picnic blanket.

— Anthony Davis (@MRantDavis) May 31, 2013
I personally thought it was a better look than what we'd seen before but will admit it had a certain "hobo railcar" tang to it when seen at a certain angle—which some people liked.
Paul George's shirt tonight up close, I like it http://t.co/SbJsf7JB1G

— CJ Fogler (@cjzero) May 31, 2013
In case you're one of the select few who managed to successfully neutralize any memory of his outfits for Games 1 and 2, allow me to sling them back into your daymares.
First, we have the Game 1 Vera Bradley Chloroplast special.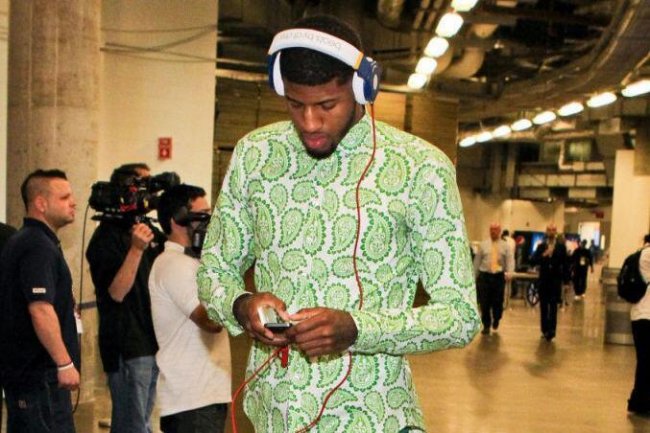 Then, we had the Game 2 Virgin Mobile/Miami Vice delight.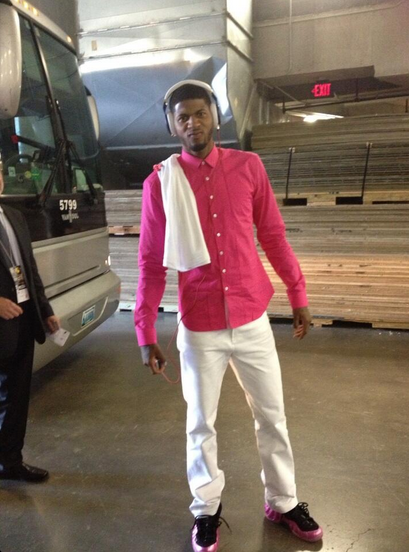 What did you think of Paul George's Game 5 outfit?
Now that we're all reacquainted with this situation, there's nothing left to do but continue the judgement of things that George chooses to wear.
Hey—Saturday might be the last time we get to do it for a while. Let's go to town.