Is Yankees' Shocking Sweep by Lowly Mets a Sign Things Are About to Collapse?
Use your ← → (arrow) keys to browse more stories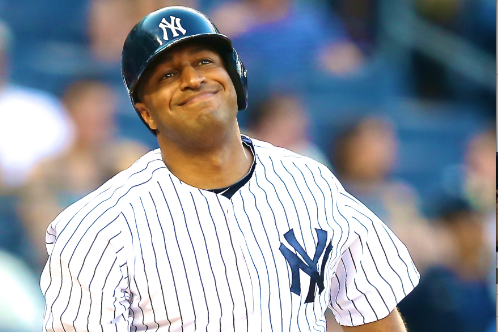 It's tough to spin losing four straight games to the New York Mets into something positive, but the New York Yankees still have nothing to worry about.
Bragging rights: Thanks to @DillonGee35's career night, @Mets finish off 4-game #SubwaySeries sweep of Yankees.

— MLB (@MLB) May 31, 2013
The Yankees were bad throughout the four nights, but they weren't that bad.
Phil Hughes was brilliant in the first game for the Bronx Bombers, but he couldn't get much help from his offense, as the Yankees fell, 2-1.
In the Mets' second home game, Matt Harvey was flawless, but Hiroki Kuroda was just as good. The Yankees took a one-run lead into the ninth inning, and no one on the planet expected Mariano Rivera to blow the save. But he did and the Yankees dropped another.
Mariano Rivera blew a save without recording an out last night for the 1st time in his career. He has had 730 career save opportunities.

— Bleacher Report (@BleacherReport) May 29, 2013
David Phelps couldn't get out of the first inning when the Yankees welcomed the Mets to the Bronx Wednesday night, which really put New York in a poor position going into the finale.
In the final game of the pair of home-and-home series, Dillon Gee just shut the Yankees down. Gee struck out 12 without walking a batter, allowing just one earned run in 7.1 innings of work.
In general, it wasn't really the pitching that was the issue for the Yankees—it was the offense, which couldn't get anything going all series. Here's a fun note, brought to us by the fine people at ESPN Stats & Info:
In last 3 games vs Yankees, Mets pitchers had 34 K and 0 BB. Mets sweep Subway Series season series for 1st time

— ESPN Stats & Info (@ESPNStatsInfo) May 31, 2013
But despite losing four straight to their crosstown rivals, the Yankees will still enter their upcoming three-game series against the Red Sox just two games back in the AL East. By the time that series comes to a close, the Bronx Bombers could be in first place.
"Every team is going to go through it," manager Joe Girardi told David Waldstein of The New York Times. "You've got to bounce back and win a game tomorrow; that's the bottom line. You're going to have your ups and downs. You've just got to put an end to it; that's the bottom line."
That's what the Yankees will look to do on Friday when their workhorse, CC Sabathia, takes the mound. Sabathia is 4-4 in 11 starts with a 3.96 ERA, but he will need to shake his recent struggles, as the Yankees absolutely need a big start from their big southpaw.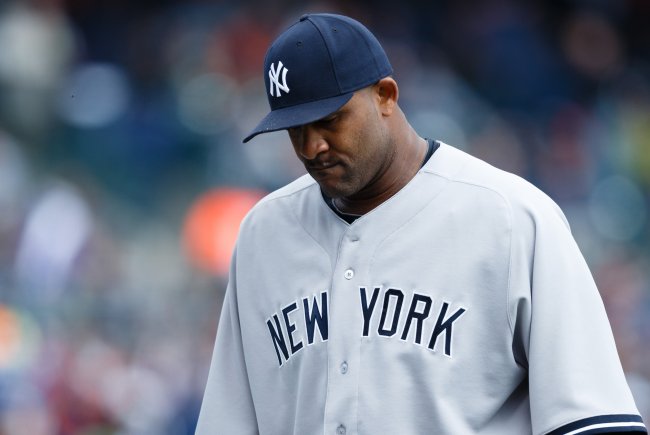 Rick Osentoski-USA TODAY Sports
Even if Sabathia fails to pitch well on Friday, there's still little reason to be concerned about the Yankees. Keep in mind that the Bronx Bombers haven't had all their regulars in the lineup simultaneously all this season and have still managed to stay in the division hunt.
For example, Reid Brignac and David Adams each started three games this Subway Series. Brennan Boesch started twice. Vidal Nuno, who isn't really a guy that's going to be a mainstay in Girardi's starting rotation, got another start against the Mets.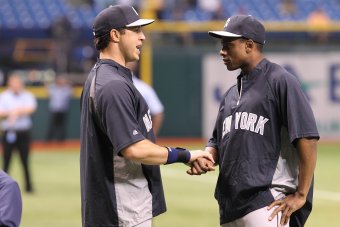 Kim Klement-USA TODAY Sports
Mark Teixeira and Kevin Youkilis are both on rehab assignments in the minor leagues and will soon be putting on the pinstripes, according to Jerry Crasnick of ESPN. That'll mean considerably less playing time for guys like Adams, Brignac, Jayson Nix and Lyle Overbay.
Curtis Granderson, who recently came back from injury, is now back on the disabled list after fracturing a knuckle. He's going to be out for at least a month but remains on schedule after surgery, according to Bryan Hoch of MLB.com. When he comes back, Boesch should be seeking a new club to play for.
Andy Pettitte, meanwhile, will come off the DL on Monday and will start against the Cleveland Indians, ESPN New York's Andrew Marchand reports. That will likely mean that Nuno or Phelps will get knocked out of the starting rotation.
And while he's still a ways away from taking the field for the Yankees in an actual game, Derek Jeter is progressing, according to Wallace Matthews of ESPN New York. That will definitely mean the end for Nix and Brignac (if not Eduardo Nunez, who is also hurt at the moment, too).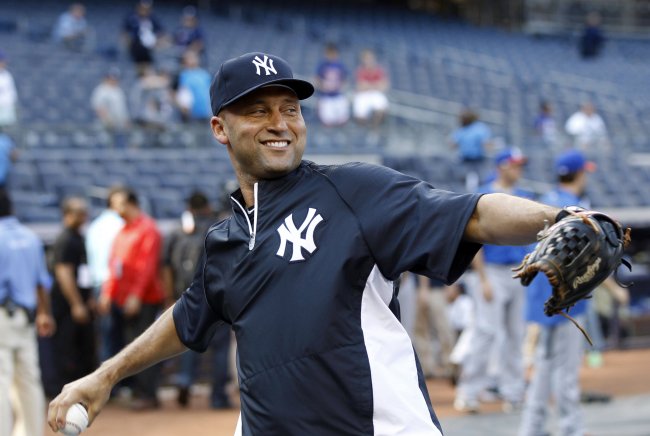 The Star-Ledger-USA TODAY Sports
The Yankees' irregulars have kept them in the race, which is about all that the front office and fans could've asked for. One would have to assume that once the aforementioned players return from their respective injuries, the Bronx Bombers would be even more dangerous.
Is there reason to panic in the Bronx?
The Yankees that just lost four games in a row to the Mets for the first time ever will not be the same Yankees that will be fighting for a postseason berth down the stretch (unless injuries continue to plague them, at least).
It's never good to get swept by any team—especially by a rival that's toward the bottom of its division. But it's far from the end of the world for the Yankees. They're still very much contenders to this point in the season, and there's no reason to believe that this stretch of poor play is going to continue.
The Yankees need to forget about these last four games against the Mets, take the next couple of hours to regroup and then get ready to face the Red Sox.