Offseason Power Rankings for Every Player on Minnesota Vikings' Roster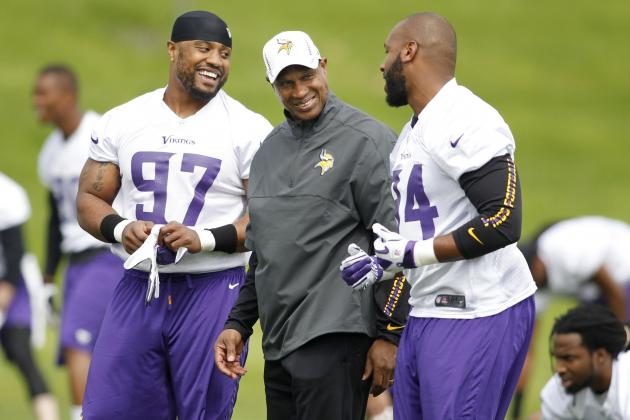 Bruce Kluckhohn-USA TODAY Sports

The Minnesota Vikings began organized team activities (OTAs) on May 28, with several storylines playing out among the team's 90-man roster.
All eyes have been on first-round draft picks Sharrif Floyd, Xavier Rhodes and Cordarrelle Patterson, who each hope to make an impact in their first season with the Vikings.
Other stories include the position change for Joe Webb to wide receiver and the sore ankle that kept Greg Jennings off the field on Wednesday.
While these stories are intriguing, position battles for the final 53-man active roster will also weigh heavily on the minds of players. Late-round draft picks and role players often fight for backup spots, while undrafted free agents try to impress their coaches.
We have reviewed the Vikings' 90-man roster and ranked each player among the 53 available roster spots.
Criteria for the rankings include impact on the team and likelihood to make the roster. Impact was defined as past performance and anticipated potential for this upcoming season.
Click ahead to see where your favorite players landed on this offseason power rankings of the Minnesota Vikings and make sure to voice your opinion in the comments section.
Statistics courtesy of NFL.com and Pro Football Focus, unless otherwise indicated.
Begin Slideshow

»
Bruce Kluckhohn-USA TODAY Sports
Greg Childs enters his second season after missing all of 2012.
53. DT Everett Dawkins
Drafted by the Vikings in the 7th round (229th overall), Dawkins has good foot speed and quick hands to rip past offensive linemen and attack the quarterback.
His ability to overpower opponents and hustle through the whistle gives this former Florida State Seminole a good chance to fit in Minnesota's defense.
52. CB Marcus Sherels
The Vikings used Sherels last year in relief to an injured secondary and as a punt returner. The Minnesota native scored his first touchdown on a 77-yard punt return against the Detroit Lions last season.
Sherels will need to improve his coverage skills and closing ability to make the roster, but the Vikings need depth in the secondary.
51. OG Travis Bond
This towering lineman (6'6", 329 lbs) was selected in the seventh round at 214th overall. Bond possesses excellent size and quickness to protect Vikings quarterback Christian Ponder.
The guard out of North Carolina also can drive through defenders both on the line of scrimmage and at linebacker. Bond is a developmental project with great upside.
50. DE Lawrence Jackson
Jackson joined the Vikings in 2013 as a free agent from the Detroit Lions. Over five seasons, he recorded 141 tackles, 19.5 sacks and four forced fumbles.
Originally drafted by the Seattle Seahawks in the first round, Jackson will bring veteran experience and proven production in the NFC North over the last three years.
49. LS Cullen Loeffler
The long snapper position can be difficult to rank, but Loeffler is a lock to make the team (barring injury) and plays an integral part of the Vikings' excellent special teams game.
Loeffler was signed by the Vikings as an undrafted free agent in 2004 and is signed through 2014.
48. WR Greg Childs
The former Arkansas Razorback will continue his recovery after tearing patellar tendons in both of his knees. The Vikings used a fourth-round selection on Childs in last year's draft.
Childs was able to run routes in conditioning workouts in early May for the team. If he can progress through OTAs and training camp, the 6'3" prospect with 4.55 speed could step onto the field this year.
47. RB Matt Asiata
As the third-string running back, Asiata recorded three carries for nine yards and added a reception for two yards last season. He was undrafted out of Utah and signed with the Vikings in 2011.
After flirting with the practice squad and eventually released, Asiata finally landed a spot with the team in 2012. He will likely see limited playing time again in 2013, but provides depth at the position and is a serviceable back.
46. QB Mcleod Bethel-Thompson
Known simply as MBT, the hard-throwing righty should remain squarely at the No. 3 quarterback position behind Ponder and Matt Cassel.
Originally undrafted in 2010, Bethel-Thompson bounced around San Francisco and Miami before joining the Vikings. He showed promise in the preseason last year, which led to him beating out Sage Rosenfels, and he should continue his development in 2013.
On the Bubble
DT Christian Ballard, OL Troy Kropog, DE D'Aundre Reed, S Andrew Sendejo, LB Larry Dean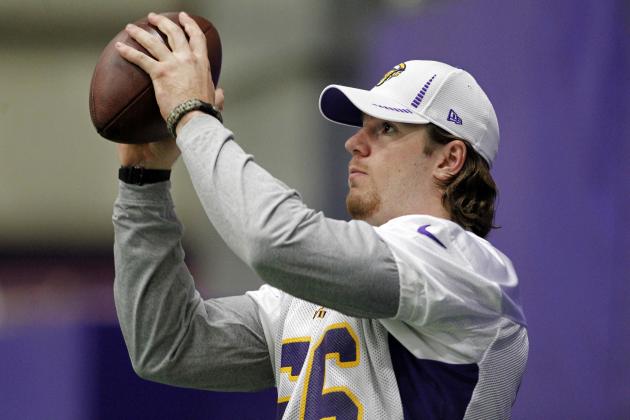 Bruce Kluckhohn-USA TODAY Sports
Michael Mauti hopes to join the Vikings after suffering three ACL tears in college.
45. LB Michael Mauti
Penn State linebacker Michael Mauti was one of three seventh-round draft picks for the Vikings in 2013 and provides the most potential out of those players. Before suffering his third knee injury last season, Mauti was having a dominant season with 96 tackles (four for loss), 2.5 sacks and three interceptions.
If Mauti can rehab his injury, he projects well as a middle linebacker in Minnesota's defense, a position that may continue to be in question over the years.
44. OG Jeff Baca
The Vikings received great value in the sixth round of this year's draft selecting Jeff Baca out of UCLA. The 6'3", 302-pound former senior is an intelligent lineman with good technique and plays aggressively at the moment of attack.
The offensive line is an area of strength for Minnesota and Baca should join the team as a backup with potential to start in the future.
43. WR Stephen Burton
Although Burton's touchdown catch last season against the Indianapolis Colts was fortunate—the ball was tipped at the line of scrimmage and again by Kyle Rudolph in the end zone—he has demonstrated steady development with the Vikings over the past two years.
Burton has played in 15 games, hauling in seven receptions for 73 yards and one touchdown. When given the opportunity to play, the former Aggie has performed well.
42. P Jeff Locke
Many people rank the punter last on any 53-man roster, but with a fifth-round investment in this year's draft, Locke is expected to turn the field position game in the Vikings' favor.
The left-footed punter makes fielding the ball awkward for returners and he excels in directional kicking. Locke had 34 punts inside the 20-yard line, which was tops in the Pac-12, and led the NCAA with 68 of 89 touchbacks on kickoffs.
41. LB Marvin Mitchell
For a team with questions around linebacker, Mitchell provides veteran leadership both at weak-side linebacker and on special teams.
Minnesota signed Mitchell to a one-year contract this past offseason as an unrestricted free agent. Over his six-year career, he has 129 tackles two sacks and one interception. In 11 games for Minnesota last season, Mitchell recorded 10 combined tackles.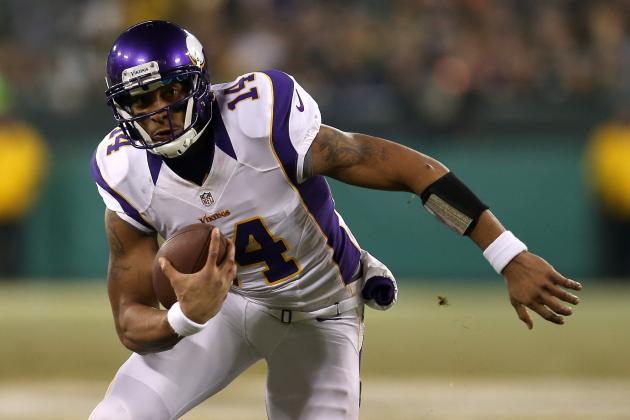 Jonathan Daniel/Getty Images
Joe Webb will try to remain with the Vikings as a wide receiver in 2013.
40. LB Tyrone McKenzie
Similar to Marvin Mitchell, McKenzie adds depth and leadership at the linebacker position. After spending all of 2011 on the Vikings' practice squad, he played in 16 games last year, while recording 12 tackles and a forced fumble.
McKenzie was originally drafted by the New England Patriots in the third round in 2009. He will most likely contend for backup at middle linebacker.
39. LB Audie Cole
The Vikings drafted Cole last year in the seventh round (210th overall). He was primarily used on special teams. Many fans will remember his performance against the Buffalo Bills in last year's preseason where he intercepted two consecutive passes and returned them for touchdowns.
Headed into 2013, the slight edge goes to Cole over McKenzie in seeing more backup snaps at middle linebacker. His instinctual style of play fares well in the team's 4-3 defense.
38. WR Joe Webb
It may take awhile to get used to seeing "wide receiver" next to Webb's name, but the converted quarterback has been impressive in OTAs thus far.
Webb possesses the size and speed to be successful at wide receiver and has a working knowledge of the route tree and timing patterns. While he may be raw at the position, his combination of athleticism and team focus should land him a roster spot.
37. OL Joe Berger
The versatility Berger brings to the Vikings is the main reason for his ranking in the top 40. He can switch between multiple spots on the offensive line and has eight years of experience.
Berger has good size at 6'5", 315 pounds and has played in 29 games for Minnesota. He will most likely play backup at center but can slide into other positions as necessary.
36. TE John Carlson
The front office still hopes Carlson can deliver on his five-year, $25 million contract that was extended in 2012. After recording 137 receptions for 1,519 yards and 13 touchdowns with Seattle, he only managed eight receptions for 43 yards and zero touchdowns in Minnesota.
This ranking is based on Carlson's past performance and potential to contribute in 2013. Based on the offensive packages the Vikings run, he should have plenty of opportunities.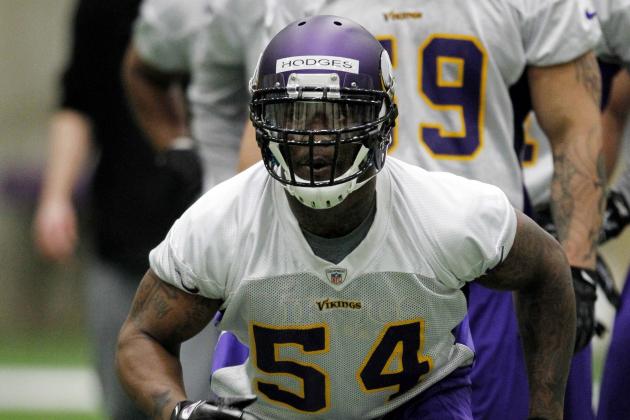 Bruce Kluckhohn-USA TODAY Sports
Gerald Hodges participating in drills at rookie minicamp.
35. LB Gerald Hodges
The former Penn State linebacker and fourth-round draft pick hopes to make an immediate impact joining the Vikings. With the shakeup at middle linebacker and Hodge's impressive college career, he will contend for the starting weak-side linebacker spot.
The converted safety has excellent coverage skills and closing speed against ball-carriers, making him a natural fit in Minnesota's defense.
34. QB Matt Cassel
While Cassel joins the Vikings as the backup quarterback, it certainly hasn't quieted the contention that he can still perform as a starter.
Cassel had a breakout year in 2008, starting for the injured Tom Brady in New England. After joining Kansas City in 2009, he had his strongest performance the following season with 27 touchdowns and seven interceptions.
33. S Robert Blanton
Blanton should have no trouble making the Vikings' roster, but will most likely start the season as a substitute. He played in 13 games in 2013 and had as many tackles.
Blanton was selected in the fifth round last year (139th overall), which added another Notre Dame player to the Vikings. His long reach, size and speed translates well as a center fielder in the team's Tampa 2 defense.
32. DT Fred Evans
A seven-year veteran, Evans has played well in a backup role and will most likely continue to do so for the remainder of his career. Before Letroy Guion, he was giving spells to run-stopper Pat Williams.
Evans played in all 32 games for the Vikings the last two seasons, recording 45 tackles and two sacks.
31. OG Brandon Fusco
Fusco enters his third year with the Vikings, joining the team in the same draft class as Christian Ponder. The lineman out of Slippery Rock started all 16 games last year and was a big part of Adrian Peterson's success.
Fusco's motor and work ethic has served the Vikings well and he will be the top contender for starting right guard in 2013. He needs to improve at pass-blocking, allowing four sacks in 2012.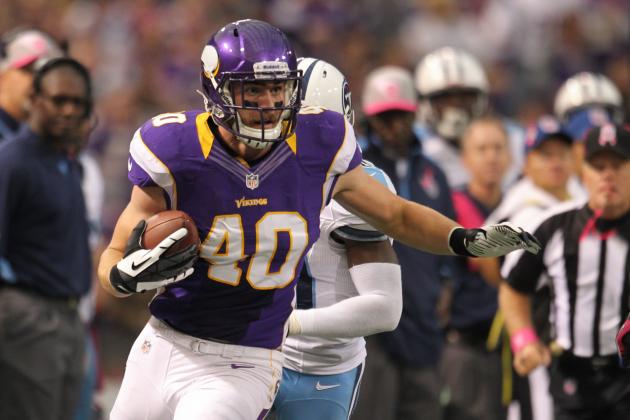 Brace Hemmelgarn-USA TODAY Sports
Rhett Ellison can block and catch as a versatile tight end in Minnesota's offense.
30. S Mistral Raymond
After an ankle injury in 2012, starting safety Mistral Raymond missed six games and split time with Jamarca Sanford upon his return.
Raymond will compete for a starting safety position after demonstrating a good recovery in limited action last season. In 10 games, the third-year player had 16 tackles and one pass defended.
29. OG Charlie Johnson
Johnson started all 32 games over the last two seasons, as well as all 75 games played dating back five years to Indianapolis. He is a durable veteran entering his eighth season of play.
While Johnson has areas for improvement, he has been a steadfast force on the Vikings' offensive line. Although not as strong a run-blocker as Brandon Fusco, he only allowed one sack in 2012.
28. WR Jerome Simpson
The former Cincinnati Bengal was a disappointment last year for the Vikings, but general manager Rick Spielman extended Simpson a one-year contract this offseason. Fighting back troubles all year, the team looks poised to give him another fighting chance.
Will Simpson revert back to his breakout year in 2011 where he hauled in 50 catches for 725 yards and four touchdowns? Or was last year's 26-catch performance for 274 yards and no scores indicative of more things to come? The front office is hoping for the former.
27. S Jamarca Sanford
With Raymond sidelined, Sanford stepped up to the challenge and started 13 games for the Vikings. He recorded 66 tackles, fives passes defended and four forced fumbles.
With the safety position up for grabs, Sanford ranks just ahead of Raymond due to the fifth-year player's experience and contributions on special teams.
26. TE Rhett Ellison
Ellison has big shoes to fill after choosing the number of former Viking Jimmy Kleinsasser. So far, the tight end out of USC has looked the part.
Ellison ranks above John Carlson due to his toughness and versatility. While not quite as skilled at pass catching, Ellison has softer hands than expected and hauled in seven receptions for 65 yards in 2012.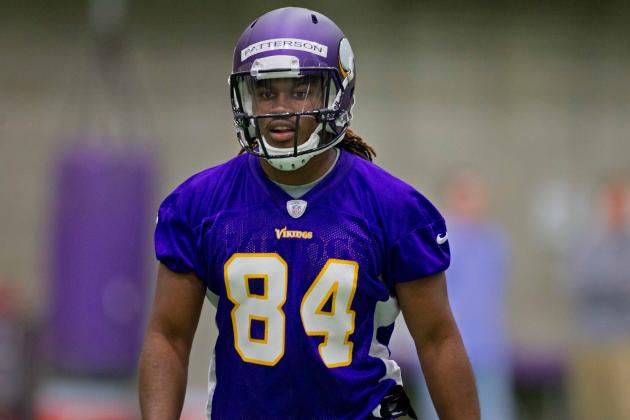 Bruce Kluckhohn-USA TODAY Sports
Cordarrelle Patterson hopes to electrify crowds with the ball in his hands.
25. CB A.J. Jefferson
Signing his one-year tender as a restricted free agent, Jefferson will see playing time primarily in dime defenses. Jefferson recorded 37 tackles for five passes defended coming off a season in Arizona where he had 66 tackles, 12 passes defended and one interception.
The 2013 season should be a step forward for Jefferson, who showed glimpses of promise but also some missteps in coverage.
24. DT Letroy Guion
Selected by the Vikings in the fifth round of the 2008 draft, Guion has steadily progressed each year in the team's defense. He started 15 of the games he played in 2012 and recorded 31 tackles and two sacks.
Guion has the size (6'4", 303 lbs) to plug holes as a nose tackle, helping to anchor a Vikings defense that finished 11th in rushing defense.
23. CB Josh Robinson
Robinson is expected to emerge as a viable option at corner with veteran Antoine Winfield signing with Seattle. The second-year player has better coverage skills and closing speed than teammate Jefferson.
The Vikings drafted Robinson in the third round last year, primarily due to his speed and athleticism. The Central Florida standout ran a 4.33 in the 40-yard dash and posted a 38.5-inch vertical.
22. RB Toby Gerhart
The No. 2 running back position should be locked up with Gerhart filling in nicely for Peterson when he needs a spell. Although not an elite talent, he still averaged 3.4 yards per carry (50 carries, 169 yards) for one touchdown.
Gerhart has also played well on third-down passing plays, chipping blockers and protecting the quarterback. The former Stanford Cardinal is a hard-nosed player who enjoys dropping his shoulder and grinding out a few extra yards.
21. WR Cordarrelle Patterson
The ranking of Patterson rests solely on potential impact for the Vikings in 2013. The all-purpose playmaker out of Tennessee can play receiver, running back and return specialist.
Although raw at the receiver position, Patterson has the unique blend of speed and pure athleticism that will leave opposing coaches holding their breath when the ball gets in his hands.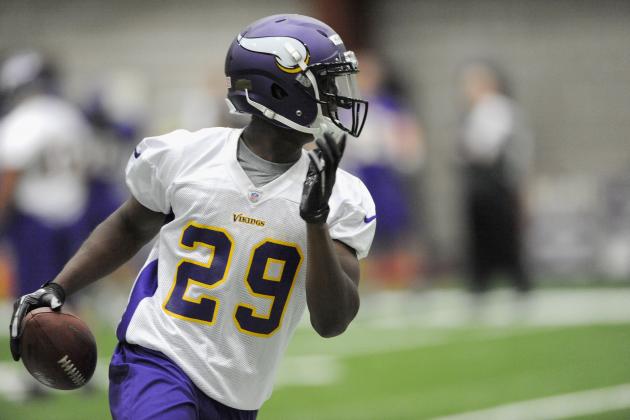 Hannah Foslien/Getty Images

Rhodes is the favorite to start opposite of Chris Cook in the Vikings base defensive package. The 6'1", 215-pound prospect out of Florida State was impressive at rookie minicamp. Mike Wobschall of vikings.com had a chance to interview the standout rookie earlier this month.
Selected in the first round (25th overall), Rhodes will need to learn quickly the various schemes of the NFL and increased speed of the competition. However, given his athletic ability, tall frame and work ethic, he may become a top defender in 2013.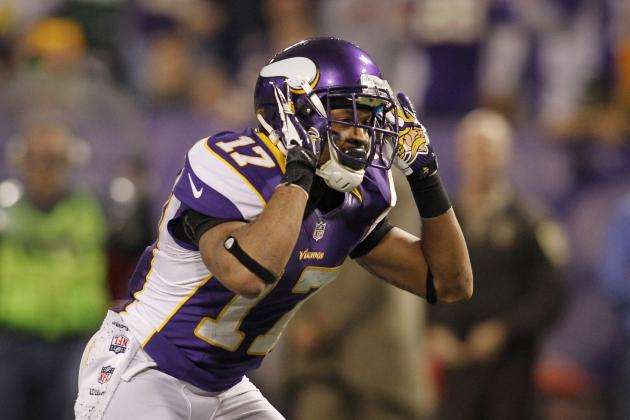 Bruce Kluckhohn-USA TODAY Sports

Wright didn't step onto the field in his rookie campaign until Week 10 in 2012, but he made his name known in the second half of the season.
The former fourth-round draft pick out of Arkansas collected 22 receptions for 310 yards and two touchdowns. These totals included a 65-yard strike from Christian Ponder against Green Bay in the final game of the season.
Wright should permanently slide in as slot receiver after the departure of Percy Harvin, with Cordarrelle Patterson and Jerome Simpson contending for the No. 2 wideout.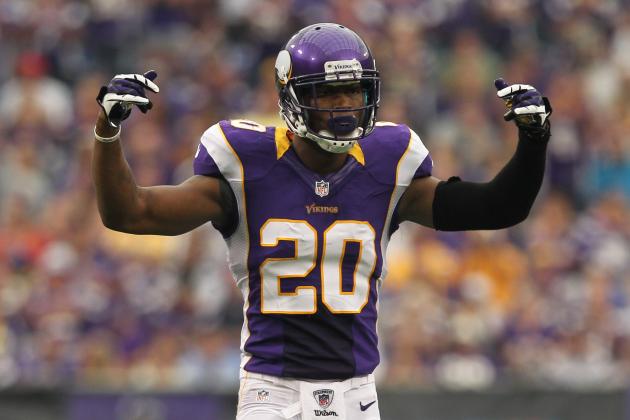 Brace Hemmelgarn-USA TODAY Sports

Cook enters his fourth season with the Vikings after being selected in the second round (34th overall) of the 2010 draft. Although a tall, physical cornerback who fits perfectly in the team's defense, he has been unable to stay healthy for a full season.
The former Virginia Cavalier will need to take a leadership role in 2013 with the departure of Antoine Winfield and rookie Xavier Rhodes joining the team. This will be Cook's final year of his rookie contract, meaning the oft-injured corner must stay healthy and contribute for the Vikings to consider extending another contract.
Look for Cook to step up this season and finally deliver on the high expectations that existed when he was drafted.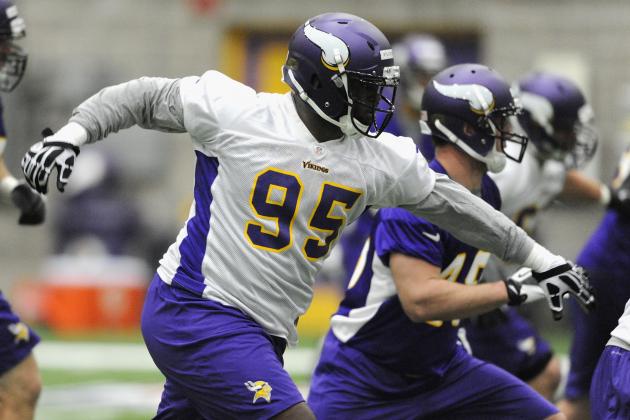 Hannah Foslien/Getty Images

The first selection by the Vikings in this year's draft, Sharrif Floyd will begin to learn behind defensive tackle Kevin Williams. However, as the weeks continue, don't be surprised if this top defensive prospect begins to garner more and more snaps from his teammates.
Floyd is the type of franchise player that Minnesota was thrilled to see fall to No. 23 overall in the draft. He plays an excellent 3-technique at tackle and will most likely permanently succeed Williams after the final year of his contract this season.
The upside he brings to the 2013 season warrants placement in the top 20 players on the Vikings' roster.
Jeff Hanisch-USA TODAY Sports

Sullivan is a crafty veteran who has started in every game he's played the past four seasons. Drafted in the sixth round out of Notre Dame in 2008, Sullivan is the type of player you'd like to see make a long career in Minnesota.
According to Pro Football Focus, Sullivan is the top rated center in the NFL. He excels in both run and pass-blocking, and is rarely penalized. With good pad level and balance, Sullivan is able to utilize his 6'4", 301-pound frame against defenders.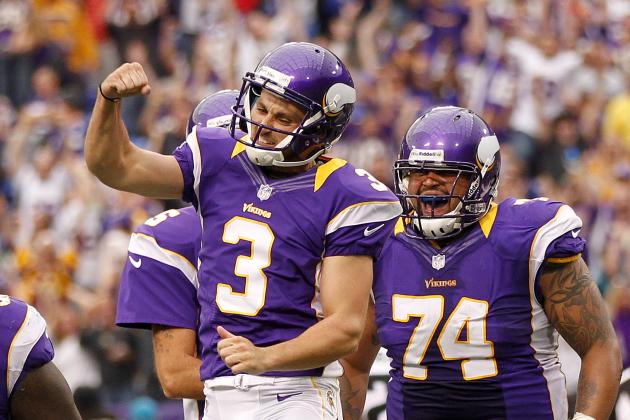 Andy King/Getty Images

Kickers are a difficult position to compare against every-down players, but Blair Walsh rises to the top. After taking Walsh in the sixth round of last year's draft, the Vikings watched the Georgia standout set a team record of 141 points in a season, which was three points shy of the NFL rookie record.
Walsh set an NFL record with 10 field goals of 50-plus yards and earned a bid to the Pro Bowl in his first year in the NFL.
Say what you will about kickers, Walsh is one of the top Vikings on the roster.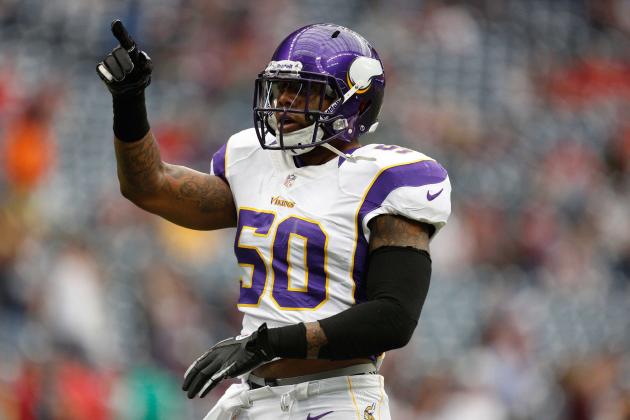 Thomas Campbell-USA TODAY Sports

Henderson appears the favorite to move into the middle linebacker position following the exit of Jasper Brinkley to the Arizona Cardinals. The younger brother of E.J. Henderson would follow in the footsteps of his brother with the transition.
Henderson had good numbers from last year with 80 tackles, three sacks, three passes defended and one forced fumble. He will need to work on his coverage skills and player breaks, but has reportedly been bulking up and working out with the "Mike" position in his cross hairs.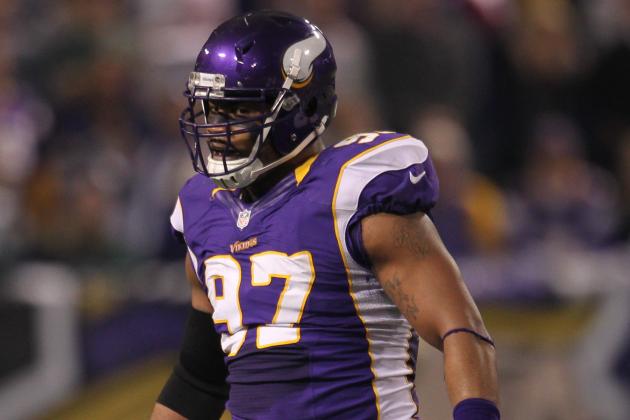 Brace Hemmelgarn-USA TODAY Sport

Although only starting one game in 16 played, Griffen wreaked havoc against opposing signal-callers, with eight sacks, 12 quarterback hits and 23 hurries.
Griffen should see additional snaps in 2013 and may be the starting defensive end on either side in the future. He has excellent speed for his size and takes good angles to the quarterback.
Considering the teams that reside in the NFC North, it becomes extremely important to have a fresh pass rush. Griffen provides great value for the team even in a backup role.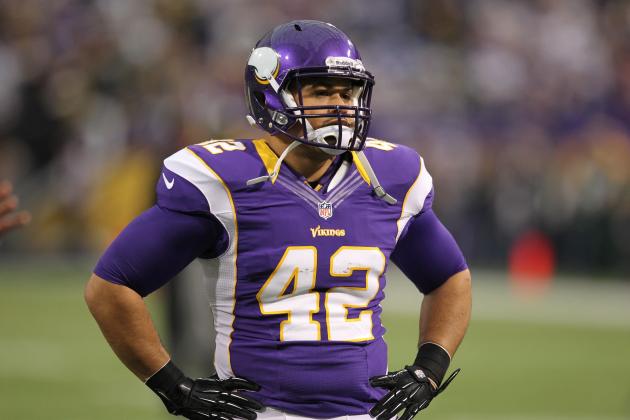 Brace Hemmelgarn-USA TODAY Sport

While Felton did not register a carry in 2013, his value is realized through the success of Minnesota's starting running back. As one of the top lead-blockers in all of football, the Vikings signed Felton to a three-year, $7.5 million contract this offseason.
Few fullbacks are worth the kind of money the team shelled out for Felton, but he was an integral part of the Vikings running attack in 2012 and will now continue to be through 2015.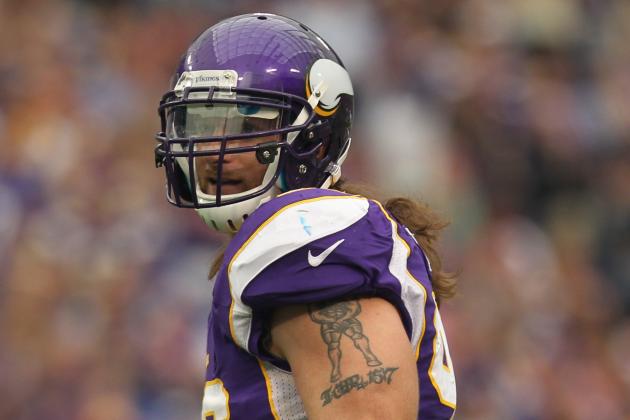 Brace Hemmelgarn-USA TODAY Sports

Robison had slightly better numbers than teammate Everson Griffen in 2012, but both were equally dominant. The seventh-year player out of Texas had 37 tackles, 8.5 sacks and three forced fumbles. He added 40 quarterback hurries and seven passes defended.
While you could consider defensive end a slight position battle among the roster with Robison and Griffen, the Vikings cannot complain about their combined production. Both made an impact in 2012 and are expected to again this season, with Robison having the slight edge in ranking.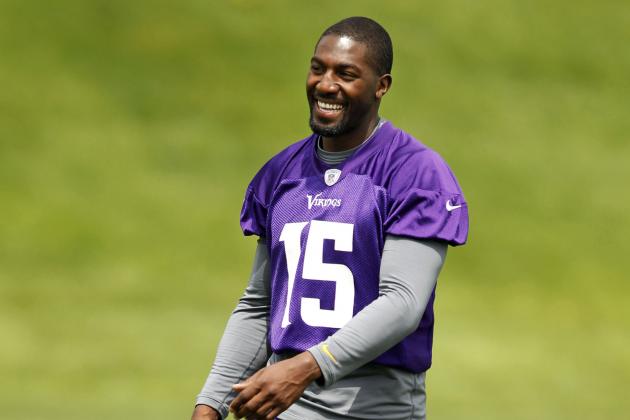 Bruce Kluckhohn-USA TODAY Sports

Former Green Bay Packer receiver Greg Jennings cracks the top 10 with his career numbers and anticipated impact on the Vikings receiving game. After a season where the team finished 31st in passing and traded Percy Harvin to the Seahawks, Jennings will need to step right in and deliver.
The eight-year veteran runs extremely crisp routes and is a reliable target in multiple distances down the field. He will serve as a mentor to young receivers Cordarrelle Patterson and Jarius Wright.
During his time in Green Bay, Jennings collected 425 receptions, 6,537 yards and 53 touchdowns. He has four touchdowns of 80 yards or more in his career.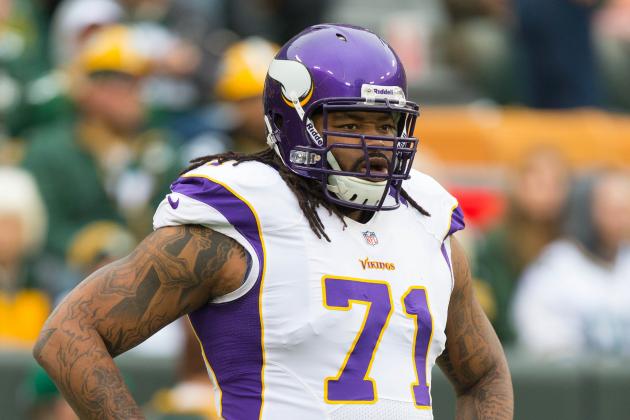 Jeff Hanisch-USA TODAY Sports

Phil Loadholt lives up to his name and is often an unmovable force at right tackle. He drives through blockers and excels at opening rushing lanes for the ball-carrier.
A second-round pick (54th overall) in 2009, Loadholt was a top prospect out of Oklahoma and has showcased his talent with the Vikings. The front office signed him to a four-year, $25 million contract this past offseason.
At 6"8", 343 pounds, the Vikings are on the right side of scrimmage with this offensive force.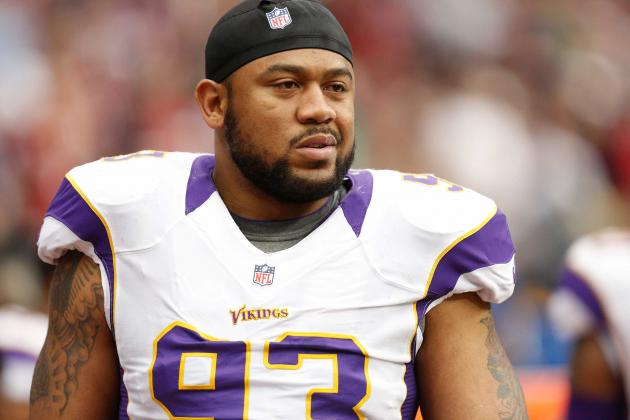 Thomas Campbell-USA TODAY Sports

While there may be a changing of the guards with rookie Sharrif Floyd joining the team, Williams still reigns supreme at the position and has certainly established a legacy that dates back to the "Williams Wall."
The 11th-year veteran may have lost a step since his prime, but he still rates among the top defensive tackles in the game. Williams uses leverage to his advantage and has good explosiveness off the ball. He recorded 30 tackles, two sacks and seven passes defended in 2012.
Williams is a six-time Pro Bowl selection, receiving the honor in 2004 and consecutively in 2006-2010. His career speaks volumes in Minnesota and he will continue to make an impact for the team in 2013.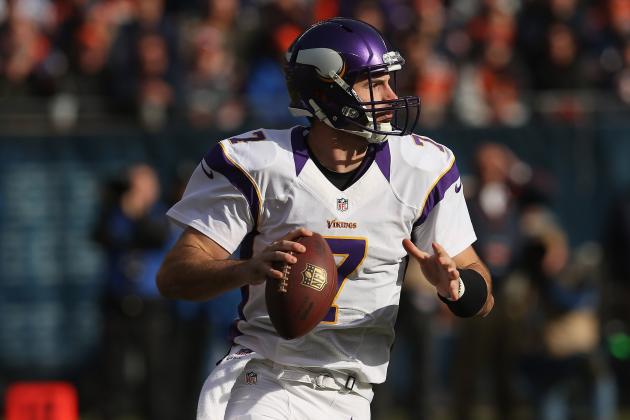 Jonathan Daniel/Getty Images

Christian Ponder demonstrated some extreme highs and lows in 2012. He started the season with a 5-2 record, raising the hopes of fans around the country. After going on a 1-4 slide, it looked like many were ready to run him out of town.
With their backs up against the wall, the Vikings signal-caller led the team to a 4-0 finish and an NFC wild-card berth. Talk about a roller coaster of a season.
Ponder has the potential for a breakout year in 2013, but his past performance tempers expectations slightly. With the opportunity to cement his status as the Vikings starting quarterback, Ponder should make great strides in his third year in Minnesota.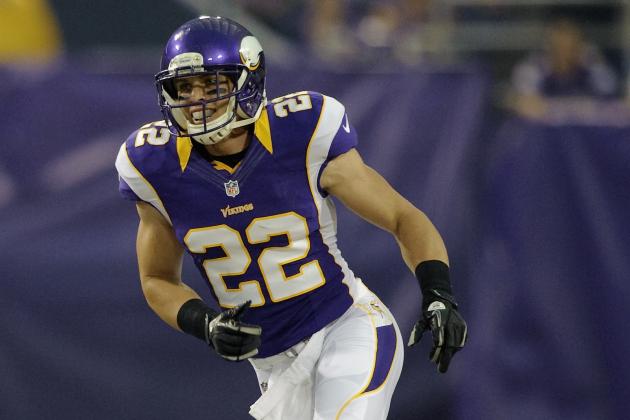 Hannah Foslien/Getty Images

The player Rick Spielman traded up to select in the 2012 draft has performed up to expectations. Harrison Smith recorded 104 tackles, 11 passes defended, three interceptions (two returned for touchdowns) and one forced fumble this past season.
Already having a breakout year in his rookie campaign, Smith looks poised to improve upon his performance in 2013. With a full year under his belt and time to study opposing offenses, the former Notre Dame safety should continue to improve in his development with the team.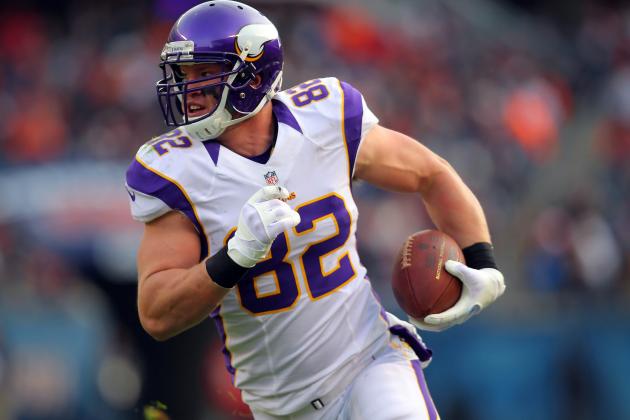 Dennis Wierzbicki-USA TODAY Sports

With few receiving options to work with after Percy Harvin went down with an injury, Kyle Rudolph emerged as the favorite target for Christian Ponder and a reliable red-zone option.
Rudolph finished the 2012 season with 53 receptions, 493 yards and nine touchdowns. The scoring plays ranked tied for second among tight ends only behind Rob Gronkowski.
The fact that the Vikings now have more options in their receiving corps should only boost Rudolph's production this season. Expect a spike in receiving yards and Rudolph to maintain his touchdown totals.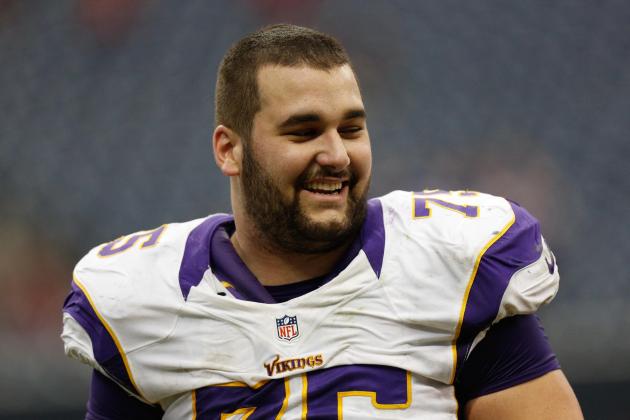 Thomas Campbell-USA TODAY Sports

The fourth overall selection to the Vikings in 2012 was among many rookies to come in and make a difference with the team. Left tackle Matt Kalil appears to have franchise potential for the next several years.
At 6'7", 295 pounds, Kalil is extremely agile in his blocks and has quick feet to protect in pass-blocking. He demonstrated the ability to explode off the line and avoid missteps in traffic.
Kalil is a smart player with excellent physical gifts considering his size and speed. The combination of Kalil and Loadholt helps make Minnesota among the top 10 offensive lines in the NFL.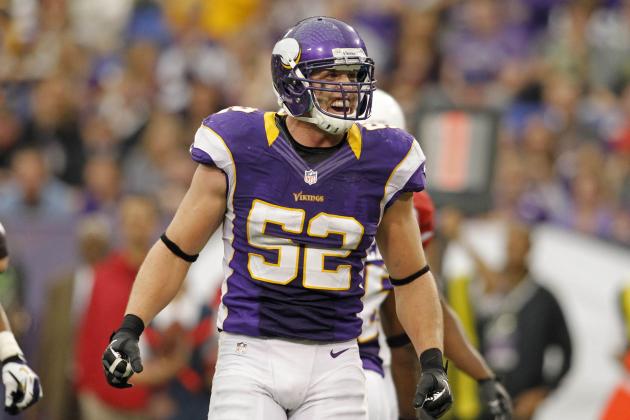 Bruce Kluckhohn-USA TODAY Sports

With questions swirling at the linebacker position, Greenway has been a dominant force on the strong side of Minnesota's Tampa 2 defense. He was tied for second in tackles with 148 in 2012, adding three sacks and an interception.
Greenway has made consecutive Pro Bowls the past two seasons and has recorded over 140 tackles the past three seasons. He navigates the Vikings defense as a leader and is one of the top linebackers in a 4-3 scheme.
With rookie linebackers in Gerald Hodges and Michael Mauti joining the team, Greenway will have more of an impact than just his individual role.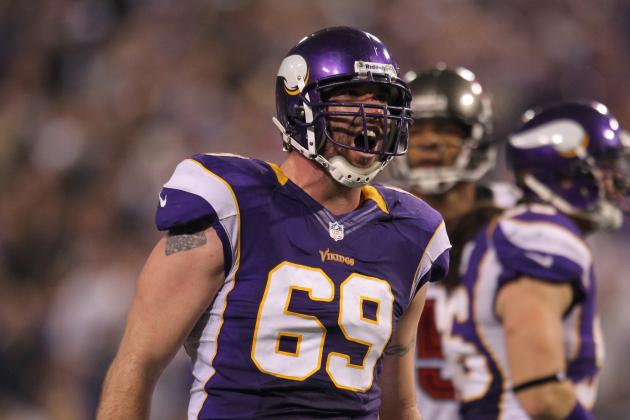 Brace Hemmelgarn-USA TODAY Sports

Over the past five seasons, Allen has been one of the top pass-rushers in the NFL. In 2011, he threatened the all-time sack record with 22.0 sacks. And since joining the Vikings he has never had below double-digit sack numbers.
Beyond his pure statistical performance, Allen is an impact player with high energy and chemistry with his team. A fourth-round draft pick out of Idaho, the calf-roping sack expert has played like a first-round talent since joining the NFL.
Similar to Kevin Williams, this may be the last season for Allen in Minnesota. If this is the case, we can only expect him to go out with a bang.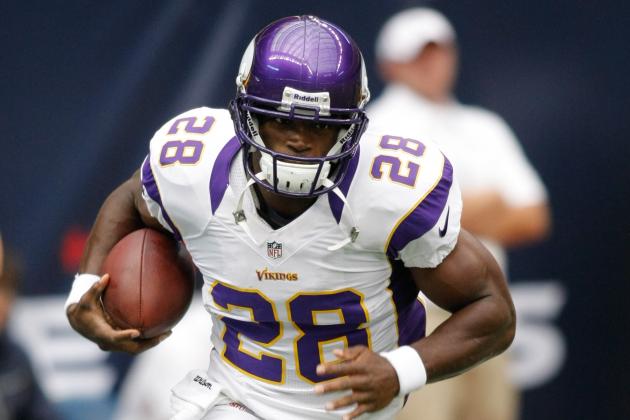 Brett Davis-USA TODAY Sports

Most likely an anti-climatic choice at No. 1, the 2012 MVP is the top-ranked Viking heading into the upcoming season. Coming off a 2,097-yard rushing performance, Peterson will try to top this mark in 2013.
The front office added weapons for Christian Ponder in the receiving game, which should soften defenses that put eight or nine men in the box against Peterson. Even with the odds stacked against him, AD averaged 6.0 yards per carry.
The Vikings will have some difficult choices narrowing down the 90-man roster to 53 players, but the top of the list remains clear with Minnesota's standout running back.
Follow me on Twitter and Google+