Detroit Tigers Grades for Every Starting Position Player in May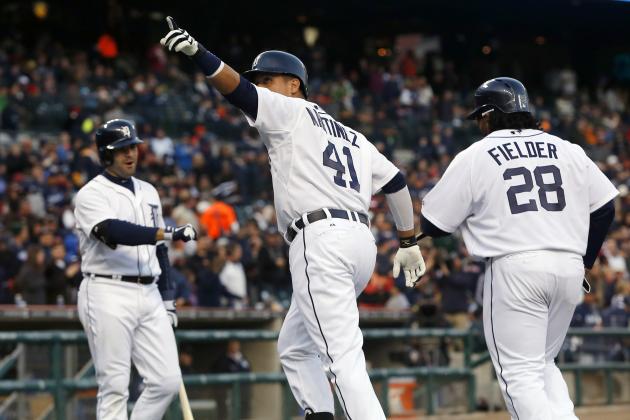 Duane Burleson/Getty Images

The Detroit Tigers have struggled through more adversity than they would have hoped in the first two months of the 2013 campaign, but they still find themselves in first place of the American League Central at the end of May.
The Tigers went 14-13 in the month of May and are currently drudging through a three-game losing streak.
Detroit had several players suffer setbacks in May, leading to the mediocre record, but a few players stepped up as well.
Here are the grades for every Tigers starting position player--including Victor Martinez--for May:
Begin Slideshow

»
Justin K. Aller/Getty Images

20 years from now, when people look back on Miguel Cabrera's career, they should look at May, 2013 as one of the best month-long individual performances in Tigers history.
In 27 games in May, Cabrera averaged .375 with 11 home runs and 31 RBI's. He only went hitless in two games during the month and blasted six home runs in a four-game span.
Cabrera had 12 multi-hit games this month, including Thursday's loss to the Pittsburgh Pirates when he earned his 400th and 401st career doubles, and he's batting .508 with runners in scoring position this season.
The 30-year-old continues to prove he's not just a big-swinging power hitter, earning 14 walks and only striking out 20 times in 122 at-bats.
In a game where failing 70 percent of the time, usually makes you a Hall-of-Famer, Cabrera's making a .300 average look mediocre.
Cabrera's dominance in May was something to watch, and definitely something the Tigers hope he can duplicate down the stretch.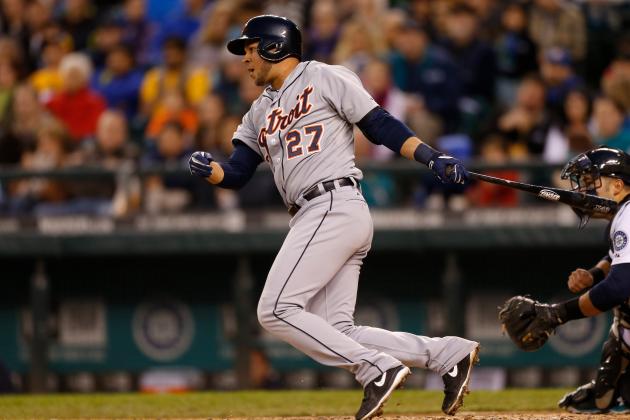 Otto Greule Jr/Getty Images

Jhonny Peralta has been the biggest surprise for the Tigers this season, and he was outstanding in the month of May.
The 31-year-old hit .378 with a .430 on-base percentage in 24 games this month, adding three home runs, 12 RBI's and a stolen base.
Peralta, who drew the ire of fans last season for his lackluster offensive production and minimal defensive range, has re-invented himself this season. Especially this month for the Tigers, on pace for his first .300-plus average of his 10-year career.
The Tigers' shortstop managed to outhit Cabrera in May, batting three points higher than the reigning MVP and had 11 multi-hit games, with only three hitless performances.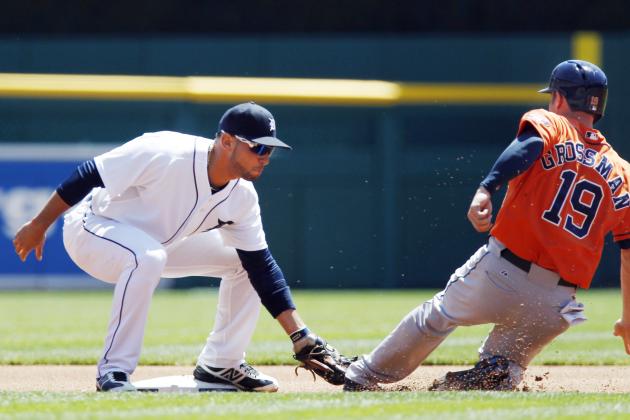 Duane Burleson/Getty Images

Omar Infante was a welcomed change at second base for Detroit last season.
The Tigers were a mess at second last year until they traded for Infante, who was packaged in a deal with Anibal Sanchez.
Infante, who's a career .276 hitter, batted .293 with a .343 OBP in 26 games during May, and added one home run and eight RBI's.
Usually the ninth man in the lineup, Infante took over leadoff duties sporadically since Austin Jackson has been out of the lineup and he's flourished in that spot.
In five games hitting first, Infante is batting .348 with a .400 OBP.
He earned eight extra-base hits in May and had eight walks compared to only 12 strikeouts, which was the least among Tigers who played at least 23 games in the month.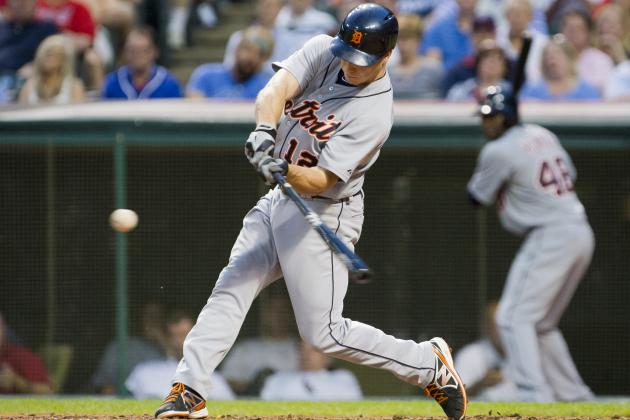 Jason Miller/Getty Images

Andy Dirks had a miserable start to the 2013 campaign but he started to right the ship in May.
The 27-year-old struggled to have consistent productive at-bats in April, stumbling out of the gate with a .218 average with one home run and five RBI's in the opening month. But with more plate appearances in May, Dirks started to settle down and gain consistency.
In 26 games this month, Dirks batted .255 with four homers and 11 RBI's. With his steady improvement, mixed in with injuries from other Tigers outfielders, Dirks has seen more playing and has therefore started to climb out of his hole.
Patrick McDermott/Getty Images

Prince Fielder began the year with an equally torrid start as Cabrera did, but Fielder lost some steam in May.
In April, Fielder hit .301 with seven home runs and 27 RBI's in 93 at-bats, but dropped down to a .243 average with only two home runs and 15 RBI's in 103 May at-bats.
His OBP was still .366 in May, and he did cut down on strikeouts, but if the Tigers are going to three-peat for the AL Central this season, Fielder will need to perform better.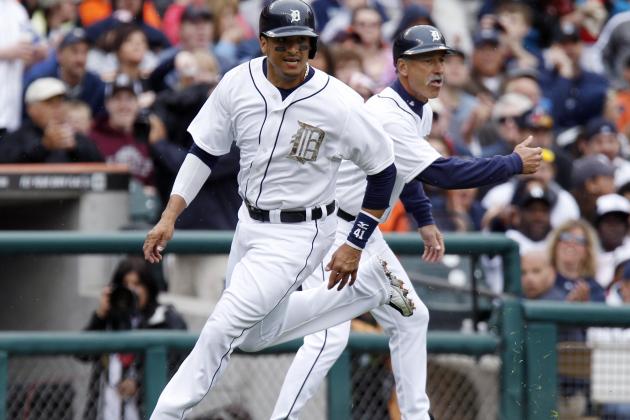 Duane Burleson/Getty Images

This grade depends on if you are comparing Victor Martinez to his normal career numbers, or if you are comparing him to the putrid numbers he produced in the first month of the season.
If you are comparing him to vintage Martinez, this grade would be a D- if not worse, but because his .235 average, two home runs and 15 RBI's in May are all improvements from April, Martinez gets the benefit of the doubt for these grades.
But just because he's improved, doesn't mean he's anywhere near where the Tigers wanted, or expected him to be.
Hitting No. 5 for the Tigers, Martinez is in one of the best spots in the league, batting behind one of the best first-four combinations in baseball.
Because he missed all of last season with an ACL tear, no one is panicking quite yet, but if Martinez doesn't return to his regular form to the tune of a .300-career hitter soon, Detroit might need to consider trying other options at DH from time to time.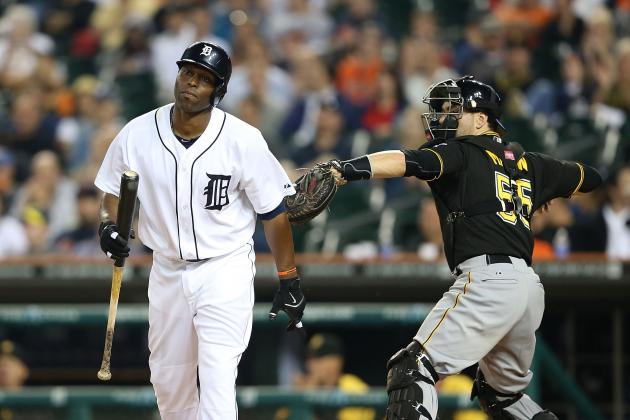 Leon Halip/Getty Images

Torii Hunter looked as if he were in the prime of his career in April, batting .370 with a .411 OBP, but as May began, Hunter started to look very average, with his age perhaps catching up to him.
The Tigers' 37-year-old right fielder hit .255 in May, with one home run and 11 RBI's in 24 games in May, and saw his OPS decrease and his strikeouts increase.
For Hunter, who's a career .278 hitter, this month's average doesn't seem that bad, but when you factor in who he has protecting him in the lineup, Hunter should probably stay closer to April numbers.
No one expected Hunter to duplicate the ridiculous average he put up in April, but he shouldn't have decreased his output so much, so quickly.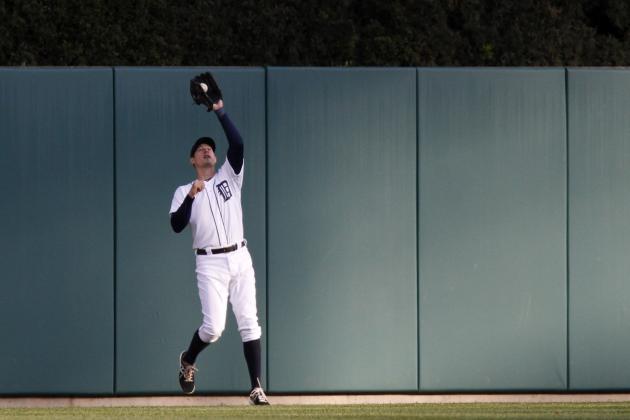 Duane Burleson/Getty Images

Because of the injury to Jackson, Don Kelly is the primary starter in center field by default, and he's played pretty much like you'd expect Don Kelly to play in his fifth year with the Tigers.
The Tigers' usual do-everything utility man has primarily replaced Jackson in center, but he hasn't performed anywhere near Jackson's level during his time in the lineup in May.
Kelly hit .182 with two home runs and six RBI's in 22 games in May. His OBP is .333 but he only scored 11 runs during the month and isn't half the defensive center fielder Jackson is.
For some reason, manager Jim Leyland picks a mediocre veteran or two to have a soft spot for every season, and so far in 2013, it's been Kelly.
But mediocre would be a compliment at this point for Kelly.
The Tigers need Jackson back, badly.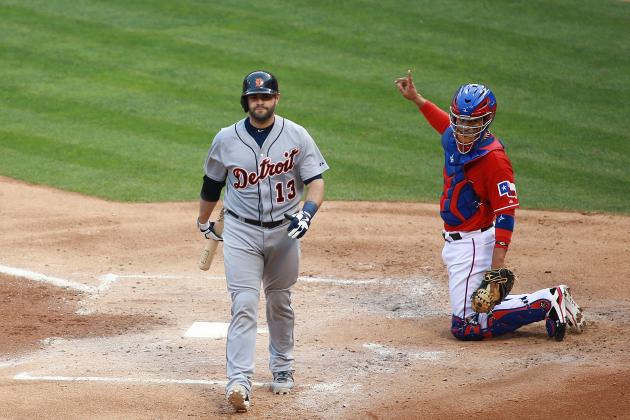 Rick Yeatts/Getty Images

Alex Avila has done nothing so far this season to prove to the Tigers that he's the long-term option behind the plate.
After an abysmal April, hitting .183 with three home runs and as many RBI's, Avila somehow managed to get worse in May, hitting .164 with only one home run. He did earn eight RBI's during the month, but he also struck out two more times (23) this month in 55 at-bats than he did last month with 71 at-bats.
Because his offensive production has been so putrid, Avila has seen his playing time diminished in favor of Brayan Pena at catcher who hit .354 in May and only played three less games as the Tigers starter.
There were 13 Tigers that had better averages than Avila in May, and the 26-year-old hasn't been sharp on defense either.
Avila has only thrown out seven of 31 potential base-stealers this season, good for only a .226 percentage.
Defense has been Avila's crutch when he hasn't performed offensively, but when he's mediocre at best on both sides of the plate, the Tigers are going to have to start looking elsewhere.