Playing quarterback at the collegiate level is a tough proposition. In South Bend, for every Brady Quinn, or even Jimmy Clausen, there are four or five other guys who just do not work out. It is a high-risk, high-reward position, only one signal caller takes the field at a time and coaches tend to enjoy sticking with just that one guy, as long as all goes well.
Since 1998, the start of the BCS Era, the Irish have recruited a plethora of bodies at the quarterback spot. Prototype pocket passers. Option-style running quarterbacks. Dual-threat quarterbacks. Players from the South, the North, the Midwest and West Coast have all entered South Bend with the goal of being the quarterback for the Fighting Irish.
Everett Golson was expected to provide the stability that Notre Dame has lacked at the position since Jimmy Clausen left early for the NFL at the close of the Charlie Weis era. Now, with Golson out for at least the 2013 season, uncertainty is again on the table and that is ground that Irish fans know very well.
Transfers and position changes characterize the last 14 years. Some quarterbacks, like David Wolke, Dayne Crist, Matt LoVecchio and Demetrius Jones, got to see the field before they opted for the greener transfer pastures. Others, like Christian Olsen, Zach Frazer and Gunner Kiel, decided to leave before they ever threw a pass.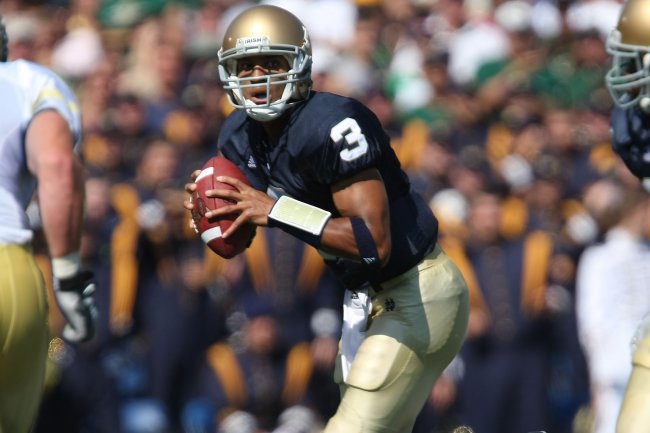 Jonathan Daniel/Getty Images
Then, of course, there is the Richard Jackson situation, a high school quarterback who quickly found himself playing wide receiver. Luke Massa, a 2010 signee, is doing the same, slogging it out in the receiver ranks.
On the defensive side, Tom Zbikowski and Abram Elam were converted high school quarterbacks moved to safety. Zbikowski is still an Irish fan favorite for his defensive and return abilities. Elam ended up in trouble, but righted his ship at Kent State and has played seven seasons in the NFL to date.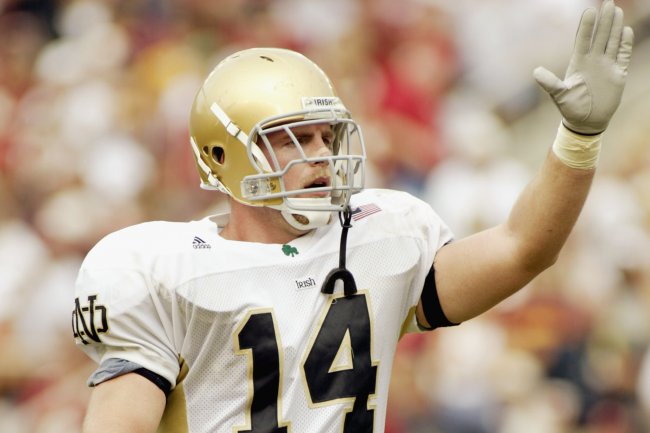 Scott Halleran/Getty Images
Which brings us to other converts, guys like Jared Clark, Gary Godsey, Carlyle Holiday and Arnaz Battle. Godsey, in 2000, and Clark, in 2001, both got some quarterback snaps early in their careers. They would then find their career success at the tight end position.
In Holiday and Battle you have two guys who looked to be promising quarterbacks. Holiday led the Irish in passing for two seasons before making the move to wide receiver. Battle backed up Jarious Jackson for two seasons before stepping into the spotlight, only to have his season cut short due to injury. Battle would lose the spot to the aforementioned Holiday and end his career at the wide receiver position.
Holiday tosses at TD to Battle
Oh, and walk-ons Nate Montana and Pat Dillingham both got their hats tossed into the ring, along with the scholarship guys who came and then went.
As Eric Hansen of the South Bend Tribune pointed out upon Gunner Kiel's decision to transfer, since 1997 only two Fighting Irish quarterbacks have finished their eligibility both in Notre Dame and at the quarterback position. Brady Quinn and Evan Sharpley have that distinction, and Tommy Rees seems poised to join that club following the 2013 season.
Of the BCS Era recruits, no walk-ons or Jarious Jackson, the divide between Quinn and Clausen has long been clear. After those two, Rees inhabits a land all by himself. Despite playing only sparingly in 2012 the quarterback has over 4,400 passing yards. Golson, in one year; Crist, in a little over a season; and Holiday after two-plus seasons all fit into the next tier of passers with over 2,000 yards.
From looking at the graph, you can see it is a lot of Quinn and Clausen. On paper, Rees is the big plus, and he returns to the Irish this season. Golson's slice of the pie is now pulled for the duration as Notre Dame continues the relative uncertainty in which it has existed since Clausen left for the NFL.
It must be noted that Jarious Jackson, a pre-1998 recruit, was the starter during the 1998 and 1999 seasons. There were also coaching and philosophy changes that color the quarterbacking situation at Notre Dame.
Bob Davie gave way to Tyrone Willingham, whose firing ushered in the Charlie Weis era before Weis was pushed out in favor of Brian Kelly. Going from a run-heavy option-included attack, to a more balanced pro style approach under Willingham, then getting to the Weis' era of tossing it around the yard and now Kelly's run-pass attack.
The quarterback position is one that requires stability. It is one where you have to find your Brady Quinn or your Jimmy Clausen, your guy, to rely on from a year-to-year basis. Notre Dame seemed to have that with Everett Golson, going into his second year as the starter following a solid spring effort.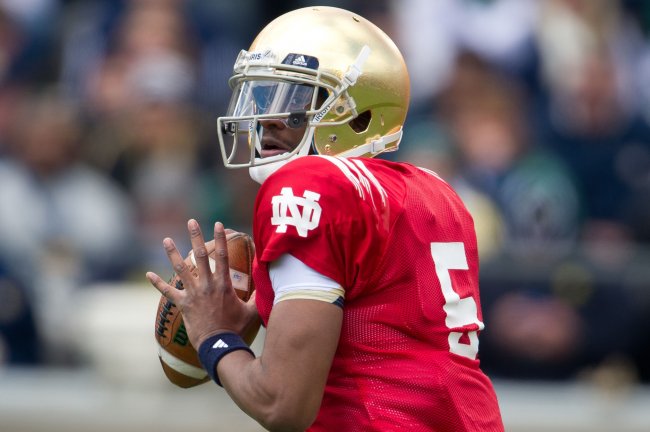 USA TODAY Sports
Now, with Golson's situation, they are back at square one, where the next step will be critical. Do they start Tommy Rees, the guy with a lot of miles but who limits the type of plays to be called? Or, do they go with more athleticism in the form of Andrew Hendrix or Malik Zaire?
If the Irish are looking for stability for the years to come, what Golson was supposed to offer, Zaire could be that multi-year starter. However, should Rees get the nod and Golson return for 2014, the Irish will again be wondering who leads them on to the field.
The Fighting Irish are not alone. The collegiate landscape is littered with the transfers, position changes, sports swaps and even giving-up-the-game stories of players, including quarterbacks. As long as only one guy gets the snaps and teams are looking for stability, that will be the case, even going forward into the playoff era.