Texas A&M Football: 5 Aggie Players Who Will Become Standouts in 2013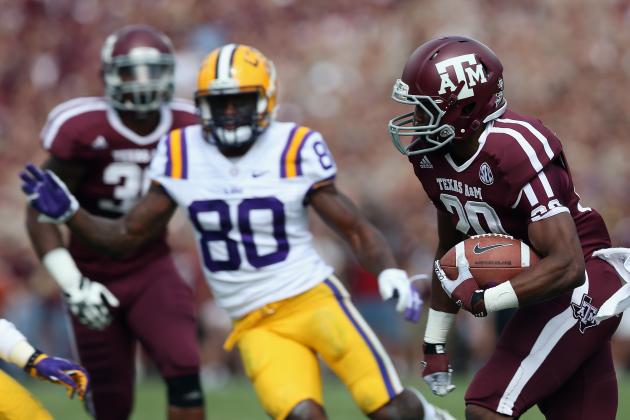 Ronald Martinez/Getty Images

One of the more enjoyable aspects of college football for fans is the ability to watch younger players step in for departed starters and blossom into difference-makers on the field. The Texas A&M football team will have multiple players step into bigger roles in 2013 and make themselves into household names.
The Ags lost 11 starters from the 2012 team. They will need multiple players to step up if they are to live up to the preseason expectations.
The offense suffered significant losses at wide receiver, while the defense lost two players at each level. There are players who saw some playing time in 2012 and showed some promise.
These are players who Aggie football know, but who the average college football fan would not recognize. This is a look at some players who will step up for the Ags in 2013 and make a name for themselves.
These are the kind of players who did not start in 2012, but could challenge for all-conference honors in 2013.
Begin Slideshow

»
Bob Levey/Getty Images

Donnie Baggs is a 6'1" 230-pound junior linebacker from League City, Texas. He played outside linebacker in 2012 but will move inside the middle linebacker in 2013.
Baggs played in all 13 games in 2012 with one start. He recorded 27 tackles with 4.5 tackles for loss and an interception.
When Steven Jenkins had to sit out the Louisiana Tech game due to suspension, Baggs started in his place and registered eight tackles, with two tackles for loss and half a sack. He has displayed great speed on the field and excels in coverage.
Baggs will give the Ags more speed at middle linebacker than they had in 2012 with Jonathan Stewart. Aggie fans should not be surprised to see Baggs lead the Aggies in tackles in 2013.
He is a third-year junior who should make a name for himself in 2013.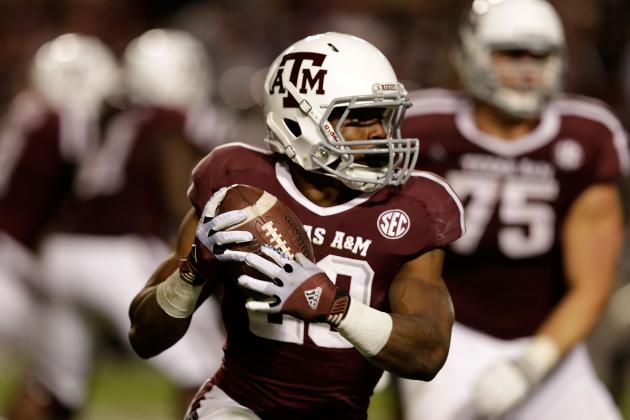 Scott Halleran/Getty Images

Trey Williams is a sophomore running back from Spring, Texas. He rushed for 376 yards and five touchdowns in 2012. He also caught 12 passes for 171 yards.
Williams should rush for over 500 yards as a sophomore. He would start at running back for the majority of teams in college football, but the Aggies have a ton of depth at that position. The Ags have four outstanding running backs on the roster and they will all split carries in 2013.
Williams has exceptional speed and is very elusive. He is a threat to score every time he touches the football.
Because of his limited reps, Williams will not be a threat to rush for 1,000 yards and contend for an all-conference spot at running back. He had a 76-yard kick return against LSU and will be a threat in the return game in 2013.
With defensive coaches focusing on containing Aggie quarterback Johnny Manziel, do not be surprised to see Williams and the rest of the running backs more involved in the passing game. He should catch at least 20 passes in 2013.
Williams may make the All-SEC team as a utility player because of his versatility. He will definitely be a difference-maker in 2013.
USA TODAY Sports

Floyd Raven is a 6'2" 190-pound junior defensive back from Kenner, La. He spent his first two seasons in Aggieland playing cornerback and on special teams.
Raven has as much talent as anyone on the A&M roster, but his tendency to gamble rather than playing within the defensive scheme has kept him from becoming a starter.
Defensive coordinator Mark Snyder moved Raven to safety during spring practice, and he excelled at his new position. He was listed as the starter at free safety heading into the fall.
Raven has always been very physical against the run. He had 16 tackles with 2.5 tackles for loss and a sack in 2013.
At his new position, Raven will be able to use his tremendous size and speed to make life tough on receivers going over the middle. He should be an impact player in the secondary and one of the Ags' leading tacklers in 2013.
Raven should team up with fellow safety Howard Matthews to be one of the most physical safety combinations in the SEC.
USA TODAY Sports

Alonzo Williams is a 6'4" 280-pound sophomore defensive lineman from Long Beach, Calif. He saw action in only seven of the Aggies' games in 2012 with one start against Oklahoma in the Cotton Bowl.
Williams was listed as the starting defensive tackle on the depth chart coming out of the spring. He will start on the defensive line in 2013, but his position depends on the Ags depth on the defensive line.
If Julien Obioha recovers from a back injury suffered during the practices leading up to the Cotton Bowl, then he will be available to play either strong-side or weak-side defensive end. If Tyrell Taylor earns the spot on the weak side, then Obioha will stay on the strong side.
If Obioha looks better on the weak side, then Gavin Stansbury may get the start on the strong side. If incoming freshmen defensive tackles Isaiah Golden, Justin Manning or Hardreck Walker appear ready to play from the start, then you may see Williams starting at strong-side defensive end.
Williams is one of the best defensive linemen that the Aggies have. He will be a starter in 2013 and will help the Aggies no matter where he lines up.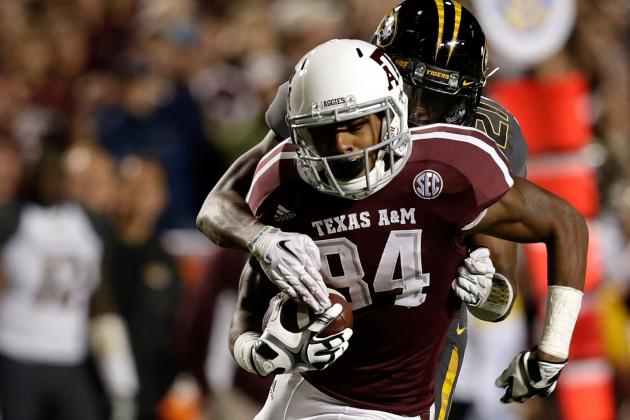 Scott Halleran/Getty Images

Malcome Kennedy is a 6' 200-pound junior wide receiver from Cayuga, Texas. He played a supporting role on the 2012 team and ended the season with 26 receptions for 285 yards and two touchdowns.
Kennedy will be one of the Ags' starters at the slot receiver position in 2013. He does not have blazing speed, but he has good size and very good body control.
Kenric McNeal and Thomas Johnson combined for 49 receptions at one slot position in 2012. Ryan Swope had 72 catches while starting at the other.
Kennedy should haul in around 50 receptions in 2013 and compete for the all-conference team. He should double his production from 2012.