How Miami Heat Match Up with the San Antonio Spurs in the NBA Finals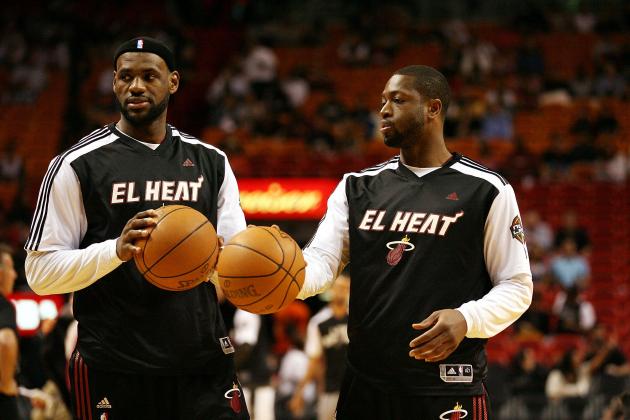 Marc Serota/Getty Images

The two times the Miami Heat and San Antonio Spurs faced off against each other this season, both teams weren't at full strength.
The first time—the now infamous "bench game"—Gregg Popovich sent most of his starters back home instead of bringing them along to South Beach to face LeBron James and company.
The second time in late March, Erik Spoelstra kept LeBron and Dwyane Wade on the sideline as Chris Bosh led the Heat to an impressive 88-86 win in San Antonio.
While you could argue that the Heat have the advantage in this potential series after beating a healthy Spurs team on the road without LeBron and Wade, the reality is that we just haven't seen the two teams match up this year.
Both teams have veteran, superstar talent and NBA Finals experience, which means if the Heat and Spurs do meet in the Finals, fans will be in for a potentially epic series.
Begin Slideshow

»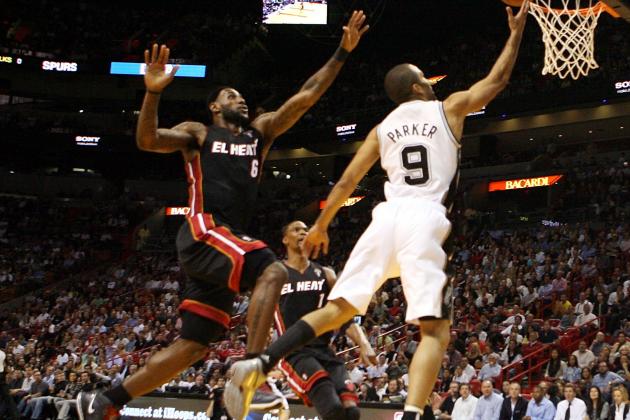 Marc Serota/Getty Images

There comes a time in every series when LeBron James has to square off against the other team's top player—whether it's Roy Hibbert for the Indiana Pacers or Tony Parker for the Spurs.
The good news is that LeBron is versatile enough to make life miserable for anyone he defends, and that includes the smaller Parker.
As we've seen in the Spurs' sweep of the Memphis Grizzlies, Parker is one of the most explosively quick guards in the game.
There's a chance that Mario Chalmers and/or Norris Cole can hang with him defensively, but let's be honest, that's not an ideal matchup for the Heat.
It's a safe bet that at some point Parker will be controlling the series, which means LeBron will be forced to defend him, and he will certainly be up to the challenge.
LeBron's defense is arguably one of the best facets of his game, and it's safe to say that he won't let Parker take over a potential NBA Finals series like the Grizzlies allowed him to in the Western Conference finals.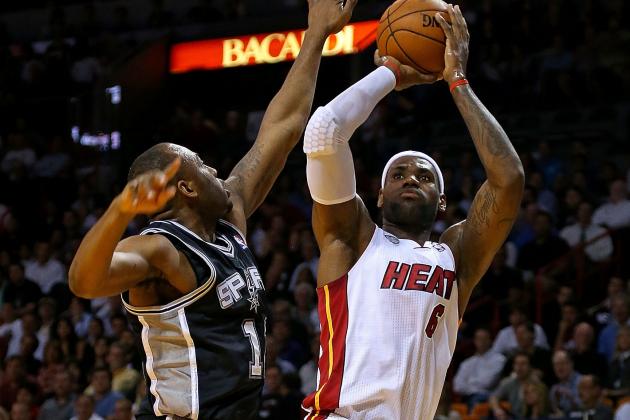 Mike Ehrmann/Getty Images

In his only game against the Spurs this season, LeBron James had a near triple-double with 23 points, nine rebounds, seven assists and four steals. He also shot an impressive 9-of-16 from the field.
While you could argue that that kind of performance isn't that impressive against the Spurs' "B team," there's no doubting that he can do that against whoever the Spurs have out on the floor.
The question now becomes, who would be able to put LeBron on lockdown?
The most notable and athletic defender the Spurs have is Kawhi Leonard, and he'll most likely be who LeBron would be facing off against in this series.
The good news for the Heat is that LeBron has proven that he can dominate against the top-tier defenders in the game—averaging 29.3 points on 51.6 percent shooting against Paul George through three games in the Eastern Conference finals.
While the Spurs have been running through everyone in the Western Conference, they won't have an easy time if they face off against the Heat because they just don't have someone who can neutralize James.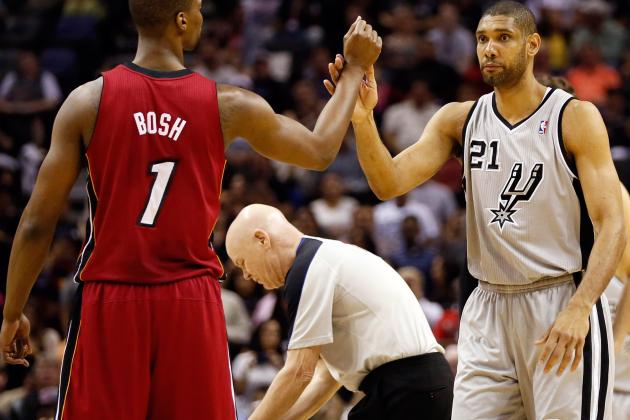 USA TODAY Sports

Aside from watching LeBron James and Tony Parker face off against each other, the most enticing matchup in this series will be the big-man battle between Tim Duncan and Chris Bosh.
The one time these dominant big men faced off against each other, Bosh led the Heat to an impressive win with 23 points on 9-of-15 shooting from the field and an even more impressive 3-of-5 shooting from beyond the arc.
Bosh held Duncan to 17 points on 8-of-15 shooting from the field, and while his defense was solid, the main reason why Bosh won that matchup was because of his ability to keep Duncan on the perimeter.
It will be interesting to see how well Bosh would do against Duncan's post game, as his defense has been lacking a bit as of late.
While Bosh really needs to put Duncan on lockdown for the smaller Heat to win this matchup, he also needs to pick up the intensity on the glass, and that will be hard to do considering Duncan's adherence to boxing out on a consistent basis.
The brightest spotlight will be on LeBron, Wade and Parker, but a series like this will be won in the paint and it comes down to which big man can own the interior.
Kevork Djansezian/Getty Images

Both Ray Allen and Manu Ginobili haven't been themselves throughout the playoffs thus far.
Allen is averaging 10.5 points per game on 40.9 percent shooting from the field and 36.4 percent from beyond the arc throughout the playoffs thus far—accurate as of Game 3 of the Eastern Conference finals.
Ginobili is averaging 11.9 points per game on 39.4 percent shooting from the field and 33.8 percent from beyond the arc.
While both players' offensive production isn't awful, their usually high efficiency is, and that's what is going to be interesting to watch if the Heat and Spurs face off against each other in the finals.
Neither team can win this series without efficiency coming off the bench, and that's what they pay Ginobili and Allen to do.
While Ginobili and Allen aren't the players they once were, it will be exciting to watch them face off against each other in a battle of sixth men that will help decide the series.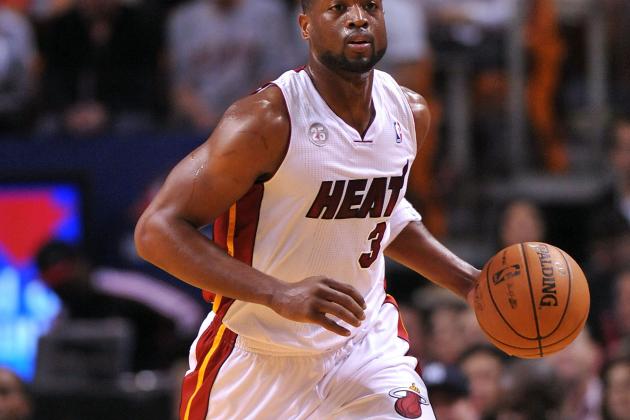 Steve Mitchell-USA TODAY Sports

The Heat and Spurs have yet to play with both teams at full strength, and that's robbed us of watching Dwyane Wade face off against Danny Green.
Wait, why's that a matchup to watch?
Well, because Wade has a tendency to struggle against physical, athletic defenders and that's exactly the kind of player Green is.
There's no doubt that Wade is the much better player between the two, but Green has the defensive abilities it will take to make Wade work for every bucket and every assist he gets.
The spotlight would shine the brightest on LeBron and how he battles Parker in terms of offensive production, but watching Wade vs. Green would also be exciting and could be a difference maker in this potential series.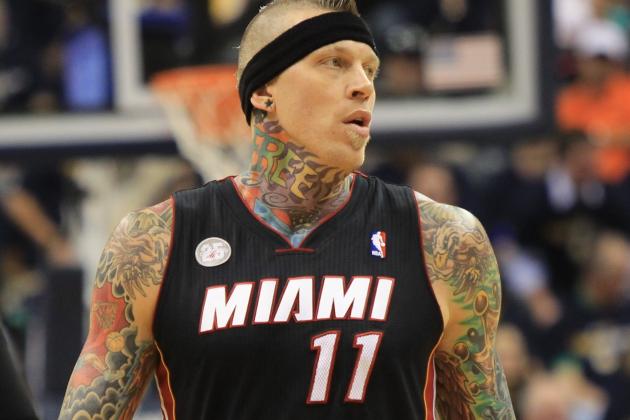 Pat Lovell-USA TODAY Sports

Chris Andersen has solidified the Heat's bench presence and interior play throughout the postseason—specifically against the Indiana Pacers in the Eastern Conference finals.
Through Game 3, Andersen has yet to miss a single shot from the field, averaging 10.6 points, 5.7 rebounds and two blocks in just 18.3 minutes per game.
Yep, the Spurs have to answer that with either impressive bench play or consistent production from their starting frontcourt.
Andersen has the athleticism that the Spurs' interior lacks, and that's going to be a matchup nightmare for San Antonio.
It's crazy to think that Andersen, who was watching basketball from his couch for the first-half of the 2012-13 season, could be a major reason why the Heat could win their second-straight NBA title.