Penn State Football: 3 Reasons Nittany Lions Are Bound to Overachieve in 2013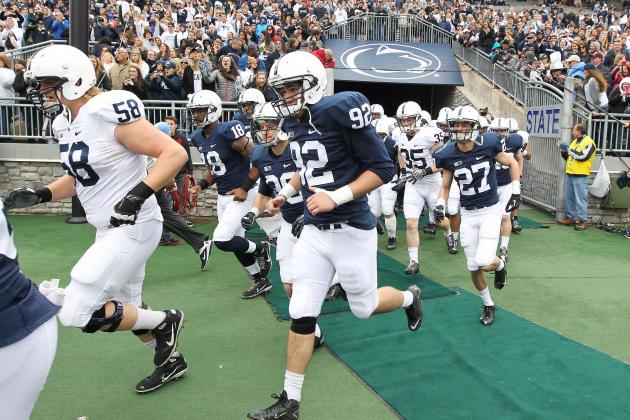 Matthew O'Haren-USA TODAY Sports

The Penn State Nittany Lions enter 2013 with several big holes to fill from last year's team. Key starters such as Matt McGloin, Michael Mauti and Jordan Hill are no longer around, causing some writers to think this year could be a struggle.
Athlon Sports has the Nittany Lions finishing third in the Leaders Division, citing too many starters missing from last season.
However, despite the losses, Penn State has a lot going for it and will exceed expectations in 2013.
In an earlier article, I predicted the Nittany Lions would finish with a record of 9-3. When delving into information for the upcoming season, that's certainly reasonable. In fact, no one should be surprised if the team finishes with as many as 10 wins.
The following slides highlight three reasons that 2013 will be another successful season in Happy Valley and why Penn State will once again exceed expectations.
Begin Slideshow

»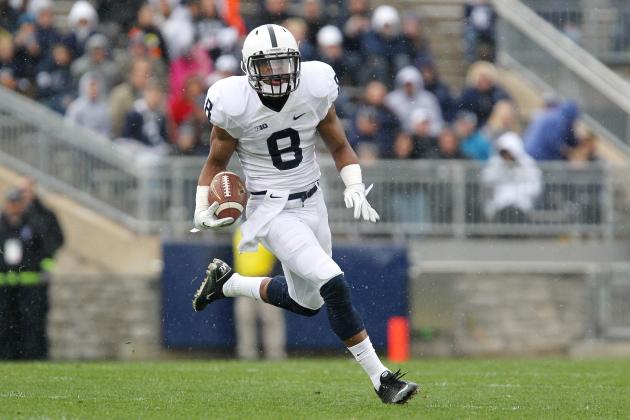 Matthew O'Haren-USA TODAY Sports

While some could point to the fact that Penn State doesn't have a clear starting quarterback yet, it needs to be noted that the Nittany Lions have a wealth of talent on offense.
Key starters from last year will join with talented freshmen to give the Nittany Lions one of the most potent offenses in the Big Ten.
Allen Robinson, the top receiver in the conference last season, will be a focal point of the offense in 2013. While he'll draw the most attention from opposing defenses, there are others who bear watching.
Brandon Moseby-Felder and Alex Kenney both saw action last year, and redshirt freshman Eugene Lewis has been pegged as a player to watch in 2013.
Penn State returns three tight ends, Kyle Carter, Jesse James and Matt Lehman, who were all important and successful in the passing attack last year. Cater was second on the team in receiving yards while James and Lehman were second and third respectively in touchdowns.
As much talent as the Nittany Lions have in the receiving corps, there's just as much in the backfield.
2012 starter Zach Zwinak, who rushed for 1,000 yards and six touchdowns, returns to lead a solid running back committee. Bill Belton, a talented playmaker who may find the most success in the slot, will also be a key player in 2013.
Redshirt freshman Akeel Lynch, who's another player to watch this year, looked good in the spring game, running for 83 yards and a touchdown. Deron Thompson, who ran for 97 yards in the spring game, could also factor into the 2013 backfield mix.
Aside from the skill positions, the Nittany Lions also have an experienced offensive line returning.
With all the weapons on offense, this team is going to be able to score a lot of points this season and hang with anyone it faces.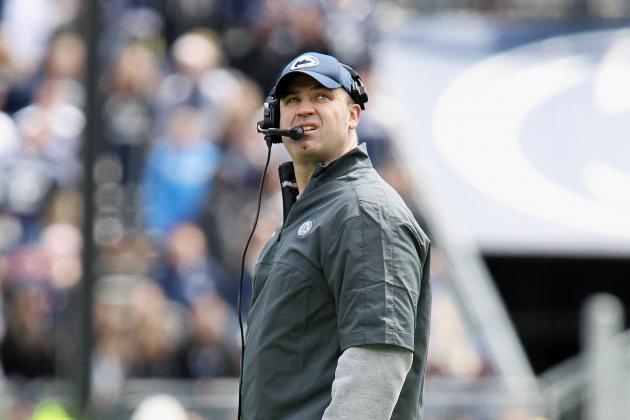 Matthew O'Haren-USA TODAY Sports

Bill O'Brien proved in 2012 that he could take a team and overcome challenges en route to a successful season that saw Penn State finish with a respectable record of 8-4.
With his return in 2013, the Nittany Lions will once again have a shot at finishing with a better record than expected.
O'Brien showed last season that he's cool under pressure.
Instead of dwelling on the adversity that faced the program, O'Brien called on his leadership skills and helped Penn State finish a magical season. No coach had to face what he did coming in, including the fact that several key starters transfered just weeks before the season opener.
Aside from his intangibles, O'Brien is a masterful coach when it comes to X's and O's. He turned a mediocre passing game into one of the top in the Big Ten last year. Quarterback Matt McGloin, who had split time in 2011, seemingly came out of the blue to lead the conference in passing last year.
With a lot of talent returning this season, the Nittany Lions have a good starting point. O'Brien is an excellent football coach and has proven that Penn State is in good hands.
Under his tutelage, the Nittany Lions have a great chance to once again put together a successful season in Happy Valley.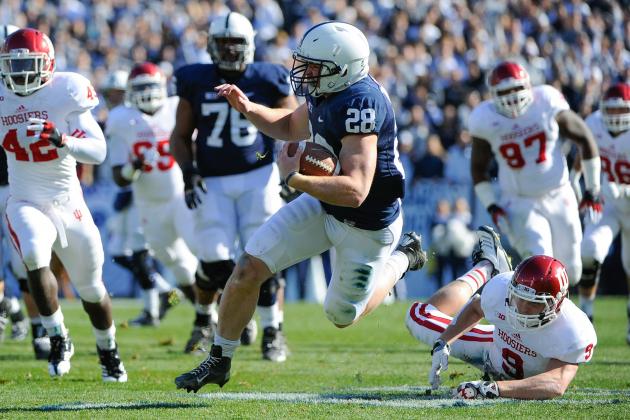 Rich Barnes-USA TODAY Sports

The 2013 schedule sets up well for the Nittany Lions. They start the year with five winnable games, three of which are at home.
Syracuse, Eastern Michigan, UCF, Kent State and Indiana should represent a 5-0 start to the year.
Kent State, a team that went 11-3 a year ago, could be tough, but the Nittany Lions should be able to come out victorious at home.
Home games with Illinois and Purdue, as well as a road game at Minnesota should all end with a Nittany Lions' victory.
When looking at the schedule, there are really four difficult games in 2013.
Games against Michigan, Ohio State, Wisconsin and Nebraska will present the biggest challenge of the season. Fortunately for the Nittany Lions, both the Wolverines and Cornhuskers have to come to Beaver Stadium.
On paper, it's realistic to think Penn State could finish with eight or nine wins. However, if the Nittany Lions are able to steal one in Columbus or Madison, a 10-win season would be in the cards.