The 2012 season marked the beginning of a new era for Penn State football.
After dominating the headlines for all the wrong reasons in the offseason and receiving some of the stiffest sanctions in the history of college football, new head coach Bill O'Brien did an admirable job of pulling things together and persevering through adversity.
Due to strict recruiting sanctions, postseason bans and the overall stigma surrounding the program right now, the Penn State Nittany Lions have a long road ahead if they want to eventually reach the level of success the program used to enjoy.
Finishing this season 8-4 and second in the Leaders division was a great sign that they could still find success, but what happens next season remains a mystery. Here are a few far-too-early predictions for the Nittany Lions' 2013 campaign.
Christian Hackenberg Starts at Quarterback—and Instantly Succeeds
The one thing we know for sure about head coach Bill O'Brien after this season is that he is a wizard when it comes to coaching quarterbacks.
After years of subpar to mediocre play from quarterback Matt McGloin under the Paterno coaching staff, the senior improved by leaps and bounds in his final season. While some of that can be attributed to being so experienced, there's no doubt that O'Brien's scheme and tutelage were a reason for the marked improvement.
Enter Christian Hackenberg.
Hackenberg is by far the biggest gem of the Nittany Lions' recruiting class and is ranked as 247Sports' No. 2-ranked pro-style passer in his class.
The true freshman has all of the tools necessary to come in and start right away. After seeing what O'Brien did with McGloin in one year, a massive freshman year is not out of the question.
Zach Zwinak Goes Over 1,000 Yards on the Ground Again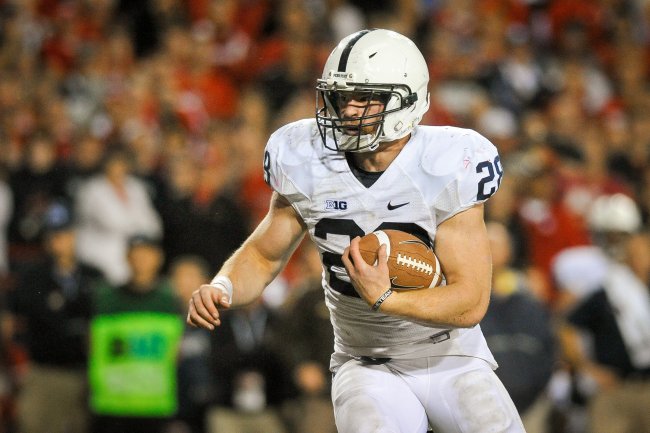 Eric Francis/Getty Images
There were a ton of positives that Penn State can take away from its 2012 campaign.
Certainly not least among those positives is the emergence of powerful running back Zach Zwinak. While O'Brien's work with quarterbacks and the passing game is remarkable, Zwinak has brought back that old-school, smash-mouth style that Penn State is known for, and he comes back as a junior next season.
The 230-pound back didn't take over as a primary ball-carrier for the Nittany Lions until four games into the season as Bill Belton saw the bulk of the carries early on. However, after his 1,000-yard season in 2012, he'll be a mainstay of the offense next year.
That should mean even better numbers for Zwinak next season.
They Win Less Than Eight Games
How many games will Penn State win in 2013?
Getting to eight wins this season was impressive. Most had written off the program's ability to win games after the sanctions, and back-to-back losses to Virginia and Ohio certainly didn't increase their perception as a winner.
Despite all of that, the Nittany Lions managed to go 8-2 in the last 10 games and still looked like one of the best teams in the conference.
However, the degree of difficulty for the program to continue winning will only get more and more difficult as the sanctions really start to take effect. The Big Ten was down this season and that certainly helped Penn State to adjust to the new coaching staff.
That won't continue to be the case as playing consistently with less depth than the other teams will be enjoying will become more challenging. Bill O'Brien will continue to attempt to rebuild the program, but this season will be more trying than 2012.