How the Indy 500 Became the Greatest Spectacle in Racing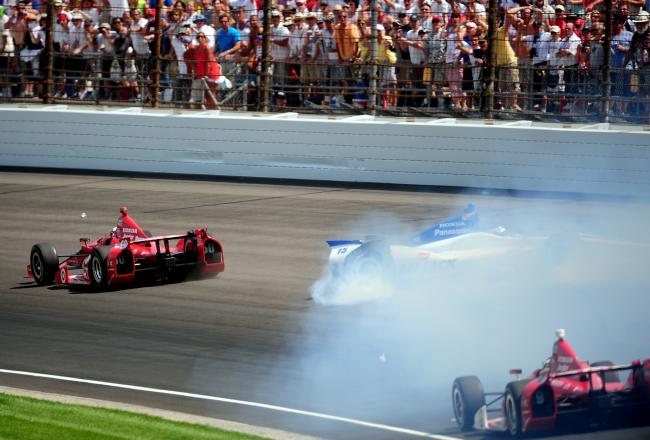 Andrew Weber-USA TODAY Sports
The Indianapolis 500 has become the most famous race in motorsports over the last 102 years, combining speed and daring in a heady blend that makes for must-see television.
With speeds topping 220 miles per hour, the race can be a true thrill ride for viewers. But that much speed can also turn deadly in a heartbeat. The race is one of the most dangerous endeavors in all of sports. Fifteen men have died during the Indy 500, with an additional 25 suffering fatal wrecks during practice sessions.
It's a combination of modern technology and hoary tradition unlike any other in sports. The Indy 500 didn't become the greatest spectacle in racing; it's always been the greatest show on wheels—as the following signature moments and highlights illustrate so clearly.
1909: The Brickyard Is Born in the Wake of Tragedy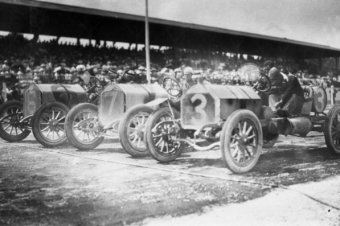 The inaugural race at the newly built Indianapolis Motor Speedway turned out to be a huge disaster. The track, made of crushed rock held together by tar, broke apart, killing two drivers and a spectator in the course of a race that lasted just two laps.
It was rebuilt that same year with 3.2 million bricks to create a safer environment for drivers and fans alike. The "Brickyard" was born.
1911: The First Indianapolis 500

The Indianapolis 500 was held for the first time and was a smashing success. Indianapolis all but shut down as legions of fans descended on the city, filling hotels for miles around. More than 80,000 turned out to see 37 drivers compete for a record-setting purse of $27,500. Ray Harroun won the race with an average speed of 74.602 miles per hour.
After the race, the winner, whose car may have featured the first rear-view mirror in automobile history, didn't have much to say, but did have a favor to ask.
"I'm tired," he is reported to have said. "May I have some water, and perhaps a sandwich, please?"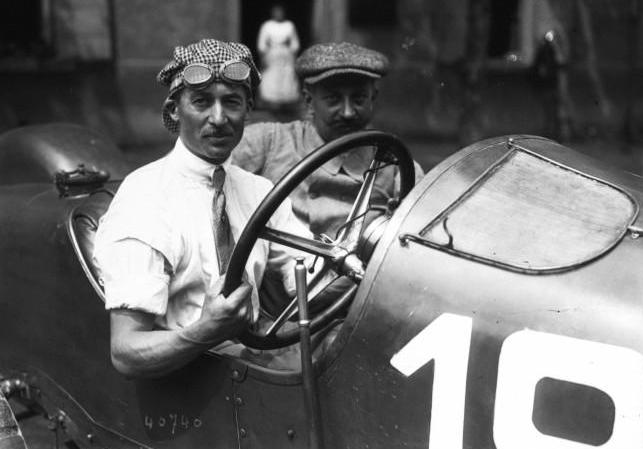 1913: Popping Bottles

The Europeans arrived in force, and Frenchman Jules Goux won the race in his first appearance. It's rumored that he drank six bottles of champagne during pit stops and told the press, "Without the good wine, I could not have won."
Historian Donald Davidson insists that Goux, while admittedly drinking some alcohol during the race, was not three sheets to the wind:
On four of their six stops, Goux and his riding mechanic, Emile Begin, were handed a chilled "half-bottle," containing about four-fifths of one pint. While they may have consumed some of the content the first time, the later bottles probably served as little more than an expensive form of mouthwash, with the pair following up a small sip by swilling some around in the their mouths and then spitting it out.
1919: Death Stalks the Brickyard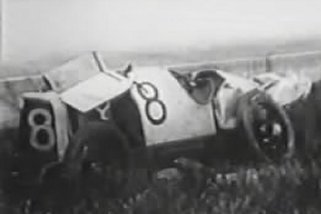 After shutting down for two years while the track served as an airfield during World War I, the race returned with tragic results. Three men died during the running of the race, the first fatalities in Indianapolis 500 history. Arthur Thurman was killed instantly when his car turned over halfway through the race.
Louis Lecocq and his millionaire mechanic Robert Bandini were killed later in the race when their car caught fire after flipping over. It took authorities more than five minutes to extinguish the blaze, and the two men, according to The New York Times, were burned beyond recognition.
1920: Pay Changes Enliven Racing

Change was brewing as race organizers offered a $100 payout for every lap led, according to the book The Indianapolis 500: A Century of Excitement by Ralph Kramer. The monetary incentive led to furious competition throughout the 500 miles, as there was suddenly a compelling reason to risk a delicate car's well-being in the early stages of the race. A driver who led every lap could double the winner's purse of $20,000.
1930: Chet Miller Borrows from the Crowd

Rules changes eliminate the super-charged monsters of the 1920s and replaced them with cars that had more in common with vehicles fans might find in manufacturer's showrooms. Although it wasn't intended as a response to the stock market crash of 1929, the changing nature of the race did open the field to more potential competitors and not just the super wealthy.
The less sophisticated cars came in handy for racer Chet Miller. When a pit stop at Lap 92 revealed a broken front spring, the part was replaced with a spring from a spectator's Model T.
Miller finished 13th, and after the race his pit crew put the spring back on the fan's car.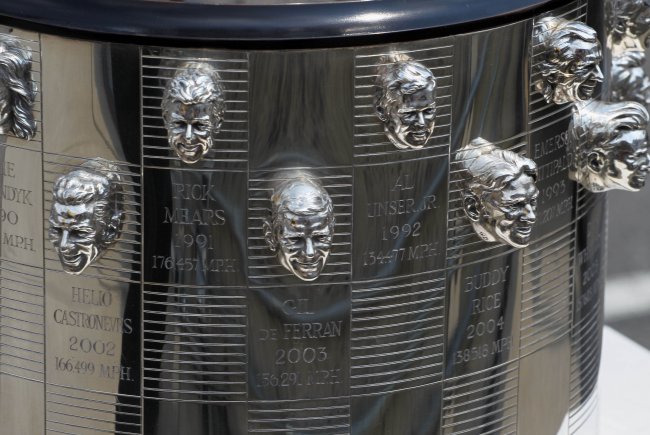 Brian Spurlock-USA TODAY Sports
1936: Meyer's Milk Mustache Starts an Indy Tradition

Two traditions were born on a single day. Race winner Louis Meyer celebrated his victory with a bottle of buttermilk, and the Borg-Warner Trophy was awarded for the first time. The 110-pound trophy cost $10,000 and featured the face of every man who ever won the race:
Unveiled at a 1936 dinner hosted by then-Speedway owner Eddie Rickenbacker, the Borg-Warner Trophy was officially declared the annual prize for Indianapolis 500 victors. It was first presented that same year to champion Louis Meyer, who remarked, "Winning the Borg-Warner Trophy is like winning an Olympic medal."
The trophy is now valued at more than $1 million.
1937: Oil-Soaked Shaw Wins His First 500

Leaking oil profusely, to the point his socks were soaked in it, Wilbur Shaw limped across the finish line just 2.16 seconds ahead of second-place Ralph Hepburn.
It was the most closely-contested finish in Indy 500 history and would remain so until 1982.
Shaw would go on to win the race in 1939 and 1940 as well, becoming the second three-time champion after Meyer. Later, as the general manager of the Indianapolis Motor Speedway, he would popularize the saying, "Gentlemen, start your engines."
1949: Television Takes a Turn at Turn 1

Television attempted to capture the majesty of high-stakes racing for the first time as local station WFBM aired the race live. Three cameras were used to document the proceedings, including one at the top of the double-decker grandstand at Turn 1.
Among the action that thrilled home viewers was a fiery crash on Lap 23 that took leader and pole-sitter "Duke" Nalon out of the race. Nalon was lucky to survive and didn't race for two years after his close call.
1955: Vukovich Dies on the Road to History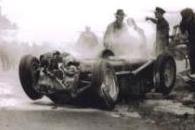 Tragedy struck Indy as Bill Vukovich, on his way to a historic third consecutive win, died on Lap 57 in a massive accident. Vukovich was leading the race when Rodger Ward's axle broke, flipping his car into the air and creating havoc for everyone on the track.
Vukovich collided with Johnny Boyd and flipped end over end. According to historian Bob Laycock:
I think I'd be short when I say he flipped 20 to 25 feet into the air. He was almost as high up as the trees.

When he landed, he landed next to the Mobil gas tank (north of the bridge) and there was a guy sitting in a chair who just got out of the way. That roadster landed absolutely upside-down and...there was not any space in those cars in that position for the driver. It almost sealed him in.
1967: Turbine Engine Falls $6 Short

After a rain delay forced the race to be postponed a day, A.J. Foyt shocked the racing world by upsetting the prohibitive favorite Parnelli Jones. Driving an innovative STP car with a helicopter turbine engine, Jones took a commanding lead and was out front for 171 laps.
The engine, smaller than those in every other car on the track, made Jones' car much lighter than the competition, giving him a significant edge.
"I had been certain he was going to break," Foyt said. "But, when he got past the midway mark and kept on going, I figured I was finished. I figured all I could do was keep going, keep as much pressure on him as possible to keep him running as hard as possible, and hope for the best, but about the best I could do at that point was to stay in the same lap with him."
With just four laps to go, a $6 ball bearing in the gear box failed, causing Jones to slip into neutral. As the STP's chagrined crew pushed the car into the garage, Foyt cruised to victory.
Foyt is one of just three men to win the race four times.
1973: Debris Rains From the Sky
Going into 1973, there were high hopes in Indianapolis. New engineering advancements had many expecting record speeds, perhaps even upwards of 200 miles per hour. The race, however, was cursed from the start.
Driver Art Pollard had been killed on Pole Day, so the mood was foul, even before the rain clouds parked themselves above the city. On Monday an 11-car wreck stopped the action almost immediately. Salt Walther suffered serious burns, and debris rained into the stands, injuring 13 spectators.
Rain forced a delay that day and again on Tuesday. By the time it finally got started in earnest on Wednesday, there was a real sense of foreboding in the air. On lap 57, everyone's worst fears were realized as Swede Savage's car, complete with a full tank of fuel, hit the inside wall. USA Today recounted what happened next:
His car exploded in an angry orange flash. Pieces tumbled down the track and Savage slid to a stop, still strapped in the cockpit amidst a pool of burning fuel, but fully conscious, somehow speaking to safety workers and medical officials.

Armondo Teran, a mechanic on Graham McRae's car, sprinted down pit lane to see if he could be of help to his injured teammate. A fire truck traveling at an estimate 60 mph in the wrong direction hit Teran, who suffered crushed ribs and a fractured skull.
Teran and Savage both died, Teran on the scene and Savage later when he contracted Hepatitis C after a blood transfusion. Race officials implemented major changes to prevent similar incidents in the future. They decreased fuel loads, replaced the angled inside wall and moved spectators back a distance.
1977: Janet Guthrie Shows Women Can Be Fast Too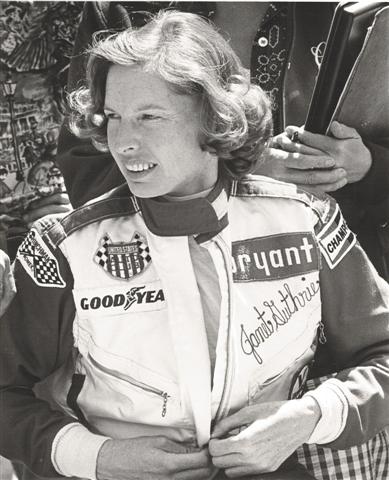 Aerospace engineer Janet Guthrie broke the gender barrier, becoming the first woman to qualify for the race. She finished 29th out of 33 cars when her timing gear failed on just Lap 27 but secured a place in history nevertheless. The next year she placed in the top 10. Her helmet and race suit would later become a part of the Smithsonian Institution's collection.
She discussed the prevailing attitudes of the time in her memoir Janet Guthrie: A Life at Full Throttle:
Just a few years earlier, women had not even been allowed in the press box at Indianapolis, much less the garage area or the pits. A woman might be a reporter, a photographer, a timer/scorer, she might own the race car--but she couldn't get near it at any time for any reason. A woman on the track itself was unthinkable.
1981: Who Really Won the Most Controversial Race Yet?

Bobby Unser was reinstated as the race winner after contentious hearings that lasted for months. Unser took the checkered flag, but it was later decided that he had illegally passed cars while the yellow flag was waving, penalizing him and leaving Mario Andretti the winner.
Race fans were aghast, as was Sports Illustrated:
Even assuming Unser had violated the rules, the appropriate punishment would have been a one-lap penalty imposed during the race. By waiting until afterward, USAC deprived Unser of the opportunity to try to make up that lap. ... It was as though the officiating crew for the Super Bowl had decided to determine the game's outcome by waiting until after the final gun to view films of a disputed touchdown.
Making matters worse, as several racers testified, what Unser did was common practice at the time.
"When ABC sent us the tapes we saw Mario did exactly the same thing I did," Unser said years later. "Same lap, same turn, same place. Same everything."
The ugly piece of politics, played up by ABC television, which recorded its commentary after the race had already finished, lent more than a bit of theater to the proceedings and led a disillusioned Unser to retire from the sport.
1982: Mears Falls Short in Photo Finish

Rick Mears was 0.16 seconds away from standing alone as the greatest driver in Indy 500 history. That was Gordon Johncock's margin of victory in a photo finish, and it eventually prevented Mears from becoming the only man to win the race five times.
It was a bittersweet win for Johncock, whose mother Frances passed away the next day. He had flown home to Michigan immediately after the race and was able to spend time at her bedside before returning to Indianapolis for a victory banquet where he learned of her passing.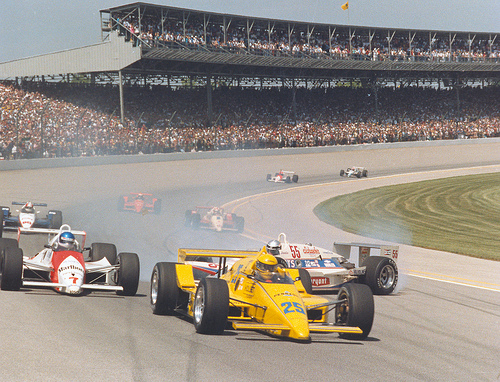 1987: Old Man Unser Does It Again

Al Unser Sr. wasn't supposed to win the Indy 500 in 1987. He wasn't even supposed to be there. Five days before his 48th birthday, he had no car and no hope. According to Sports Illustrated, he showed up anyway, hoping for a chance:
Even though Unser had raced successfully for Roger Penske the last four years, he had not so much as sat in an Indy Car this season. Penske dropped the 47-year-old champion in favor of two younger former winners, Danny Sullivan and Rick Mears. Unser was still out in the cold when Penske cut a deal with Ted Field, of the Marshall Field department store family, that made Field's protege, Danny Ongais, his third driver.
When Ongais wrecked his car in practice and doctors demanded he sit the race out, Unser got his chance—and made the most of it. He became the oldest winner in the race's history, taking home the Borg-Warner Trophy for the fourth time, tying A.J. Foyt's record and establishing himself as an all-time racing great.
1992: The Closest Race in Indy History

Al Unser Jr. became the first second-generation driver to win the Indy 500, holding off Scott Goodyear by just 0.043 seconds in the closest race in Indy history. Viewers at home initially missed the finish when ABC cut to a camera obscured by a track official.
An overhead shot soon showed just how close the finish was.
"I was trying to make that race car as wide as I could make it," Unser said of his attempts to block Goodyear, who wasn't upset by the maneuvering.
"I call it 'using the race track,'" Goodyear said. "And I'd be doing the same thing if I was Little Al."
1999: Stewart Does the Double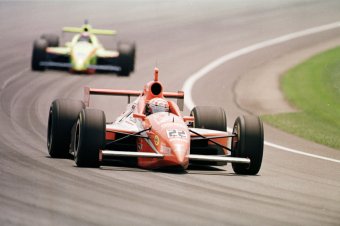 Vincent Laforet/Getty Images
By the end of the day, Tony Stewart had driven 1,090 miles in pursuit of racing glory—and raced his way right into fans' hearts. He fell short in both the Indy 500 and the NASCAR Coca-Cola 600 later that same evening, finishing ninth and fourth, respectively. But it was the effort and gumption to even try running both races in a single day that made Stewart a star.
"I want to win the Indianapolis 500 more than any other race there is," Stewart told the press. "If I could guarantee one race where I would win, it would be the Indy 500. I want a win in that really bad."
Stewart's dream, at least to this point, has gone unfulfilled.
2000: Pablo Montoya and the Scourge of Politics

Racing politics dominated the headlines as CART racing champion Juan Pablo Montoya came to Indy for the first time to challenge rivals at the Indy Racing League.
Montoya was a natural villain to fans used to more "down home" racing stars. He fueled the flames of the rivalry when he participated in a CART race the day before the event and slapped a John Deere sticker on his supercharged car.
On the day of the race, he went out and cruised to victory, leading 167 of 200 laps. He dug the knife in deeper when he proclaimed the Indy 500 was "just a race," although he later admitted to The New York Times, ''I feel...happier than I was an hour ago."
2005: Danica Arrives on the Indy Scene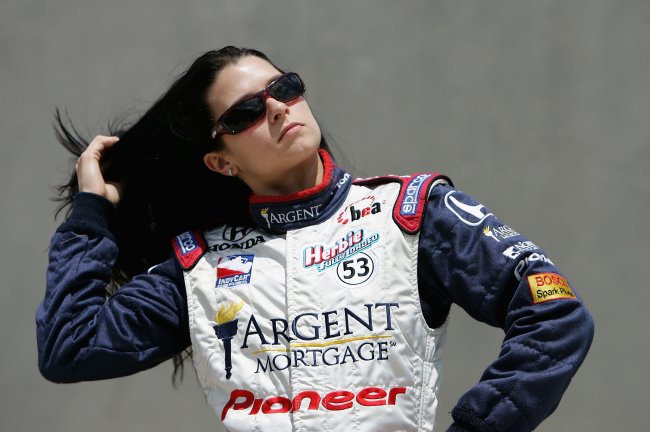 Jonathan Ferrey/Getty Images
Rookie Danica Patrick became the first female driver to lead a lap during the race, eventually finishing fourth. More than a competent racer, Patrick was a media sensation. ABC's Jack Arute told USA Today she was the network's best hope to stop a persistent ratings slide, calling Patrick the "one person, one story, that'll catapult you exponentially into the consciousness of the American sporting public."
Arute was right. Powered by Patrick, ratings were back up to 1996 levels. Dan Wheldon, the race winner, was nearly a forgotten man as Danica mania was at its height. He credited his pit crew with the win in Popular Science:
With 30 laps to go, I'm sitting in the lead, with Danica pushing me pretty hard. We kind of went back and forth, but it was one of those races where my car was not bad to start with, but it wasn't great. The changes we made not only made the car quicker and better and more comfortable through traffic, but when I got into the lead I was also able to stay in the lead.
2011: Hildebrand and the Most Shocking Loss Ever

Wheldon again went head-to-head with a rookie, but it looked like he was going to fall short. J.R. Hildebrand had a commanding lead as he approached Turn 4 but lost control of his car, crashing into the wall.
Wheldon, who had finished second the two previous years, almost felt bad about winning the race that way, telling reporters afterwards, "It's obviously unfortunate, but that's Indianapolis. That's why it's the greatest spectacle in racing. You never know what's going to happen."
Just four months later, Wheldon was killed in a crash at Las Vegas Motor Speedway. He was just 33 years old.
2013: Can Franchitti Join the Triumvirate?

Three-time winner Dario Franchitti will try to match A.J. Foyt, Al Unser Sr. and Rick Mears by becoming just the fourth man to win the race four times. It won't be easy, with both Helio Castroneves and A.J. Allmendinger expected to be fiercely competitive.
The race airs live at 12 p.m. ET on ABC.
This article is
What is the duplicate article?
Why is this article offensive?
Where is this article plagiarized from?
Why is this article poorly edited?