The Biggest X-Factors for Each Conference Finalist Remaining in NBA Playoffs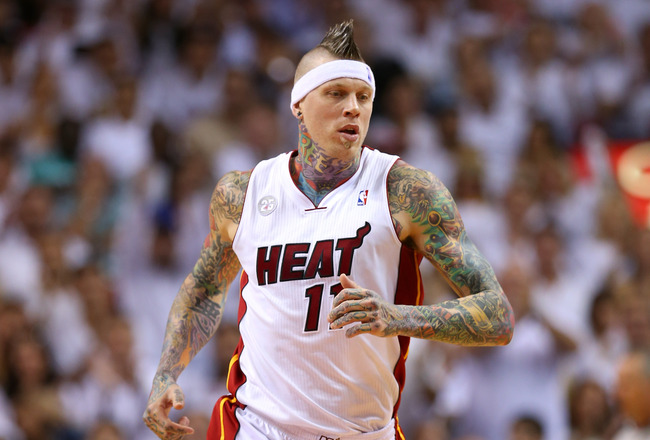 Birdman's post presence significantly changes the complexion of the Miami Heat.
Mike Ehrmann/Getty Images
The NBA conference finals will be determined just as much by the X-factors as they will be by the stars.
That isn't to say the great players aren't the most important ones in the series; they're just less volatile.
LeBron James is going to be a one-man force of nature for the Miami Heat and the Indiana Pacers' Paul George will strive to match him with his incredible athleticism. In the Western Conference finals, Marc Gasol of the Memphis Grizzlies and the San Antonio Spurs' Tim Duncan will battle on both ends of the floor to see who's the more dominant big man.
A big part of those players' stardom is their consistency. You know what type of production you're going to get from those guys in any given game.
It's the unpredictable elements that can turn a close series into a blowout or tip it toward the underdog. The impact role players and strategic maneuvers—whether they work out or not—will ultimately decide which teams move on to the NBA Finals.
Memphis Grizzlies: Quincy Pondexter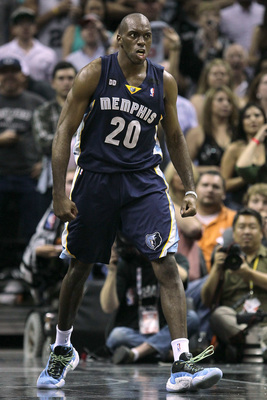 Stephen Dunn/Getty Images
Knowing that Memphis' offense is most effective when it is scoring inside, the San Antonio Spurs have committed to packing the paint and stymieing Zach Randolph and Marc Gasol.
To counter that strategy, the Grizz need to facilitate their preferred grit-and-grind attack with outside shooting to stretch the defense.
Three Grizzlies have attempted at least three three-pointers per game this postseason: Mike Conley, Jerryd Bayless and Quincy Pondexter.
Of those shooters, Pondexter is the only one who has the luxury of consistently spotting up. Since Memphis relies on both Conley and Bayless to create off the bounce, only one long-range option is left to camp out in the corners and keep the Spurs honest.
Fortunately, Pondexter has made good on his assignment, knocking down 44 percent of his three attempts in the playoffs. His presence beyond the arc could force San Antonio to give the Memphis bigs some more room to operate. If Memphis wants to score with the Spurs, that three-point threat will be key.
Memphis Grizzlies: Lionel Hollins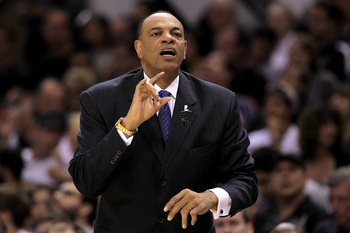 Ronald Martinez/Getty Images
No remaining coach faces as much of an X's-and-O's quandary as Lionel Hollins.
Gregg Popovich has forced the Grizz out of their comfort zone on both ends of the floor. His big men have ruined Randolph's offensive efficiency, while the Spurs' ball movement has created the spacing necessary for their perimeter scorers to gash Memphis' D.
After getting blown out in Game 1, Hollins' squad was on the verge of losing big again in Game 2 because it didn't make proper adjustments. Now down 2-0, the Grizz need Hollins to strike the precise strategic balance as the series comes home to Memphis.
The main problem for Hollins is his lack of two-way wings.
As much as he'd like to sic Tony Allen on the Spurs offense, the defensive ace's faulty jumper is a big reason San Antonio is locking down on the Memphis bigs. Conversely, replacing Allen with Bayless or Pondexter robs a defense-first team of its best ball-stopper.
In erasing a double-digit deficit to force overtime in Game 2, the Grizzlies and Hollins proved they can outsmart the Spurs for a stretch. Whether Hollins and Co. can outwit San Antonio in Game 3 and the remainder of the series will prove the difference.
San Antonio Spurs: Matt Bonner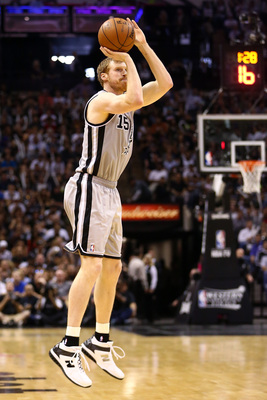 Ronald Martinez/Getty Images
He's not a huge factor against every opponent, but Matt Bonner presents a lot of difficulties for the Memphis Grizzlies.
Bonner is a true big man—6'10" and 235 pounds—and shot 44 percent from three-point range during the regular season. That unique skill set allows the Spurs to stretch the floor offensively without having to worry about playing a small-ball lineup on the other end.
For a traditional two-big team like the Grizzlies, a stretch forward like Bonner can be stupefying. Either Memphis' power forward has to come all the way out to the arc to contest Bonner—giving the Spurs' guards more room to slash inside—or the Grizz protect the paint and leave a shooter open outside.
Against the finesse Golden State Warriors in the conference semis, Bonner was basically a nonentity, but Memphis is another story. This is his series to shine.
San Antonio Spurs: Kawhi Leonard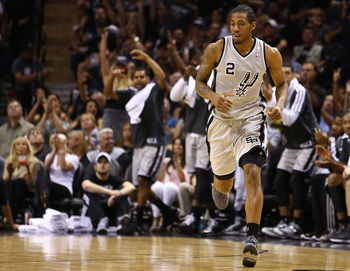 Ronald Martinez/Getty Images
Kawhi Leonard has found a new offensive gear this postseason.
He has been a pretty efficient scorer in his two NBA seasons, shooting 49 percent from the field and knocking down 37 percent of his threes. That was good enough to make defenses acknowledge Leonard when he gets the ball, but not to make him a true scoring threat.
In the playoffs, however, he has been too efficient to ignore. Leonard has taken slightly more shots per game than he did in the regular season, yet he's upped his percentages all the way to 57 from the field and 42 from beyond the arc.
The small sample size is clearly a factor here, but Leonard is also thriving by playing within himself. As long as he is converting at the rim and knocking down open treys, the Spurs' arsenal will be even harder for the Grizz to handle.
Indiana Pacers: Tyler Hansbrough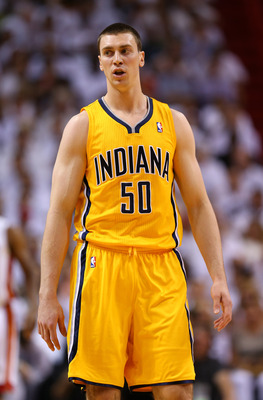 Mike Ehrmann/Getty Images
If you want evidence of how significant Indiana's size advantage is against Miami, look no further than Tyler Hansbrough's numbers in Game 1 of the Eastern Conference finals.
In just 12 minutes of play, Hansbrough put up 10 points on 5-of-8 shooting and pulled down six rebounds—including three offensive boards. As Miami tried to stretch the Pacers defense, Hansbrough turned the tables and bullied the Heat on the other end.
Everyone was expecting Roy Hibbert and David West to beat up on Chris Bosh and Shane Battier en route to the basket. For Hansbrough—an energy guy with no little-to-no post game—to also get in on the scoring was something else entirely.
The Pacers need someone to step up to keep pace with the explosive Heat offense. Hansbrough is an unlikely man for the task, but if he can keep winning battles inside, Indiana's chances improve considerably.
Indiana Pacers: Guard Play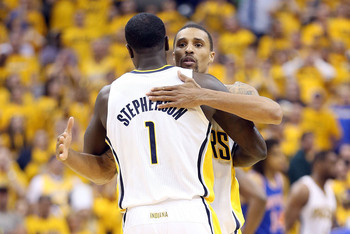 Andy Lyons/Getty Images
For all the success the Pacers bigs had against Miami in Game 1 of the Eastern Conference finals, the guards struggled.
The starting backcourt of George Hill and Lance Stephenson combined for just 12 points on 4-of-19 shooting from the field in 88 minutes.
That won't fly if the Pacers want to beat the Heat. If Hill and Stephenson can't scare Miami on the perimeter, the Heat will be able to send extra defenders at the Indy bigs to clog the lane and force turnovers.
Indiana's weakness all season has been its lack of depth. For the upset to be possible, the starting guards have to be better.
Miami Heat: Chris Andersen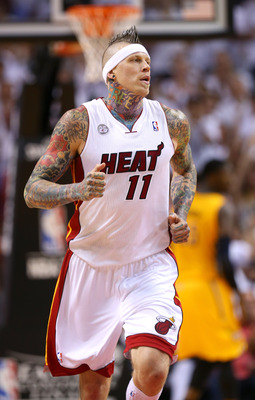 Mike Ehrmann/Getty Images
The Pacers aren't the only ones getting unexpected production off the bench.
With Indiana committed to limiting Miami's surplus of shooters, Chris Andersen emerged to wreak havoc on the interior.
The Birdman can do three things on the basketball court: Dunk, throw his body around inside and leap for rebounds and blocks. That's all he did in Game 1, playing within his specific brand of controlled chaos to give Indy fits.
Andersen scored 16 points in 18 minutes on 7-of-7 shooting, tacking on five rebounds and three blocks as well. That production was just gravy for the Heat, who simply want Birdman to body up on Indiana's bigs; any offensive return is a bonus.
With the Pacers D chasing the Heat around the perimeter, there are going to be opportunities for Miami to capitalize in the paint. If Andersen can keep coming through, the defending champs will be that much more imposing.
Miami Heat: Health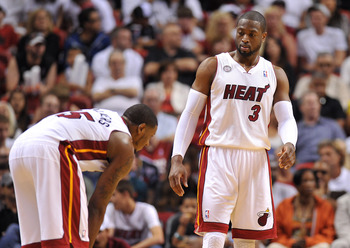 Steve Mitchell-USA TODAY Sports
It's very simple: Barring injury, the Miami Heat are the favorites to win the 2013 NBA championship.
Although Dwyane Wade showed glimpses of his elite athleticism as he registered 19 points, six boards and five assists against Indiana in Game 1, he is still hampered with a right knee bruise.
Per Barry Jackson of The Miami Herald, Wade talked about his knee before Game 1:
I feel the same. Time doesn't help me right now. It's unfortunate I've had to deal with this thing for two months now.

When I feel great, I'm going to attack. When I don't, I know how to be a team player and give of myself for other guys. … Even though my knee isn't 100 percent, it ain't gone.
Wade isn't the only one hurting in Miami, either.
Mario Chalmers played just 21 minutes in Game 1, leaving after suffering a deep shoulder bruise during the third quarter. ESPN's Rachel Nichols tweeted that Chalmers expects to play in Game 2 but would reevaluate depending on how his shoulder feels on game day.
Miami's health is worth watching in what is sure to be a physical series. If the Heat's injuries impact their play—or if the Pacers bang them up even more—Miami's quest to repeat might end in the Eastern Conference finals.
Keep Reading