Biggest Questions and Answers for the Boston Celtics This Offseason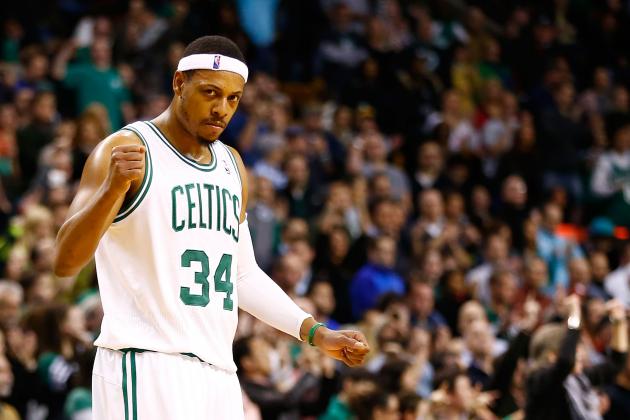 Jared Wickerham/Getty Images

Every NBA team heads into the offseason with questions, but perhaps no team is facing more significant questions than the Boston Celtics.
Fresh off of a mediocre 41-40 season and a first-round playoff loss to the New York Knicks, Danny Ainge and the C's front office have much more time than usual to ponder the future direction of the franchise.
Which is good because there's a whole lot of pondering to do.
With the futures of Paul Pierce, Kevin Garnett and even Doc Rivers in jeopardy and with plenty of holes to address through the draft and free agency, this team is going to have to take a long look in the mirror and really commit to a direction for the future during this offseason.
Either Boston is going to gear up for one final run at a championship with Pierce and KG in tow, or they are going to bite the bullet, look to deal one or both of their veteran stars and attempt to build around the core of Rajon Rondo, Jeff Green and Avery Bradley for the next few seasons.
As the Celtics sit and watch the conference finals from home, let's take some time to examine the big questions Boston needs to address this offseason.
Begin Slideshow

»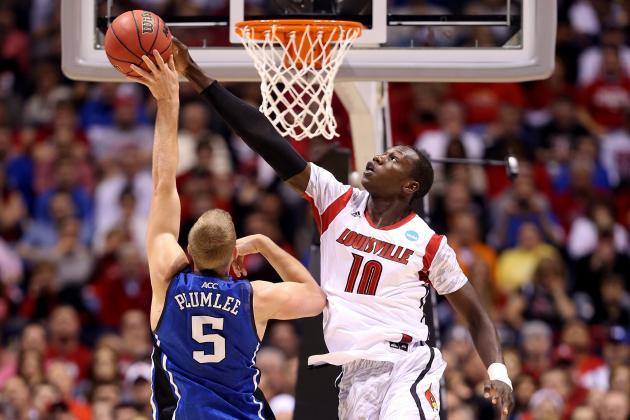 Andy Lyons/Getty Images

This is hardly a problem unique to the Celtics, but with the team at a major crossroads it is essential that they find a winner in this pretty mediocre draft.
Whether or not Kevin Garnett stays with the team, they desperately need some size up front, and while this draft does not have many franchise-changing talents, it does feature several quality big men who could help Boston's frontcourt.
Among them are Louisville's Gorgui Dieng and Duke's Mason Plumlee, a pair of experienced, big-time college players who could potentially be instant rotation players for Doc Rivers and company.
Both are talented athletes and strong rebounders; Dieng averaged 9.8 points, 9.4 rebounds, two assists and 2.5 blocks per game for the Cardinals, while Plumlee posted 17.1 points, 10 rebounds, 1.9 assists and 1.4 blocks per game in his final season as a Blue Devil.
Neither of them are completely NBA ready, and both need to add some muscle. But they each provide different, valuable skills for the Celts. Dieng is a reliable mid-range jump shooter who can stretch a defense, while Plumlee developed a well-rounded low-post game and started hitting his free throws at a borderline acceptable rate.
Rivers has never been big on playing rookies, but with Garnett's return uncertain, Brandon Bass having a less-than-stellar 2012-13 season and Jared Sullinger's injury issues, that trend may have to end.
Because of their struggles to score, Boston could also go with a player like Kentavious Caldwell-Pope from Georgia or Cal's Allen Crabbe—a pair of pure scoring guards with size—but expect the Celtics to make a move for a much needed big man during the draft in June.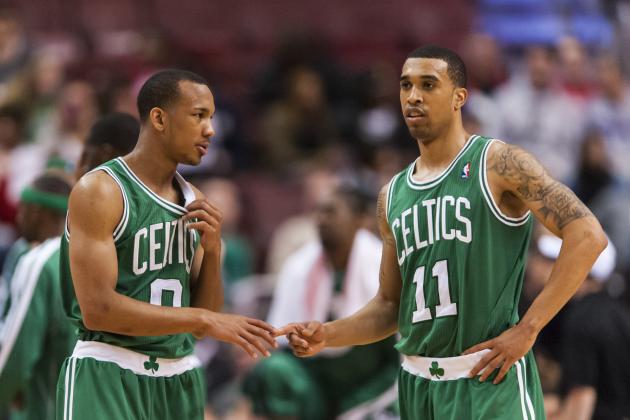 USA TODAY Sports

When Rondo went down with his ACL tear, it became abundantly clear that while the Celtics didn't have any backup point guards, they did have a handful of combo guards, none of whom were suited to play the 1.
Jason Terry plays his best basketball working off of the ball; Avery Bradley isn't a good enough facilitator to log much time at point guard; Jordan Crawford should be about as far away from a basketball as humanely possible, and Courtney Lee struggled to adjust to Boston's system in his first season with the team.
With Rondo coming back and facing more pressing needs in other areas, it would be foolish for Danny Ainge not to explore the idea of trading one of the guards in order to bring in a young asset or a serviceable big man.
Bradley is still a bargain on his rookie deal and was recently named to the NBA All-Defensive second team. He needs to develop his offensive game beyond mid-range jump shots and backdoor cuts, but he is one of the few valuable young pieces Boston has.
Terry's play improved down the stretch of the regular season and picked up during the Celtics' first-round series with the New York Knicks. Though his best years of basketball are definitely behind him, his ability to stretch the floor and hit clutch shots is important, as is his veteran leadership if the team chooses to rebuild.
That leaves Lee and Crawford as the expendable pieces. Lee is still fairly young and in the midst of his prime. He is coming off of a horrid postseason, but given his ability to shoot and play tough perimeter defense, there should be some team out there interested in trading for him.
Crawford will be more difficult to get rid of, given his highly questionable shot selection and uninspired defense, but he can put up points on a volume basis, and that may be worth a gamble to some team like it was for Boston at the 2012 trade deadline.
Either way, it seems like the best bet for Boston to clear up their backcourt logjam is to deal either Crawford or Lee.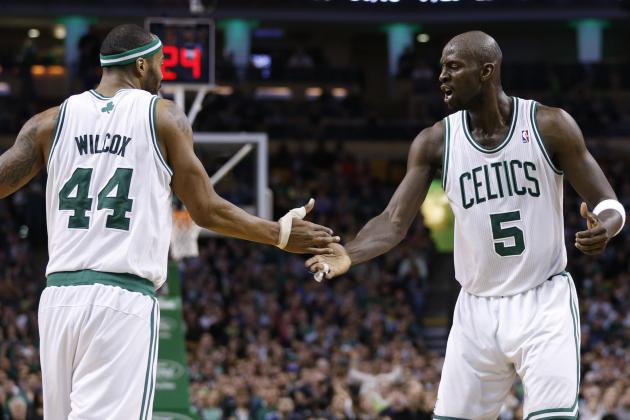 David Butler II-USA TODAY Sports

We all know that the league is getting smaller and that small-ball lineups have become all the rage, but teams like the Indiana Pacers and Memphis Grizzlies have proven that that is not the only way to win.
To that end, the Celtics need to make a move in the offseason to bolster their frontcourt. Boston ranked 29th in the league in rebounds per game at 39.3 and, despite its strong overall defense, was often hammered on the offensive glass.
In the series against New York, the Celtics frequently would have a strong defensive sequence and simply fail to grab the defensive board, allowing Kenyon Martin or Tyson Chandler to sneak in for an easy put-back score.
Not counting Garnett, the Celtics have Bass (a subpar rebounding power forward), Sullinger and Fab Melo under contract for 2013-14, with options on D.J. White and Shavlik Randolph.
Though Jeff Green can be used as a power forward, he plays his best basketball by utilizing his quickness and skill as a small forward. He is not a strong enough rebounder to play heavy minutes at the power forward unless he is with a dominant center.
While the draft is one route Boston can go to solve this problem, there are also a number of decent options available in free agency.
The team could target a low-cost free agent like Timofey Mozgov. Or, Chris Andersen could provide interior grit and toughness. Boston might opt to shell out a little more money to pursue someone like Greg Smith, Robin Lopez or Samuel Dalembert—or someone who can contribute some offensively.
Whether the Celtics opt to rebuild or not, they need to add size, and the best way for them to do that likely will be through free agency.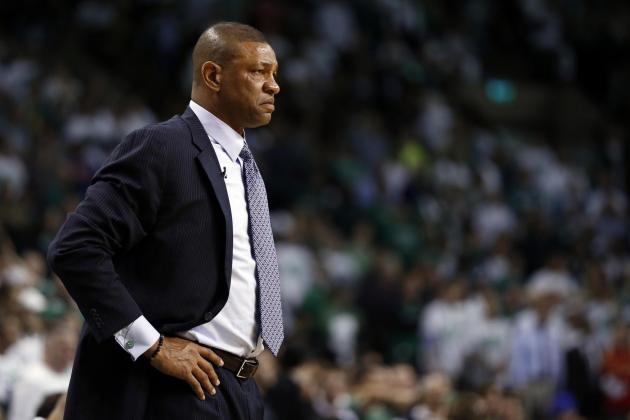 David Butler II-USA TODAY Sports

Doc Rivers may have three years and $21 million remaining on the contract he signed in the 2011 offseason, but the Celtics still need to ensure that he returns to Boston for the 2013-14 campaign.
Rivers has drawn interest from other organizations about vacant head coaching positions, including the Brooklyn Nets, though Celtics general manager Danny Ainge recently refused the Nets request to talk to Rivers, according to ESPN Boston.
During the NBA draft combine, Ainge said that Rivers will return to coach the upcoming season, according to The Boston Globe, but a lot can happen between now and the season opener.
Given his veteran status and his success during the Big Three era, many speculate that Rivers' fate is tied to Kevin Garnett and Paul Pierce. He has coached Pierce for all of his nine years with Boston, and now that Pierce's contract may be bought out before the season, it is worth questioning Rivers' future in Boston.
Still, the Celtics need to do everything in their power to keep Rivers around to help facilitate the rebuilding process beyond just next season.
Rivers, who is 51 and has four children, considered retirement prior to signing his extension in 2011. He has become very ingrained in the Boston community and is the kind of tough-minded, no-nonsense coach who will be incredibly valuable when this franchise does decide to blow it up and rebuild.
It won't be easy, but the Celtics need to try and get Rivers to commit to multiple years in Boston, not just next season.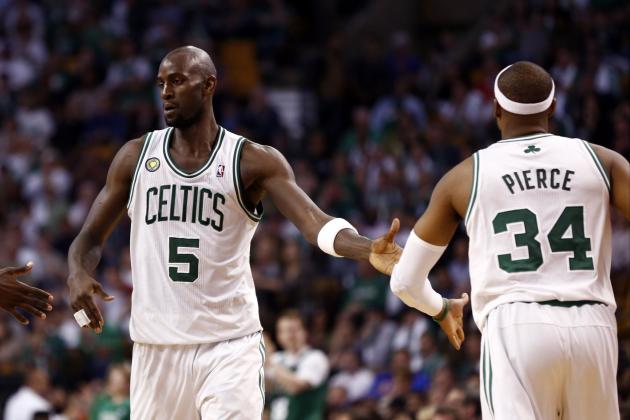 Mark L. Baer-USA TODAY Sports

No offseason question for the Celtics is more important as whether or not Paul pierce and Kevin Garnett are going to return to Boston for another season.
Pierce is due $15 million in 2013-14 but has a buyout for just $5 million. Garnett has two seasons and is due $24.4 million over that timespan, but struggled with injuries last season and did not look as dominant as he has in the past.
Per Yahoo! Sports' Adrian Wojnarowski, Pierce was nearly dealt to the Dallas Mavericks at the trade deadline in a multi-team deal to land Josh Smith, making it difficult to project whether or not Ainge will keep him or pursue a trade.
Pierce struggled with turnovers in the postseason, but he had a tremendous regular season. When Rondo went down, Pierce took on more of a point-forward role while still handling the brunt of the scoring and crunch-time duties. Plenty of fringe contenders could use a natural scorer and floor-spacer like Pierce, particularly one who is on an expiring contract.
Garnett holds a no-trade clause, but according to Wojnarowski a trade sending KG to the Los Angeles Clippers was explored by the two organizations before ultimately being placed on the backburner. Garnett would likely not waive the clause to go to just any team, but a squad that has a shot at a championship would be a tough offer to turn down.
If Boston got rid of both of their veteran stars, it would leave them with significant cap space but also glaring holes that the team would have to address before they could return to anything near contention.
Ainge told WEEI Radio that he expects KG and Doc Rivers back, but he was noncommittal about Pierce's future. Expect Ainge to aggressively pursue a blockbuster trade, particularly since Pierce reportedly does not expect to return to the Celtics, according to NBC Sports' Kurt Helin.