To-Do List for Toronto Raptors' Jonas Valanciunas to Return Better Next Season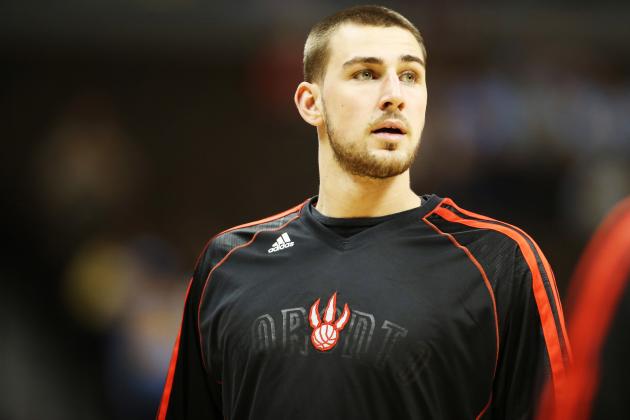 USA TODAY Sports

In just his first full season with the Toronto Raptors, 21-year-old Jonas Valanciunas already has fans buzzing over the long-term potential he has moving forward with this basketball team.
His selection with the fifth overall pick in the 2011 NBA draft was met with much scrutiny and criticism, but Valanciunas has quickly quieted his doubters with some stellar play this past year.
As is the case with any rookie, Valanciunas had his growing pains, but for the most part, the good outweighed the bad. He was named the Eastern Conference Rookie of the Month back in March, having averaged 11.4 points, 7.3 rebounds and 1.1 blocks in 27.3 minutes per game. The last Raptor rookie to be bestowed that honor was Jamario Moon in 2007-08.
Valanciunas was also named to the NBA's All-Rookie Second Team, becoming the 10th player in franchise history to receive All-Rookie honors.
The sky is certainly the limit for Valanciunas, but this is just the tip of the iceberg of what he's capable of.
He's far from a perfect basketball player, so improving his skill set this offseason should be a top priority not only for himself but the Raptors coaching staff as well.
Toronto's success in 2013-14 will depend heavily on the continued development of their highly touted center. Here's a look at a few key points of his game that he can work on this summer, so that when next season arrives, he will be primed and ready for a breakout sophomore year.
All statistics are courtesy of Yahoo! Sports, Basketball-Reference and HoopData.
Begin Slideshow

»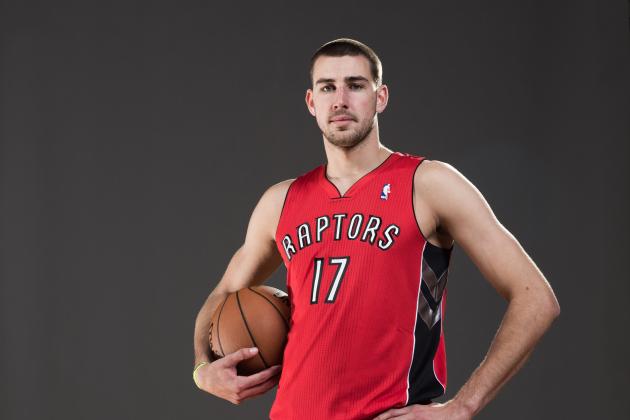 Nick Laham/Getty Images

Standing at 6'11" and weighing in at a little over 230 pounds, Valanciunas has a solid enough base, frame and stature right now to continue to fend off some of the larger frontcourt players in the NBA.
However, his body is nowhere near where it could be from a strength and conditioning standpoint.
He's still very young, and he will get bigger as the the years progress, but hitting the weight room this summer and becoming a faster, stronger basketball player will be a must.
The Eastern Conference possesses some of the most menacing, prolific big men in the game today, including All-Stars Roy Hibbert, Joakim Noah and Brook Lopez.
They aren't getting any smaller. and neither will Valanciunas if he can add some more muscle during the offseason.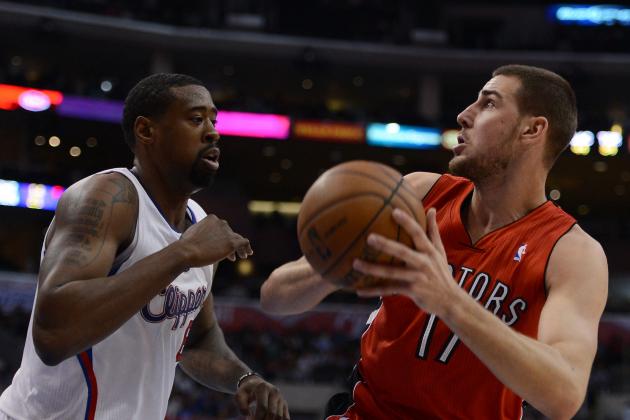 Harry How/Getty Images

In 62 games last season, Valanciunas turned the ball over 94 times, which comes out to 1.5 per game. That ranked him fifth-worst amongst his fellow rookies.
His personal turnover percentage (turnovers per 100 plays) was 17.4 percent, which had him in the bottom 100 players around the NBA.
There is going to come a time when double-teams in the paint become more of a reoccurring thing for Valanciunas during Raptors games. His decision-making is going to be put to the test even more so when he gets constantly crowded by defenders.
It's hard to question his offensive potency and his ability to put the ball in the basket with his array of post moves, but when the shot isn't there and he needs to find a teammate, that's where his control will really come into play.
His minutes are expected to increase, but those turnovers will need to come down as his PT gets bigger and bigger.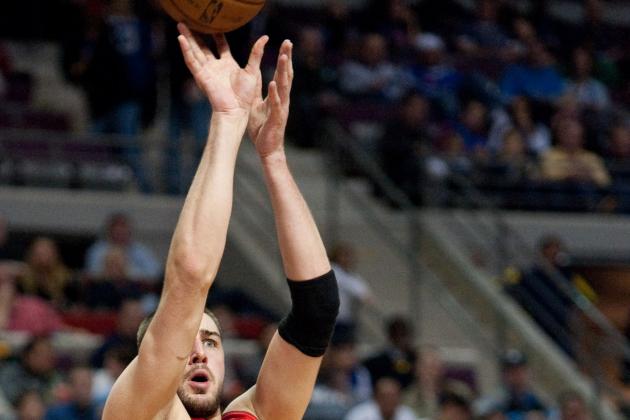 Tim Fuller-USA TODAY Sports

As dominant as Valanciunas was around the rim (60 percent shooting from 10 feet or less), his ability to shoot the basketball from a distance was an entirely different story.
He only hit 32 of a possible 77 shots from longer than 10 feet, which is a lowly 41.6 percent.
It's not an essential part of his game, but Valanciunas would be able to keep opposing defenders honest if he had a more reliable jump shot.
Most of his offense comes from under the basket anyways (289 total shots taken from 10 feet or less), but a more consistent jumper would be a nice weapon to have, especially when going up against elite post defenders.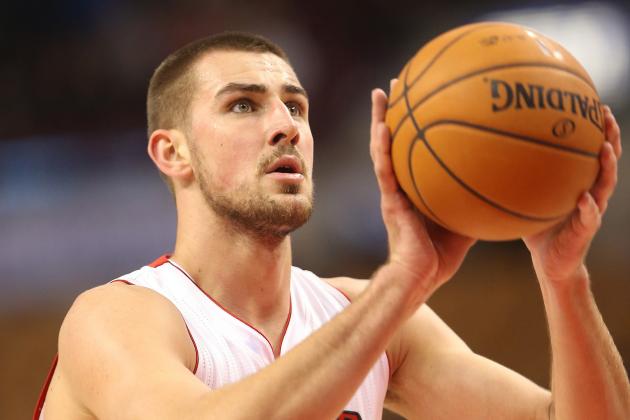 Tom Szczerbowski-USA TODAY Sports

Centers who can consistently hit their free throws are few and far between in this league.
Amongst qualified centers (at least 1.5 makes per game), Valanciunas would finish third in the NBA by hitting 78.9 percent of his attempts from the charity stripe in his first season with Toronto.
However, he only ranked 14th in attempts at just 3.0 per game.
Opposing teams will learn to respect more of his post game and his ability to score in the paint as he builds up more of a reputation.
When that happens, Valanciunas will get to the free-throw line a lot more.
Until then, he's going to need to be more aggressive in drawing contact under the basket.
As a team, the Raptors finished fifth in free-throw shooting percentage at 78.8 percent, but only 14th in attempts with 22.3 per game.
A more imposing Valanciunas will undoubtedly help in that department.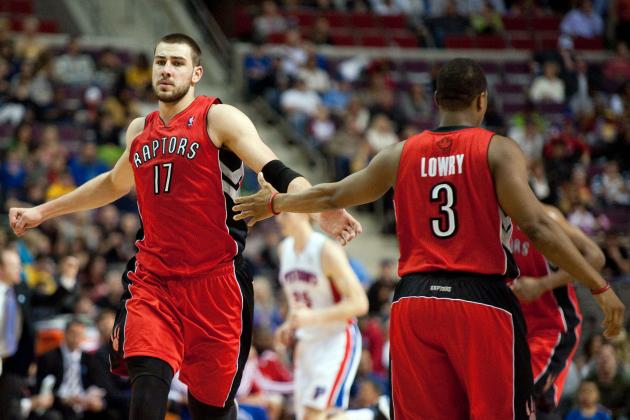 Tim Fuller-USA TODAY Sports

There were several instances during the regular season when Valanciunas decided to err on the side of caution rather than stand up for himself and his team when the moment called.
Why didn't he put up more of a fight, during and immediately after, when Clippers forward Caron Butler stole the ball from his hands at the end of a Raptors blowout victory back in February?
Why did he just stand idly by when Knicks guard J.R. Smith walked in for a cheap layup at the conclusion of a 110-84 New York victory?
When Tyler Hansbrough threw Valanciunas to the ground, nearly re-injuring his hand, why didn't he get in his face afterwards and call Hansbrough out for his blatantly dirty play?
This could be nitpicking at situations that don't need to be overanalyzed, but looking back on these moments in time, it would have been nice to see the rookie show some pride.
Valanciunas is no pushover, nor would he want to be perceived as one by the competition.
No one is asking him to become a goon on the court, but when the moment calls for it, a little passion and self-confidence isn't too much to ask for.