NBA Draft Lottery 2013: Top Prospect for Squads Most Likely to Get No. 1 Pick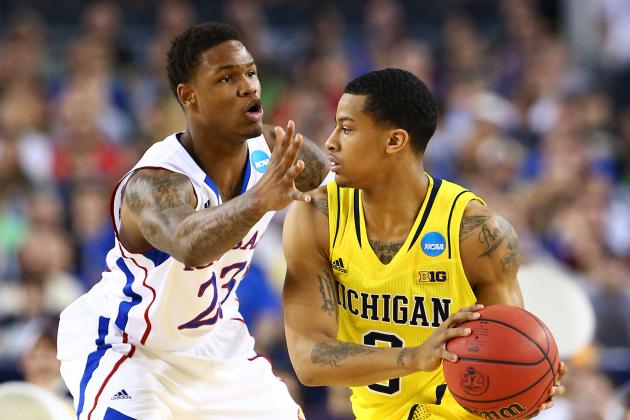 Tom Pennington/Getty Images

The 2013 NBA draft class doesn't have a Blake Griffin or even an Anthony Davis-like prospect who is almost universally regarded as the top dog.
This is a class that won't likely render a superstar; it may feature a few stars, but will instead be filled with secondary options and role players.
Because of that, the best choice for the top pick really depends on which team wins the lottery. As many as five different players could candidates to be selected first at the June 27 draft.
Kentucky's Nerlens Noel, Kansas' Ben McLemore, UNLV's Anthony Bennett, Michigan's Trey Burke and even Lehigh's C.J McCollum could be the chosen one.
Technically, the following teams all have a shot at winning the draft lottery. They are listed with their chances of winning.
1. Orlando Magic—250 combinations, 25.0% chance of receiving the No. 1 pick
2. Charlotte Bobcats—199 combinations, 19.9% chance
3. Cleveland Cavaliers—156 combinations, 15.6% chance
4. Phoenix Suns—119 combinations, 11.9% chance
5. New Orleans Pelicans—88 combinations, 8.8% chance
6. Sacramento Kings—63 combinations, 6.3% chance
7. Detroit Pistons—36 combinations, 3.6% chance
8. Washington Wizards—35 combinations, 3.5% chance
9. Minnesota Timberwolves—17 combinations, 1.7% chance
10. Portland Trail Blazers—11 combinations, 1.1% chance
11. Philadelphia 76ers—8 combinations, 0.8% chance
12. Oklahoma City Thunder (via TOR)—7 combinations, 0.7% chance
13. Dallas Mavericks—6 combinations, 0.6% chance
14. Utah Jazz—5 combinations, 0.5% chance
As you can see, every team listed has at least a remote chance of winning the lottery. This slideshow will only focus on the five teams with the highest probability of obtaining the top pick.
All five of these teams have their own draft logic, but the following slides convey the players who represent the smartest choice for each club.
Begin Slideshow

»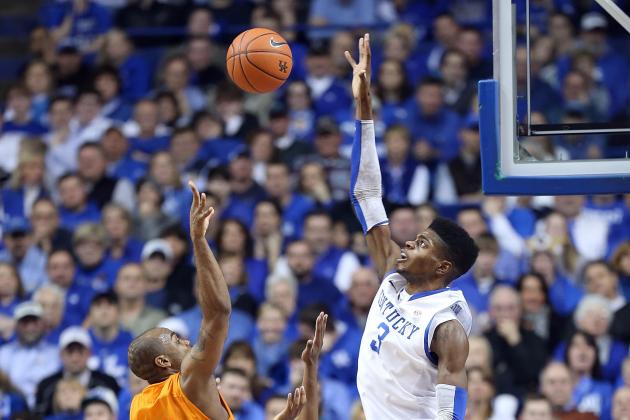 Andy Lyons/Getty Images

Dwight Howard's departure left the Magic with a huge void in the middle. Even though D12 averaged 20 points per game in his final year in Orlando, the team missed him the most on defense.
Orlando's points allowed per game ballooned from 93.4 in 2011-12 to 101.4 in 2012-13.This is why selecting Nerlens Noel No. 1 makes the most sense for Orlando.
Defense is the one thing you know you'll get from him once he's healthy. Noel blocked 4.4 shots and collected 2.1 steals per game in 24 contests for Kentucky.
The Wildcats allowed 62.75 points per game with Noel and 69 points per game without him. John Calipari's bunch missed Noel about as much as the Magic missed Howard.
It would be unrealistic for the Magic to look to Noel to drastically impact their team in the 2013-14 season. He probably won't be ready to play until Christmas at the earliest. Even then his minutes will probably be monitored closely.
In an almost best-case scenario that sees Noel average 12 points, 10 rebounds and two blocks per game as a rookie, the Magic would still be a lottery team in 2014. There isn't enough on the roster at other positions for that contribution to push them into the playoffs.
While that may sound discouraging for some Magic fans, it could very well turn out to be a blessing in disguise.
The 2014 draft class is shaping up to be one of the best in the last 10 to 15 years. As many as five franchise players could be available for teams who don't make the playoffs.
With Andrew Wiggins of Kansas, Jabari Parker of Duke and others almost certainly bolting for the NBA, the prospects available will provide teams with players who can be the face of a franchise.
If the Magic take Noel, they would address a huge need and still remain in position to hit the jackpot in June 2014.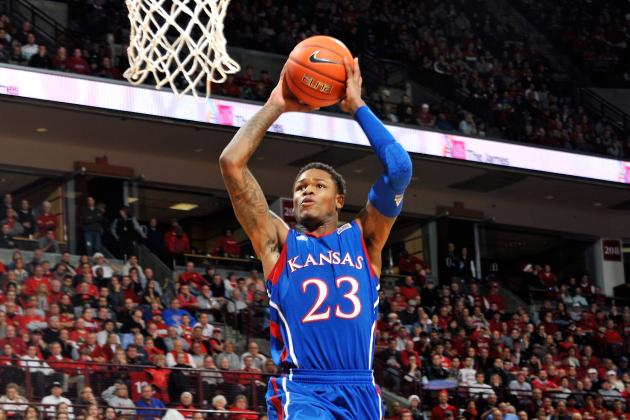 Jamie Sabau/Getty Images

Could the Bobcats use a defensive stopper in the middle like Noel? Absolutely, but more than that, this team needs to add perimeter scoring and excitement.
Few players are as explosive as McLemore. He has the type of athleticism and physical ability that fans will pay to see.
For the Bobcats franchise, that has to be a priority. In the 2012-13 season, Charlotte was 24th in the NBA in average attendance for home games. It was tied for 25th in the NBA in attendance percentage at 83.8.
Ever since the Bobcats made their NBA debut in the 2004-05 season, the team has never finished higher than 21st in either category. Part of the reason for the low attendance numbers is because they simply haven't been very good.
Charlotte has just one playoff experience in their existence.
In addition to that futility, the team has never been a high-scoring club. The high-water mark for the franchise in scoring is 97.1 points per game.
McLemore's jump shot is as pure as any in the draft. His athleticism would support the notion that there are even more aspects of his offense to develop.
Pairing him with Kemba Walker would give the Bobcats one of the more exciting young backcourts in the NBA. McLemore should upgrade the team's scoring ability and its commercial appeal.
Though his presence wouldn't immediately land Charlotte in the playoffs, it will make the Bobcats a little better and a lot more interesting.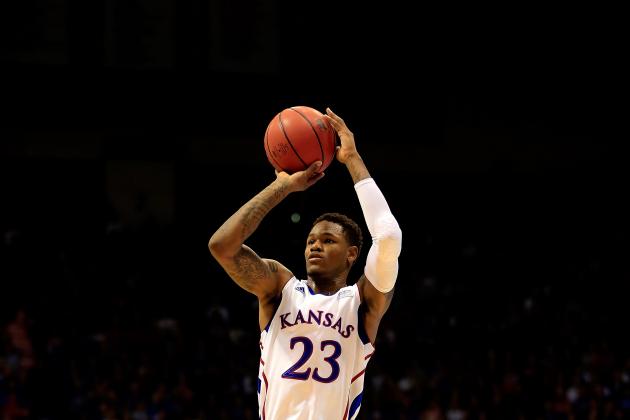 Jamie Squire/Getty Images

McLemore again? Absolutely, and here's why.
Kyrie Irving desperately needs a wing player who can spread the floor. Irving's dribble penetration is great; he gets to the basket and to the free-throw line consistently.
In the 2012-13 season, he shot 4.9 free throws per game.
What the Cavs' offense needs to take it to the next level is dead-eye shooters. McLemore made 42 percent of his threes at Kansas.
There is little to no doubt the Man with the Golden Form will continue to be a good shooter in the NBA.
Despite Irving's 22.5 points per game and 39 percent three-point shooting, Cleveland was still 19th in the NBA in scoring and 23rd in three-point percentage. It seems obvious McLemore could help them in both areas.
His presence could also move last year's lottery pick, Dion Waiters, to the sixth-man role that actually fits him best. He's a slashing, potentially explosive scorer who would thrive in the role he played in his college career at Syracuse.
Of the five teams with the highest chances at the No. 1 pick, the Cavs have the best shot at using the pick to help launch them into the playoffs next season.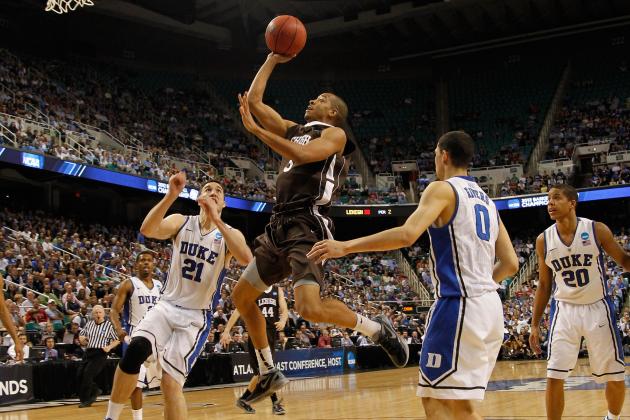 Mike Ehrmann/Getty Images

Perhaps I've lost you at this point and you have that "are you serious" look on your face. Hear me out, though.
Is taking McCollum a reach at No. 1 in the draft? Yes, but allow me to offer you a few thoughts that may place this concept into perspective.
First, McCollum is one of the more underrated prospects in this draft. He may be the best pure scorer and the Suns definitely need that.
The usually high-scoring team was ranked just 21st in the NBA in scoring this past season. With no dominant offensive-minded big man available, the team would be wise to look to a lead guard.
Why not Trey Burke? While I love Burke's ability to shoot from distance, I give McCollum the edge as far as the Suns are concerned because of his size (6'3") and shooting ability.
Phoenix doesn't have players it can depend on at any position. Early on, the Suns' top pick may have to create opportunities for himself. The two-inch height advantage he has over Burke makes that a bit more feasible for McCollum.
The 21-year-old's scoring average rose every year he was in school beginning with his 19.1 total as a freshman. Before a foot injury ended his senior season after just 12 games, McCollum was averaging 23.9 points and shooting 51.6 percent from three-point range.
He did go to Lehigh, but that doesn't mean he hasn't proven he can produce against big-time competition. He had 36 points against Baylor in November 2012 and 30 against Duke during the 2012 NCAA tournament.
McCollum is the real deal.
Fans and general managers can just look at Golden State's Stephen Curry and NBA Rookie of the Year Damian Lillard of Portland for evidence that guards from small schools can be stars.
ESPN's Chad Ford (membership required) reports McCollum is getting looks as high as No. 4. Why would he specify that spot?
Because if the lottery plays out by the percentages, the Suns would be picking fourth.
So what happens if Phoenix gets the top pick? If the team believes McCollum is the best fit—as I do—it could take him there or trade down to add assets and still get its man.
Technically, he may not be drafted first. But if the Suns are lucky enough to get the first selection, McCollum should be their guy whether they keep the pick or not.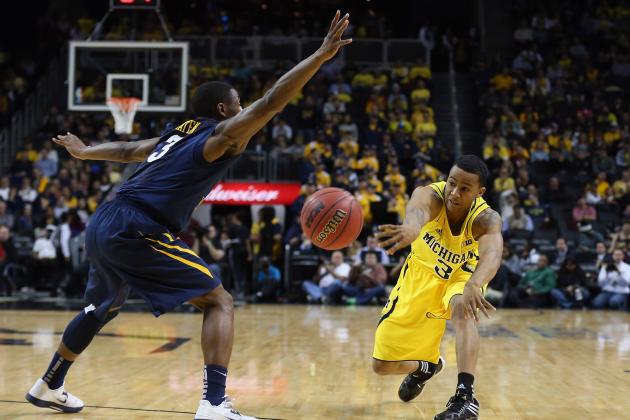 Mike Stobe/Getty Images

The Pelicans are not in the same boat as the Suns. They don't need a player at every position like Phoenix, and the power forward position is set with last year's No. 1 pick, Anthony Davis.
If the team can convince Eric Gordon to stay and he remains healthy—two very big "ifs"—the Pelicans have a solid 2-guard for the future as well.
Finding a player who can run the show would appear to be the no-brainer target for the Pelicans' offseason. Trey Burke fits the bill as well as any player in the draft.
For the Pelicans, a scorer like McCollum isn't as good of a fit. A more balanced point guard like Burke is ideal.
The 20-year-old proved he could score (18.6 points per game) and create for his teammates (6.6 assists per game) as a sophomore.
His play led Michigan to the national championship game and earned Player of the Year honors. With Gordon and Davis already in place, Burke's playmaking would be his best asset in New Orleans.
His 38.3 percent shooting from three-point range and his obvious clutch gene only adds to his appeal.
If the Pelicans do take Burke, he could be one of the biggest pieces to their puzzle, and if they were still in the East, drafting him would likely get them in the playoffs.
In the West, the Pelicans will show improvement, but they too would still be in the mix for one of the top prospects from the 2014 draft class.
Follow me, because I believe the NBA draft is a priority