Biggest Questions New York Knicks Are Facing Heading into 2013 NBA Offseason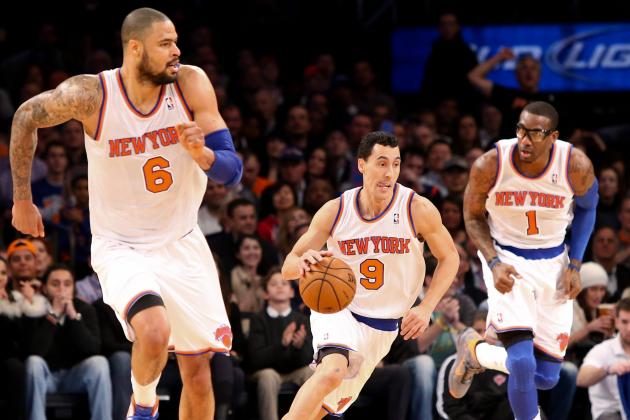 USA TODAY Sports
Tyson Chandler, Pablo Prigioni and Amar'e Stoudemire - Question Marks.
The New York Knicks finished an up-and-down 2012-13 campaign holding a bag filled with a meek 4-2 Eastern Conference Semifinals loss to the Indiana Pacers and a whole bunch of questions heading into the offseason.
These questions all branch off a main one: Given their personnel and roster constraints, how can the New York Knicks recreate themselves into a legitimate title contender next season and beyond?
As it stands now, they are barely Eastern Conference Finals contenders.
The Pacers have proven they have the goods to knock off the Knicks again next year—and they will be improved and more confident.
Meanwhile, Derrick Rose will be back, which is not good at all for New York's playoff position. With Rose, the Chicago Bulls grabbed the East's No. 1 seed in 2010-11 and 2011-12. Without Rose, the Knicks went 0-4 against them.
The Miami Heat will still be the Miami Heat.
Then there are the x-factors, the Boston Celtics and Brooklyn Nets, regular thorns in the Knicks' sides.
Right now, New York is good enough to win the Atlantic, lock up a top-half seed and again get through Round 1.
Without some offseason roster adjustments, anything past that is yet again a crapshoot.
Begin Slideshow

»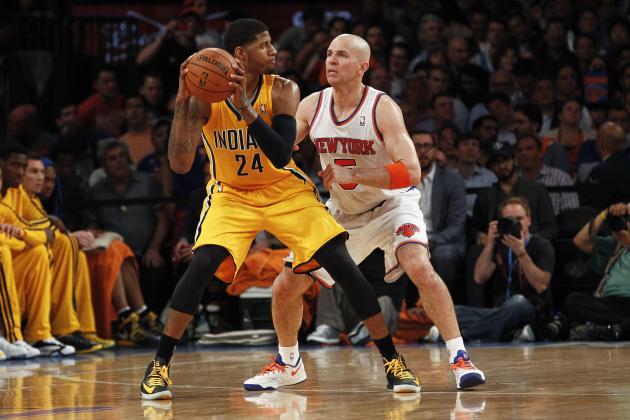 Jeff Zelevansky/Getty Images

You can't really tell on the stat sheet, but yes, Jason Kidd did actually play in all 12 postseason games. He finished with 11 points, 13 turnovers, two assists per game and a .120 field-goal percentage.
It looked a lot worse than that in person. The rock was like a boulder in his hands.
If Kidd hadn't played all season and waxed it in the postseason, that would have been plenty. The whole purpose of getting Kidd was singular: veteran, been-there leadership for a postseason contender. A hot finish would have been a lot better than that hot start.
Now what? It is evident the 40-year-old has little left, unless he hooks up with Billy Blanks or some Tough Mudder endurance training over the summer. Plus, he's got two years left on his contract. Two!
If Kidd plays 2013-14, there will be doubt hanging in the Garden's rafters all season long: Will he have anything left in April, May or…June?
Is this a good place for the Knicks to place some hope? Is Kidd someone to count on?
To be fair, yes, a little. Kidd averaged a bit too much time in 2012-13—27 MPG (32 games over 30 minutes) and 48 starts. That will all need to be shaved for Kidd to have a more dependable second half.
The Knicks might have no choice anyway. If Kidd comes back, he will play the season out. Best to preserve him for important games and the postseason only.
That's the better option. Since Kidd's $9 million contract is wholly guaranteed, if he retires, his $3 million each of the next two years counts against the cap unless he agrees to accept less.
True, that would leave a spot open—but not much money to spend on it, and certainly not enough to replace Kidd's invaluable experience and leadership.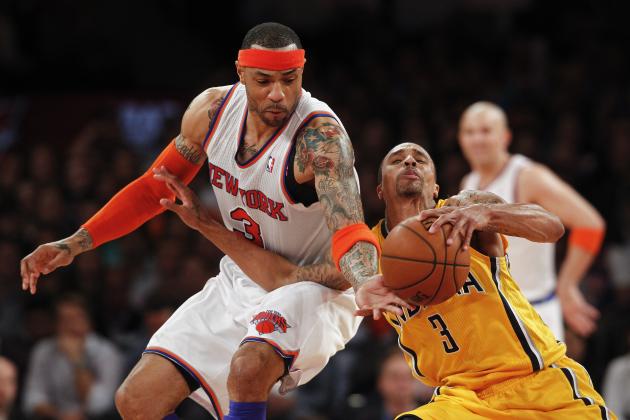 Jeff Zelevansky/Getty Images

Will Kenyon Martin be back? It's going to be up to him.
Martin proved he's still got something and fit right in, covering for every injured Knick 6'10" and over at one point or another (OK, maybe not Steve Novak).
He provided both physical and psychological presence for New York, produced solidly and consistently on both sides of the floor, and was a major contributor during most of the Knicks' big win streak.
There was, admittedly, some drop-off in the playoffs, but really, if you compare Martin's per-36 averages between the regular and postseasons, they're pretty much the same.
According to NJ.com, Martin wants to return. After his versatile play and locker-room leadership, the Knicks have to offer him the veteran's minimum.
Will he stay?
Martin insists he wants to return and had a "great" time with a "first-class" organization, [but] when asked if he would consider playing elsewhere next season if he couldn't reach a deal with the Knicks, Martin said, "of course."
So, if some other NBA team offers Martin a non-minimum (multi-year?) contract for more than $1.2 million (estimated vet's min.), chances are K-Mart will be shopping for another uniform.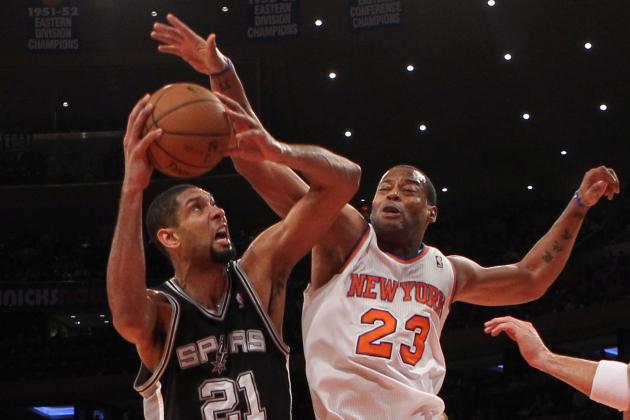 Bruce Bennett/Getty Images

If Marcus Camby has a pulse (or a healthy plantar fascia), then what the heck? Why did he play all of 3:14 in the entire postseason?
Tyson Chandler and Kenyon Martin could have used some help against the Boston Celtics and Indiana Pacers.
Camby made it into just 24 games all season, and like Kidd, he is inked for two more years. Two! He's guaranteed for another $5.5 million or so.
Was he too risky to play? Were the Knicks preserving him for his contract? Per ESPNNewYork.com:
Camby's agent, Richard Kaplan, told ESPNNewYork.com, "He has been healthy for a while now. He's under contract, and there is no question they can use him."
Sounds fishy.
The Knicks need Camby to retire and open up a more productive roster spot—maybe for a big man 15 years younger (any will do).
Even better if Camby negotiates some of his guaranteed money down (or hit the cap in just one of his two years left). There's not much room there, so don't hold your breath.
Camby is either going to warm the bench most of the season or hang it up, leaving his salary on the ledger.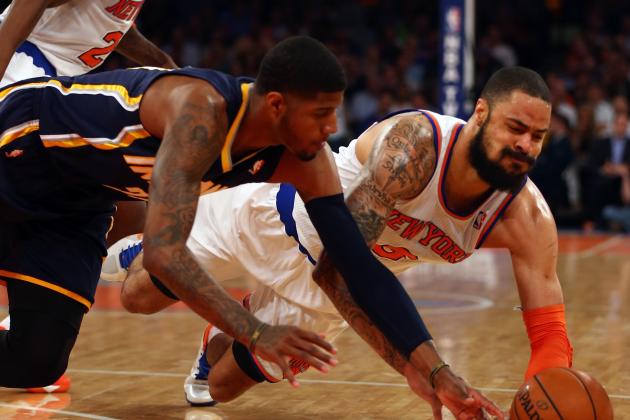 Elsa/Getty Images

No. There is almost no evidence that Tyson Chandler is on any decline of concern. That would be jumping to conclusions.
He was hurt down the stretch and out of rhythm with his teammates thanks to the layoff. It's that simple. Per ZagsBlog.com:
[Chandler] missed the final 16 games of the regular season with a neck injury. Additionally, he lost 10 pounds while rehabbing his neck due to flu-like symptoms. That, he said, caused him to lose some of his strength.
He'll be a year older next season, and it will show some, but hopefully he'll put that weight back on and continue being one of the best big men in the league.
Chandler's numbers were a little off from last season and his defense lacking, but he was at times dominant: eight double-doubles in 11 games, 20 overall and three 20-rebound games in a row, for example.
Arguably, 2012-13 was Chandler's third-best statistical season of his career, so there is no downward trend here.
His postseason was a total disaster, though, not just in production, but also in how bad Roy Hibbert made him look. This is a definite concern come playoff time.
The Knicks would do well to get Chandler some young help in the draft, via trade or on the market.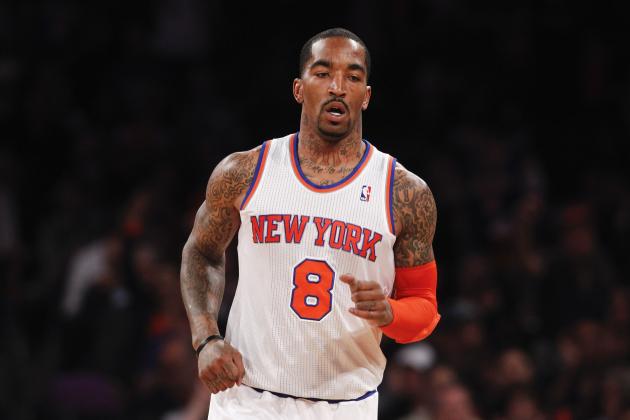 Jeff Zelevansky/Getty Images

Yes. J.R. Smith is going to decline his $3 million player option and re-sign for more money with New York—even though it might be for less money than somewhere else.
Smith professed his love for the Blue and Orange to the NY Daily News after the Round 2 exit, saying "I want to retire a Knick. I don't want to go anywhere else."
Now, the New York Post is reporting Smith will be around at least through 2016-17, getting $20 million over four years.
There's still a possibility another team will offer more, but Smith genuinely seems like the rare player who would turn down a bit more money to play for a team and with teammates (and family members) he likes.
Signing Chris Smith, J.R.'s brother, is part of the deal.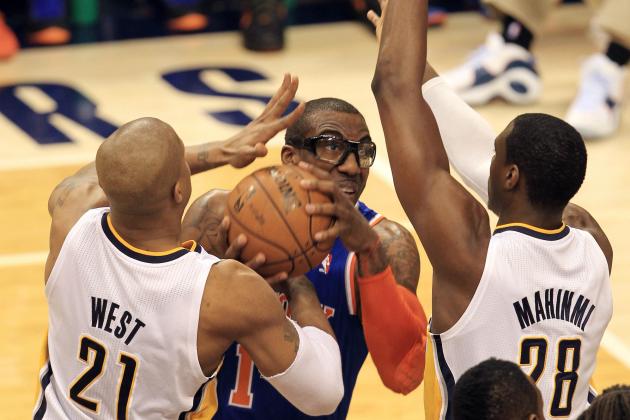 Pat Lovell-USA TODAY Sports

He's unhealthy. He's uninsured. He's untradeable.
There is one way out, according to ESPN,
Stoudemire would be off the books only if a physician selected by the league and players' association determined that his knees had career-ending implications.
The problem with this is, Stoudemire is once again healthy enough to play, returning for four games in limited minutes against the Indiana Pacers. He'll be ready to go in November.
Consider this clause the insurance not provided with his contract—but for 2014-15—if Amar'e goes down midseason and is not able to return from his billionth knee scope. (Shame on you, hoping for that).
In the meantime, the Knicks are going to have to figure out what on Earth to do with him.
He has to come off the bench all year. The Melo-STAT duo does not work when they play/start at the 3 and 4. The time for experimenting here must be over.
Stoudemire already was thinking ahead when he was asked if he believes he and Anthony can coexist on the court. He insisted they can and said he plans to sit down with coach Mike Woodson to figure it all out. (via Newsday)
No more, please. It would be better to see Stoudemire sub for Chandler with Anthony at power forward—or when Anthony is sitting, let Stoudemire be the focus of the offense and go crazy on the pick-and-roll with Raymond Felton (and throw up some 15-footers).
There are remote possibilities of trading Stoudemire if he is packaged with Felton or Iman Shumpert. Still, even with Shump, that's next to impossible. And perish the thought.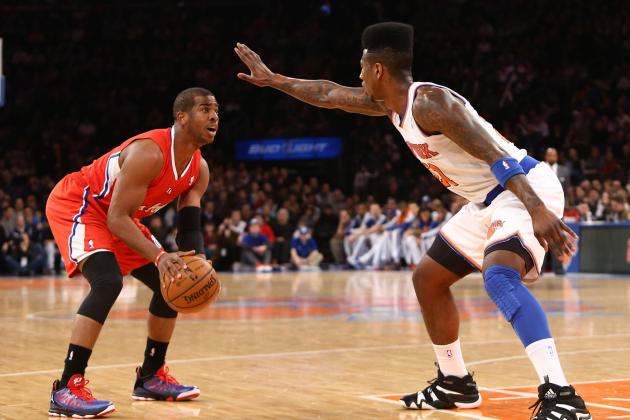 USA TODAY Sports

Don't think about this too much. The chances of the New York Knicks landing Chris Paul are slim to none.
Would you leave $10 million on the table? $20 million? How about $30 million—the amount Paul would forfeit to make the move from the Staples Center to Madison Square Garden?
But what about winning a championship, creating a legacy in New York and playing with Carmelo Anthony?
Then again, what about winning a championship, creating a legacy in sunny Los Angeles and playing with Blake Griffin…and pocketing 30 more million?
Ian Begley and Larry Coon, ESPN's salary cap expert, explain in full detail how Chris Paul-to-New York can happen: it comes down to the pay cut, an improbable sign-and-trade and Paul demanding out. It's hypothetically possible!
Here's the upshot: No.
This isn't a dead issue, though. The fact is things change in 2015-16 when all the Knicks' big contracts are off the books, possibly putting them in a position to help other teams unload their salary. Not something you hear every day (or every decade).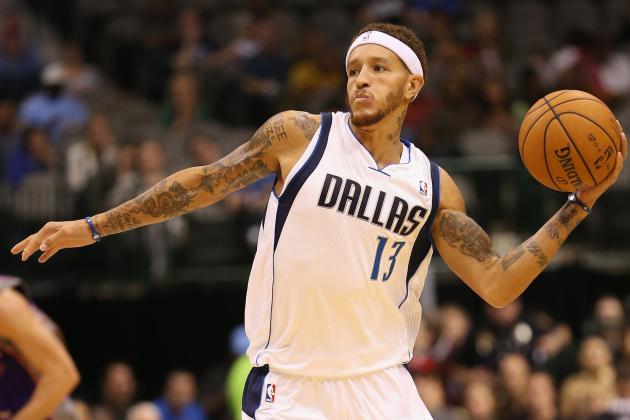 Ronald Martinez/Getty Images

The Knicks will be picking 24th on June 27th. They have no second-round pick—it was traded to the Washington Wizards in the deal that brought Tyson Chandler to New York.
While the Knicks won't get an immediate impact player this draft, they could use any kind of youth in either their front or backcourts, specifically at center, power forward and point guard.
One NBA scout told ESPN,
"If [Carmelo Anthony] and J.R. are going to win, it's with young, athletic bigs who do the dirty work, protect the rim and finish." With Melo, Smith and the Knicks' perimeter-based offense, they need more lively rebounders.
"Lively" being the key word, here. Spike Lee moves faster than most players on New York's roster.
Louisville's Gorgui Dieng (6'11) would be perfect if still available. Then there's Jeff Withey (7') out of Kansas and Steven Adams (7') out of Pittsburgh.
How about the Knicks' point guard needs?
Raymond Felton showed some unexpected inconsistency in 2012-13, often losing the handle. Jason Kidd will play limited time in 2013-14 if he doesn't retire.
We're not sure Pablo Prigioni will be back. Even if he is, the Knicks are desperate for some speed in transition.
There's a dearth of PG talent in this year's draft. Virginia Tech's Erick Green might fall to New York. Other possible backcourt draftees include Lorenzo Brown out of NC State and Shane Larkin out of Miami (FL).
Regardless of who the Knicks draft, they will also look to the market (free agency) and the block (trades) to help fill out at least four open roster slots (Quentin Richardson, Solomon Jones, Earl Barron and surely one or two other players).
These fillers need to come cheap per "the Knicks' salary cap situation."
Timofey Mozgov "would be a perfect offseason addition for New York," cites Bleacher Report's Ciaran Gowan.
What about the Toronto Raptors' Sebastian Telfair to run the point?
Or (here come the comments) Delonte West? According to theknicksblog.com, "the Knicks do have the 'taxpayer mid-level exception' of $3.18 million to spend on a free agent."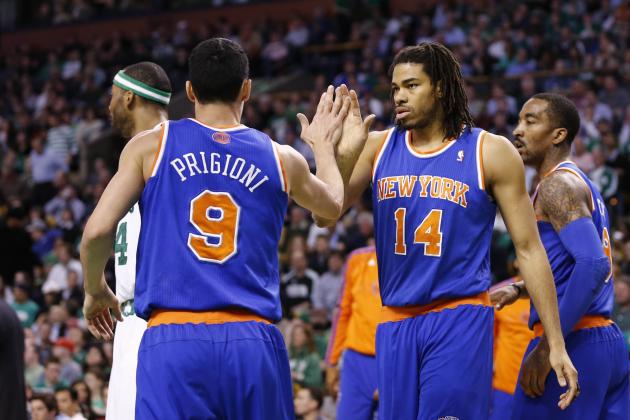 USA TODAY Sports

Probably not both and maybe neither.
Pablo Prigioni (more specifically, his wife) is looking to return to Europe. The New York Post's Marc Berman sees Prigioni playing for the 2014 Spanish League title. Prigioni is leaving, and New York can't sweeten the pot to persuade him to stay.
The Knicks are in a tough spot because even if they make him a qualifying offer of $900,000, they ultimately would need to use part of their $3 million mini mid-level exception to re-sign him.
If they did that, they wouldn't be able to sign Chris Copeland, who averaged 20 points and five rebounds per 36 minutes. He plays defense, can hit the three and is young and quick.
He's valuable and versatile, and the secret is out across the league. There will be suitors.
Used consistently, Copeland could be the one to pick up the scoring slack (which time and again put the Knicks in a second-quarter hole) on New York's second (Smith) line.
Copeland will get a qualifying offer from the Knicks of near $1 million—and likely turn it down. Then he will be able to field offers from other teams, with the Knicks retaining the rights to match them.
The price will need to be around that $3 million range for New York to make it happen.