The NBA draft lottery is nearly upon us, but before May 21, when we officially learn where each non-playoff team will make its selection in the 2013 NBA draft, it's worth a quick look through the current odds for each squad to land the No. 1 pick.
Plus, we'll give you an idea of what each team needs in this year's draft.
Remember, though, being a mathematical favorite hasn't led to landing the top selection very often in the past. In fact, the team that finished the season with the worst record—and therefore, the best odds—has only ended up securing the No. 1 pick twice in the past 22 seasons.
Coincidentally, the last team for whom the odds actually worked out, the Orlando Magic in 2004, has the best statistical chance of winning the lottery this year.
The actual NBA Draft will take place on June 27.
Utah Jazz: 0.5 Percent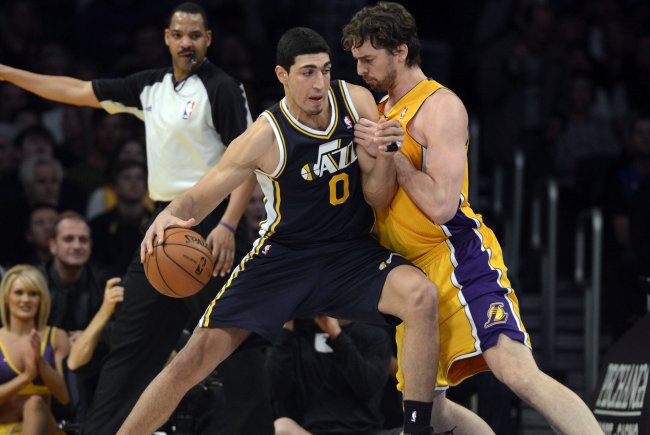 Richard Mackson-USA TODAY Sports
Depending on what the Utah Jazz do with their free-agent duo of Paul Millsap and Al Jefferson, they could need a big man. Young studs Enes Kanter and Derrick Favors will be around no matter what, but if the Jazz opt to let the aforementioned veteran tandem walk away, they'll be in the market for someone to step in and absorb some bench minutes in the frontcourt.
If either Jefferson or Millsap ends up re-signing, the point guard position is another major need here.
Dallas Mavericks: 0.6 Percent
USA TODAY Sports
Dirk Nowitzki is willing to take a pay cut in order to lure a free agent to join him in Dallas, but even if the Mavericks end up bringing in a high-quality player, they'll still need to bolster their stable of young talent through the draft.
With a ton of free agents, including O.J. Mayo (player option), Darren Collison, Chris Kaman and Brandan Wright, the Mavs are firmly in best-player-available territory. Don't be surprised to see them trade down in the draft in order to procure a few more picks to fill out the roster.
Toronto Raptors: 0.7 Percent
The Toronto Raptors aren't really that far away from competing for a playoff spot in the East. The acquisition of Rudy Gay and his bloated contract was a major mistake, but there's real talent here.
Unfortunately, if this selection falls outside of the top three, it'll belong to the Oklahoma City Thunder. If Toronto keeps it, look for it to use the pick on a point guard. Free agent Sebastian Telfair was the only experienced floor general behind Kyle Lowry.
If OKC ends up with the selection, it'll likely look for a center like Cody Zeller or Alex Len to absorb some of the minutes Scott Brooks has wasted on the woefully ineffective Kendrick Perkins.
Philadelphia 76ers: 0.8 Percent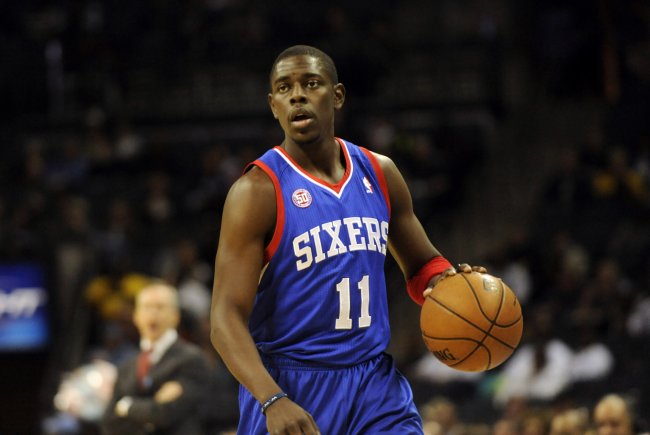 USA TODAY Sports
With Jrue Holiday at point guard, the Philadelphia 76ers are all set.
Wait, what's that? There are four other positions?
Oh, well, then the Sixers need help just about everywhere.
Evan Turner hasn't shown the ability to be the No. 2 option the team needs, and outside of Thaddeus Young, who might be better used as a scoring threat off the bench, Philly simply lacks top-tier talent. Expect new president and general manager Sam Hinkie to put all of his analytical power into this selection, as the Sixers really can't afford to botch the first draft of an exciting new regime.
Portland Trail Blazers: 1.1 Percent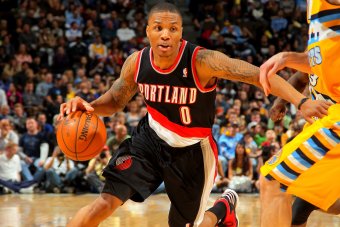 Doug Pensinger/Getty Images
Hey, we've finally cracked the one percent barrier. The Portland Trail Blazers did a nice job with their selection last year, nabbing Rookie of the Year Damian Lillard with the No. 6 pick, so there's reason to believe that this team has a good head for talent evaluation.
Meyers Leonard still feels like a project, and J.J. Hickson is certain to cash in on his big contract-year performance elsewhere, so look for the Blazers to shore up their big-man rotation with a frontcourt selection.
Minnesota Timberwolves: 1.7 Percent
Even if Kevin Love rediscovers his broken three-point stroke after an offseason to mend his busted hand, the Minnesota Timberwolves desperately need a long-range shooter to help stretch the floor. No team shot the ball worse from beyond the arc than the Wolves did in 2012-13 (30.5 percent), so a long-range bomber would be an ideal selection.
Then again, if Nikola Pekovic ends up signing with another club as a free agent this summer, there'll be a pretty big hole in the middle as well.
Yeah, the T-Wolves have a few problems.
Washington Wizards: 2.5 Percent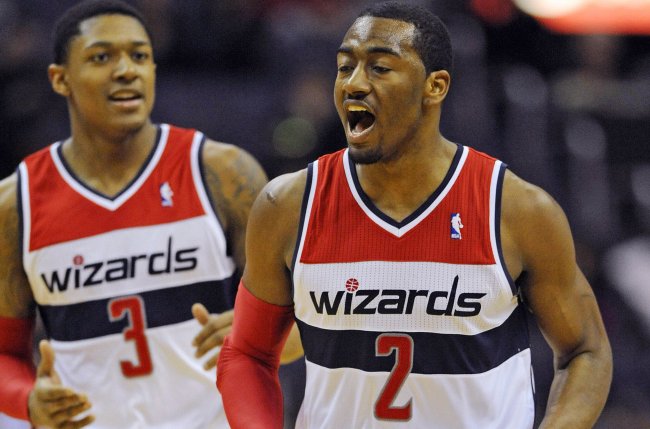 USA TODAY Sports
Let's see, the Washington Wizards got a great second half from John Wall and a nice rookie campaign out of last year's No. 3 pick, Bradley Beal. It seems safe to assume the team won't use its lottery selection on a guard.
Power forward is a major void for the Wiz, so depending on where they end up in the lottery, they will have to take a long look at a guy like UNLV's Anthony Bennett.
Detroit Pistons: 3.6 Percent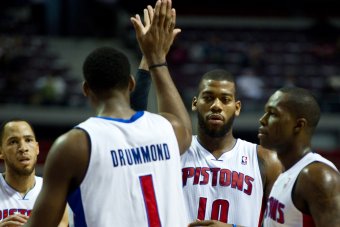 Tim Fuller-USA TODAY Sports
Unlike the Wizards, the Detroit Pistons are fixed nicely in the big-man department. With Andre Drummond and Greg Monroe looking like a fearsome duo for years to come, expect the Pistons to target talent on the wings and possibly at the point guard spot.
Brandon Knight looks to have some promise, but he hasn't yet shown he's capable of developing into a starting point guard on a good team. The two and three spots are an abject disaster here, as the combination of Kyle Singler, Kim English and Rodney Stuckey simply lacks the defensive chops or playmaking ability the Pistons need.
Sacramento Kings: 6.3 Percent
What don't the Sacramento Kings need? The most talented player on the roster, DeMarcus Cousins, has been a headache to deal with, and everyone else is out to get their own numbers at the expense of the team.
Truthfully, the Kings have an environment that would stunt the growth of even the most down-to-earth, level-headed prospect. Just ask Thomas Robinson, last year's No. 5 overall pick, how glad he is to be free of the toxic locker room in Sacramento.
If there has to be one, I guess the best suggestion for this team is to find a big man capable of picking up the minutes Cousins will vacate if the team can ever find a way to trade him. Yuck.
New Orleans Pelicans: 8.8 Percent
Jennifer Stewart-USA TODAY Sport
Blessed with unlikely lottery luck last year, the New Orleans Pelicans will look to find a capable shooting guard or small forward to pair with the developing Greivis Vasquez and the transcendent Anthony Davis.
Robin Lopez is an adequate stopgap in the middle, but it's possible that New Orleans will be in search of a similarly bulky big man with a higher ceiling to play alongside the increasingly perimeter-oriented Davis up front.
Also, doesn't it feel good to call them the Pelicans? I sure enjoy it.
Phoenix Suns: 11.9 Percent
If the front office consulted Michael Beasley, he would probably suggest picking whichever player in the draft was most likely to pass him the ball and get the hell out of the way.
But because just about everyone knows that management hasn't spoken to the enigmatic Beasley in months, it seems more likely that they'll target a player capable of taking shots away from the selfish forward.
Kendall Marshall got a chance to prove he could handle the team's point guard duties down the stretch last year, but his shaky jumper and lack of top-end athleticism showed that the Phoenix Suns might need to use another pick on a ball-handler.
Who are we kidding? This team has needs everywhere.
Cleveland Cavaliers: 15.6 Percent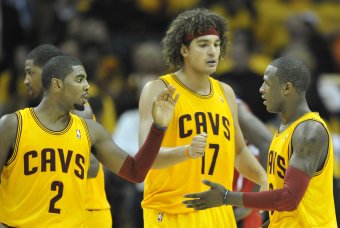 David Richard-USA TODAY Sports
Kyrie Irving is a superstar in waiting, and the Cleveland Cavaliers seem committed to Dion Waiters as the future at shooting guard. With a healthy Anderson Varejao at center and a developing Tristan Thompson at the 4, small forward seems like the obvious area of need here.
The Cavs have a great chance at a high pick, so someone like Georgetown's Otto Porter or Shabazz Muhammad from UCLA would be an ideal fit.
If Cleveland chooses wisely here, there's no reason the team can't make a big leap and rejoin the playoff chase in the Eastern Conference.
Charlotte Bobcats: 19.9 Percent
With the Charlotte Bobcats' luck, they'll probably end up winning the lottery in one of the worst drafts in recent memory. After all, they were aced out of a chance to take Anthony Davis last year when the Pelicans (then the Hornets) swooped in and snatched the top pick from right under their noses.
Not even the worst winning percentage in the history of the league was enough to shake the mewling kitties out of their string of bad management decisions and worse fortune.
Michael Kidd-Gilchrist, last year's top pick for the 'Cats, spent his rookie year revealing as many flaws (shooting, ball-handling) as strengths (hustle, rebounding), so his position is hardly safe. No matter where they pick, the Bobcats simply have to focus on finding the most talented player available. Nerlens Noel, Ben McLemore and Porter are all in play here.
Orlando Magic: 25 Percent
Douglas Jones-USA TODAY Sports
You know, there's actually a lot to like about the Orlando Magic. Nikola Vucevic is a double-double machine at center, Moe Harkless has the makings of a legitimate two-way threat as a forward and Tobias Harris blew up after coming over from the Milwaukee Bucks at the deadline.
The backcourt is definitely an issue, as Jameer Nelson is severely overpaid at more than $8 million per year, and there's no true shooting guard on the roster. It's possible that a healthy Arron Afflalo could slide into that role, but if the team would rather start him at the 3 and use Harris or Harkless off the bench, someone like McLemore could be a solid pick.
Alternatively, Trey Burke could step in to take over from Nelson if the team is able to eventually ship him out as it rebuilds.