Which New Jersey Devils Free Agents Should Stay and Which Ones Should Go?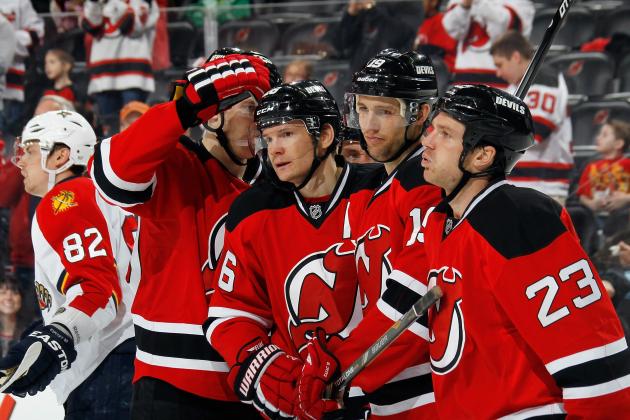 Bruce Bennett/Getty Images

Lou Lamoriello and the New Jersey Devils have a lot of work to do this offseason. Eight players will become unrestricted free agents come July 1 and four others will be restricted free agents.
For the first time in a long time, it is safe to say that Lamoriello will be busy over the summer. He has a tendency to keep all of his moves extremely quiet, which will be the case this offseason, but he does need to make some changes.
After reaching the Stanley Cup Final two seasons ago, the Devils did not make the playoffs this past season, making it twice in the past three years that they have failed to do so. That being said, the Devils need to make some serious changes.
In the 2013-14 season, the NHL salary cap will decrease from its current $70 million ceiling to $64.3 million, which means that all teams will need to manage their money accordingly. The Devils will have about $24.9 million to spend on the 12 roster spots that need to be filled.
Here are guidelines for the Devils as to which players should stay and which ones should go.
Begin Slideshow

»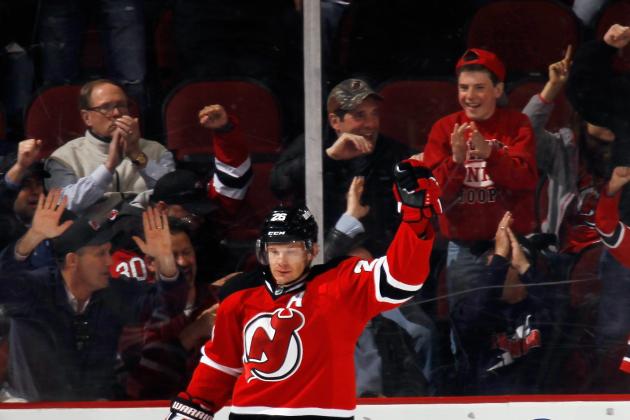 Bruce Bennett/Getty Images

Keeping Patrik Elias is a no-brainer. He was drafted by the Devils back in 1994 and has since been the backbone of the Devils offense. He currently holds the record for most career points by a Devil and has won two Cups with the team.
Although it may be assumed that Elias' age is catching up with him, he has yet to show any signs of slowing down. As far as point production goes, Elias has consistently been one of the top scorers for the Devils his whole career. He led the team in points last season and finished as a top-three scorer over the past three years.
The 37-year-old will need to re-negotiate a contract with Lamoriello. His cap hit should remain in the same $6 million range that it is in now and the length of the contract will likely be pretty short considering Elias' age.
Jim McIsaac/Getty Images

Steve Sullivan was a trade-deadline acquisition that the Devils made as a rental.
It doesn't appear Sullivan has any value beyond that.
The veteran forward only recorded five points in the nine games he played for the Devils during the lockout-shortened season.
His $2.6 million cap hit is too expensive for a player that will be turning 39 in a month-and-a-half. With about $6 million less to spend due to the new collective bargaining agreement, the Devils will need to spend their money elsewhere.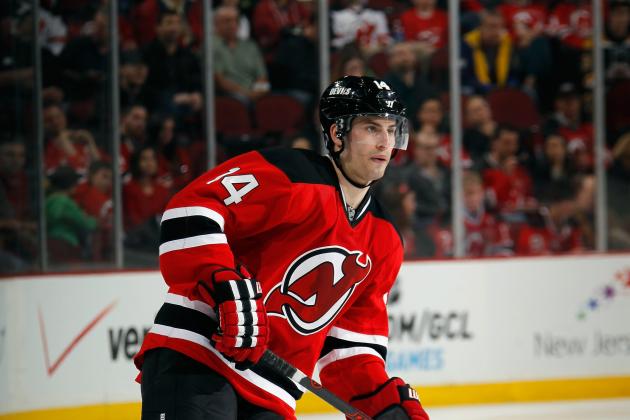 Bruce Bennett/Getty Images

Adam Henrique is a player full of potential, which means the Devils need to make sure he doesn't slip away from them in the free-agent market.
Fortunately, Henrique is a restricted free agent, which means the Devils may match offers that other NHL organizations propose to Henrique.
Currently, Henrique's cap hit is just below $1 million, and even though his stats were not as good as expected during the lockout-shortened season, Henrique still will get a raise from Lamoriello. His Eastern Conference overtime-clinching goal last season is one of the most famous goals in Devils history—that deserves a hefty payday.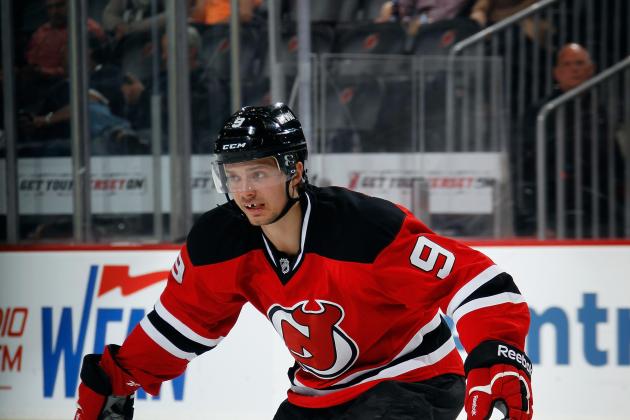 Bruce Bennett/Getty Images

This is a tough one for Lamoriello, but Jacob Josefson's time with the Devils should be nearing its end.
Not to say that Josefson won't be successful on another NHL team, but since being drafted in the first round of the 2009 NHL draft, Josefson has not reached his potential as a hockey player.
Plagued by injuries, Josefson only has 22 career NHL points. It is time for he and the Devils to part ways, which will be beneficial for both parties. Maybe a change of scenery can help Josefson reach his potential, and it will save the Devils some cap space that they could spend on other players.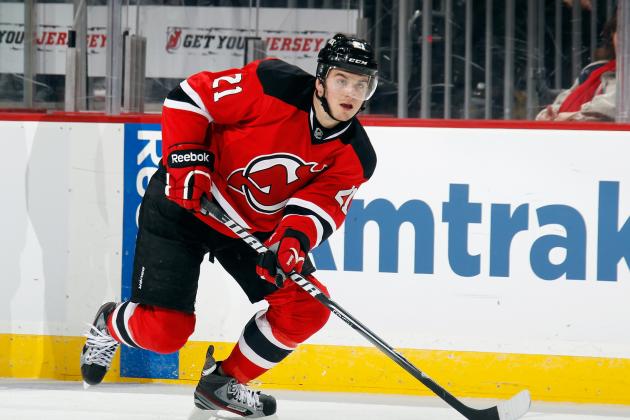 Bruce Bennett/Getty Images

When the Devils traded for Andrei Loktionov in the middle of the season, many Devils fans were left scratching their heads.
Little was known about Loktionov when he came to the Devils in a trade with the Kings, but he surely has exceeded his expectations.
Loktionov was one of the few consistent players on the Devils this season, which means he deserves to be offered a new contract.
As of now, Loktionov's cap hit is under $1 million and he is a restricted free agent. Expect the Devils to offer him a deal within the $2 million range. If Loktionov and Henrique stay, the Devils will have three natural, young centers—Henrique, Loktionov and Travis Zajac—locked into the team's lineup for next season and possibly deeper into the future.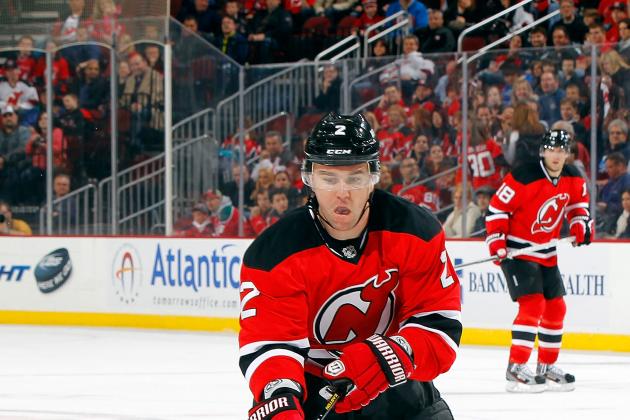 Jim McIsaac/Getty Images

Marek Zidlicky has not performed well enough to be the puck-moving defenseman that the Devils have been searching for over the past few years. His 27 points in 70 games as a Devil are not worth the $4 million cap hit his contract is responsible for.
The Devils need that $4 million to look elsewhere for a defenseman to quarterback the power play.
Not to mention, Zidlicky is a defensive liability. He has a plus/minus of minus-12 since joining the Devils in 2012 and was third on the team in penalty minutes this season with 38, none of which were because of fights.
The Devils have a lot of defensive prospects coming up in their system. There really is no room for Zidlicky; the Devils can find his contributions elsewhere and pay less for it.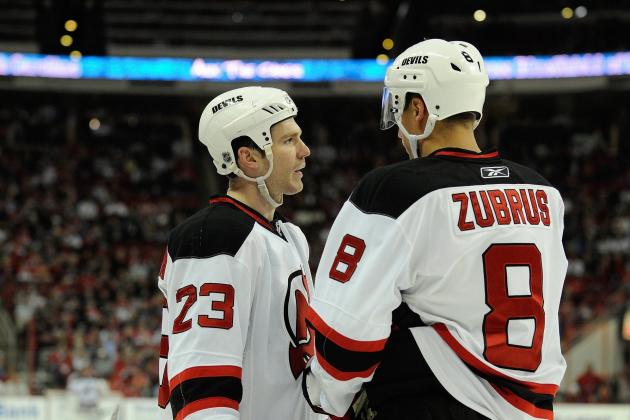 Grant Halverson/Getty Images

Alexei Ponikarovsky, Dainius Zubrus, David Clarkson, Matt D'Agostini, Peter Harrold and Tom Kostopoulos all will be free agents on July 1 as well.
All of these players fall under the category of "if the price is right."
Ponikarovsky, Zubrus and Clarkson were all vital to the Devils' Stanley Cup run two years ago but did not play well this season.
Clarkson is probably the hardest to pin down. He amazed everyone with 30 goals two years ago and led the Devils in goals this season, but he fell apart down the stretch.
The problem with Clarkson is that he was relied on too much to score goals, and he is not a natural goal scorer. If Clarkson wants to find the back of the net, he needs to get gritty and be aggressive. The goals will come as soon as he starts fighting and hitting more, but what price is that worth?
His current cap hit is just below $3 million, and if his asking price is too much, then he may not be worth it.
As for Zubrus, he has been a solid presence for the Devils for a few years now, but he is beginning to age. Never has Zubrus elevated his game to the next level and really solidified himself as a first-liner. If he gets paid second-line money, his contract will be worth it.
Ponikarovsky falls under the same category as Zubrus—the Devils have been using him out of place. He does not belong on a line with Ilya Kovalchuk; he belongs on the second or third line as a role player.
If the Devils can sign him for a decent contract, it will be worth it.