Cleveland Indians Stars and Stiffs for May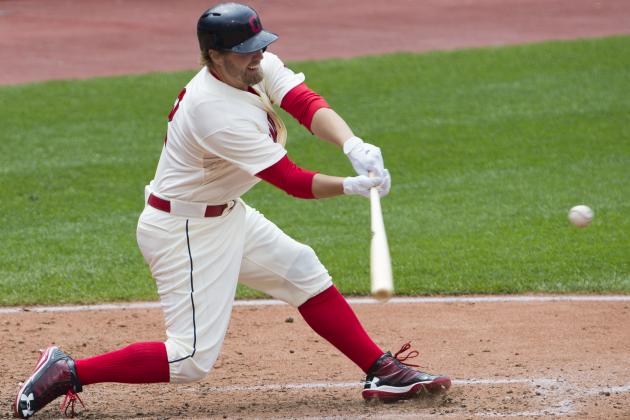 Jason Miller/Getty Images
Mark Reynolds delivered power and clutch hits in May, but was he one of the stars?
The Cleveland Indians were the hottest team in all of MLB at the start of May, going 15-4 for the first 19 games and grabbing first place in the AL Central.
The team has since cooled to 3-8 for the last 11 and has relinquished the top rung to the Tigers, but they had a solid month. The Indians had plenty of star players for the period but also had underperformers as well.
There were players who really shined including some walk-off heroes and some pitchers who delivered some outstanding performances on the mound.
This slideshow will detail the performances of my choices for the three stars for May along with the three biggest stiffs who didn't deliver. I will also detail three players who just missed out on both categories and mention some other notables.
The No. 3 star will be my choice for the worst of the best, if you will, and the No. 3 stiff will be the best of the worst. Let's start with the honorable mentions in the three stars category.
All stats are for the month of May only and can be found here on MLB.com.
Begin Slideshow

»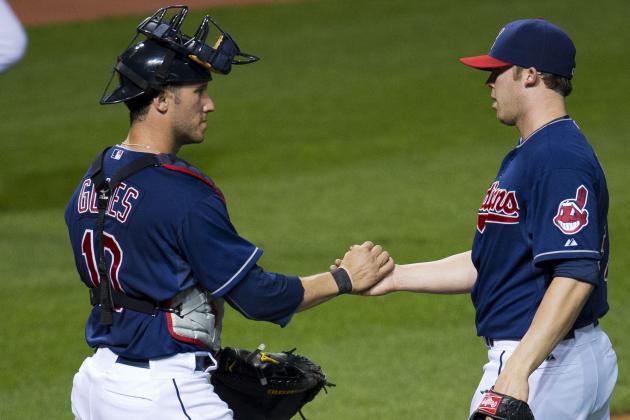 Jason Miller/Getty Images
Is Cody Allen the Tribe's future closer?
In no particular order, the following performed well but just missed out achieving one of the three-star nods:
Zach McAllister: 5 GS, 31.1 IP, 2-1 W/L, 2.87 ERA, 1.37 WHIP, 6.03 K/9, 2.33 K/BB
Other than allowing a home run to light-hitting Brendan Ryan of the Mariners on May 18 that put the M's back in the game, McAllister was solid for the month.
McAllister's best start for the month was his May 7 effort against Oakland, when he blanked the A's over seven-plus innings and got the win, but all of his starts for the period yielded no more than three earned runs, and he put in at least five innings of work in all his starts for the month.
Cody Allen: 14 G, 13.2 IP, 0-0, 1 SV, 1.98 ERA, 0.51 WHIP, 11.85 K/9, 9.00 K/BB
Allen's ERA and WHIP numbers for May improved over his April marks (2.38 ERA, 1.41 WHIP), and he provided a lot of stability to the Tribe's back end of the bullpen in the absence of sidelined stud set-up man Vinnie Pestano.
Allen could be making a case to be the Tribe's future closer with Chris Perez's latest problems.
Michael Brantley: .311/.342/.369 slash, 13 R, 3 2B, 1 HR, 17 RBI, 4 SB, 0 CS
Brantley was rock-solid and steady over the month and was second on the team in average and fifth in on-base percentage, and he delivered in the clutch in two notably big moments.
He started a huge two-out, seven-run rally on May 30 with an RBI single that propelled his team to a 7-1 win over the Reds and delivered another important hit against the Tigers on May 12 when he laced a two-out, ninth-inning single that tied the game at three. The Indians went on to win the game 4-3 in 10 innings.
Other Notables
Nick Swisher: .269/.337/.538, 16 R, 8 2B, 1 3B, 5 HR, 11 RBI
Asdrubal Cabrera: .278/.336/.470, 17 R, 14 2B, 1 3B, 2 HR, 13 RBI
Michael Bourn: .288/.345/.325, 11 R, 3 2B, 7 RBI, 7 SB, 3 CS
Joe Smith: 11 G, 10 IP, 2-0, 1.30 WHIP, 9.00 K/9, 2.00 K/BB
Scott Kazmir: 6 GS, 32.0 IP, 3-1, 4.22 ERA, 1.44 WHIP, 9.28 K/9, 3.38 K/BB
Now let's take a look at the top three stars for the Indians for May.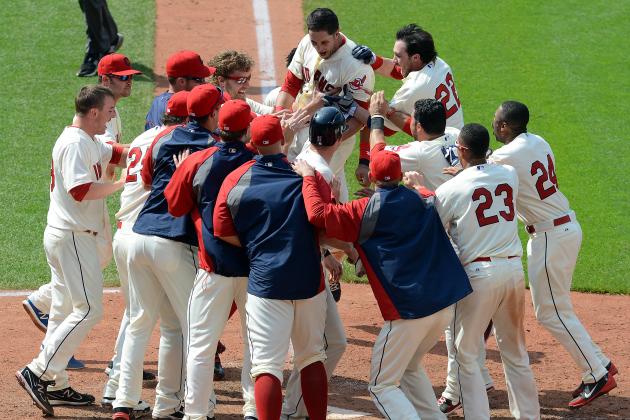 Jason Miller/Getty Images
Yan Gomes receives warm welcome after walk-off home run against Mariners.
May stats: .370/.380/.630, 13 G, 46 AB, 10 R, 3 2B, 3 HR, 11 RBI
If he hasn't already supplanted Lou Marson as the Tribe's backup catcher, there is something seriously wrong with Cleveland's decision making.
Gomes is making the most of his opportunities in his playing time in the absence of Marson. Sheldon Ocker of the Akron Beacon Journal noted that Gomes' hits are often extra-base ones.
Ocker wrote that in Gomes' rookie season with the Blue Jays, Gomes only hit .204, but 40 percent of his hits went for extra bases.
Ocker also noted that in his six games with the Indians' Triple-A affiliate Columbus Clippers this season, Gomes had six hits and four of them were doubles.
So far this season in 22 games with the Indians, Gomes has 22 hits and five of those have been home runs to go along with two triples and three doubles, so roughly 50 percent of his knocks have been for extra bases.
Gomes had one notable huge hit when he delivered a walk-off three-run homer (his second home run of the game) to beat the Mariners 10-8 on May 20. Gomes has also been very solid behind the plate, throwing out 8-of-13 would-be base stealers on the year.
You could make a case for Gomes being the most productive (with the playing time he's given) performer on the team for the month, but since he is a part-time player, he gets third-star honors.
May stats: .261/.331/.550, 21 R, 7 2B, 2 3B, 7 HR, 22 RBI, 5 SB, 2 CS
Despite slipping the last 10 games to the tune of a .135 batting average (5-for-37), Kipnis still led the team in runs, home runs, runs batted in and triples. He was also second on the squad in OPS, trailing only Yan Gomes for the month.
Kipnis also displayed a penchant for the big hit as he delivered a walk-off, three-run home run in a 6-3, 10-inning win over the Mariners on May 17.
The next night, Kipnis started the game-winning rally with a single and scored the game-winner on Mark Reynolds' fielder's choice in the ninth in the Indians' 5-4 walk-off win.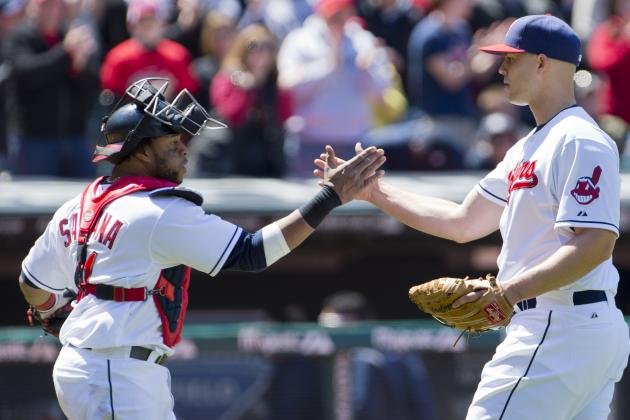 Jason Miller/Getty Images
Justin Masterson was a huge reason why the Indians had success in May.
May stats: 6 GS, 41.2 IP, 4-1, 3.02 ERA, 1.03 WHIP, 9.50 K/9, 3.14 K/BB
Masterson displayed the ace form throughout the month the Indians have been hoping for while delivering some dominating performances.
Most notable was his complete-game, four-hit 1-0 shutout against the Yankees on May 13 when he struck out nine and walked three.
He followed that up by besting Mariners ace and former Cy Young winner Felix Hernandez with a seven-inning shutout performance against Seattle on May 19 when he fanned 11, walked only two and gave up only three hits.
Let's take a look at the under-achievers for the month starting with players who were bad but were not the worst performers.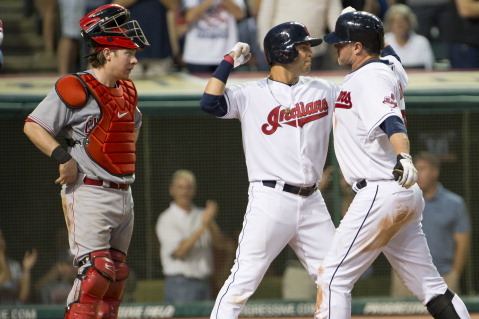 Jason Miller/Getty Images
Jason Giambi delivers a mean fore-arm bash but not much offense.
Jason Giambi: .162/.250/.378, 3 R, 2 2B, 2 HR, 10 RBI
Giambi gives the Indians what they need from him—veteran leadership and some timely hits and power. Since Giambi is just a part-time player, he gets a pass as one of the worst three stiffs for May, but his numbers were pretty awful.
In 37 at-bats, Giambi only managed six hits, but four of those were extra-base hits: two homers and two doubles.
Giambi had a couple of big hits for the month when he came off the bench to tie the game at two on May 27 vs. the Reds with a bomb. He also went 2-for-4 with three runs batted in, a double and a home run in a 5-2 win over the Reds on May 28.
Rich Hill: 14 G, 10.2 IP, 8.44 ERA, 0 SV, 1 BS, 1.88 WHIP, 11.81 K/9, 2.33 K/BB
Hill was the second worst of the ugly, three-headed lefty monster of himself, Nick Hagadone and Scott Barnes.
Hill's worst performance of the month was his last one on May 31, when he gave up five hits and three runs (all earned) in only one inning of work in a 9-2 loss to the Rays.
Hill's recent struggles have created a problem in who to go to against a lefty in late innings matchups. Hill, Barnes and Hagadone have all shown inconsistency in getting this job done.
Carlos Santana: .200/.331/.330, 16 R, 4 2B, 3 HR, 9 RBI
Santana narrowly misses out on the worst three because despite his poor batting average, OPS and slugging numbers, he still got on base and scored runs for the team.
Santana was third on the team in runs scored and eighth on the team with a .331 on-base percentage.
The team needs Santana to be more of a run producer, so he needs to pick up his production in that department for the next month.
Other Under-Performers
Vinnie Pestano: 5 G, 5 IP, 1-1, 10.80 ERA, 0 SV, 2 BS, 1.80 WHIP, 9.00 K/9, 1.67 K/BB
Scott Barnes: 5 G, 7.2 IP, 0-1, 5.87 ERA, 1 SV, 0 BS, 1.17 WHIP, 11.74 K/9, 5 K/BB
Corey Kluber: 6 GS, 31.1 IP, 1-3, 5.17 ERA, 1.31 WHIP, 10.05 K/9, 4.38 K/BB
Bryan Shaw: 13 G, 16 IP, 5.06 ERA, 1.56 WHIP, 7.87 K/9, 2.80 K/BB
Now let's take a look at my choices for the three worst performers.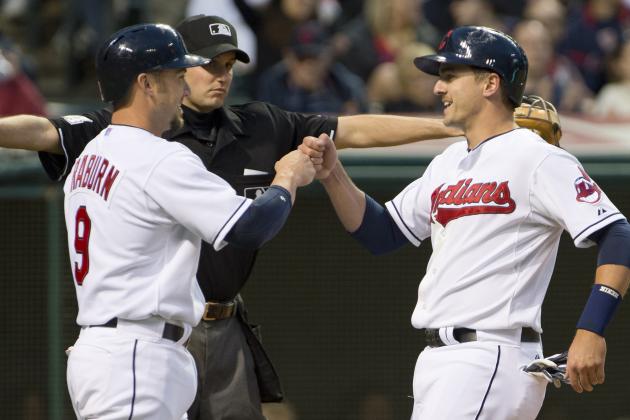 Jason Miller/Getty Images
Lonnie Chisenhall needs to fix the holes in his swing in order to reach his full potential.
May stats: .180/.252/.180, 7 G, 22 AB, 4 H, 0 2B, 0 3B, 0 HR, 0 RBI
When your play on the field earns you a demotion to Triple-A, you deserve to be called one of the worst stiffs on the team for the month.
Chisenhall was given every chance to maintain the starting third base spot that he was given coming out of spring training, but his awful play on the field rightly earned him the trip to Columbus.
Chisenhall's yearly splits against lefties and righties show some of the problem. His slash against righties is .250/.289/.375 and against lefties is .091/.131/.273.
The Tribe's brass remains confident Chisenhall can turn it around. After Chisenhall's demotion on May 13, Paul Hoynes of The Plain Dealer reported that general manager Chris Antonetti said, "We believe Lonnie is going to be a very good Major League player. We want him to find consistency in all parts of his game, especially offensively."
Chisenhall is a key part of the Indians' future and remains a very talented player, so it is important that he gets his head right and figures some things out in the minors.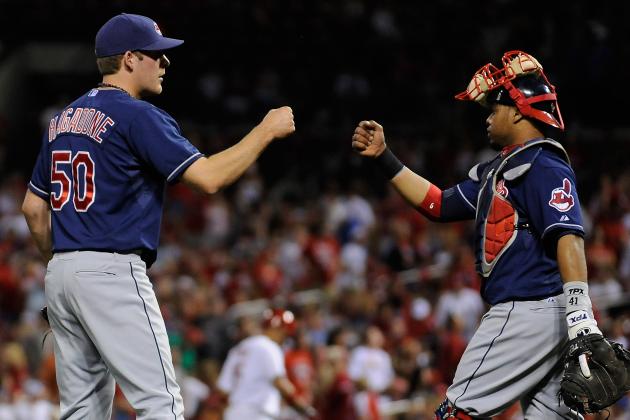 Jeff Curry/Getty Images
Nick Hagadone in better days
May stats: 8 G, 0-1, 6.0 IP, 8 H, 12.00 ERA, 2.00 WHIP, 9.00 K/9, 1.50 K/BB
Even though a small sample size, Hagadone's numbers were so awful that he was impossible to overlook as being one of worst performers on the Indians.
Hagadone has very good, lively stuff but has control issues, as evidenced by his four walks in six innings pitched.
He got hit very hard over the period as he yielded a .320 batting average against him, which was the second highest (only to David Huff who worked in three games) number on the pitching staff.
Hagadone got a loss in relief after giving up a huge, tie-breaking home run in the eighth inning to Joey Votto in a 4-2 loss to the Reds on May 27.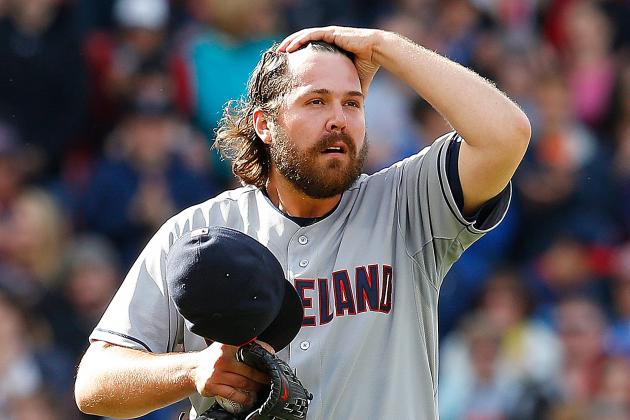 Jim Rogash/Getty Images
Perez's poor showing in May may have been the result of shoulder soreness.
May stats: 9 G, 8.2 IP, 2-1, 3 SV, 1 BS, 3 HR, 7.27 ERA, 2.08 WHIP, 9.35 K/9, 1.13 K/BB
The month started out well for Perez as he didn't allow an earned run for his first six appearances, but the last three have been another story entirely. He gave up seven earned runs and saw his ERA rise from 0.64 to 4.32.
Let's start with the obvious numbers. His ERA, WHIP and K/BB numbers were awful and he gave up three home runs for the month. Perez very rarely gives you a shutdown save, but he tends to get the job done with "bend but don't break" results.
His high-wire act went to another level this month as Perez bent and broke in a few notable games.
Trying to protect a 4-2 Indians lead in the ninth on May 18 vs. the Mariners, Perez surrendered a two-out homer to Raul Ibanez and a game tying, two-out blow to Justin Smoak. The Indians would go on to bail out Perez in the bottom of the ninth on a walk-off fielder's choice.
The next night Perez had another awful line of 1 IP, 1 H, 1 HR, 1 ER, 2 BB.
The piece de resistance, however, was on May 26 when Perez blew a 5-2 ninth inning lead and gave up four earned runs, walked three and gave up two hits before leaving with an apparent right shoulder injury.
The eventual game-winner by Jacoby Ellsbury was actually given up by Joe Smith, but Perez set the nightmarish table.
Back to the injury. These god-awful latest results may have been the result of an injury, but I'm not giving Perez a pass on this.
Perez has battled shoulder pain this season, so if he was hurt, he had an obligation to let his bosses know. He cost his team a game and more specifically cost Corey Kluber a well-deserved win.
According to ESPN.com, Perez had an MRI on May 27, and the findings of the test resulted in the team putting Perez on the 15-day disabled list.
Perez is currently a very important part of the Indians' "Bullpen Mafia," but if he continues to turn in poor performances like he did in May, the team will have to look to other options like Cody Allen or Vinnie Pestano to close.