The Bengals Pipeline: From Georgia to Cincinnati
Photo courtesy of GeorgiaDogs.com

One of the novelties of the NFL is that occasionally the small school player emerges to make a huge impact.
Jerry Rice out of Mississippi Valley State.
Terrell Owens out of Chattanooga.
Ray Rice out of Rutgers (before Greg Schiano turned the program all the way around).
The Bengals have found a few gems from small schools in recent years but, more often, the powerhouse schools are represented most fully on NFL rosters: Southern Cal, Florida, Texas, Tennessee.
There's something about the boys that play in the red clay that just works at the next level in Cincinnati. Since head coach Marvin Lewis came to Cincinnati in 2003, the Bengals have drafted a total of 91 players (excluding the 2013 class who has yet to see the field; 2013 had 10 draft picks). Of those draft picks, 19 of them never saw the field during a regular-season game as a Bengal. Either they were cut during training camp, battled injuries or simply weren't good enough to make it at the next level.
Of the remaining 72 players that were drafted since 2003 and played a game in a Bengals uniform, seven are former Georgia Bulldogs: Robert Geathers, Odell Thurman, David Pollack, Clint Boling, Geno Atkins, A.J. Green and Orson Charles. It should also be noted that backup tackle Dennis Roland is also a Georgia product although he wasn't drafted by Cincinnati.
Seven out of 72 isn't that impressive—just under 10 percent. However, if we look at the impact of those specific seven players, we see that the Bengals front office might be on to something. Those seven players have started in 76 percent of the games they've played in.
Here's a look at the history of Bulldogs in Cincinnati during the Marvin Lewis era.
The 2005 Class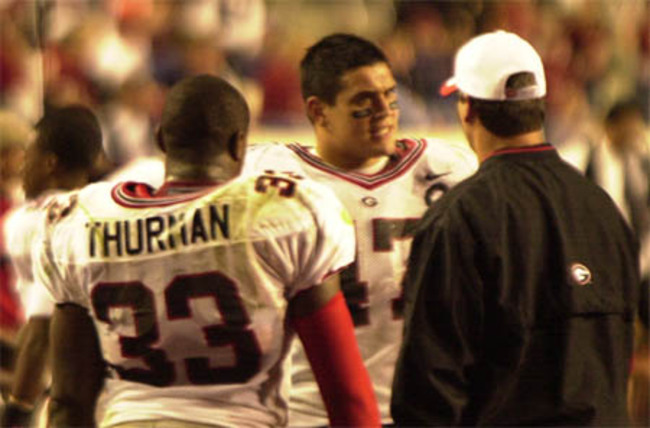 Photo courtesy of Georgia.Scout.com

First-round pick and current ESPN College Football Analyst David Pollack was expected to shine in Cincinnati before he sustained a horrific neck injury that ended his career after just over one year as a Bengal.
At Georgia, Pollack earned just about every honor possible: 2004 SEC Player of the Year, 2004 SEC Defensive Player of the Year, 2004 Chuck Bednarik Award and 2004 Lombardi Award among others.
In Cincinnati, Pollack brought a fire to the Bengals defense but, unfortunately, it only lasted just over a year. Pollack broke his sixth cervical vertebrae—forcing him to miss the entire 2007 season. In 2008, he announced his retirement.
However, Pollack wasn't the only Georgia linebacker headed to Cincinnati that year.
The Bengals took Georgia linebacker Odell Thurman with their second pick. Thurman started 15 of 16 games in 2005, but it would be his only season in the NFL due to drug abuse and suspensions.
The 2005 Georgia-Cincinnati draft class really showed how Georgia's style of football was attractive to Bengal scouts. Unfortunately, these two particular Georgia players didn't work out in the NFL.
Defensive end Robert Geathers remained the only Georgia player drafted by the Bengals until 2010, when the Bengals brought him some help in the form of Geno Atkins.
Reconciling the Pipeline
For a while, Robert Geathers was the only contributing former Bulldog in Cincinnati. Other than the failed Pollack-Thurman experiment, it wasn't until 2010 that the Bengals would draft another Georgia player—signalling the beginning of a change in the Queen City.
With the 120th overall pick of the 2010 NFL draft, the Cincinnati Bengals selected Geno Atkins—defensive tackle from Georgia.
Since joining the Bengals, Atkins has yet to miss a game in three seasons and has accumulated 23 sacks and six forced fumbles. His 12.5 sacks in 2012 ranked him sixth in the league but first among interior lineman. The next closest was Ndamukong Suh—tied at 29th with eight.
In 2011, the Bengals brought in two more Bulldogs in A.J. Green (4th overall) and Clint Boling (101st overall). Green has played in all but one game since joining the NFL—making seemingly miraculous catches, like the one in this video, every week.
Boling's impact wasn't as immediate but just as important. He started three games in his 2011 rookie season. However, in 2012 he started every game. Going into the 2013 season, he's atop the depth chart at the left guard position.
In 2012, the Bengals selected tight end Orson Charles from Georgia. Charles has drawn a tough card competing with Jermaine Gresham in 2012. Nonetheless, he participated in all 16 games in 2012 and pulled in eight catches for 101 yards.
Charles' road to glory won't be any easier in 2013 with the new addition of Tyler Eifert, but he will certainly compete with Alex Smith for the third tight end spot.
Outlook for Shawn Williams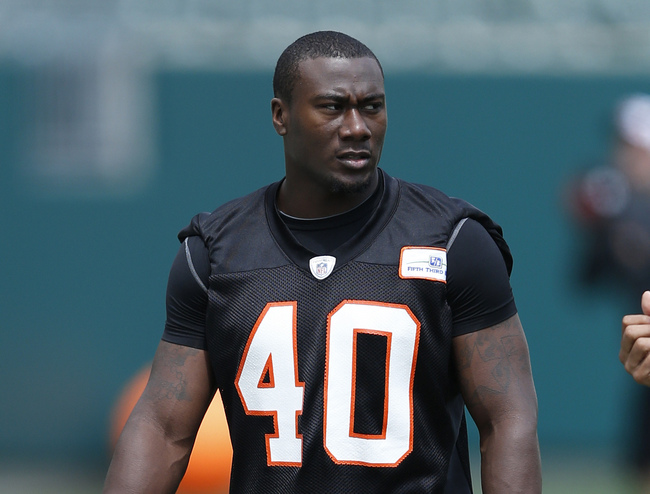 Joe Robbins/Getty Images
Possibly the Bengals' biggest need in last month's NFL draft was the safety position. With the 84th overall pick, Cincinnati took Georgia safety Shawn Williams.
Williams was excited to join "Who Dey" nation, partially because of its ties to UGA. "I know there are so many Georgia players that have been there and play in Cincinnati doing great things with the Bengals," Williams told Bengals.com. "When I got the phone call and they told me, I get to be added to the list and go off and do something great."
Williams is known for his leadership, but before he grew into the player he is now, he followed the leadership of other Bulldogs-turned-Bengals. On Bengals.com, Williams said, "When I came in my freshman year, I remember Geno being positive and being a role model for me to look up to. Same thing goes with A.J. Green—he was here my freshman year. Me and Orson came in together, so it's amazing that we can be teammates again."
While Georgia head coach Mark Richt probably spends his Sunday afternoons game planning for one of the nation's toughest college schedules, chances are he has his eye on the Bengals scoreboard when he can.
After all, the link to the Cincinnati Bengals' roster may be all he needs to put on his resume.
Keep Reading

Cincinnati Bengals: Like this team?