Stock Up, Stock Down for Cincinnati Reds' Top 10 Prospects for Week of May 13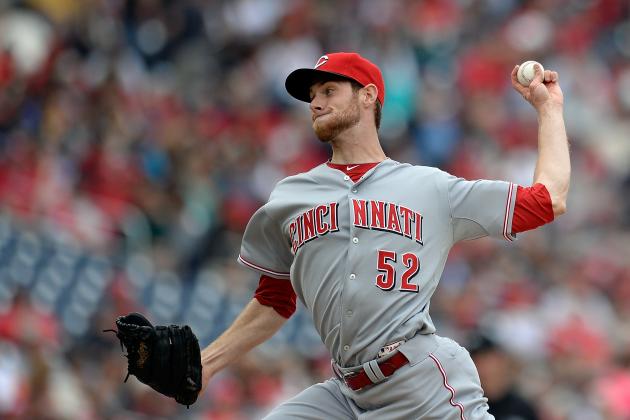 Patrick McDermott/Getty Images

Just over six weeks into the 2013 Major League Baseball season have gone by, and Cincinnati Reds prospects like Tony Cingrani have been able to prove what they are worth early on.
Cingrani is the only one of the top prospects to make it to the majors so far in 2013, but some of the other prospects aren't far behind.
It's still extremely early on, so prospects are still adjusting to the challenges of playing at higher levels than they are used to. As they begin to adjust to their surroundings, the team will be able to evaluate how soon they may be ready to get the call.
All eyes are on Billy Hamilton, but the rest of these prospects could be making an impact in the big leagues soon.
Here are how the top prospects in the Reds organization are doing.
*All stats are courtesy of MiLB.com unless otherwise noted
Begin Slideshow

»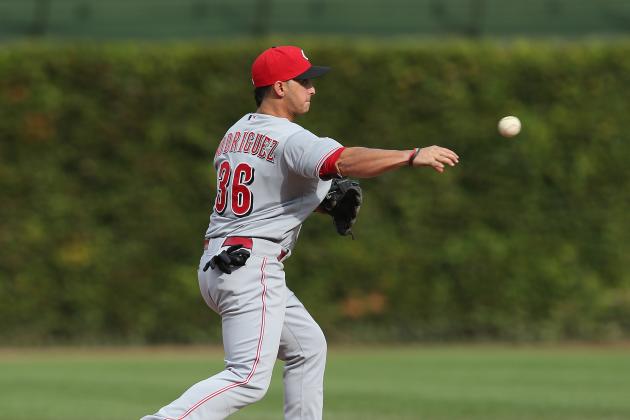 Jonathan Daniel/Getty Images

Level: Triple-A (Louisville)
May stats: .333/.370/.478, 2 HR, 4 2B, 13 RBI
2013 season stats: .270/.316/.368, 2 HR, 10 2B, 20 RBI
Henry Rodriguez struggled with Louisville last year, but he has been much better this season.
He got off to a slow start in April as he hit only .223. May has been a completely different story, and he has hit for average and power this month.
After a difficult 2012 stretch with the Bats, Rodriguez has already equaled most of his totals from a year ago.
As a second baseman, the Reds don't need him in the majors right now. Brandon Phillips will be around for many more years, but it's nice to see the youngster producing in the minors in case the team needs him at some point.
Stock: Up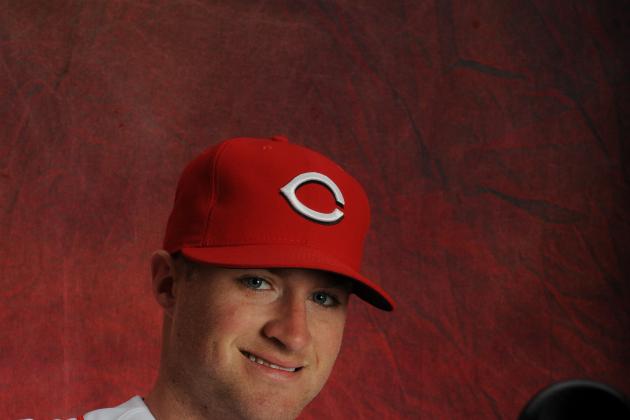 Rich Pilling/Getty Images

Level: Double-A (Pensecola)
May stats: .302/.356/.472, 1 HR, 4 2B, 1 3B, 9 RBI
2013 season stats: .284/.360/.413, 2 HR, 6 2B, 1 3B, 14 RBI
Had Devin Mesoraco repeated his 2012 performance, Tucker Barnhart would have more eyes on him right now. Mesoraco has rebounded, which gives Barnhart time to develop in the minors.
Like Rodriguez, Barnhart has done better in May than he did in April. He has a higher average, more doubles, triples and RBI this month than he did in the opening month.
Barnhart is hitting .320 with runners in scoring position, something that Reds catchers have struggled with the past season or two.
Cincinnati will need Barnhart to continue to produce at the plate. The team will need him in the majors in a few years, so his offensive production in 2013 is a promising sign.
Stock: Up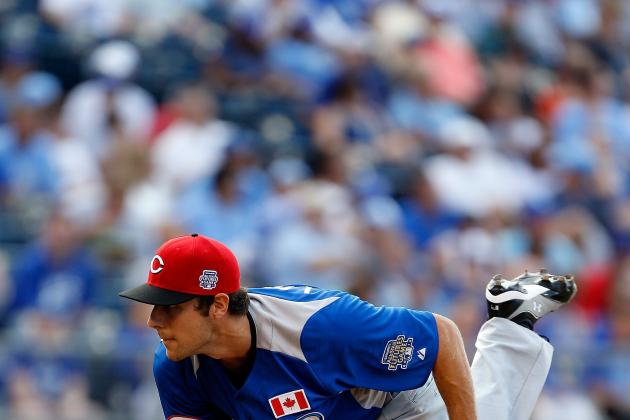 Jamie Squire/Getty Images

Level: Double-A (Pensacola)
May stats: 6 G, 0-0, 3.1 IP, 13.50 ERA, 6 H, 3 K/6 BB
2013 season stats: 10 G, 0-1, 11.88 ERA, 8.1 IP, 16 H, 8 K/11 BB
Kyle Lotzkar played in the 2012 Futures Game, but he's having a rough time down in Pensacola.
He was great at Bakersfield for part of last season, but he struggled once he got promoted to Pensacola. He started 17 games with the Blue Wahoos and went 4-6 with a 5.21 ERA last year.
This year has been a struggle out of the bullpen. The right-hander has made 10 appearances and has an ERA of nearly 12.00.
Control has been a huge issue for Lotzkar in Double-A. He walked 53 batters in 86.1 innings last season and has 11 walks compared to only eight strikeouts this season.
Batters are hitting .432 off him this season, so the 11 walks make it even tougher for him to escape jams. He has allowed at least one run in half of his appearances in 2013, and he has allowed multiple runs in three of those outings.
A shoulder injury bothered him down the stretch last season, so there may be lingering effects still.
Stock: Down
Level: Low-A (Dayton)
May stats: .345/.465/.603, 4 HR, 1 2B, 1 3B, 18 RBI
2013 season stats: .309/.418/.525, 6 HR, 8 2B, 2 3B, 30 RBI
Jesse Winker has arguably been the most impressive prospect in the organization in 2013.
Whether it's a fluke, his splits will need to improve. He has an impressive .386 average with runners on base but is hitting only .236 with nobody on. Five of his home runs have come with runners on, so he is making the most out of them.
With such a good bat, it's important to battle in every at-bat. He has a pretty good idea of the strike zone despite being only 19 years old. He has 28 strikeouts and 22 walks.
The left-handed hitter has also turned it up in May. He has three home runs in the last five games and has three multi-hit game during that stretch.
Winker was the No. 49 pick in last year's draft, so he's still years away from reaching the majors. If he continues to swing the bat, he could rise through the system quickly.
Stock: Up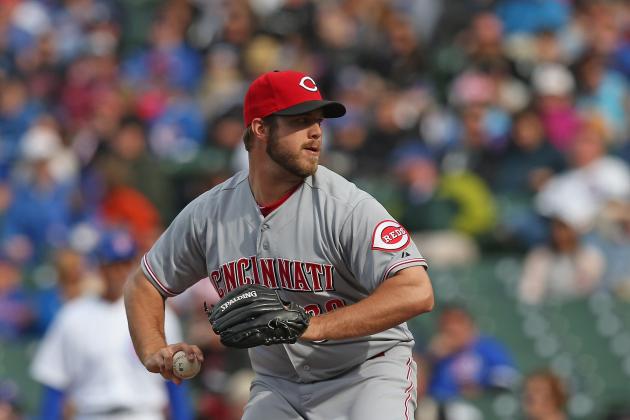 Jonathan Daniel/Getty Images

Level: Majors (Cincinnati)
May stats: 7 G, 0-0, 4.50 ERA, 6 IP, 3 H, 6 K/4 BB
2013 season stats: 19 G, 0-3, 3.86 ERA, 18.2 IP, 14 H, 19 K/9 BB
Yes, J.J. Hoover is still considered a prospect. He's been one of the most impressive relievers in the organization, and he has done it in Cincinnati.
Hoover earned a spot on the roster with his performance last year and in the spring. After six outings in 2013, it looked like he was going to need some time in the minors to get back on track.
He was 0-3 with an ERA of nearly 8.00 just 11 days into the season. He walked four batters, hit a man and allowed three homers during that stretch. Since then, he has been one of the most reliable relievers in the bullpen.
The right-hander has walked only five batters and allowed one home run since his early struggles. He's had only one shaky outing this month, and he has not blown a save in three chances in May.
At 25 years old, Hoover is showing that he could be the team's closer in the future. With the recent struggles for the back of the bullpen, Hoover has been solid when the team has needed him lately.
Stock: Up
Level: Low-A (Dayton)
May stats: 3 G/2 GS, 1-1, 9.75 ERA, 12 IP, 14 H, 18 K/11 BB
2013 season stats: 8 G/7 GS, 1-4, 9.10 ERA, 28.2 IP, 29 H, 44 K/37 BB
After a brief stint in Dayton last season, Ismael Guillon hasn't been able to duplicate his success this season.
His longest outing has been five innings, which is something he has accomplished only once this year. He has allowed at least four runs in four of his last six outings—including a relief appearance.
Guillon's biggest issue has been throwing strikes. He does have 44 strikeouts in 28.1 innings, but he also has 37 walks. The right-hander has walked at least four batters in six games this season, and he has 12 wild pitches, according to Baseball-Reference.com.
Control issues can be fixed at this point in his career. The 21-year-old can continue to work on throwing strikes, but he has a long way to go.
Stock: Down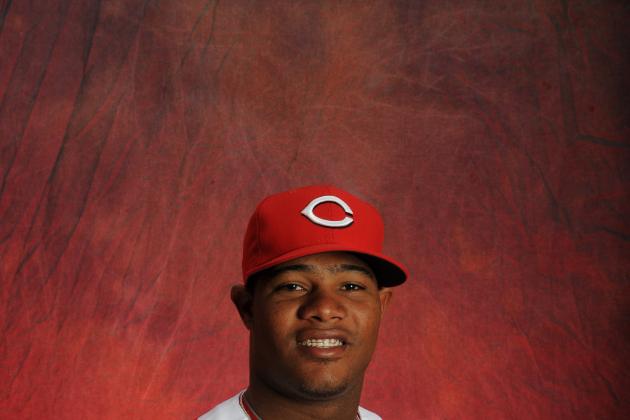 Rich Pilling/Getty Images

Level: Triple-A (Louisville)
May stats: 3 GS, 1-2, 6.60 ERA, 15 IP, 20 H, 8 K/7 BB
2013 season stats: 8 G/7 GS, 2-6, 7.20 ERA, 35 IP, 49 H, 27 K/18 BB
Daniel Corcino is one of the Reds' top pitching prospects, but he has had a rough 2013 season so far.
He is seen as a part of the rotation in the future, but he has to work through his struggles right now. The right-hander did well in Dayton and Pensacola the past two seasons, but Louisville has not been kind to him.
Corcino has gone past five innings only once this season and has failed to make it past the fourth three times already. He's had fairly good control in the majority of his starts, but he has walked three guys in back-to-back starts.
In four of his seven starts, he has allowed two runs or less. He has been roughed up in three starts and a "relief" appearance—he came out of the bullpen because Sean Marshall was on a rehab stint.
There is a lot of pressure on Corcino to turn into the pitcher everyone thinks he can be. Mark Sheldon of MLB.com is one who has mentioned him among the likes of a young Johnny Cueto.
Cincinnati won't need Corcino in the rotation until 2015 at the earliest, so there is plenty of time for him to grow as a starter.
Stock: Down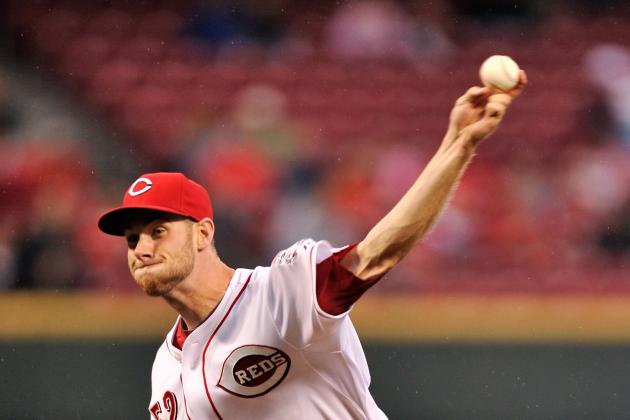 Jamie Sabau/Getty Images

Level:Triple-A (Louisville)/Majors (Cincinnati)
May stats:
Majors (Cincinnati): 3 GS, 0-0, 5.40 ERA, 15 IP, 13 H, 5 HR, 13 K/5 BB
2013 season stats:
Triple-A (Louisville): 3 GS, 1-0, 0.00 ERA, 14.1 IP, 3 H, 26 K/2 BB
Majors (Cincinnati): 6 GS, 2-0, 3.27 ERA, 33 IP, 25 H, 41 K/9 BB
An argument could be made that Tony Cingrani's stock is down, but let's try to be positive here.
Fans can look back and say that the southpaw dominated the Miami Marlins and the Chicago Cubs because they are inferior, but he held his own against good offenses.
Cingrani struck out 28 batters and walked only four over 18 innings in his first three starts. He struck out only 13 batters in 15 innings over his next three, and he ended up being sent down to make room for Johnny Cueto.
He was sent down because he was having a hard time throwing anything but his fastball for strikes. FanGraphs shows that he was throwing his fastball nearly 83 percent of the time, but teams stopped chasing it out of the zone as he made more starts.
The left-hander was striking out over 31 percent of the hitters he faced, which leads the National League (according to FanGraphs).
Now that teams are learning to wait for pitches in the zone, he has to work on his secondary pitches. It was an impressive stint with the Reds, but spending time in the minors will give him time to develop more pitches.
He has shown that he can dominate minor leaguers with his fastball, so it'll be more important for him to mix it up now.
If a starter goes down, the Reds will be just fine with Cingrani waiting for the call in Louisville.
Stock: Up
*Stats are from MLB.com and MiLB.com
Level: Low-A (Dayton)
May stats: 4 GS, 3-0, 2.12 ERA, 24 IP, 14 H, 29 K/5 BB
2013 season stats: 9 GS, 3-3, 4.02 ERA, 47 IP, 42 H, 60 K/13 BB
Robert Stephenson was a first-round pick two years ago, and he's putting up big numbers with the Dayton Dragons.
His numbers are skewed by a start in which he did not make it out of the third inning, but he's been dominant in just about every other start.
Stephenson has struck out at least six batters in six starts, and he has been even better lately.
He has struck out 25 batters and walked only one in his last 19 innings. The right-hander has allowed three earned runs—all in his latest outing—and only nine hits (game recap via MiLB.com).
There have been six games in which Stephenson has not walked more than one batter. His control has been great, and he has rebounded well after a shaky outing early.
The 20-year-old has shown a lot of promise so far in 2013, and he will be one to watch out for in the near future.
Stock: Up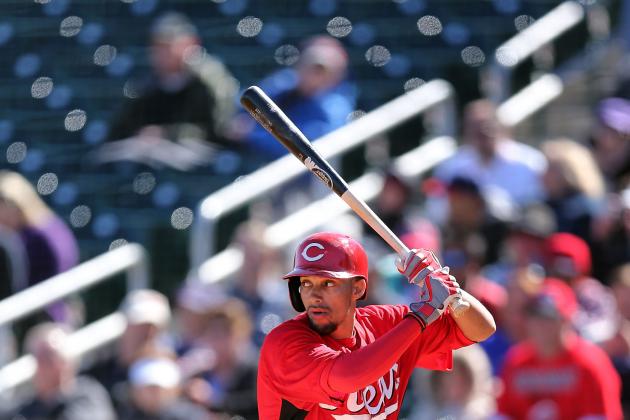 Christian Petersen/Getty Images

Level: Triple-A (Louisville)
May stats: .257/.295/.351, 2 HR, 6 RBI, 7 SB
2013 season stats: .228/.286/.327, 2 HR, 6 2B, 2 3B, 12 RBI, 22 SB
All eyes are on Billy Hamilton. With Shin-Soo Choo getting on base so much in the majors, fans are starting to look away from the speedster. If the team can't re-sign Choo, Hamilton is expected to man center for Cincinnati in 2014.
He got off to a horrendous start in April. He hit only .205 and had a .278 on-base percentage. As the Reds learned with Drew Stubbs, speed doesn't do much unless the player can get on base.
Hamilton has at least one hit in seven of the past 10 games, including five multi-hit games.
Learning a new position can be tough, but there have been no reports of Hamilton struggling in center. His next challenge will be to improve his OBP.
There is an enormous amount of pressure on Hamilton to come up to the majors next season and be the leadoff hitter. If Choo returns, the team can take its time developing Hamilton into the player everyone hopes he can be.
His stock dropped early in the season, but he has turned it around recently. He has not been thrown out trying to steal in his last five attempts, and he has an 88 percent success rate for the season.
Whenever he comes up to the Reds, he will be a spectacle. He needs to improve his OBP now, and he is on his way to adjusting to Triple-A pitching in Louisville.
Stock: Up