5 Bold Predictions for the Remainder of the Cincinnati Reds' Season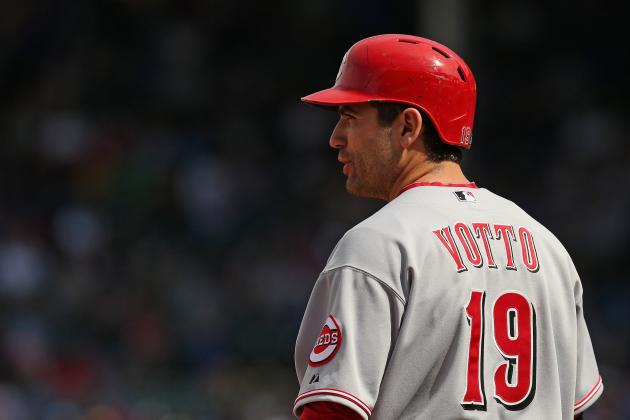 Jonathan Daniel/Getty Images

A quarter of the season has passed for the Cincinnati Reds, and the club is certainly not shy of major achievements and disappointments.
The Reds are 25-16 through their first 41 games, a club best since 2002 (per Baseball-Reference.com).
And while the Reds have enjoyed some early success in Shin-Soo Choo's offense, there's also been a mound of players on the DL.
Without getting too crazy, and keeping in mind it's only May, here are five bold predictions for the remainder of the Cincinnati Reds' season.
All current statistics are courtesy of MLB.com.
Previous statistics are courtesy of Baseball-Reference.com.
Begin Slideshow

»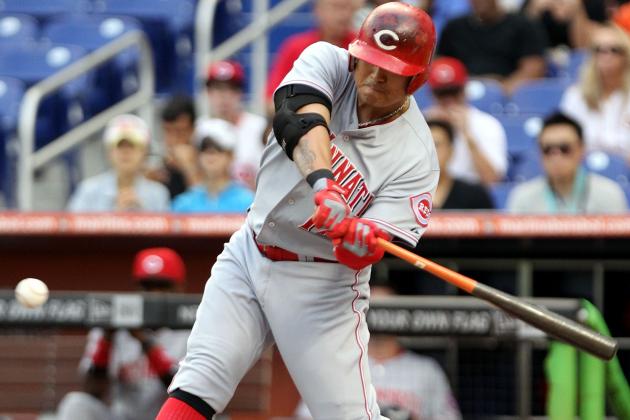 Marc Serota/Getty Images

Some might read this and think, Duh, he's on pace to easily achieve 30 homers. Others might believe he'll have a tough time getting past 20.
The craziest part about this prediction is that the other Queen City power-bats in Jay Bruce, Joey Votto, Brandon Phillips and Todd Frazier will not beat Choo in homers.
With nine already in the season, Choo leads the club in home runs. Surprisingly, Bruce only has three, Votto four, Frazier six and Phillips seven.
Bruce is by far the biggest disappointment with power numbers. Bruce's career numbers indicated he was on a path to possibly reach 40 home runs and 100 plus RBI this season.
However, Bruce leads the NL with 53 strikeouts and is making it harder to believe he'll reach 30-plus home runs for the season.
Votto still hasn't shown the power of yesteryear and although Phillips is having a huge year, he's only hit over 21 home runs in a season once.
If Phillips continues to rake, or if Bruce returns to his power form, they'll give Choo a run for his money.
However, I'd expect Choo to sit atop the club's home run throne with around 30 jacks.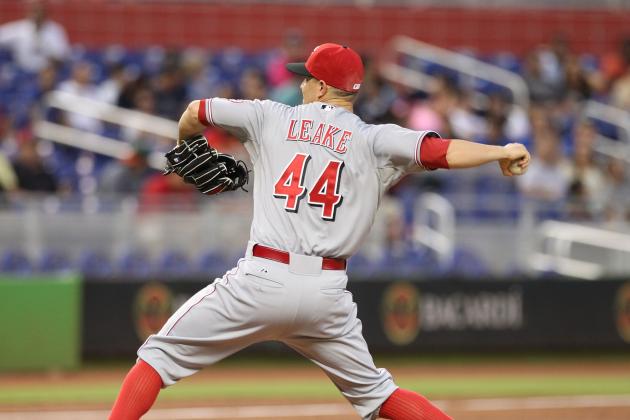 Marc Serota/Getty Images

The short success of Tony Cingrani in the Reds rotation makes Mike Leake a little more expendable in the next few months.
With Johnny Cueto soon to come off the DL, the Reds must make a decision on who stays or goes between Leake and Cingrani.
In all likelihood, Leake stays in the rotation and Cingrani is sent down to work on other pitches besides his fastball.
The Reds could shorten Cingrani's innings in Triple-A and bring him up in July if Leake were to be traded. It would give the club a solid power lefty for the rest of the season.
Leake could stay in the rotation to better his value and possibly be a good trade chip for the deadline.
Leake, who is 3-2 with a 3.72 ERA, has proven his spot in the rotation. The Reds are very fortunate to have two solid pitchers fighting for the fifth spot in the rotation.
Cingrani appeals a bit more to the Reds because of his fastball and strikeouts. It also doesn't hurt that he's left-handed.
Leake could be moved if the Reds are still seeking a left fielder and anticipate Ryan Ludwick will be taking the long track to recovery.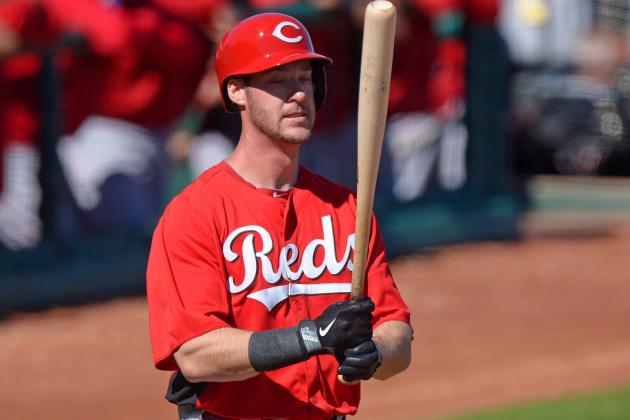 Jake Roth-USA TODAY Sports

There hasn't been much good news on Ryan Ludwick's status and as I projected a few weeks ago here, there's a chance he could miss most of the season.
We certainly won't get much new information on Ludwick until the Reds are closer to the All-Star break, so don't hit the panic button yet.
However, any sort of setback could push Ludwick's return time into mid-to-late August. The Reds might try to obtain a proven left fielder by the trade deadline if Ludwick's time table increases.
Ludwick's power is definitely being missed, and the Reds might not want to wait that long to solidify their lineup.
If the Reds do make a move, I'd expect the club to work gingerly on returning Ludwick the Reds lineup.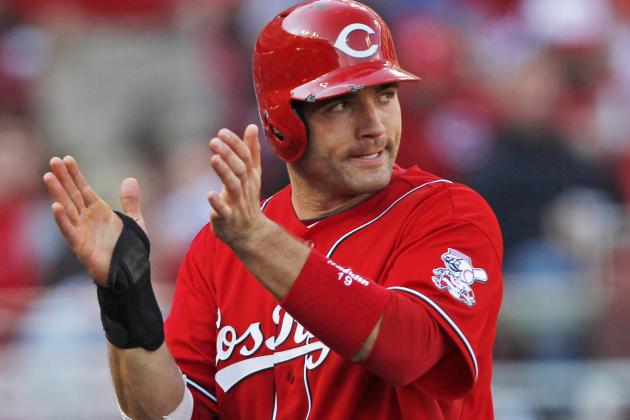 Frank Victores-USA TODAY Sports

Even though we've seen a somewhat slow start to Joey Votto's power, his other numbers are still there.
Votto is getting pitched around like Barry Bonds—and that should say something.
He leads the MLB by six walks at 34 for the season.
Votto his hitting a solid .327/.457/.473 with four home runs, 17 RBI and 49 hits.
Reds fans would like to see Votto with a bit more power, but remember, it's only May. Votto had eight home runs and 22 doubles through April and May last year (per baseball-reference.com).
He was easily on pace to beat the all-time doubles record.
Now, the club is hopeful that he can continue to be a threat at the plate.
If Votto is able to keep a steady year with the numbers he's already presenting, there should be no reason why Votto doesn't land in the top three of NL MVP voting.
If we see a power surge, than Votto might be the clear-cut NL MVP winner once again.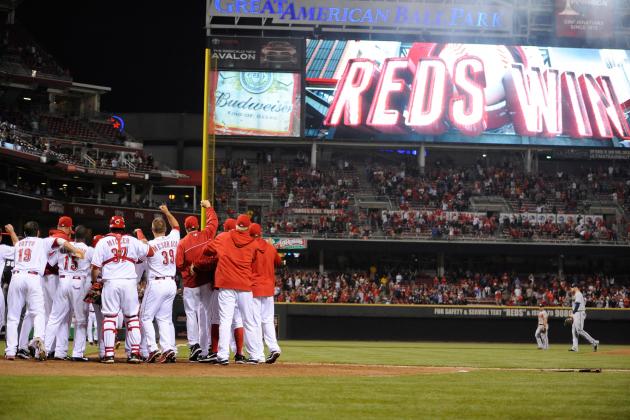 Jamie Sabau/Getty Images

The Reds haven't made it past the NLDS since 1995 and only have been to the playoffs three times since (including the 1999 wild-card game).
The Reds were chosen by several analysts to reach the World Series. But the Reds aren't quite showing the dominance of a strong playoff-caliber team.
The club is currently 6-13 against teams with winning records. The good news is the Reds are handling the sub-.500 teams with a 19-3 record.
The addition of Choo is certainly helping and it never hurts to have your backup clean-up hitter in Brandon Phillips batting .285/.326/.481 with seven home runs and a NL-leading 36 RBI.
The Reds pitching staff has the third-best ERA in the NL with 3.43—and that's mainly without their ace, Johnny Cueto.
The Reds are atop the NL with the best WHIP and most strikeouts.
The St. Louis Cardinals will be tough to battle through the remainder of the season, but the durability of their bullpens might prove who will advance further.
The Reds will be playing with a chip on their shoulder after becoming the first team in the NL to ever blow a 2-0 series lead in the NLDS last postseason.
Expect the Reds to play with a little more heart if they find themselves in another October baseball setting.