3 Keys to Russell Wilson Progressing with Seahawks in Sophomore Season
Streeter Lecka/Getty Images
When Russell Wilson was at Wisconsin, I had a tough time finding flaws in his game. He was running a pro-style system and making great decisions with the ball. And contrary to criticism, his lack of height was not a detriment to his game.
Now in Seattle, I am struggling to find flaws in his game once again. He was marvelous last year, completing 64 percent of his passes for 26 touchdowns against 10 interceptions for a 100 passer rating. He was in charge of the offense and made big throws when the team needed him to.
That's why it's hard to criticize his rookie season, a season in which he was a first-year professional. If there was nitpicking to be done, one could argue that Wilson needed to gamble a little bit more, work on his checkdowns, clean up his footwork and continue to put the team in positions to run the ball effectively. None of those are major issues, but they would help him progress in his second season as a starter.
Continued Running Game
The Seahawks' running game was one of the league's best last season, averaging 4.8 yards per carry and 161 yards per game overall.
It was led by running back Marshawn Lynch, a bruising ball-carrier who has underrated vision and balance. It was also helped by the coaching staff, which evolved over the course of the season by implementing the pistol formation and zone read.
The combination of Lynch and Wilson running the zone read was a struggle for defenses. Lynch averaged 8.8 yards per carry and Wilson 7.9, according to an email from Pro Football Focus' Sam Monson.
What made it effective was the blocking up front and Wilson delaying the handoff. That was noticeable at times against the Washington Redskins in the divisional round of the playoffs. One instance came on a 15-yard run by Lynch inside the red zone.
It was split-backs formation with Lynch lined up to Wilson's left. The target was the weak-side outside linebacker Rob Jackson of the Redskins' nickel package.
At the snap, the Seahawks' line performed down blocks to the right, leaving Jackson unblocked at the end of the line. Initially, it appeared that the Redskins actually had the advantage because of the safety behind Jackson. If both defenders remain disciplined, they could effectively bottle up the Seahawks' running game.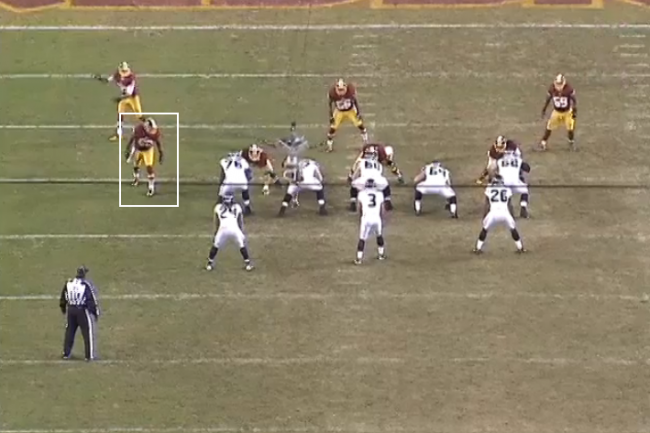 That didn't happen. Wilson bobbled the ball, then stuck it into the stomach of Lynch and held it as the line blocked. Jackson looked like he was going to attack Lynch but then held back. The safety behind him did the same, leaving them both in no-man's land.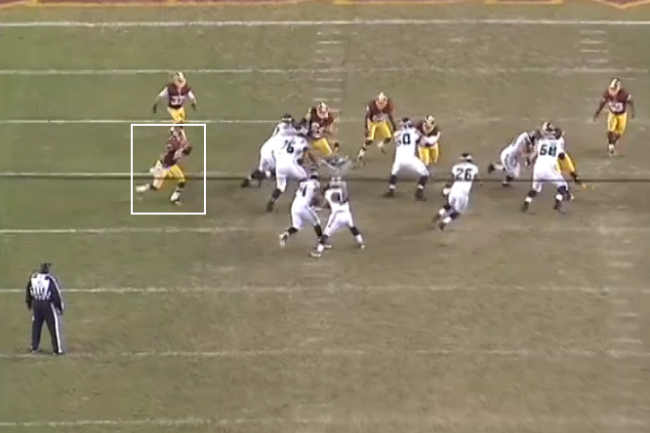 The delayed handoff from Wilson froze both and created an alley through the C-gap. Lynch took the ball and attacked downhill, picking up a chunk of yards and a fresh set of downs.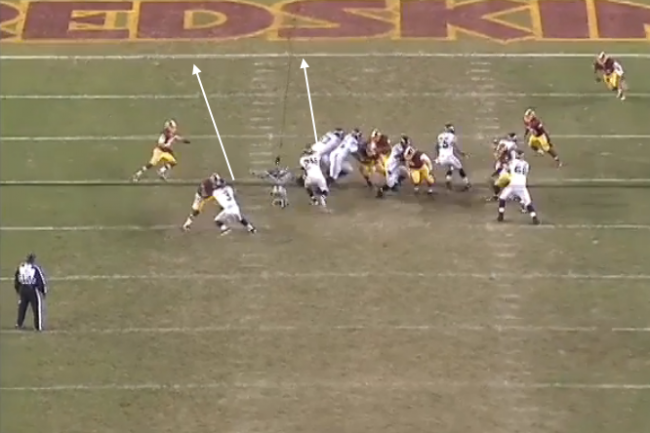 If the Seahawks can expand this package, they'll be even more dangerous because it helps set up their play-action. With the use of the play-action, they create more room for their receivers (such as Percy Harvin) to make plays.
Improved Footwork
Another area that was sometimes an issue last season was Wilson's footwork.
He didn't always transfer his weight and step through his throws. It wasn't always detrimental to his throwing ability, however, because of his strong arm. Nonetheless, it's something he should and is looking to improve on (via mynorthwest.com).
The thing that I'm always trying to harp on is just my footwork. Being at the Pro Bowl with guys like Drew Brees and Peyton Manning and talking to other players as well and asking them questions, the biggest thing that they said took their game to another level was just their footwork, how they worked on it every single morning, every single day.
Footwork is arguably the most important ingredient to a quarterback's success because of how much control it has over the rest of the body. It helps determine the accuracy and velocity of a pass.
If he throws the ball off of his back foot, the velocity of the pass will likely decline as it goes through the air.
Simultaneously, if he doesn't rotate his hips and step through his throw, the pass could sail over the head of his intended target. That's sometimes an issue with Jay Cutler of the Chicago Bears, who is a talented but inconsistent passer.
Making the Open Throws
Last but not least, Wilson needs to take more high-risk chances.
There were times last season when he didn't make a throw in the seam or a check down underneath when he should have, instead choosing to scramble around. At times the scrambling worked perfectly, but more often than not, it resulted in throws left on the field.
One example came against the Atlanta Falcons in the divisional round. Wilson was in shotgun set with three receivers spread across the field, two to his left and one to his right.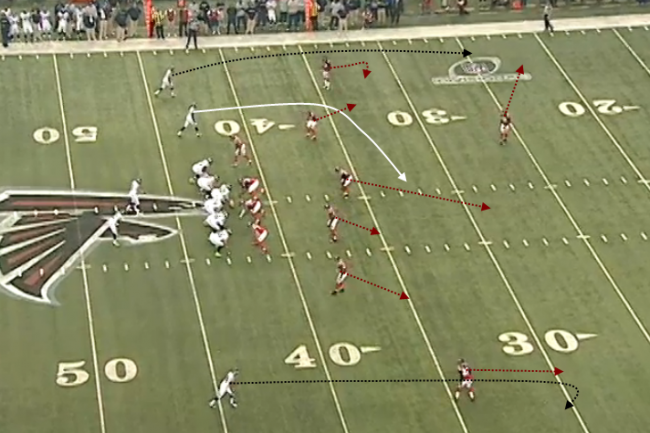 Slot receiver Sidney Rice was the key on this play. At the snap, he took off the line of scrimmage and ran a dig route behind the Falcons linebackers. The route extended across the field and the receiver found himself wide open in the middle of the field. It was a great opportunity for Wilson, who appeared to be looking at Rice, to make a great throw.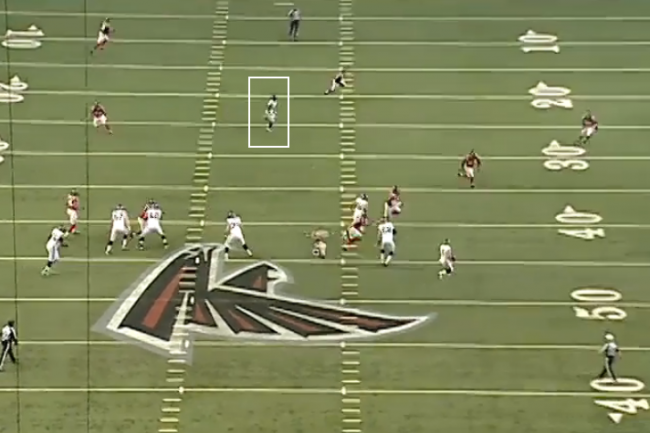 He never did, though. Instead of throwing the ball, he scrambled back out to his right and threw the ball under pressure. It fell incomplete.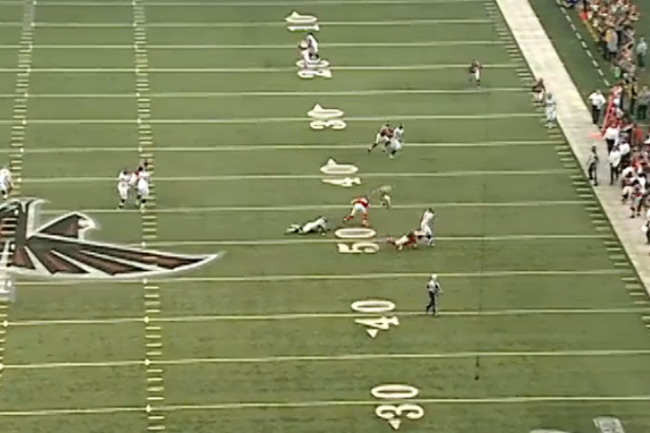 If Wilson will progress in his sophomore season, he'll need to take more risks. I expect him to do just that, especially with the recent acquisition of Harvin. Harvin is a very explosive athlete that can make big plays as long as Wilson throws it up to him.
With Harvin in the mix, a strong running game and improved footwork, Wilson has the chance to continue exceeding expectations and become a household name.
This article is
What is the duplicate article?
Why is this article offensive?
Where is this article plagiarized from?
Why is this article poorly edited?

Seattle Seahawks: Like this team?