Washington Redskins: Predicting Their Defensive Depth Chart for the 2013 Season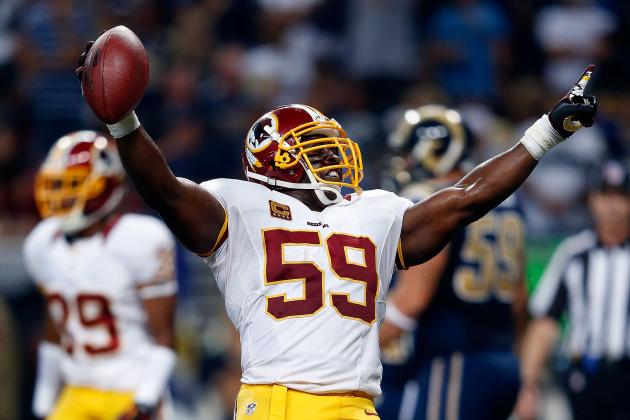 Jamie Squire/Getty Images
London Fletcher is the heart and soul of Washington's defense.
The defense of the Washington Redskins was a bit lackluster last season, but things are looking up.
A large part of their lack of defensive success was due to the injuries to stud pass-rusher Brian Orakpo and his counterpart Adam Carriker. Aside from that, there is not much room for excuses.
The secondary was terrible, and the pass rush was pretty mediocre behind Ryan Kerrigan. For these reasons, Washington made defense a priority during this year's draft.
Four of their first five picks were defensive players, including three defensive backs. Ironically, their later round picks may end up getting more time on the field than their second rounder, David Amerson.
Amerson is a good player with great upside, but he will be coming in behind three solid corners in DeAngelo Hall, E.J. Biggers and Josh Wilson. Bacarri Rambo and Phillip Thomas will likely battle for one of the safety spots, but don't be surprised if they both are starters right away.
When it comes down to it, there is a lot to be hopeful for if you're the Redskins in terms of defense. The front seven is stocked with solid veterans, and the addition of Brandon Jenkins through the draft will improve the quality of their pass rush.
While veterans fill most of the positions throughout the defense, there are definitely some young guys who could push them for a starting spot.
Overall, Washington's defense could (and frankly should) see a big turnaround this year.
Begin Slideshow

»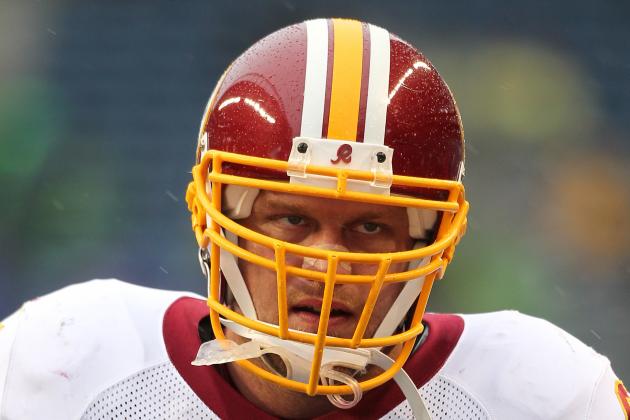 Otto Greule Jr/Getty Images
Adam Carriker's return will definitely be a boost to Washington's pass rush.
Starters: Carriker, Bowen
Backups: Jenkins, Golston
Adam Carriker and Stephen Bowen add up to be one of the better bookend defensive ends in the NFC. They were the starters last year, and that should remain the same going into 2013.
Jarvis Jenkins may be able to push Bowen for his spot if he has a good camp and preseason, but for now it is Bowen's job to lose.
Kedric Golston is a veteran guy who has never really been great, but he's been solid.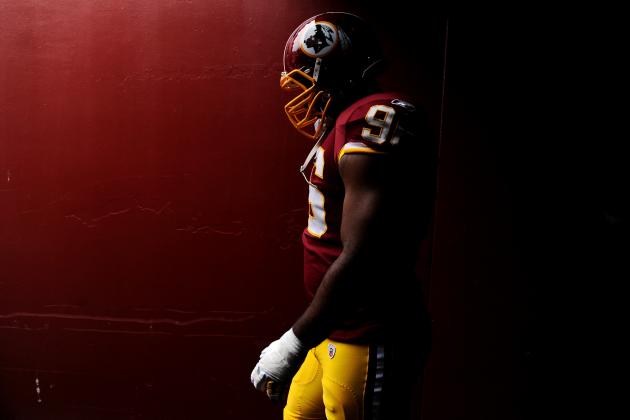 Patrick Smith/Getty Images
Barry Cofield's veteran presence is a treasured part of the Redskins' defense.
Starter: Cofield
Backups: Neild, Baker
For years, Barry Cofield was a talented constant in the middle of the Giants' defense, and now he is doing the same in Washington.
Ever since he was signed as a free agent a few years ago, Cofield has been a solid fixture in the middle of the Redskins' 3-4 defense. Although Chris Neild will see the field, there's a very low chance he will beat out Cofield as the starter.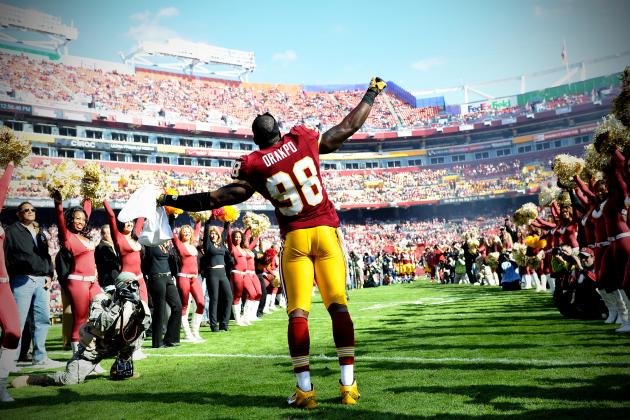 Patrick Smith/Getty Images
Brian Orakpo might be Washington's best defender.
Starters: Orakpo, Kerrigan
Backups: Jackson, Jenkins, Tapp
Brian Orakpo and Ryan Kerrigan are arguably the best pair of OLBs in the league. Both are pro bowlers, and both are all-pro caliber.
Given Orakpo's recent injury history, the Redskins made sure to find another guy in the draft that can be a viable bandage if Orakpo is to get hurt again. Enter Brandon Jenkins. The Florida State product could very well be the steal of this year's draft. His pass rush ability, along with his skills in the run game, will make him a valuable asset to Washington's pass rush.
Rob Jackson did play well in Orakpo's absence last year, but he's peaked as a player and is simply a career backup.
Darryl Tapp was a pretty good free agent signing for the 'Skins, but he won't be more than a rotational guy.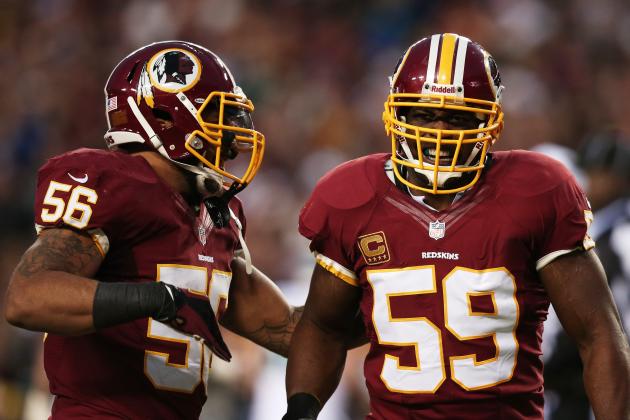 Win McNamee/Getty Images
Perry Riley and London Fletcher are a great pair.
Starters: Fletcher, Riley
Backups: Robinson, Kehl
Washington's Mike linebacker position is headed by one of the best in the NFL. London Fletcher is and always has been an emotional leader and tackling machine.
For the past couple of years, he has been grooming his potential replacement in Perry Riley, and the kid looks good. Riley has put up pretty good numbers in his time with the Redskins and is being molded into one of the more solid linebackers in the NFL.
Keenan Robinson is an interesting guy. Washington drafted him in hopes that he would be the heir to Fletcher's throne, but he hasn't shown much so far. He's been lost in coverage and had a few too many missed tackles for the Redskins to trust him that much—yet.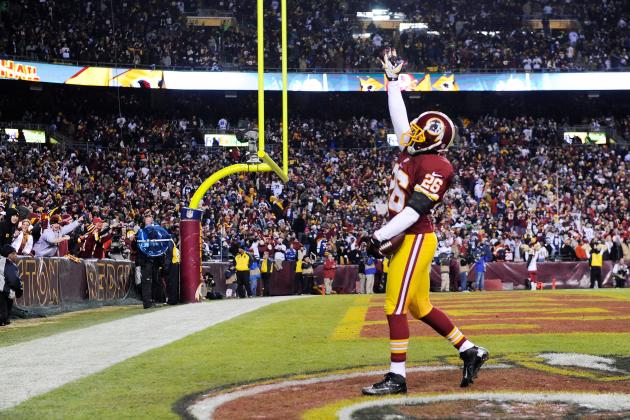 Patrick McDermott/Getty Images
Josh Wilson is originally from Maryland before playing for UMD, the Ravens and now home with the Redskins.
Starters: Wilson, Biggers
Backups: Hall, Amerson, Crawford, Minnifield
Washington's weakest link heading into the offseason has possibly become their greatest strength.
Last year, Josh Wilson was the best player in the Redskins' secondary. Although he was burned by polished route runners a few too many times, he is still the best Washington has to offer right now.
Rookie David Amerson is still getting acclimated. He may eventually replace Wilson, but not yet.
The signing of E.J. Biggers in free agency was a big move for the Redskins that is sure to pay off. Biggers was a great player in Tampa Bay and will provide consistent cornerback play across from Wilson.
With DeAngelo Hall manning the slot, Crawford and Minnifield will be the bottom two on the depth chart, but that could change as the season goes on.
Crawford showed flashes of starting ability last year, but still needs to mature and sharpen his play before he'll be an impact defender. Minnifield has yet to get going, but given what he showed when he did play last year, he'll have a chance to make an impact.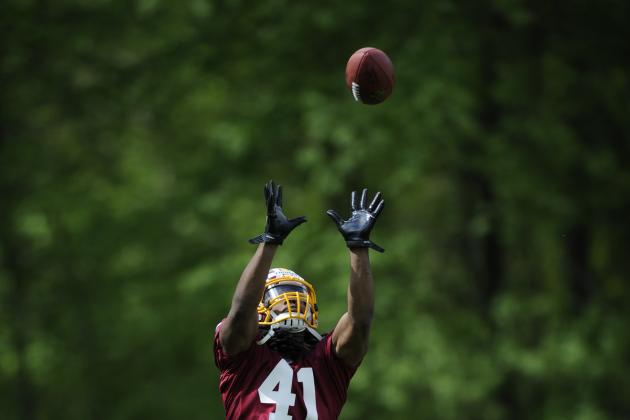 Nick Wass/Getty Images
Phillip Thomas should be the starter at SS in 2013.
Starter: Thomas
Backups: Meriweather, Gomes
The Redskins got great bang for their buck when they scored Phillip Thomas in the fourth round of last month's draft. Thomas is a sure-tackler and a beast with the ball. His natural skill set and ability to play in run support will be what leads him on his path to being a starter.
Although he was injured for most of last year, Brandon Meriweather played great in the two-and-a-half quarters he was on the field.
Now that he is healthy, he will definitely see playing time, but only as a backup. DeJon Gomes played well at times last year, but he's just not as good as Thomas and Meriweather.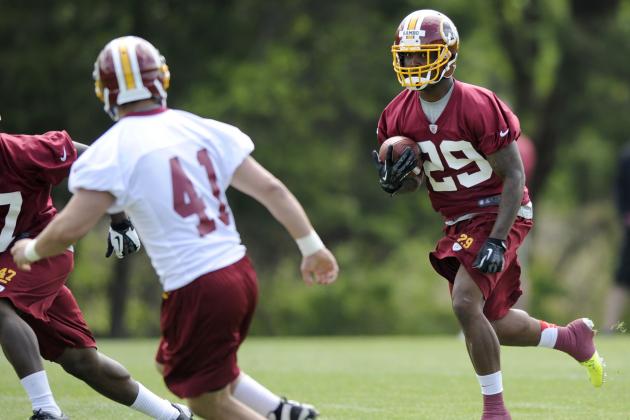 Nick Wass/Getty Images
Bacarri Rambo will be an awesome addition to Washington's defense.
Starter: Rambo
Backups: Doughty, Pugh
The day has come where Reed Doughty is no longer the starter. Word on the street is Bacarri Rambo can play.
Unsurprisingly, Rambo has been making waves in Redskins minicamp. If you look at his college tape, he is every bit as fearless and ferocious as the man he shares a name with.
Doughty was never the worst player on the team, but definitely wasn't top-tier. He's a nice veteran to keep around for young guys like Rambo and Thomas, but he has no starting quality to him.
Jordan Pugh is in the same boat; although he just hasn't seen much playing time at all.
Both Doughty and Pugh are pretty middle-of-the-pack players, but that's remedied now that Rambo is here.