After beating Miami in Game 1, the Chicago Bulls have been steamrolled by LeBron James and the Heat. Now facing an elimination game on the road Wednesday night, the Bulls must find a way to stop the bleeding, or their season will be finished.
Game 5 will be tough to win, as the crowd at the AmericanAirlines Arena will be rocking.
That said, Chicago's Game 1 victory proves the team has what it takes to keep the series going for at least one more game.
Here are the biggest keys for the Bulls as they attempt to stave off elimination on Wednesday.
Find a Way To Keep Nate Robinson Fresh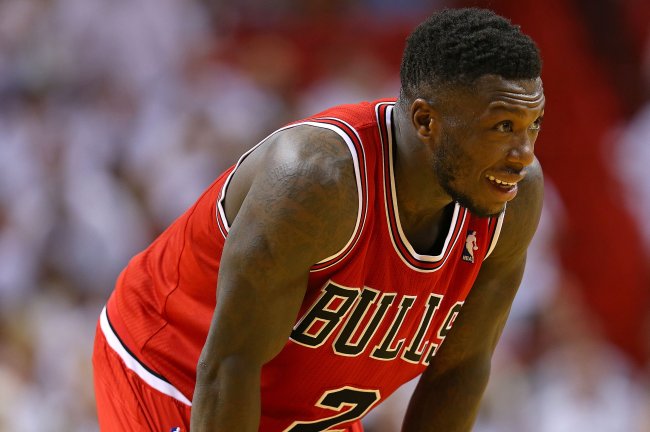 Mike Ehrmann/Getty Images
Robinson has fizzled badly after a brilliant performance in Game 1 when he scored 27 points and dropped nine dimes.
He was unable to make a single field-goal attempt in Game 4, and ESPN Stats & Info posted a chart of all his missed shots:
Nate Robinson has missed his first 12 shots tonight... Here's a look-- twitter.com/ESPNStatsInfo/…

— ESPN Stats & Info (@ESPNStatsInfo) May 14, 2013
Many of these shots were ones Robinson would have normally made, but he was simply exhausted. During the contest, Sam Smith of Bulls.com said he'd never seen Robinson as haggard as he was:
First time ever seen Nate Robinson look tired, hanging over scorers' table to rest. Part must be carrying extra weight from fat lip

— Sam Smith (@SamSmithHoops) May 14, 2013
With Derrick Rose's continued absence and the team dealing with so many other injuries, Robinson has become the heart and soul of the Bulls. He's poured himself out on the court, but he can only do so much.
Marquis Teague hasn't been hitting his shots, and he's not hardly as effective at running the team's offense as Robinson, but he's the only other real point guard on Chicago's roster right now (besides Rose, of course).
Head coach Tom Thibodeau must find a way to keep Robinson fresh for the second half of the game, or Chicago will lose.
Interior Defense and Rebounding are Critical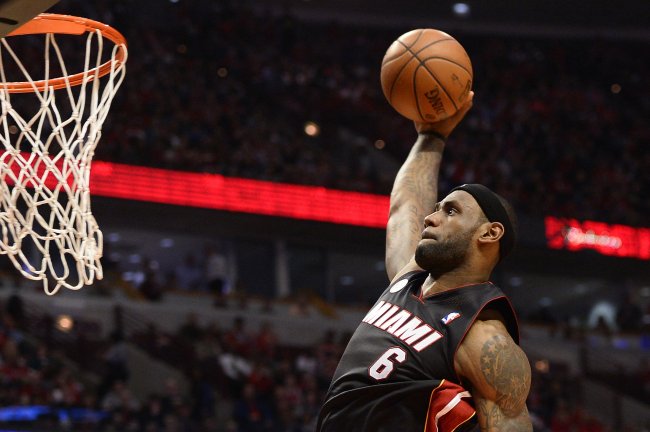 Mike DiNovo-USA TODAY Sports
File this under the "duh" category.
Chicago can't win unless Carlos Boozer, Joakim Noah, Nazr Mohammed and Taj Gibson dominate the paint.
According to ESPN Stats & Info, Miami was able to score 18 field goals in the paint in Game 4...out of 25 attempts:
Heat finished with 18 field goal inside the paint (18-25)...the Bulls finished with 19 total baskets

— ESPN Stats & Info (@ESPNStatsInfo) May 14, 2013
Furthermore, Miami dominated the fast-break action, per ESPN Stats & Info:
Heathave outscored the Bulls 15-0 on the fastbreak tonight

— ESPN Stats & Info (@ESPNStatsInfo) May 14, 2013
Everyone knows stopping James in the paint is a task that's easier said than done, but the Bulls are doomed to failure without a brilliant defensive effort from the big men inside.
Stop Worrying About Fouls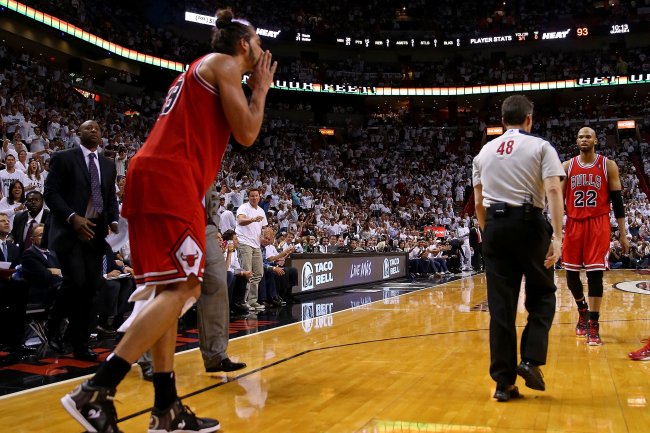 Mike Ehrmann/Getty Images
This is a physical series, and everybody knows it.
According to ESPN Stats & Info, the nine technical fouls in Game 2 counted as the most in any playoff game since 1995:
The 9 combined player technical fouls called in tonight's Bulls-Heat game are the most in a playoff game since May 7, 1995 (Pacers-Knicks).

— ESPN Stats & Info (@ESPNStatsInfo) May 9, 2013
The entire series has been marked by high foul totals and a seemingly never-ending supply of complaints.
The thing is, Miami is getting the better end of the bargain right now.
Have the refs called a fair series, or have they been biased?
Chicago has been getting too concerned with getting the referees to notice fouls, and as a result, the Heat have been able to capitalize on the scoreboard.
The only way the Bulls will win Game 5 is if the players come into the game with clear heads. They must quit worrying about whether or not the refs call fouls and start focusing on executing on both sides of the ball.
Not only has all the crying gotten irritating, it's hurting this team, which already can't afford any mistakes against Miami—a team with more talent and depth.
Follow me on Twitter @JesseReed78