Memphis Grizzlies vs. OKC Thunder: Game 5 Preview, Schedule and Predictions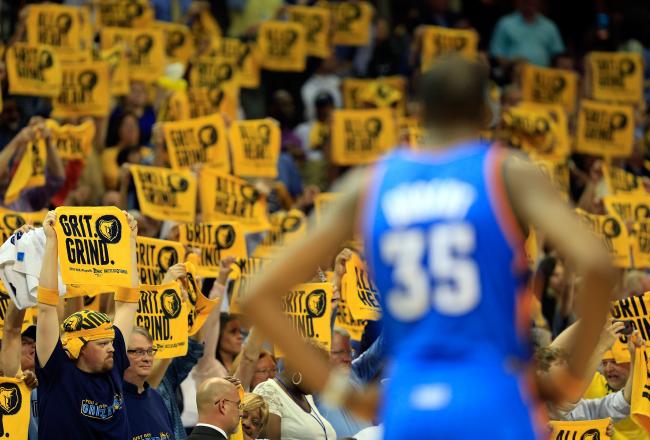 Jamie Squire/Getty Images
After making it to the NBA Finals a year ago, the Oklahoma City Thunder are on the brink of elimination with just one win in the first four games of the second round against the Memphis Grizzlies.
Without Russell Westbrook, Oklahoma City has relied on Kevin Durant to take control of the game with the clock winding down in every matchup so far, and he's done a decent job.
Already he's knocked down a shot to win Game 1 and another to send Game 4 into overtime. The only problem is that the Thunder have needed those big shots in every game so far.
Each game has been within a single possession in the final 90 seconds of the fourth quarter, and the Grizzlies have been able to get the better of the Thunder, outscoring them by a combined 23-12 in the final minute and a half of fourth quarters and overtimes in the first four games of the series.
Oklahoma City is going to have to find a way to either come into the final minutes of the game with a bigger lead or score with more efficiency in the waning minutes.
Time: Wednesday, May 15, 9:30 p.m. ET
Where: Chesapeake Energy Arena, Oklahoma City
Series Record: Memphis 3, Oklahoma City 1
TV: TNT
Projected Starting Lineups
Memphis Grizzlies: Mike Conley (PG), Tony Allen (SG), Tayshaun Prince (SF), Zach Randolph (PF), Marc Gasol(C)
Oklahoma City Thunder: Reggie Jackson (PG), Thabo Sefolosha (SG), Kevin Durant (SF), Serge Ibaka (PF), Kendrick Perkins (C)
Key Storyline: Kevin Durant's Help
Serge Ibaka finally put together a solid offensive performance in Game 4 after tossing in only 9.6 points per game in the first three matchups of this series.
The only problem was that 13 of his 17 points came in the first half. He had only four points in the second half as he made one of his three shot attempts.
For a guy who was expected to step up and gather some of the scoring load that Westbrook left behind, attempting three shots in the second half is absolutely unacceptable.
Game 4 was perhaps the best so far in terms of production from players not named Durant. Ibaka, Reggie Jackson, Nick Collison and Kevin Martin all scored in double figures.
Not only that, their 34-of-79 shooting was their best of the series (43 percent), and 9-of-20 behind the three-point line was by far their best long-range shooting game of the series. Going further, their 11-point advantage in the first quarter was the most they've outscored Memphis by since the fourth quarter in Game 1.
In all, the total team effort was great, Oklahoma City just turned the ball over too many times and allowed Memphis to nab too many offensive rebounds.
The Grizzlies Will Win If...
They have another dominant defensive performance.
Once again, Memphis' defense was the story of Game 4.
It held the Thunder to another low shooting percentage, kept pace on the glass and forced an impressive 15 turnovers.
While Oklahoma City was able to force the pace to an extent, the second half was all back to Memphis' slow, grinding style of basketball.
The two teams split the advantage, the Thunder dominating the first half while Memphis took over in the second half, which explains the tie at the end of the fourth quarter.
It's really been the story of the playoffs: Memphis' grit-and-grind basketball up against Oklahoma City's attempt to speed it up. The Grizzlies have been better at forcing their style.
Should Memphis turn it into another low-scoring affair, force Oklahoma City into a game where every possession extremely important and slam the breaks on the pace, it will be able to walk away with a series win in five games.
The Thunder Will Win If...
Another player steps up.
It's really as simple as that. Oklahoma City is only as good as the second-best player in line after Durant.
Its only win of the series came as Kevin Martin scored 25 points alongside Durant's 35 in Game 1. None of Durant's teammates have broken the 20-point barrier since that first game.
Ibaka was on his way to scoring 20 points in Game 4, but the game turned physical yet again and he disappeared.
Oklahoma City will be back in the friendly confines of its home court, giving it a slight edge.
It could be that all the Thunder need is a kind crowd in order to get back in the right mindset, but they're going to have to stay themselves and force their pace throughout the entire game; otherwise, it could be an unexpected early exit.
Prediction
Kevin Durant is now in a situation where he's got to prove that he can drag a team to the Western Conference Finals with as little help as possible. It's something that he is capable of, but he has never been without Westbrook since playing his first year with the Seattle Supersonics.
That's what Game 5 is going to be: a test for Durant to prove that he can be the center of a one-man show.
That, combined with home-court advantage and the rest of Oklahoma City finally showing that it can at least give Durant a smattering of help throughout the game, should be enough to lift it in Game 5.
The odds are stacked against them, but the Thunder should extend this series to a sixth game.
Oklahoma City Thunder 96, Memphis Grizzlies 92
This article is
What is the duplicate article?
Why is this article offensive?
Where is this article plagiarized from?
Why is this article poorly edited?