10 Things We Learned About the Yankees Through the First Quarter of the Season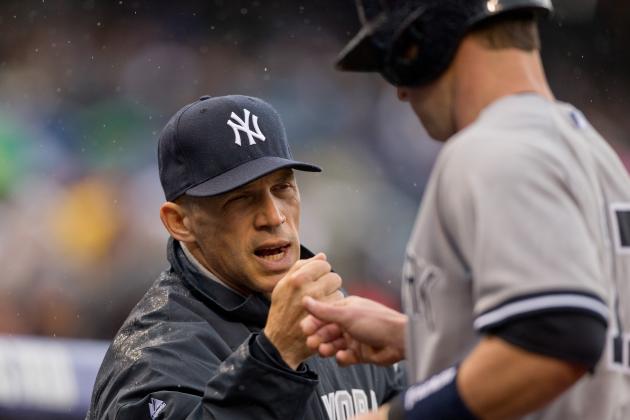 Justin Edmonds/Getty Images
Joe Girardi has been pushing the right buttons so far this season
The New York Yankees have surprised everyone with their ability to sit atop the AL East division in spite of significant injuries. As of this article, the club is tied with the Texas Rangers for the best record in the American League, and has yet to have contributions from Derek Jeter, Mark Teixeira, Alex Rodriguez or Curtis Granderson.
Somehow they are finding a way to win.
Here is a look at the ten things we've learned about the "Bombers" through the first quarter of the 2013 season.
Begin Slideshow

»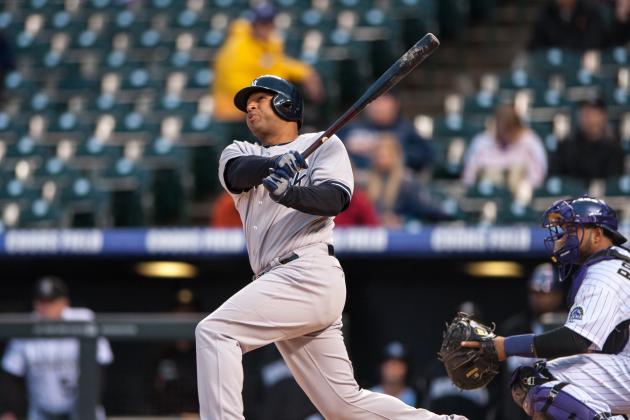 Dustin Bradford/Getty Images
Vernon Wells has arguably been the Yankees MVP through the first quarter of the season
He is hitting .299 and is second on the team in HR (9), RBI (22), Runs (20) and Slugging percentage (.526). What Vernon Wells has meant to the New York Yankees batting order is the difference between sitting in first place and languishing near the bottom of the pack.
With RISP, a category the team struggled in last season, Wells is tied for the team lead in RBI (14) and is hitting a respectable .250.
In the field he has yet to make an error, and on the base paths he is four for five in stolen bases.
Not bad for someone that had struggled with the Angels and came to the Yankees relatively cheap.
Whether or not he can continue at his current pace is yet to be seen, but so far Vernon Wells has shown that rumors of his demise have been greatly exaggerated.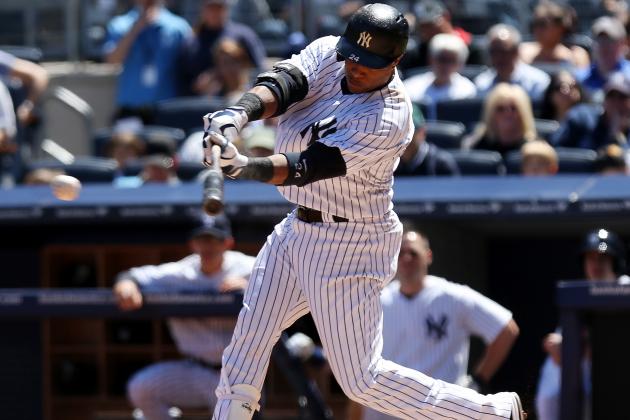 Nick Laham/Getty Images
Cano has lived up to expectations
Robinson Cano leads the New York Yankees in virtually every major hitting category, and it should come as a surprise to no one.
After leading the Dominican Republic to the championship and winning the MVP award of the World Baseball Classic, Cano had expectations of a big season to live up to.
Through the first quarter of the season, Cano leads the team in RBI (23), Runs (22), HR (10), Slugging percentage (.554) and OPS (.895). He is tied for the team lead in average, hitting .299.
One would be hard-pressed to find a better player manning the middle of the field. To date he has just one error in 168 chances, and no second baseman has a better arm.
It looks as though the 30-year-old is making the move into the elite class of players in Major League Baseball.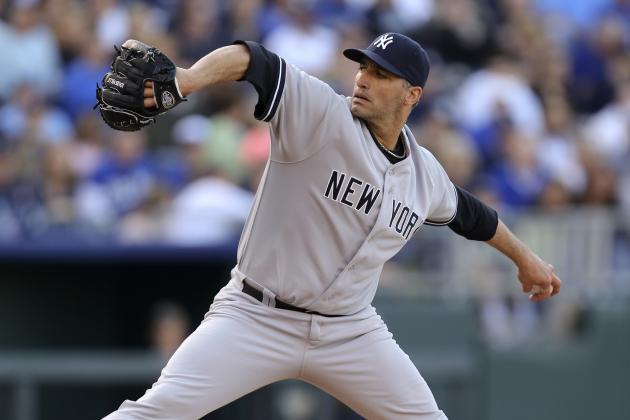 Ed Zurga/Getty Images
Andy Pettitte seems ageless
Hiroki Kuroda and Andy Pettitte are a combined 78-years-old.
They are also a combined 9-4, with a 3.07 ERA and 1.17 WHIP in 2013.
Kuroda has been particularly lethal this season, holding opposing batters to a .217 average, and both have nearly identical strikeout to walk ratios (Pettitte has 34 K and 12 BB while Kuroda has 34 K and 13 BB).
On the road, the two are 5-2 with a 2.63 ERA.
Where the Yankees would be without them is anyone's guess, but they certainly wouldn't be leading the American League in wins.
In Kuroda and Pettitte, the Yankees have valuable stability and leadership that could help the starting rotation carry the team into the post season.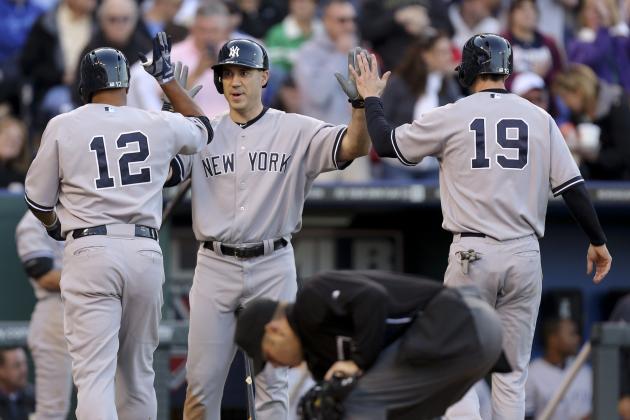 Ed Zurga/Getty Images
In spite of injuries to their sluggers, the Yankees continue to hit with power
This was supposed to be a "small ball" team.
With sluggers Curtis Granderson, Mark Teixeira, Alex Rodriguez and Kevin Youkilis on the sidelines the Yankees were expected to generate their runs in a station-to-station manner.
Instead, the team is fourth in the AL in HR (47) and sixth in slugging percentage (.417).
Taking over for their injured power hitters, Vernon Wells and Robinson Cano have combined to hit 19 HR and drive in 45 RBI.
Travis Hafner and Lyle Overbay have also thrown their hats into the "power" ring by hitting 12 HR and knocking in 40 for the "Bombers".
Should the team be able to keep this up until Granderson and Teixeira return, the Yankees will be able to once again play into October.
Dustin Bradford/Getty Images
Reliever Preston Claiborne is just one of a number of Minor League players who have contributed
For those wondering if the pitching in the Yankees farm system is depleted, one only needs to look at the contributions of call-ups during the first quarter season to feel confident in its strength.
When Joba Chamberlain was placed on the DL with a strained oblique, the Yankees called up Preston Claiborne from Scranton/Wilkes-Barre.
The 25-year-old has impressed the club, as he has not given up a run or walk in four appearances. To date his WHIP is a microscopic 0.852.
25-year-old right handed pitcher Adam Warren opened the season with the club and has not disappointed. In over 18 innings pitched while appearing in seven games, the reliever holds a 1.45 ERA and 1.07 WHIP.
In three May appearances, Warren has yet to allow a run and has yielded just four hits in eight-and-two-thirds innings.
Yesterday, after being called up to the big league club to pitch the back end of a double header, 25-year-old Vidal Nuno threw eight shutout innings against the Cleveland Indians. He gave up just seven hits and three walks on his way to an important win for New York.
While other veteran pitchers have either been hurt (Chamberlain) or struggled (Boone Logan), the youngsters called up from the minor league system have more than shouldered the load, leading the Yankees to the top of the AL East.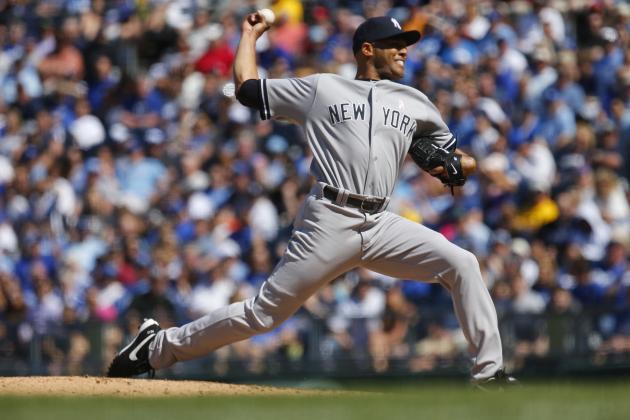 Kyle Rivas/Getty Images
Rivera is having perhaps his best season
When Mariano Rivera suffered his catastrophic leg injury last season, many wondered if, at the ripe old age of 43, he would ever return with the same dominance he had displayed for 17 seasons.
Wonder no more.
In his final season, Rivera is leading the league in saves and holds a 1.65 ERA while appearing in 17 games. He has struck out 12 and walked just two batters in over 16 innings pitched. His WHIP is 0.980—the sixth straight season under one.
To put it bluntly, the ageless Rivera is going out at the top of his game.
There will never be another Mariano Rivera and Yankees fans should cherish this final hurrah, as it very well could be his finest year.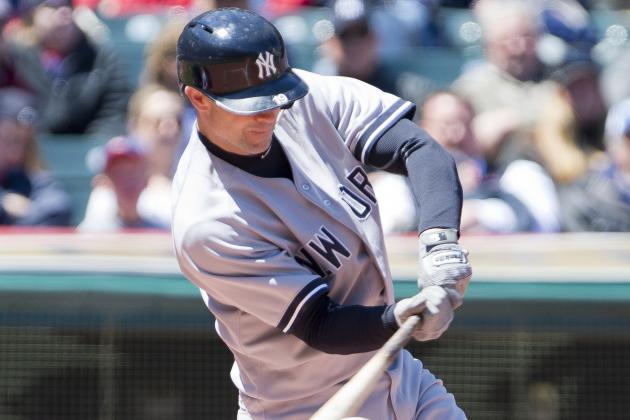 Jason Miller/Getty Images
Stewart has shown that he's more than a one-trick pony.
Chris Stewart has a reputation for being an above-average catcher with below-average ability at the plate. Coming into 2013, the perennial backup held a .218 career batting average and had never been a full-time starter.
With the departure of Russell Martin, and injuries to Francisco Cervelli and youngster Austin Romine, all that has changed.
So have the results.
To date, the 31-year-old veteran has career highs in average (.258), slugging percentage (.355) and OPS (.649). He is just one HR away from tying his career high (3), and behind the plate he is throwing out 46 percent of runners attempting to steal.
Given the chance to prove he can be a more than capable starting catcher, Chris Stewart is making the most of his opportunity.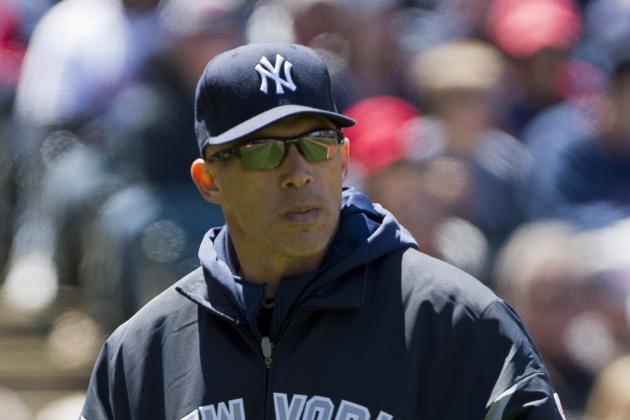 Jason Miller/Getty Images
This may be Joe Girardi's best managing effort
Joe Girardi has always been known as a "by the book" type of manager.
He has constantly looked at statistical match-ups as the determining factor in how he manages in certain situations.
With the injuries to starters and their backups, Girardi has had to throw the book out the window. As a result, 2013 could very well be his finest as a manager.
In having to use players like Jason Nix, Lyle Overbay, Chris Stewart and Eduardo Nunez as full-time starters, the Yankees skipper has led the team to 24 wins—tied for most in the American League.
He has shifted players around in the order and used them at multiple spots in the field with success. In a close 3-2 win over the Rockies on May 8th, Girardi even used Vernon Wells at third base, where the outfielder cleanly fielded a ground ball in the inning he played there.
Until the return of the usual starting players, Joe Girardi will have to keep his binder of statistical match-ups in storage.
This season is proving that it should perhaps remain there.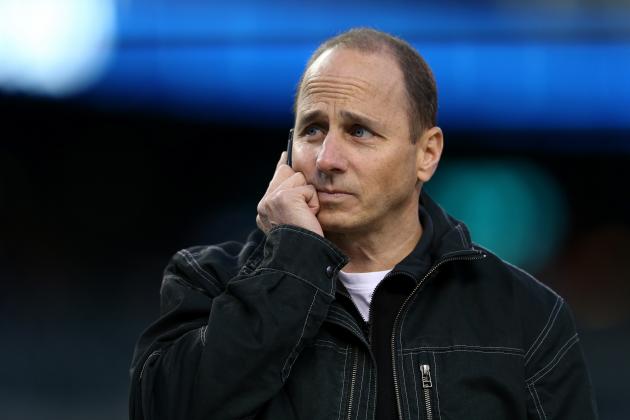 Leon Halip/Getty Images
Cashman has shown just how good he is.
Given the prospect of a self-imposed salary cap in 2014, Brian Cashman used the off-season to make "subtle" moves in building this year's version of the New York Yankees.
Rather than making an offer to the likes of Josh Hamilton, or trading top prospects for R.A. Dickey, Jose Reyes and Emilio Bonifacio, the Yankees General Manager chose to re-sign Ichiro Suzuki and Hiroki Kuroda. He signed Lyle Overbay and Kevin Youkilis as a free-agents, and traded two minor leaguers for Vernon Wells.
Those players are now all key components to Yankees while their primary sluggers sit on the disabled list.
Cashman is often chastised for his moves that fail, but 2013 is showing that the GM clearly knows what is best for the franchise.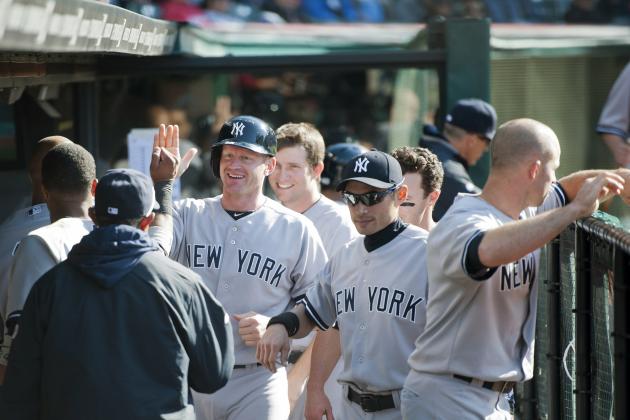 Jason Miller/Getty Images
The Yankees will celebrate more often than not in 2013
It is a patchwork roster whose only hope was to somehow keep its head above water until the stars could return.
Vernon Wells, Chris Stewart and Jayson Nix were supposed to be back-ups.
David Phelps was supposed to be a long reliever.
Joba Chamberlain was supposed to be the seventh inning guy.
Yet, the three supposed back-ups are full-time starters, Phelps is a starter who just threw six-and-two-thirds innings of four hit ball in a 1-0 loss to the Indians and Joba is on the DL.
Given all of that, one would expect to open the paper and see the team wallowing near the bottom of the American League.
Despite the injuries and setbacks to rehab projects, the team has fought its way to the top of its division and the American League.
Imagine what they will do when their injured return.
While where they stand today by no means indicates they will be champions at the end of 2013, but what it does show is that the Yankees will contend for the entire season.
With what the Yankees have accomplished up to this point, nothing that happens for the remainder of the season should surprise you.