What a difference two games make.
In Game 1 of their series with the Miami Heat, the Chicago Bulls played out of their minds.
They won the loose-ball battles, they had the rebounding edge and they closed out the game on a 10-0 run.
In the two games since, they have been outscored 219-172.
So what happened, and what adjustments must the Bulls make against the Heat?
Rebounding is the key
The Heat may have the best player on the planet, but the Bulls have a decided advantage up front.
They have bigs that have been traditionally great rebounders in Joakim Noah and Carlos Boozer. Additionally, Taj Gibson comes off the bench to bring added athleticism and size to the equation.
However, in the last two games of this series, the Bulls have been outrebounded by 15.
So what is the story here? Did the Heat just suddenly become a better rebounding club, or is it an effort thing?
Rebounding is an art, but it also is something that players need to focus on. Teams rebound as a unit, with everyone playing his part.
This means on the offensive end that the guards are taking smart shots and not automatically giving up on their own shots.
Sure, this is a scary proposition with the Heat fast break, but this needs to happen nonetheless.
Down low, the bigs need to re-establish their toughness and size edge. There is no reason on Earth why Noah should be getting pushed around by Chris Bosh.
But Boozer is probably the biggest culprit of the Bulls' regression on the glass. Boozer really hasn't gotten his rebounding down in this entire series. He grabbed seven in Game 1, but only has eight rebounds since.
Jonathan Daniel/Getty Images
For a guy who is making elite big man money, he needs to show up down low.
This really shouldn't be a problem for Boozer. He has a long career of getting tough boards. Sure, longer players can give him fits, but he also has the ability to use his strong lower body to muscle out rebounds.
For Boozer, this really turns into an issue of effort.
Smarter, not more shots
Let's be honest—on paper these Bulls shouldn't have a chance against the defending NBA champs.
They are missing two of their best players in Luol Deng and Derrick Rose and one of their best role players in Kirk Hinrich.
Not to mention they have gotten the short end of the stick in the officiating department.
But that isn't an excuse to suddenly forget how to take quality shots.
In their Game 1 win, the Bulls knocked down nearly 44 percent of their shots from the field, plus nearly 39 percent of their triple tries.
In their Game 2 debacle, those numbers fell off a cliff.
However, in their Game 3 loss, they had finally started to make a higher percentage of their shots from close.
This is a spot where the Bulls can take advantage of the Heat. Given their size advantage and the fact that they have big men who are skilled offensively, they should be pounding the paint.
Boozer needs to have the offense run through him constantly, and when the Heat switch a longer defender on him, the Bulls need to run penetration in order to get easy buckets for Noah.
The Bulls can get to the hoop on the Heat's porous point guards, and LeBron James can't guard everyone on the court at once.
The Bulls need to play a more controlled offensive game. When you have the interior advantage, it makes no sense at all to get into a full-court game.
Pound the post and the rest will open up for the Bulls.
Limit the fouls
In the Bulls' two losses, they have a combined 57 fouls.
There are two reasons why this has happened. One, the Bulls were trying to establish their toughness, which led to a chippy game.
But two, the officials were calling a tight game and the Bulls never adjusted. This led to increased emotions and an outright bloodbath in the second game of the series.
The Bulls don't need to play emotionless basketball. They wouldn't have gotten this far playing that way. This is an emotional group that needs to harness those feelings and that energy.
But they have to play smarter, especially on the defensive end. You can have a hard foul or two, but you can't let it get personal.
There are countless examples from the distant and recent past of teams that could play physical yet under control.
Sure, back in the day, the Bad Boy Detroit Pistons were known as a group of thugs to much of the league, but they won two titles by playing strategically tough basketball.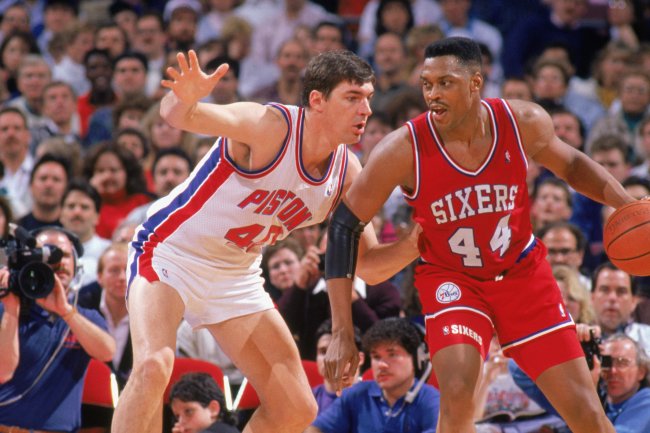 Getty Images/Getty Images
And, of course, the league rules have changed since then, but the Boston Celtics were able to win in today's game by playing tough basketball as well.
The key is asserting your toughness early and then playing smart the rest of the game.
A team with such a decided advantage down low doesn't have to prove they are tougher by committing pointless fouls every other possession. You send a message early and then play within yourselves after.
If the Bulls can limit their fouls in Game 4, they should be able to make it a game.
Outlook
Okay, I'm not crazy. I know that presently constituted, the Bulls stand little chance of beating the Heat.
They are just too banged up and emotionally fractured to beat the champs.
But I also know that the Heat aren't a perfect basketball team. As such, they have weaknesses. The Bulls are a team that are built to exploit those weaknesses.
The key will be playing smarter basketball and taking advantage of their size.
Without Deng, Hinrich and Rose, this still stands to be a monumental challenge, but there have certainly been bigger upsets in the history of the league, and the Bulls have already shown that they can beat this team, short-handed or not.