Bobby Roode and Austin Aries: What 2013 May Hold for the Team of World Champions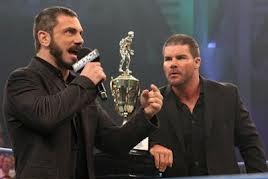 Courtesy of TNA
In the world of IMPACT Wrestling and in the wrestling world at large, there are hardly two men as entertaining and ambitious as Bobby Roode and Austin Aries.
For some time now, they have been a tag team. Yet, they haven't even given themselves a tag team name. In fact, when they were the tag team champions they went so far as to say they were actually a team of world champions.
As in, two separate, individual champions.
Without anyone pushing their buttons, the ambition of the longest reigning TNA Champion in the history of the company (Bobby Roode) and the man who took that title from him (Austin Aries) have, at times, almost led to a rivalry between the partners.
Whether it is the competition between the team or listening to their fans, you know there are differing opinions about who is the better man.
I, a Bobby Roode fan, have gone so far as to call the IT Factor Batman to Austin Aries' Boy Wonder. You can imagine how that sits with fans of Aries.
Even this past week, James Storm reminded the world that it was Austin Aries who took the title away from Bobby Roode.
With their tag team success in jeopardy and a looming post-Slammiversary world which includes the Bound for Glory Series, what might the future look like for this team of world champions?
Begin Slideshow

»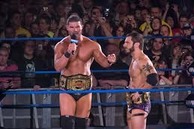 Courtesy of TNA
Did you see, a few weeks ago, the IMPACT video that featured TNA stars talking about the anarchy that has been caused by Aces and Eights?
Did you happen to see who was in that video?
If you guessed the IT Factor, Batman Bobby Roode, you guessed right.
I can only imagine that there will come a time when Bobby Roode will have to stand up and defend TNA. Not because he is the nicest guy, but because an attack on TNA is an attack on a man who has been in the company since nearly the beginning.
It is an attack on the man who is the longest reigning TNA Champion in the history of the company.
Moreover, it is currently Austin Aries who seems to be taking advantage of Bobby Roode. Week in and week out Austin Aries seems to be smarter, shrewder and more able to get one over on Bobby Roode.
Last week, though in jest, Bobby Roode was able to admit jealousy in his turning on James Storm back in 2011.
Could we, down the road, for the good of TNA, see a one night only return of Beer Money? Perhaps to challenge Team 3D?
Will Bobby Roode eventually take up the mantle and join the cause? If not, chaos may not be all that Aces and Eights delivers.
They may deliver a new "longest reigning champion" in TNA, Bully Ray.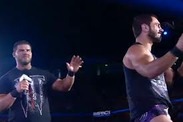 Courtesy of TNA
One thing I know: there are a lot of Austin Aries supporters among us.
It's the problem for guys like Bobby Roode and Austin Aries, who are better as heels, in a world dominated by Aces and Eights.
Somebody has to be the good guy.
In the days of the nWo, even the Four Horsemen had to take a softer, nicer approach.
I mentioned that it has been Austin Aries who has gotten over on Bobby Roode much of the time. He seems smarter and more alert.
But how much is Bobby Roode holding in?
The quiet one is sometimes the dangerous one. Could it possibly happen that Bobby Roode explodes and turns on Austin Aries?
Austin Aries hasn't been with TNA since the beginning, but he has run the table on championships. The man has a drive to be the best and to be known as the best. For Aces and Eights to walk all over the TNA company, they will inevitably have to face Austin Aries, too.
I see an Aries turn as less likely, but stranger things have happened.
Perhaps the two men will still be together when the Bound for Glory Series begins.
That would be the most interesting scenario of all.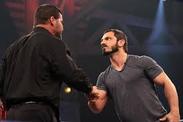 courtesy of TNA
I had a possible scenario between Austin Aries and Robert Roode that was ruined by two evolving facts: the X-Division Title now has a weight limit and the pay-per-view where the X-Division Champion has the right to forfeit the title and challenge for the TNA Championship no longer exists.
I don't yet know if they will keep the rule that once a year the X-Division Champion can drop his title and make the grab for higher gold. If they do and if the weight limit hadn't been added to the division, I could have seen a scenario where Austin Aries (upon the soon-coming date where the X-Division Champion can drop the belt) suddenly decides he wants to be the X-Division Champion again.
Bobby Roode and the rest of the world would know exactly what his true motives are, but Austin Aries would never admit it.
If the weight limit didn't exist, I'd have Bobby Roode come back the next week with a "sudden urge" to know what it's like to be X-Division Champion.
This would lead to a 3-Way matchup where Austin Aries and Bobby Roode cost each other the shot at glory.
We probably won't see that.
But.
What if these two men are still putting on that they are tag partners come the Bound for Glory Series? Can you imagine the insincerity that will come out of their mouths? They will no doubt wish each other the best. They may even say, "If I can't win, I hope you do."
When the truth will be they'd rather see anybody win but each other.
This could easily escalate throughout the tournament, until the two men who want it all cost each other everything.
If this were to happen, we may already know which match could steal the show at Bound for Glory this year.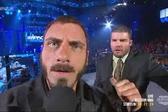 Courtesy of TNA
You can't blame guys who are good for wanting to be great. But what about guys who are already great?
You can't blame them for wanting to be the greatest.
When Bobby Roode was going to face James Storm for the world title in 2011, he suggested they go out there and steal the show.
That's what great athletes do, even when the title is not on the line.
Right now it's not Bobby Roode's time. Neither is it Aries'.
This is the era of Aces and Eights. It is the rise of Matt Morgan and the return of AJ Styles.
But TNA is a company that appreciates history and continues to let characters be themselves and develop at all times.
They allow Bobby Roode to be Bobby Roode and Austin Aries to be Austin Aries.
And that means, sooner or later, be it at the Bound for Glory Series or be it at the biggest PPV of the year, Bound for Glory, we will have to know if the match between Austin Aries and Bobby Roode was, indeed, a fluke.
Last year, when Bobby Roode was dismissed from the world title scene before Bound for Glory, he made up for it by capitalizing on the history that was between himself and the Cowboy.
This year he may do the same with Austin Aries.
And even if you are on Team Aries and believe that his win was the appropriate one or if you are on Team Roode and agree that he is Batman, either way, if we see a match between them, we will all be winners.
TNA could teach lessons, with how they've handled Roode and Aries, on how to continue to develop top stars even when there is no room at the top.
These two men will keep climbing.
They will keep putting on classics.
They will keep being as intriguing as any two guys in the company.
And, ultimately, somewhere in 2013, their paths will cross.
And history will be made between a former team of (still) World Champions.