Report Card for Montreal Canadiens' 1st-Round Playoff Defeat Against Ottawa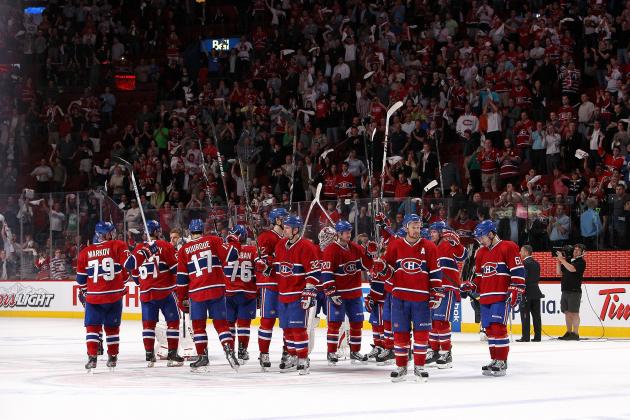 Francois Laplante/FreestylePhoto/Getty Images
The Montreal Canadiens salute the Bell Centre crowd after losing against the Ottawa Senators.
The Montreal Canadiens' first-round series against the Ottawa Senators ended not in disappointment, but disaster. That the series-clinching 6-1 defeat wasn't the first Habs loss by that same score is unfortunately representative of their overall effort through the five-game series.
There's little denying the Game 4 loss, in which the team gave up a two-goal third-period lead, was the turning point in the series. Had the Habs not given up the game-tying goal in the dying seconds and won, the series would have been tied 2-2 heading back to Montreal.
However, backup Peter Budaj, stepping in cold for a struggling and injured Carey Price, let in a floater in overtime to negate what, up until the midway point of the third period, had been the Habs' best game of the series.
Credit is no doubt due to the "Pesky Sens" for their resolve. However, they didn't so much win the series as the Habs did lose it. With that, here are letter grades for the Habs' special teams, offense, defense and goaltending over the course of the embarrassing defeat.
Begin Slideshow

»
Montreal's special teams were far from special and actually worse than mediocre in the series.
Gone was Montreal's deadly 20.7 percent power play from during the regular season. Instead the Habs were a woeful 15.8 percent.
Perhaps there is no better example of Montreal's futility on the power play than the five-minute man advantage the team had in Game 1 following Eric Gryba's hit on Lars Eller, which landed the latter in the hospital.
Montreal was able to score quickly and take a 2-1 lead in the game, but they still let a golden opportunity slip away to do more damage and put it out of reach. One goal scored just isn't good enough and didn't make the Senators regret injuring one of the Habs' most dynamic players on offense.
It's even worse when one considers the full two-minute five-on-three they enjoyed on the same power play when Jean-Gabriel Pageau tripped up P.K. Subban entering the offensive zone. Unfortunately, the hit and the subsequent failed power-play opportunity set the tone for the series.
Additionally, Kyle Turris' shorthanded 3-1 goal in Game 5 broke Montreal's collective back, and opened the door to three straight power-play goals in the third period.
As a result, Montreal's penalty kill was technically even worse, clicking at just 76 percent. However, one must take into account the fact that the goals given up were hardly critical ones.
Aside from the score-opening goal by Daniel Alfredsson in Game 3, all the goals given up by the penalty kill were only scored once games were already out of reach: the 5-1 and 6-1 goals in Game 3 as well as the aforementioned three in the third period of Game 5.
So the Habs can find some solace in the fact that their penalty kill didn't lose them any games, but its ineptitude was definitely symptomatic of the team's overall effort in the series. The penalty kill just stopped working once the Habs did.
Grade: C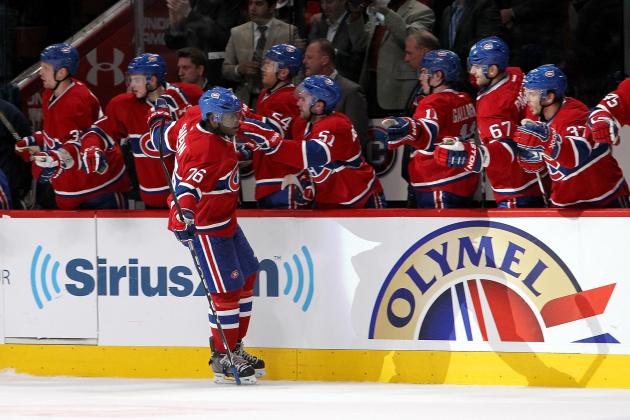 Francois Laplante/FreestylePhoto/Getty Images
Montreal Canadien P.K. Subban celebrates a goal against the Ottawa Senators.
During the playoffs, there's little denying Montreal's offense showed flashes of the greatness that enabled the team to score over three goals per game during the season. However, against Ottawa, they were still unable to average even two (nine goals in five games).
Montreal's offense actually peaked in Game 1 when they launched 50 shots at Ottawa goalie Craig Anderson, including a team playoff-record 27 in the second period. The Habs scored two goals in that period, giving Anderson a save percentage of .926 in that period, meaning even when Anderson struggled, he was great.
What is perhaps the most indicative of the Habs' offensive struggles is the fact that they were only able to score goals in bunches. In that first game, those two goals in a span of less than one minute were the only ones they scored.
In fact, the Habs weren't able to score goals in more than a single period in any one game: In Game 2, they scored all three of their goals in the second. In Game 3, they scored their one goal in the first. In Game 4, they scored their two goals in the second.
In Game 5, down 2-0, they scored the one goal they would get in the first, giving fans a false sense of hope that they would be able to make a series of it. In the end, they weren't even able to make a game of it.
Grade: D
Relatively speaking, Montreal's defense wasn't horrible. The Habs allowed 30.8 shots per game in their series, which is admittedly bad considering they allowed just 26.9 during the regular season. However, they were actually the sixth-best team in the playoffs in that particular statistical category.
It just wasn't good enough.
Odd-man rushes aplenty and generally poor defensive coverage led to an average of four goals allowed per game, which was the second-worst mark in the entire league. Whereas the New York Islanders allowed 4.17 goals per game, though, they were facing the Pittsburgh Penguins.
Needless to say, the Ottawa Senators, even if they have a good chance at beating Pittsburgh in the next round, are not the Pens. The four goals per game were nearly double their regular-season output of 2.33, and there is little excuse for giving up that many goals to a team that made a bad habit of mistaking the mesh in goaltenders' gloves for the net.
Additionally, while Montreal successfully upped their physical intensity with 173 hits thrown in the series, Ottawa, as you might expect, threw more, albeit just slightly with 181.
That being said, there are some interesting things to note, like Brandon Prust, despite missing one game with injury, led the Habs with 19 (Chris Neil led Ottawa with 29).
Also, in one full game of work, Montreal's biggest forward in Mike Blunden (6'4", 214 lbs), on whom the Habs rely for added grit, registered zero hits. Conversely, the relatively non-physical Lars Eller had two in just half a game, before he got knocked out of the series.
The holes in Montreal's defense were most evident at the end of Game 4, when Ottawa successfully tied the game 2-2. The Habs, dead tired in their own zone, lost track of the puck and allowed a wide-open Cory Conacher to score.
In the lead-up to the goal, Montreal may have been victimized by a lack of icing calls on the part of the referees, but one cannot deny that Montreal got their fair share of breaks in the series as well, on which the Habs failed to capitalize more often than not.
Short of the refs getting directly involved with the play, purposely kicking it into the Habs' net and still allowing the goal, there are no excuses for an inherent inability to close out a critical game. Dating back to the early going of the regular season, it was a bad habit of their own that was thought to be rectified. Apparently not.
Grade: D
It's quite telling that Carey Price's best game of the series was Game 4, in which he got injured (sprained MCL) and gave up the game-tying 2-2 goal late.
He was admittedly named a star in the team's Game 2 victory after stopping 29 of 30 shots. However, if you rewind the tape and look closely at his performance you'll see:
After making saves, he wasn't sure half the time if he had the puck or not
He was technically unsound for the most part
The few highlight-reel saves he made were a result of him being out of position
In his final appearance of the series, Price was truly on his game and had no chance on Ottawa's first goal of the game, which arguably should not have been allowed, directed in by the skate of Mika Zibanejad.
Price no doubt should have been better on Conacher's game-tying goal, but no one really knows for sure if it was at that moment that he got injured or not. If he did, he can't really be faulted all that much.
Giving him the benefit of the doubt, Price still had a bad series that included untimely soft goals in Game 1 and a 6-1 defeat in Game 3.
Backup Peter Budaj was that much worse, giving up perhaps the softest playoff overtime goal you'll ever witness…or not, considering you might have to play it over and over again to see how it ended up in the net. Admittedly, Budaj came into Game 4 cold, but the inexcusable goal he allowed essentially put the series on ice.
While many had hoped head coach Michel Therrien putting a Slovakian in net would lead to a repeat Jaroslav Halak-ian performance from back in 2010, it was unfortunately not to be, and Budaj showed just why he failed as a starter with the Colorado Avalanche. Of course, Anderson, his former teammate, might have had a little something to do with that as well.
That in a nutshell sums up the goaltending battle of this series. Ottawa was just better. At times, though, it seemed as if a cardboard cut-out would have been better too.
Grade: D-
There were arguably five keys to winning this series from Montreal's perspective:
Contain Erik Karlsson
Discipline
Patience
Insulate Carey Price
Roll Three Lines
When all is said and done, Erik Karlsson scored one goal and five assists to co-lead Ottawa in scoring.
You be the judge of what's worse: that Montreal couldn't contain Karlsson, who was just coming back from a torn Achilles tendon, that Montreal couldn't contain a 40-year-old Daniel Alfredsson, who also had six points or that Montreal couldn't contain the offensive powerhouse that is Marc Methot, who had five.
In terms of discipline, Montreal was shorthanded a league-leading 25 times in five games and also started one of the most embarrassing line brawls in team history in Game 3 when down 4-1 to try and save face.
Not only did the Habs lose badly that night (final score of 6-1), but they also got outclassed and just beaten pure and simple when the gloves came off. In fact, it was a rather fitting outcome, as, during the series, the Habs got beat every other which way.
Perhaps the brawl was indicative of a bigger problem: Montreal's frustration, whether it was a result of Anderson's excellent goaltending or just their own inability to play consistently.
They lost patience as a result of being down so often and mistakenly forced the play. The Habs might have dominated in the offensive zone, but the result was lackluster defensive coverage that, especially in Game 5, led to ill-timed odd-man rushes for Ottawa and momentum-sapping goals.
Granted, Budaj and Price could have been better, but the Habs were just awful in front of them as well. Make no mistake, this loss was a team effort.
Ottawa no doubt contributed to it, and not just through timely goals, as their size and physical domination led to five different Habs forwards being injured at one time or another: Eller, Max Pacioretty, Brian Gionta, Ryan White and Brandon Prust.
With so many out of the lineup (including Price and defenseman Alexei Emelin), the Habs just couldn't roll three lines as they did during the regular season or even adapt to Ottawa's playoff-style hockey, which the Senators had perfected since February when they suffered through all their injuries.
Put simply, Ottawa coped, Montreal crumbled.
There is, of course, hope for the Habs' future. They showed immense heart and great gameplay throughout the season, and there are pieces in place that should guarantee a competitive team for years to come. However, they just weren't able to compete this postseason.
That the series likely would have turned out differently had Montreal held on in Game 4 is a testament to the Habs' high quality of play all year long, but irrelevant all at the same time. The series really wasn't all that close, definitely not as close as a Game 4 victory might have made it seem.
Bottom line: The Habs were the heavy favorites on paper, but the better team in practice won.
Grade: F