Montreal Canadiens vs. Ottawa Senators: 5 Keys for Habs to Win Playoff Series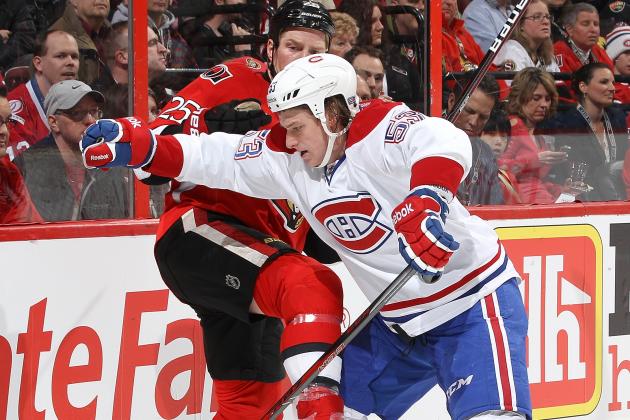 Jana Chytilova/Freestyle Photo/Getty Images
Montreal Canadien Ryan White (right) and Ottawa Senator Chris Neil fight for position.
Many might be disappointed that the Montreal Canadiens are facing the Ottawa Senators instead of the Toronto Maple Leafs in the first round, but hockey fans nationwide need not worry. They can still meet this postseason.
Granted, that in part involves the Leafs upsetting the Big, Bad Bruins, but weirder things have happened…like both the Leafs and Habs making the playoffs to begin with. Well, let's be honest: even just the Leafs.
Still, for this supposed dream matchup to become a reality, the Habs also have their end of the bargain to hold up as well. Despite what most fans would like to believe, a first-round victory is far from guaranteed.
While analysts agree the Habs match up way better against the Sens than the much bigger rival Leafs, look at the facts:
The Sens have just gotten Norris Trophy-winning defenseman Erik Karlsson back from injury. The Habs have P.K. Subban, who might win a Norris Trophy this year.
The Sens are without their No. 1 center, Jason Spezza. The Habs don't have a No. 1 center at all.
The Sens have a No. 1 goaltender who up until recently was just a backup. The Habs have a No. 1 goalie who recently began playing like a backup.
All that being said, the Habs are undeniably favorites in this series, and here are the five key ways they will move on to the second round:
Begin Slideshow

»
Erik Karlsson is by far Ottawa's best player. Sure, they admittedly made do without him for two-thirds of the season, but containing Karlsson and trying to get him off his game bears mentioning for the simple reason that with him in the lineup the Habs lost to Ottawa by a score of 5-1 in late January.
So, getting in Karlsson's face is clearly key on some level. The New York Rangers recognized this last postseason, and surprise, surprise, moved on to the second and then third rounds.
Now, the Habs may not have the nerve (or willing and able heavyweights) to get in Erik Karlsson's face to the degree Brian Boyle did last spring, but by the same token, the Senators also don't have Matt Carkner. Just saying.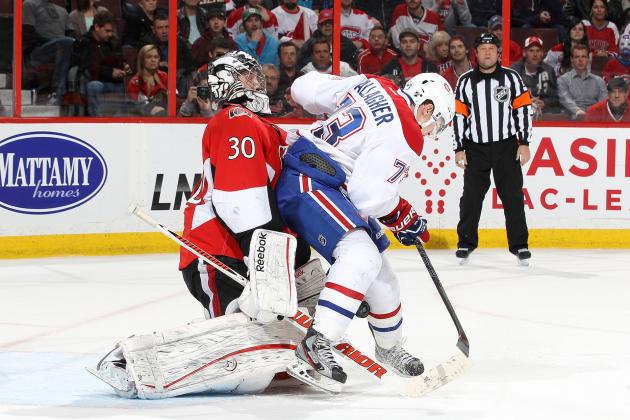 Jana Chytilova/Freestyle Photo/Getty Images
Montreal Canadien Brendan Gallagher interferes with then-Ottawa Senators goalie Ben Bishop.
This plays into the previous point to a certain degree. In regard to the strategy to contain Karlsson, the Habs must still walk a fine line and not go over the edge. If they do, they risk letting him and his teammates cash in on the power play.
Now the Senators may have finished 20th in the league with 15.9-percent efficiency on the power play. However, with Karlsson back, that is an inaccurate perception of just how dangerous they can be with the extra man.
Take Montreal's woeful 79.8 percent on the penalty kill into account and you have a recipe for disaster.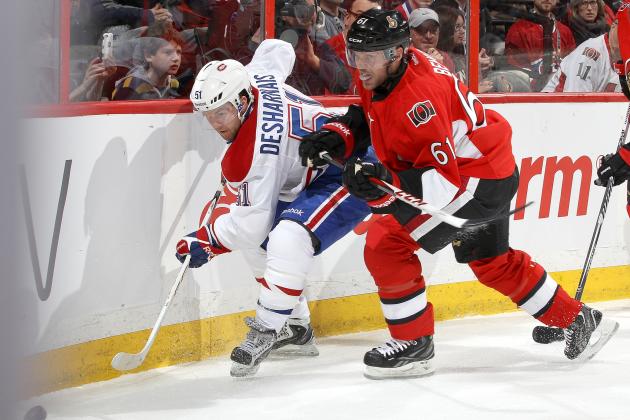 Jana Chytilova/Freestyle Photo/Getty Images
Montreal Canadien David Desharnais looks to outmaneuver Ottawa Senator Andre Benoit.
The Senators didn't get to the playoffs by playing a run-and-gun style of hockey. More times than not, they played tight, low-scoring games. They kind of have to when - forget the team - Jason Spezza can literally no longer carry so much as his duffel bag full of equipment on his back.
So, while the Senators were forced to play a low-tempo, patient style of hockey in order to win games this season, so too must the Habs. While the Senators will likely be lying in wait, salivating at their mouths for the Canadiens to make a mistake, the Habs will have to be patient themselves and make sure their mistakes are of the few and far between variety.
This doesn't mean changing their style just to play the Senators. It applies to all rounds, if the Habs are able to move on. The playoffs in general are a time for team defenses to clamp down and minimize chances for mistakes.
It basically boils down to, in all honesty, probably a really boring series, but also survival of the fittest and whether or not each team can adapt properly. With all their injuries, the Sens have proven so far that they can. Both teams posted identical 2-1-1 records against one another this season. It's up to the Habs to prove they're the better team when it really matters.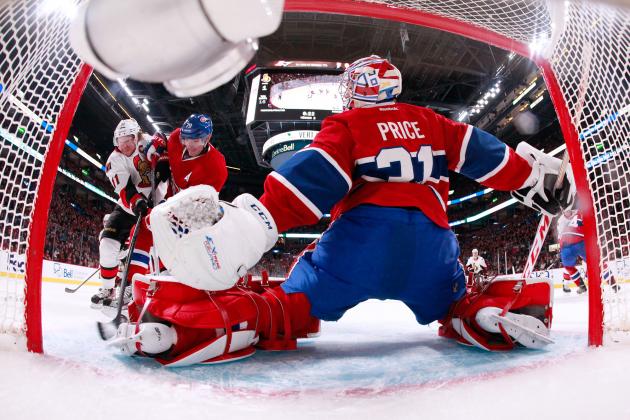 Richard Wolowicz/Getty Images
Montreal Canadien Carey Price looks to make a save on Ottawa Senator Daniel Alfredsson.
Goalie Carey Price did admittedly finish the season with a 4-2 win. However, it was a win against a lesser opponent in the Winnipeg Jets, who also knew heading into the third period of a game they had been leading 2-1 that they had just been eliminated from playoff contention.
It obviously counts in the record books, but so do the games he played between then and the point at which the Habs clinched. So bad did it get for him that, in a span of five games started, he nearly lost six. And that's not a joke.
Price may have beaten the Tampa Bay Lightning 3-2 on April 18, a game in which he and the Habs nearly blew a two-goal third-period lead, but he also got credited with the 6-4 loss to the Pittsburgh Penguins the night before.
That's right. Even though Peter Budaj started the game and pathetically gave up three goals on nine shots, Price came in in relief and more pathetically still lost the game despite the Habs' best efforts to get back in it.
The 1-5 stretch between April 13 and April 23 is obviously not all on Price, but he needs to prove he's capable of being an elite National Hockey League goalie, especially in the playoffs, as he only has one playoff series win in his career.
The Habs can and should help him out as this is a team game. So, as the previous slide indicated, the Habs need to clamp down defensively and play a slightly different game to the point of limiting scoring chances, making sure Price sees most shots and keeping Senators players from taking liberties with him.
They absolutely need to, because if they don't protect him come the start of the playoffs on Thursday, no one will be able to protect him from the media when the Habs get bounced in the first round.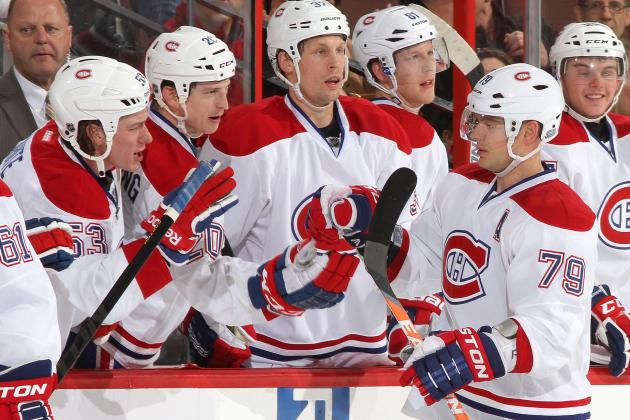 Jana Chytilova/Freestyle Photo/Getty Images
Montreal Canadien Andrei Markov celebrates a goal against the Ottawa Senators.
As previously indicated, the Habs need to play smart in their opponents' zone (and elsewhere). However, they also need to play to their advantages, which revolve around their offense, or more precisely, their depth.
Montreal has three separate lines that can score. Ottawa barely has two. Don't believe me?
If the 149-to-116 differential in goals scored this season wasn't enough to convince you, consider this:
Montreal had six different players with 30 or more points (which translates to over 50 over an 82-game season)—Max Pacioretty, P.K. Subban, Tomas Plekanec, Andrei Markov, Lars Eller and Michael Ryder.
The Senators, meanwhile? None. Kyle Turris and Cory Conacher led the team with just 29 points apiece.
Admittedly, the loss of Karlsson (and Spezza, Michalek and company) significantly skewed stats downward, but the Habs themselves had to deal with injuries as well, most notably to Rene Bourque and Raphael Diaz, who very realistically could have reached the 30-point plateau themselves.
The bottom line is Montreal can roll three offensively capable and defensively aware lines, and maybe even four (if Ryan White isn't playing). The Senators don't have that luxury, even if they are healthy once again.
That is the main way Montreal can and should win this series. The Habs' best players are at least on par with Ottawa's. Meanwhile, the rest of their lineup is just better.
The Senators can, of course, win this series. However, had the Habs drawn the Leafs instead, it arguably would have been an evenly matched series, with perhaps a slight edge given to the Leafs because of their size advantage. If the Sens end up pulling out a win, it will, by all accounts, be an upset.
Put another way, it's Montreal's series to lose, but more likely win.