MLB's 10 Most Disappointing Teams of the Last 10 Years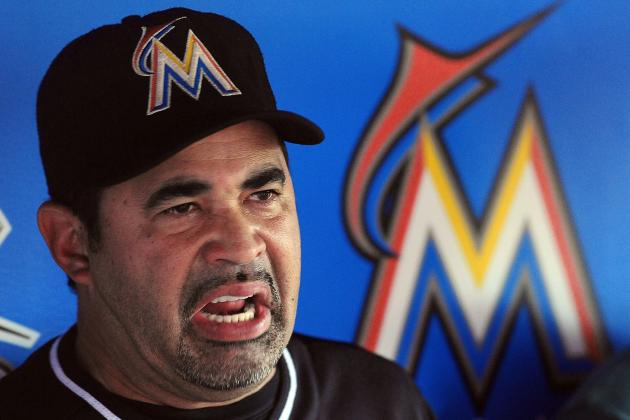 Jason Arnold/Getty Images
The disastrous 2012 season was Ozzie Guillen's first (and last) as manager of the Miami Marlins.
Popular 2013 World Series picks like the Los Angeles Angels, Los Angeles Dodgers and Toronto Blue Jays have stumbled out of the starting gate, but we have come to expect MLB disappointments over the past 10 years. Read on to refresh your memory.
It would be premature to criticize anybody at the quarter pole, so this list only includes teams from the past decade of full seasons. All the following underachievers made their supporters suffer sometime from 2003-2012. They were ranked by the disparity between spring training expectations and actual awfulness.
Either because of injury, aging, dysfunction or a combination of three, they didn't validate the preseason hype.
Begin Slideshow

»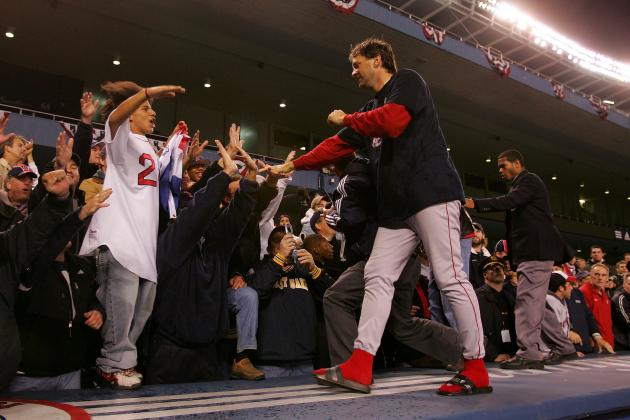 Ezra Shaw/Getty Images
Boston Red Sox celebrating their win in Game 7 of the 2004 ALCS.
Teams that perform similarly from one season to the next or even improve often spend all winter trying to rinse away the bitterness.
The 2012 Pittsburgh Pirates are one of many recent examples. They seemed destined to end the franchise's humiliating streak of losing seasons, nipping at the coattails of the division-leading Cincinnati Reds in early August. Then everybody—even NL MVP hopeful Andrew McCutchen—ran out of steam. Pittsburgh lost 22 of its final 31 contests for a 79-83 overall record.
Largely due to their "Bullpen Mafia," as Jake Kaplan of USA Today explored, the 2011 Cleveland Indians were dominant through Memorial Day. Unfortunately, trade deadline acquisitions of Kosuke Fukudome and Ubaldo Jimenez turned out to be counterproductive. The Tribe finished a distant second behind the Detroit Tigers in the AL Central. But at least "Bullpen Mafia" is still in the beat writers' vernacular (Paul Hoynes used it last month.).
Fresh off deep playoff runs, the 2006 Chicago White Sox and 2007 New York Mets expected to compete in October. Major League Baseball could care less about expectations. Trustworthy veterans on both (such as Jermaine Dye and Tom Glavine) were at their worst over the final few weeks of the regular season.
Speaking of dramatic choke jobs, we witnessed three of them in 2011: the Atlanta Braves, Boston Red Sox and Texas Rangers. The first two were denied postseason berths in Game 162 despite holding cozy leads in the Wild Card races for much of September. As for the Rangers, they came within one strike of the club's first championship on multiple occasions during the World Series. More than a few fans must have turned to alcoholism because of David Freese's heroics.
But nothing compares to the 2004 New York Yankees. Their inability to close out the Boston Red Sox in the American League Championship Series gives hope to every sports team that finds itself trailing 3-0 in a best-of-seven format.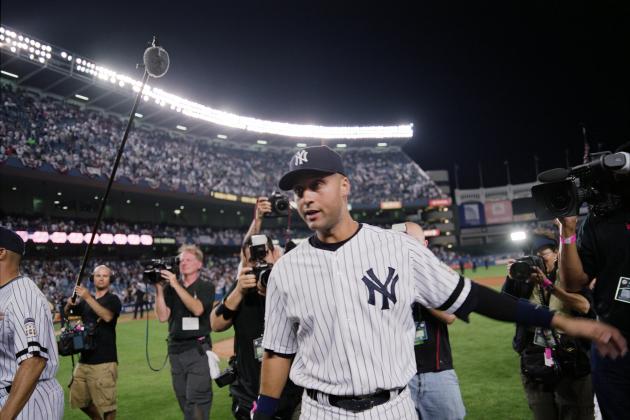 Nick Laham/Getty Images
The Yankees said goodbye to the old Yankee Stadium in third place.
The Los Angeles Angels were under World-Series-or-bust pressure in 2012 after snatching Albert Pujols and C.J. Wilson. They didn't come close to that goal, though the team boosted its win total by three.
Tortured fanbases of the 2008 Cleveland Indians and 2009 Chicago Cubs hoped for contention the year following postseason appearances. But injuries to integral players—Victor Martinez, Aramis Ramirez, Geovany Soto and Jake Westbrook among others—prevented that.
Meanwhile, the New York Yankees always hold themselves to a ridiculous standard. The 2008 campaign, the final one in their sacred facility, was supposed to include yet another AL East title. First-year skipper Joe Girardi was too trustworthy of homegrown talent, however. Melky Cabrera, Phil Hughes, Ian Kennedy and Darrell Rasner didn't take advantage of their opportunities, and the Bronx did not light up for October baseball.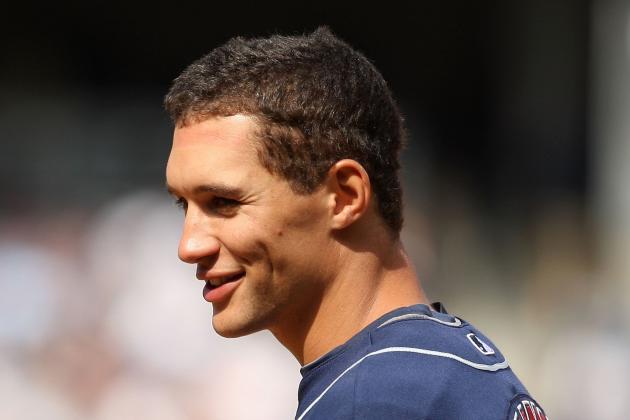 Ezra Shaw/Getty Images
Grady Sizemore showed the first signs of being injury-prone.
2008 record: 81-81.
2009 record: 65-97.
Preseason Hype
No CC Sabathia? No problem. The ground-ball artist formerly called Fausto Carmona (a.k.a. Roberto Hernandez) was widely believed to be in line for a rebound season.
Kerry Wood, who had reinvented himself as an All-Star closer, was supposed to secure the ninth inning. All the Cleveland Indians enthusiasts from Waiting for Next Year counted on excellence after hearing only "amazing" reports from spring training.
The surest thing of seemed to be center fielder Grady Sizemore. Baseball-Reference.com valued him at 6.15 WAR per season from 2005-2008, and this upcoming age-26 campaign should have marked the beginning of his professional prime.
Individual Disappointments
Manager Eric Wedge pushed the right buttons toward the end of the previous summer, but grossly underachieved from the get-go. He had no chance of being retained after this mess in 2009.
Carmona/Hernandez consistently stunk. He surrendered multiple earned runs in 21 of 24 starts and posted a hideous 1.13 strikeout-to-walk ratio. Embarrassingly, homegrown left-handers Aaron Laffey and Jeremy Sowers did worse in that department (1.04 and 0.98, respectively).
Shifting to third base proved problematic for Jhonny Peralta. He also regressed offensively, dropping from 23 home runs to 11.
Nagged by several injuries, Sizemore was not particularly dynamic for the Tribe. He contributed 2.2 WAR in 106 games.
Depressing Team Stats
Cleveland had merely one month above .500.
Cliff Lee accounted for more complete games (three) than the rest of the pitching staff put together...and he was traded in July.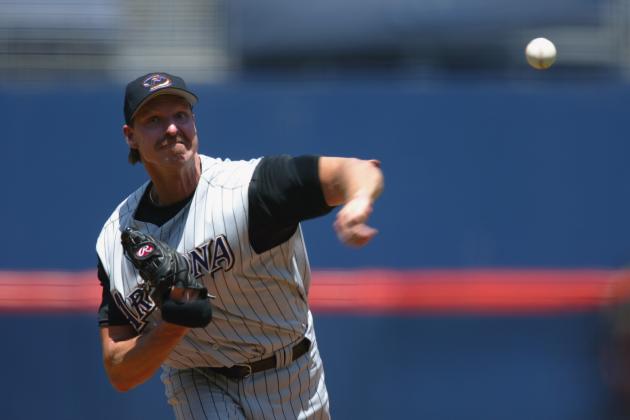 Donald Miralle/Getty Images
Randy Johnson spent half the season on the disabled list.
2002 record: 98-64.
2003 record: 84-78.
Preseason Hype
Randy Johnson and Curt Schilling comprised the strongest one-two starting pitching combination in the majors. This was not debatable; they were coming off back-to-back finishes as the top two vote-getters in NL Cy Young balloting.
The Arizona Diamondbacks exchanged platoon man extraordinaire Erubiel Durazo for young pitching, but otherwise, the roster hardly changed.
Individual Disappointments
At age 33, Tony Womack wasn't the dynamic base stealer the D-Backs had grown accustomed to. He struggled to make solid contact, too, so they dealt him to the Colorado Rockies.
Former first-round draft pick and top pitching prospect John Patterson did not build off his solid 2002 performance. He couldn't command his stuff in the starting rotation and made a negligible impact out of the bullpen in September.
After 15 straight seasons of 100-plus games, Mark Grace only totaled 66. He batted an anemic .200/.279/.304.
But the toughest challenge for Arizona was pushing onward without its co-aces. Schilling missed time due to an appendectomy and fractured metacarpals. Likewise, the Big Unit made two trips to the disabled list with knee issues. They combined to pitch 282 innings after averaging nearly that much individually the previous summer.
Depressing Team Stats
Barry Bonds mashed seven home runs in 48 at-bats against the Snakes.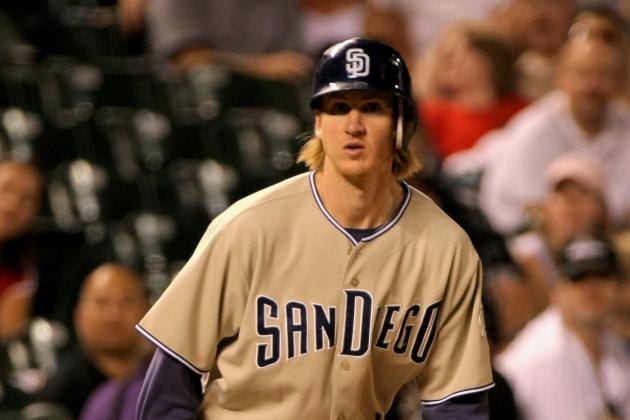 Doug Pensinger/Getty Images
Remember Khalil Greene? He stunk in 2008.
2007 record: 89-74.
2008 record: 63-99.
Preseason Hype
At the very least, the streak of four consecutive winning seasons was going to extend. The San Diego Padres retained their corner infielders—Adrian Gonzalez and Kevin Kouzmanoff—as well as their best three starting pitchers.
Oh yeah, and "Hells Bells" still rang from through the Petco Park speakers to summon Trevor Hoffman in pressured situations. Even at age 40, he was counted on to be nearly automatic.
Individual Disappointments
Hoffman converted only 30 saves and served up eight long balls. He was charged with seven runs in April alone.
Josh Bard (.549 OPS) and Khalil Greene (.599 OPS) slumped their way out of starting jobs. Their fill-ins, unfortunately, didn't perform much better.
Neither Greg Maddux nor Jake Peavy nor Chris Young lasted the entire summer. Veteran outfielder Jim Edmonds might have, but the Padres gave up on him during a season-opening slump. He proceeded to bat .256/.369/.568 with 19 HR once the Chicago Cubs picked him up in mid-May.
Depressing Team Stats
San Diego cycled through 32 different pitchers.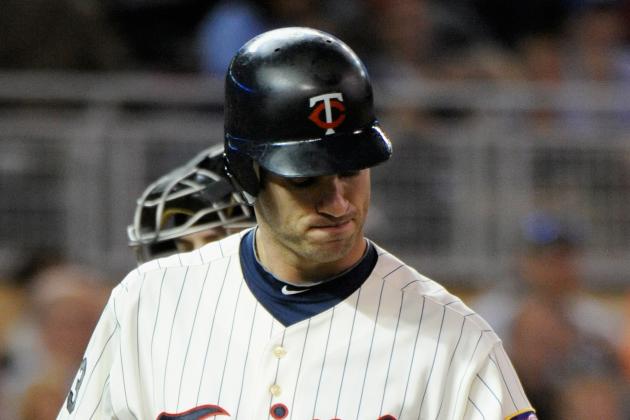 Hannah Foslien/Getty Images
Joe Mauer did not hit for power coming off an AL MVP season.
2010 record: 94-68.
2011 record: 63-99.
Preseason Hype
The two-time defending AL Central champions re-signed veterans Carl Pavano and Jim Thome after both experienced tremendous success in 2010. The Minnesota Twins also acquired 26-year-old infielder Tsuyoshi Nishioka following his breakout season in Japan.
Slugger Justin Morneau was considered a question mark because he had missed months with post-concussion syndrome. When healthy, however, he ranked among baseball's most productive players. And, of course, Joe Mauer seemed bound for all-around greatness in the first year of his $184 million contract extension.
But Nick Nelson of the Star Tribune didn't sugarcoat reality:
Pressed to predict where the Twins will finish in the AL Central, I'd have to answer second or third. They're a talented bunch, but depth is lacking on this roster and with the myriad health concerns being faced by key players, I foresee some disappointment as the summer moves along.
Bleacher Report's own Joe Blair, after writing his outlook with a similar tone, gave them "a great shot at an American League Wild Card spot."
Individual Disappointments
Let's begin with Nishioka. He single-handedly took away legitimacy from Nippon Professional Baseball by struggling in every facet of the game. It might be impossible amass more errors than runs scored as an everyday player, but the rookie nearly pulled it off (12 E, 14 R in 68 G).
Morneau wasn't close to being himself, batting .227/.285/.333 with 4 HR.
Pathetic as that may be, Twins catchers were more useless. Drew Butera, Joe Mauer and Rene Rivera combined for a .185/.250/.259 triple-slash line in their 585 plate appearances behind the plate.
In his return from Tommy John surgery, Joe Nathan performed like a shell of the borderline Hall of Famer the fanbase had always loved. Also out of the bullpen, lefty specialist Jose Mijares battled control issues.
Depressing Team Stats
Outscored by 185, the Twins had the worst run differential in the sport. Yes, even inferior to the 106-loss Houston Astros (minus-181).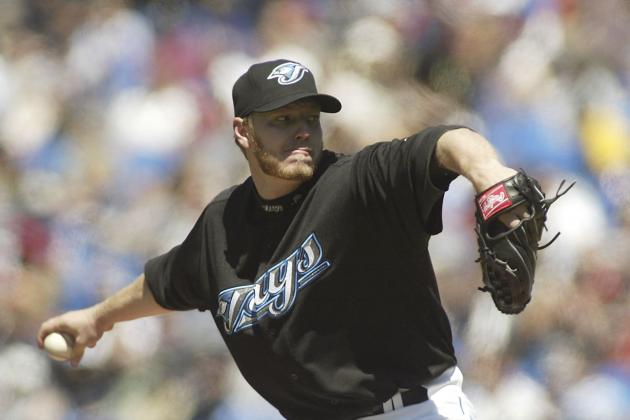 Rick Stewart/Getty Images
Roy Halladay didn't come close to repeating his 2003 excellence.
2003 record: 86-76.
2004 record: 67-94.
Preseason Hype
The Toronto Blue Jays had both the reigning AL Cy Young Award winner (Roy Halladay) as well as the 2002 AL Rookie of the Year, Eric Hinske. There was little doubt that those two would be very productive.
Carlos Delgado and Vernon Wells were top-10 finishers in the MVP race. The former led the American League in RBI and OPS, while Wells ranked No. 1 in hits and total bases. Pitchers had little hope of retiring them consecutively in any inning considering they batted from opposite sides of the plate.
Also, Toronto felt optimistic that newly-added Ted Lilly could bolster the starting rotation.
Individual Disappointments
Doc Halladay overexerted himself in the preseason and could not endure shoulder fatigue. He pitched merely half as many innings as he did in 2003 and his earned run average bloated by nearly a full run.
Left fielder/designated hitter Frank Catalanotto went on and off and on and off and on the disabled list (three separate stints).
The longtime voice of the Blue Jays, Tom Cheek, had been behind the mic for all 4,300-plus games in club history. But due to his father's death (and later in the season, brain surgery), he couldn't continue the streak.
Depressing Team Stats
The Tampa Bay Devil Rays were introduced to the AL East in 1998. This marked the first time since then that another team had finished in last place.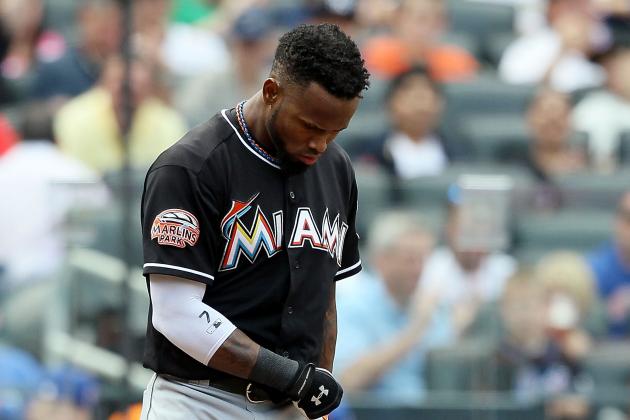 Alex Trautwig/Getty Images
Jose Reyes.
2011 record: 72-90.
2012 record: 69-93.
Preseason Hype
After 19 seasons as tenants in a football stadium, the Florida Marlins re-branded themselves as the Miami Marlins. Thanks to the vibrant new line of merchandise and opening of taxpayer-funded Marlins Park, a major revenue increase was inevitable.
That led the franchise to uncharacteristically splurge in free agency. The Fish appeared much improved after signing Heath Bell, Mark Buehrle and Jose Reyes to multi-year deals. They already had über-talented Josh Johnson and Hanley Ramirez, plus powerful corner outfielders (Logan Morrison and Giancarlo Stanton).
Grantland's Jonah Keri predicted a competitive summer even "if everything goes wrong." Our own Zachary D. Rymer thought Miami would at least finish above .500.
Individual Disappointments
Bell performed below replacement level, blowing his first two save opportunities and four of his first seven. A 5.09 ERA was more than doubled his 2.44 mark from the previous season.
Speedy utility man Emilio Bonifacio missed most of the season with thumb injuries and dropped more than 100 points in OPS when active.
Gaby Sanchez slid from .266/.352/.427 to .202/.250/.306, prompting the Marlins to trade him at midseason. Around the same time, Ramirez, Edward Mujica, Omar Infante and Anibal Sanchez were also dealt to potential contenders.
Two years removed from being an All-Star selection, catcher John Buck batted .197/.297/.347, though his defense was solid.
Depressing Team Stats
The Marlins batted .234 with runners in scoring position and only .215 with two outs and RISP. They combined for 55 home runs during home games, so the grotesque sculpture didn't get much usage. Reyes and Stanton were the only players to score at least 50 runs.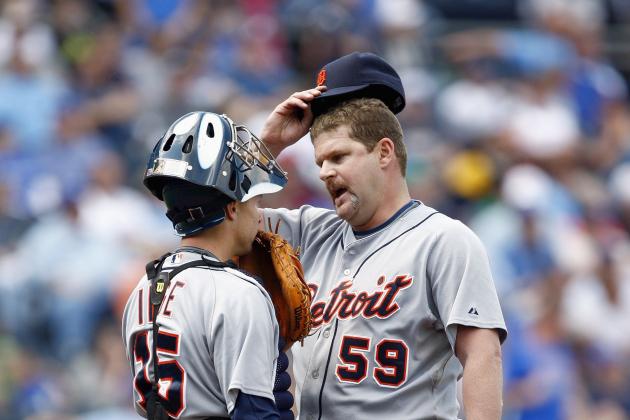 G. Newman Lowrance/Getty Images
Todd Jones.
2007 record: 88-74.
2008 record: 74-88.
Preseason Hype
In a classic example of mortgaging their future to win now, the Detroit Tigers exchanged prospects for Miguel Cabrera and Dontrelle Willis.
The front office recognized Cabrera's MVP potential and immediately extended his contract through 2015 (which in hindsight, was a genius move). Meanwhile, Willis, a former All-Star in his own right, projected as a reputable back-end starter in the rotation.
Detroit continued to fortify the pitching staff by signing ageless veterans like Todd Jones and Kenny Rogers. With Justin Verlander coming off his first 200-inning season, there was already an ace in place.
Joel Zumaya was due back from shoulder surgery around midseason. The Tigers had their fingers crossed that he would be the same ol' overpowering right-hander who led them to the AL pennant in 2006.
Individual Disappointments
Both homegrown flamethrowers, Verlander and Zumaya, succumbed to wildness. They were both surprisingly hittable, too.
The coaching staff pulled the plug on Rogers (5.70 ERA) after 30 starts. He should have been gone months earlier. Jones' 0.78 strikeout-to-walk ratio just screamed mediocrity.
Expensive shortstop Edgar Renteria batted only .270/.317/.382, while Gary Sheffield whiffed more than ever.
Our own Paul W. Reeves called 2008 "an unmitigated disaster."
Depressing Team Stats
According to Baseball Prospectus, the Tigers had an
Opening Day payroll
of $137,685,196. At the time, that shattered the record for most money spent by a cellar dweller.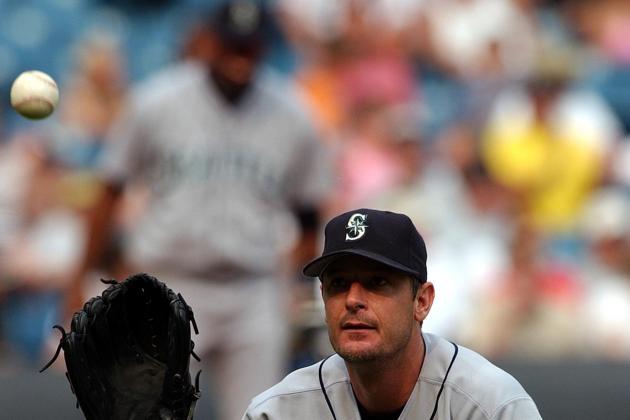 Jonathan Daniel/Getty Images
Jamie Moyer.
2003 record: 93-69.
2004 record: 63-99.
Preseason Hype
Great offensive players like Bret Boone, Raul Ibanez and Ichiro Suzuki highlighted the batting order. Edgar Martinez and John Olerud were only a few years removed from being 100-RBI guys.
Despite his birth certificate, Jamie Moyer was a dependable rotation leader for the Seattle Mariners. The kids behind him—Freddy Garcia, Gil Meche and Joel Piniero—had bright futures and plenty of confidence after pitching full seasons in 2003.
But perhaps most importantly, the M's bullpen thoroughly dominated the previous year. Shigetoshi Hasegawa and Rafael Soriano had been virtually untouchable.
Individual Disappointments
Aside from Suzuki, none of the regulars achieved an .800 OPS. Safeco Field or not, that's going to ruin your chances at contention. Martinez slugged below .400 and decided to retire after a borderline Hall of Fame career.
Opposing lineups pummeled Moyer for 44 home runs in 202 innings, while Garcia, Meche and Piniero combined for only 59 starts.
Hasegawa's earned run average ballooned from 1.48 to 5.16, and Soriano was a non-factor before opting for Tommy John surgery.
Depressing Team Stats
For the first time in franchise history, no Mariners pitcher recorded more than eight victories.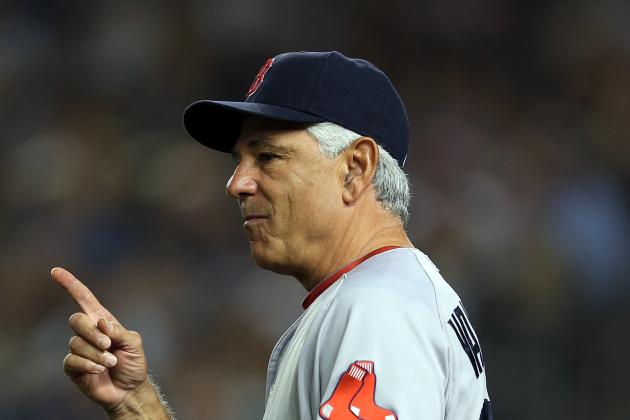 Elsa/Getty Images
Bobby Valentine's only season in charge of the Red Sox.
2011 record: 90-72.
2012 record: 69-93.
Preseason Hype
Wholesale changes were made following the unacceptable finish to 2011. Ben Cherington and Bobby Valentine did not possess perfect qualifications for the vacant GM and managerial positions, but at least they would have a revamped roster to mold.
J.D. Drew, Jason Varitek and Tim Wakefield all retired after subpar seasons. The Boston Red Sox then traded surplus position players like Jed Lowrie, Josh Reddick and Marco Scutaro.
The lineup would feature Jacoby Ellsbury, Adrian Gonzalez and Dustin Pedroia. Per Baseball-Reference.com, they provided 8.1 WAR, 6.9 WAR and 7.9 WAR the season before. Josh Beckett (5.8) and Jon Lester (4.4) headlined the rotation, while John Lackey's Tommy John surgery was supposedly an addition by subtraction.
All in all, New Englanders like Robert Sullivan of Time cautiously stated that Valentine was coming into "a perfect situation."
Individual Disappointments
It became evident almost immediately that the silver-haired skipper was a poor hire. Just weeks into the regular season, Bobby V criticized veteran Kevin Youkilis for not being "physically or emotionally into the game" (via Stan McNeal, Sporting News). Other instances of awkwardness and miscommunication hampered the Red Sox, as they were unable to get above the .500 mark.
Ellsbury, Youkilis and Carl Crawford spent significant time on the disabled list. Gonzalez wasn't hitting for power and Lester struggled to locate his fastball.
Beckett grossly underachieved (5-11, 5.23 ERA, 6.6 SO/9) and Gordon Edes of ESPNBoston.com called him out because—for lack of a better phrase—he was acting like a jerk. Shaky reliever Alfredo Aceves also rubbed people the wrong way while dooming the team (-1.0 WAR).
Depressing Team Stats
The perennially patient Red Sox were totally undisciplined. They drew 428 walks, the second-fewest in the American League.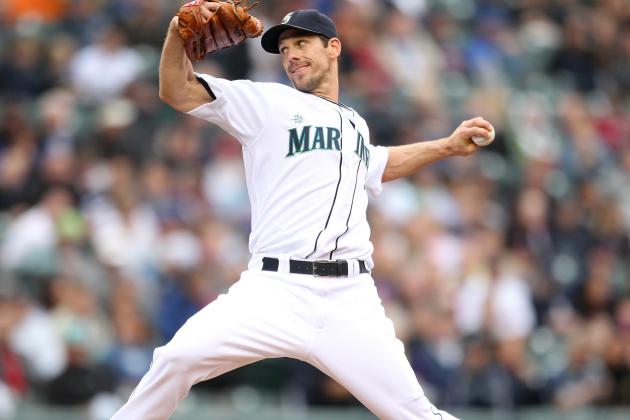 Otto Greule Jr/Getty Images
Cliff Lee spent three-plus months in a Seattle Mariners uniform.
2009 record: 85-77.
2010 record: 61-101.
Preseason Hype
Adding Cliff Lee to an already-decent starting rotation was supposed to compensate for the ordinariness of the lineup. With Adrian Beltre out of the picture, the Seattle Mariners felt confident that Chone Figgins' aggressive baserunning and plate discipline would stimulate run production.
Albert Chen of Sports Illustrated described at length how Seattle could thrive thanks to the league's best defense. "The Mariners may come close to running out an all Gold Glove-caliber team in 2010," he wrote.
Individual Disappointments
Figgins couldn't provide an offensive spark at cavernous Safeco Field or away from it. He took a .235/.332/.276 batting line into the All-Star break, which included a 33-game stretch with zero extra-base hits.
Toxic Milton Bradley wasn't any better. He contributed just eight home runs in 278 plate appearances, a stark departure from his .999 OPS with the Texas Rangers in 2008.
Promising closer David Aardsma regressed in his age-28 campaign. He choked away a handful of slim leads during the first few months and like Figgins, finally beautified his stats after the Mariners were already resigned to selling.
But the ugliest numbers belonged to Australian southpaw Ryan Rowland-Smith: 1-10, 6.75 ERA, 49/44 SO/BB in 109.1 IP. He understandably hasn't pitched in the majors since then.
Depressing Team Stats
Seattle scored 513 runs in 2010. That is (by far) the lowest total any team has scored in a full season over the past three decades (h/t FanGraphs).
Fed up with all this disappointment? Follow Ely on Twitter. He's as awesome as advertised.