An In-Depth Look at What Makes Georgia QB Aaron Murray so Good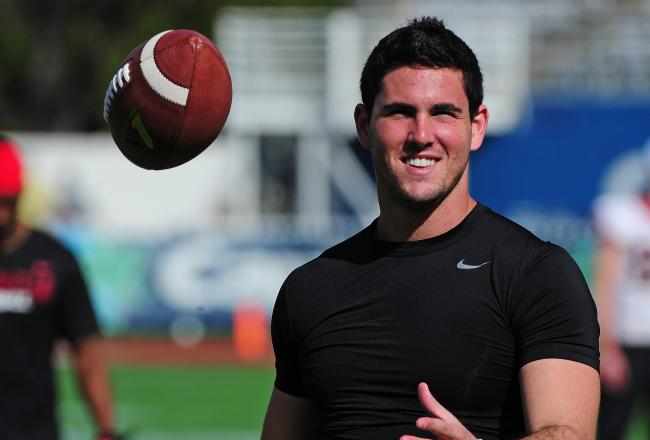 Georgia QB Aaron Murray
Scott Cunningham/Getty Images
Georgia quarterback Aaron Murray is the forgotten quarterback in the SEC, but don't be blinded by the hype surrounding Texas A&M's Johnny Manziel and Alabama's AJ McCarron.
Murray has tossed 71 touchdown passes over the last two seasons, leading the Bulldogs to back-to-back SEC East titles and within five yards of the BCS National Championship Game in 2013.
He was No. 2 in the post-spring SEC quarterback rankings, sandwiched between Manziel and McCarron. Not a bad place to be.
So what makes Murray so great?
Big-Play Ability Downfield
Murray set the Georgia single-season touchdown pass record in 2011 with 35, but suffered a sophomore slump in the process. His 14 interceptions and a completion rate of 59 percent was good enough to be successful, but hardly elite.
He picked up his game in 2012, tossing just 10 picks and completing 64.5 percent of his passes. He was neck-and-neck with McCarron in the race to be the nation's most efficient passer, finishing 0.46 points behind the Alabama signal-caller (175.28 to 174.82).
Georgia vs. Nebraska highlights
Take a look at the pass above at the 1:05 mark of the Capital One Bowl highlights.
Murray trusted his offensive line, made a fantastic pump fake and dropped the ball over the corner for a 49-yard touchdown pass to Chris Conley.
Keep in mind, this is a Nebraska pass defense that entered the game No. 1 in the nation.
Not bad.
Murray has finished either first or second in the SEC in completions of 30 or more yards in each of his three seasons between the hedges.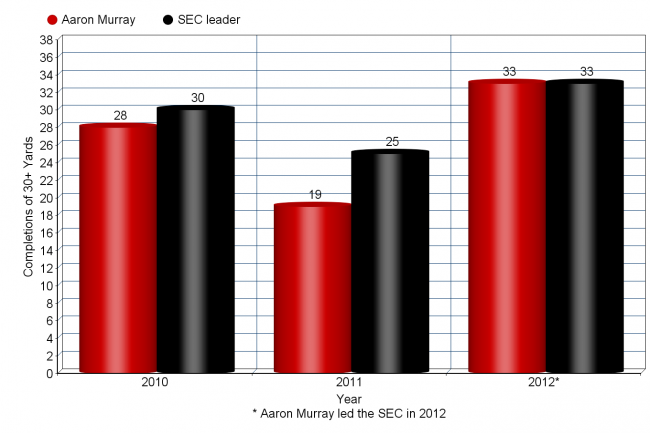 He's accurate deep and doesn't lose that accuracy when he takes something off on the short and underneath routes.
Comfort
During his first three seasons as starter, Murray has become incredibly comfortable in the Georgia offense.
Offensive coordinator Mike Bobo takes a lot of heat for what's perceived as conservative play-calling, but he calls plays that play to the strengths of his personnel, and Murray has thrived as a result.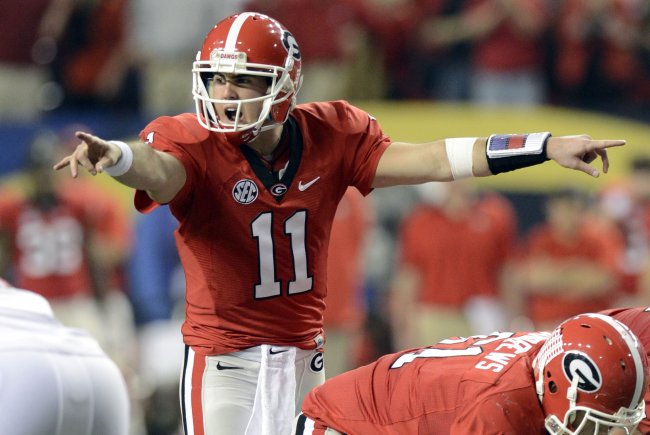 Murray's ability to get his offensive line into the proper protection schemes and change the play at the line of scrimmage is a big reason why Georgia finished last season with the SEC's third-best offense, averaging 467.6 yards per game.
He recognizes where blitzes are coming from and adjusts his protection and play-calling accordingly.
Great Play-Action Fakes
Seemingly all Georgia quarterbacks have perfected the art of the play-action fake, and Murray is no exception.
With Georgia's potent running game, it doesn't take much for safeties and linebackers to creep up. Murray uses that to his advantage.
Georgia vs. Ole Miss 2012 highlights
At the 0:25 mark of the highlight above versus Ole Miss, Murray sold the play fake to everybody on the planet and found a wide-open Marlon Brown.
Of course, the old David Greene walk-back fake is the exception, but Murray uses standard play-action to get his wide receivers and tight ends open as well as if not better than any quarterback in the country.
Take a look at the 2012 SEC Championship Game highlights below. At the 0:19 mark, Murray sells the run, the linebackers freeze for a moment, and he hits a wide-open Arthur Lynch for the game's first score.
Georgia vs. Alabama 2012 highlights
Trust
Murray is comfortable with the offense, but it's trust in his wide receivers that takes his game to the next level.
He knows where his wide receivers are going to be and what they're capable of. That confidence in himself and his supporting cast is a big reason why Georgia's offense is so potent.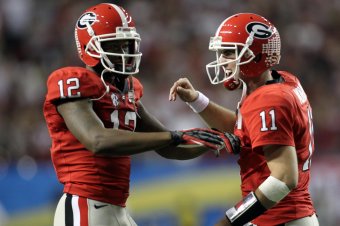 Bobo and head coach Mark Richt were heavily criticized for their decision not to spike the ball before the final play of the SEC Championship Game. Had Georgia spiked the ball, it definitely would have had two and probably three shots at the end zone to punch a ticket to Miami. After all, they didn't need to get three plays off in 14 seconds, they needed to get off two in 13 seconds to ensure the third.
Poor clock management aside, Georgia's final play of the SEC Championship Game is indicative of the trust the coaching staff has in Murray, and the trust Murray has in his receivers. It was supposed to be a back-corner fade to Malcolm Mitchell, but Crimson Tide linebacker C.J. Mosley spoiled the fun.
At the 1:10 mark of the highlights above, you'll see that trust on display earlier in the game. Murray sold the play fake and tossed a perfect pass to Tavarres King in tight coverage for the big gain.
Georgia vs. Alabama 2012 highlights
Murray has established himself as one of the top quarterbacks in college football and has been a big reason Georgia has elevated itself back to the top of the SEC East. If Murray can put together another "typical Aaron Murray season," the Bulldogs will be right back in the mix for the SEC and BCS titles.
This article is
What is the duplicate article?
Why is this article offensive?
Where is this article plagiarized from?
Why is this article poorly edited?