SEC Football Post-Spring Quarterback Rankings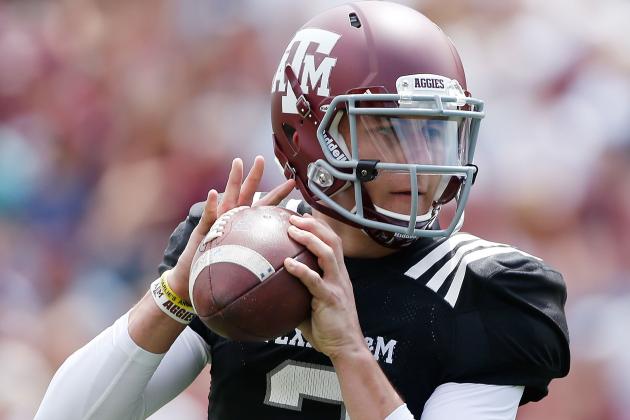 Scott Halleran/Getty Images
Texas A&M QB Johnny Manziel
The SEC isn't typically known as a quarterback-driven league, despite the fact that the conference has produced three Heisman Trophy-winning quarterbacks in the last six seasons.
This season, Texas A&M quarterback and 2012 Heisman winner Johnny Manziel will play with a target on his back. But there are plenty of other talented quarterbacks capable of stepping out of his rather large SEC shadow.
AJ McCarron has two BCS National Championship rings as Alabama's starter, and Aaron Murray has set single-season touchdown records at Georgia in back-to-back seasons.
How do the SEC quarterbacks rank after spring practice?
Begin Slideshow

»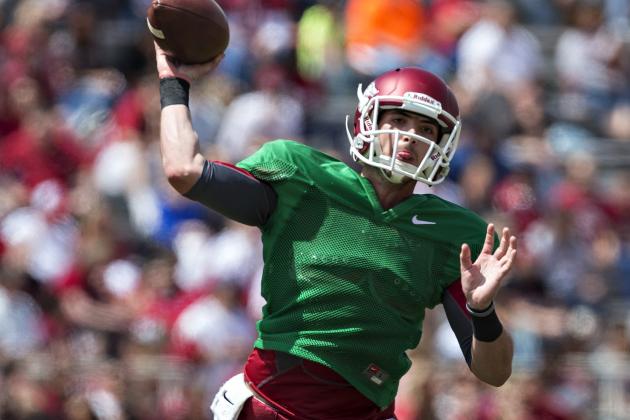 Wesley Hitt/Getty Images
Arkansas QB Brandon Allen
Sophomore Brandon Allen exited spring practice as the starter for Arkansas according to CollegeFootballTalk.com, which caused Arkansas announced senior quarterback Brandon Mitchell to transfer.
After a solid spring, Allen held a slight edge over Mitchell, a dual-threat-quarterback-turned-wide-receiver who returned to quarterback. Damon Mitchell and Austin Allen will join the battle this summer.
"Brandon Allen, from the first week to the game on Saturday, made progress all the way along," Bielema said after Arkansas' spring game, according to CFT. "The last two weeks have been exceptional."
Allen saw limited snaps last season in relief of Tyler Wilson. The majority came after Wilson was knocked out of the Louisiana-Monroe game, when he went 6-of-20 for 85 yards, one touchdown and one interception. He started the next week versus Alabama, completing 10-of-18 yards for 60 yards, no touchdowns and two interceptions.
Is it fair to judge Allen based on those two games? No. Of course not. But right now, it's the only game action we have.
With Arkansas' returning corps of wide receivers, Allen has the weapons to soar up these rankings once the season starts. But for now, though, he's relegated to the cellar.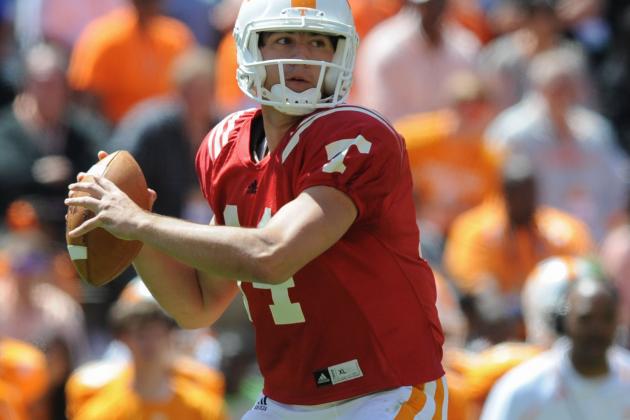 Randy Sartin-USA TODAY Sports
Tennessee QB Justin Worley
In his two seasons on Rocky Top, Justin Worley has been successful in spot duty in place of former Vol Tyler Bray.
As a freshman in 2011, he completed 48-of-87 passes for 604 yards, one touchdown and three picks. He won a game over Middle Tennessee State, but lost games vs. South Carolina at home and on the road at Arkansas. He didn't see significant time in 2012 until he was pulled in favor of an ineffective Bray at Vanderbilt, where he went 8-of-11 for 51 yards and one pick.
Neither he nor Nathan Peterman—his primary competitor for the job—did much in the spring game to solidify the position under first-year head coach Butch Jones, leaving the door open for newcomers Joshua Dobbs and Riley Ferguson this summer.
Worley has the talent to be successful and will benefit from the SEC's top offensive line and an underrated running game. But the sample size for Worley is still too small, and what we've seen leaves a lot to be desired.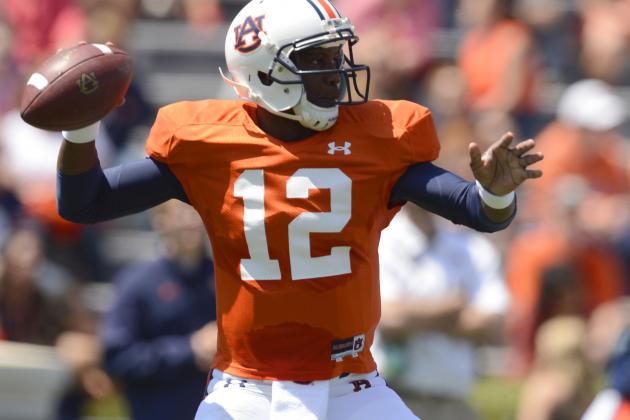 John David Mercer-USA TODAY Spor
Auburn QB Jonathan Wallace
Sophomore Jonathan Wallace is in the midst of a battle with junior Kiehl Frazier for the starting job at Auburn under first-year head coach Gus Malzahn. While Malzahn was non-committal when asked who the leader was exiting spring practice, it was clear from the spring game that Wallace should be the guy.
Wallace took over as Auburn's starter midway through the eighth game of Auburn's season in 2012—a 63-21 loss at home to Texas A&M. Since then, he's 45-of-79 for 709 yards, with four touchdowns and four interceptions. He led Auburn to two of its three wins a year ago and looked in control of the offense in the spring game.
He doesn't have the big arm and dynamic running ability that made Cam Newton so successful in Malzahn's offense, but he appeared to be more in control and capable of getting the ball in the right place at the right time in the A-Day game. Auburn's running game is going to be solid with Tre Mason, Cameron Artis-Payne and Corey Grant, which means finding a quarterback who makes smart decisions should be the top priority for Malzahn and his staff.
Wallace, who can shine in this offense, is that guy.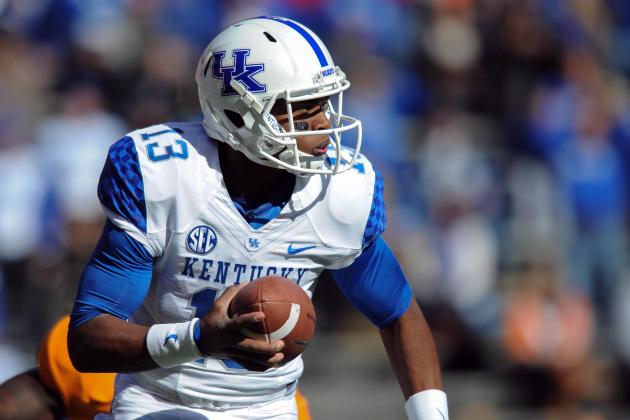 Randy Sartin-USA TODAY Sports
Kentucky QB Jalen Whitlow
Jalen Whitlow entered spring practice as "the other guy" behind Max Smith and Patrick Towles in the three-man battle for the top spot on the depth chart in the Bluegrass State. Slowly but surely, Whitlow shed that label under first-year head coach Mark Stoops and offensive coordinator Neal Brown in favor of one that's a bit more fitting.
"Clubhouse leader."
Whitlow completed 17-of-28 passes for 193 yards, two touchdowns and no interceptions in Kentucky's spring game, capping off a surprising spring.
"Yeah, I think he's earned the right to feel good about himself and get to a starting point of where we have a foundation of where we're at and where we're going to go," Stoops told ukathletics.com following the spring game.
Whitlow has the accuracy and grasp of the offense to be successful in Brown's air-raid scheme, and has the legs to add a different dimension.
It's still a battle, and Whitlow could still come back to the field. But for now, it's his show.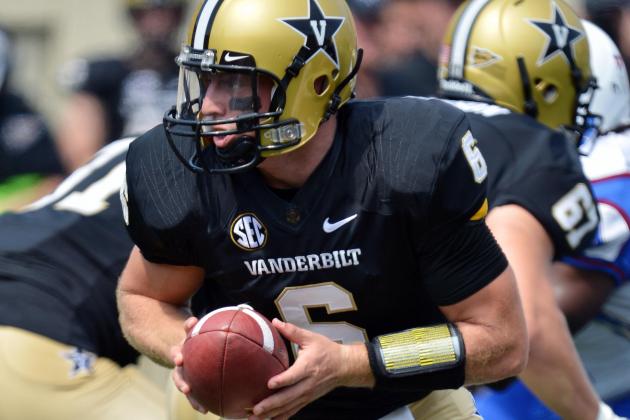 Don McPeak-USA TODAY Sports
Vanderbilt QB Austyn Carta-Samuels
Vanderbilt senior quarterback Austyn Carta-Samuels is still an unknown commodity in SEC circles, but that could change in a hurry in 2013.
With the Commodores opening up on national TV on the first Thursday night of the season, the Wyoming transfer will have the chance to re-introduce himself to the college football world against the suddenly high-profile Ole Miss Rebels.
Carta-Samuels saw limited action last season, but he was a legitimate dual-threat weapon for Wyoming in 2009 and 2010, passing for 3,655 yards and 19 touchdowns and rushing for 758 yards and six touchdowns.
He distanced himself from Patton Robinette this spring and should cap off his college career with a solid season in the Music City.
Matthew Stockman/Getty Images
Florida QB Jeff Driskel
Florida quarterback Jeff Driskel led his team to a 11-2 record in 2012, but he was never the focal point of the offense.
Driskel completed 156-of-245 passes for 1,646 yards, 12 touchdowns and five interceptions, as Florida's finished with the worst passing offense in the SEC.
It's not all Driskel's fault. He finished with just 22 passing plays of more than 20 yards, but that's as much an indictment on his wide receivers' inability to stretch the field as it is on his ability as a passing quarterback.
Florida is still facing the same questions exiting spring practice. Until Driskel proves that he can stretch the field, he's going to be known as a dual-threat quarterback who lacks the ability to stretch the field.
Sam Greenwood/Getty Images
Missouri QB James Franklin
James Franklin's junior season at Missouri didn't go according to plan.
Fighting through injuries, the dual-threat Texas native played in only nine games, completing just 59.4 percent of his passes while throwing 10 touchdowns and seven interceptions.
His inconsistency was partly due to injury and partly due to the inability of former offensive coordinator David Yost to adjust his offense to the speed of the front sevens in the SEC.
Yost is gone as offensive coordinator, replaced by Josh Henson. Can Henson get Franklin back to his 2011-level that nearly made him a 3,000-yard passer and 1,000-yard rusher? That remains to be seen, but Franklin does have that potential.
There's still a chance that either Maty Mauk or Corbin Berkstresser will unseat Franklin during fall camp. But it's Franklin's job to lose, and he hasn't lost it yet, according to head coach Gary Pinkel.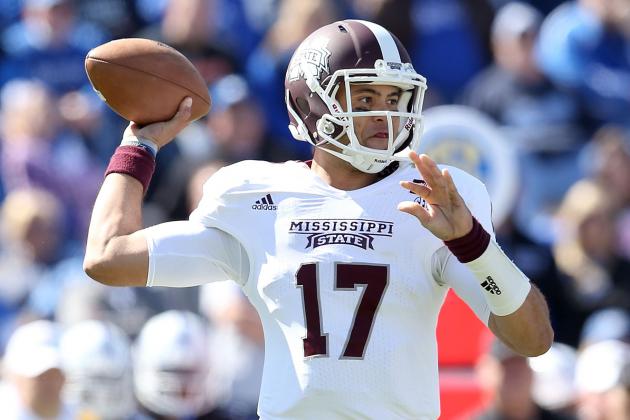 Andy Lyons/Getty Images
Mississippi State QB Tyler Russell
Tyler Russell set single-season Mississippi State records in 2012, throwing for 2,897 yards and 24 touchdowns as he led the Bulldogs to an eight-win season and a berth in the Gator Bowl.
Solid, no doubt. But looks can be deceiving.
Russell feasted on weak competition and struggled at times when the scheduled toughened up late in the season, throwing nine interceptions and only five touchdown passes against Alabama, Texas A&M, LSU, Ole Miss and Northwestern.
He has a firm grasp of what head coach Dan Mullen wants to do with his offense, but needs to take that next step and be a playmaker in Mississippi State's bigger games as a senior 2013. Russell has the talent, but needs to be more consistent to be in the discussion for the All-SEC team.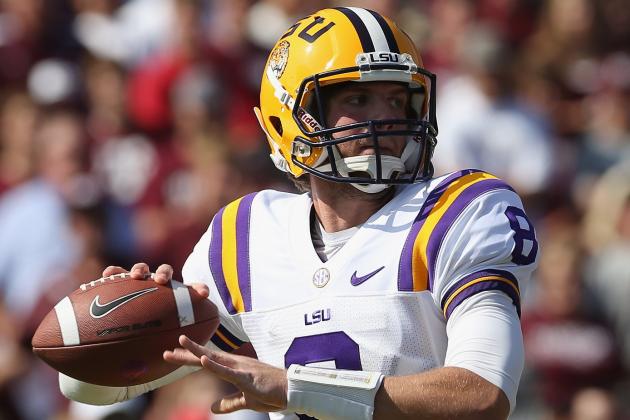 Ronald Martinez/Getty Images
LSU QB Zach Mettenberger
In his first season as the starter down on the bayou, Zach Mettenberger became more of a punch line than a playmaker.
It wasn't all his fault, though.
The offensive line took a while to jell last season, and when Jeremy Hill emerged as a weapon at running back, head coach Les Miles took the path of least resistance by relying on his defense and the running game.
Not a bad strategy.
Quietly, though, Mettenberger put together a solid month of November, passing more than 215 yards in each of LSU's four games.
Even if Hill doesn't return at running back, Mettenberger has a solid supporting cast and upgraded with the addition of offensive coordinator Cam Cameron. Mettenberger is better than advertised, and he's going to show it in 2013.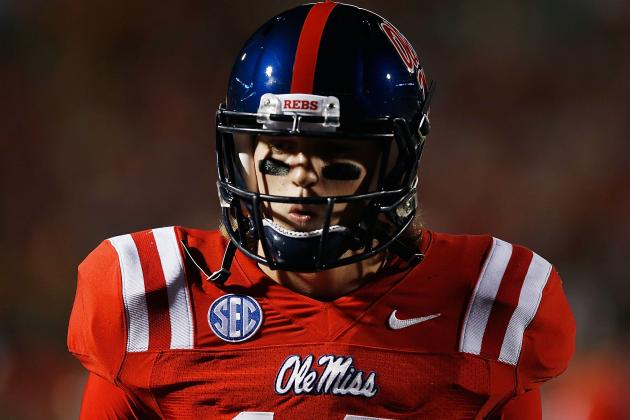 Scott Halleran/Getty Images
Ole Miss QB Bo Wallace
Ole Miss quarterback Bo Wallace put together a pretty solid sophomore campaign last season in spite of a shoulder injury that cost him spring practice.
His 2,994 yards and 22 touchdowns were a big part of Ole Miss' sudden turnaround and BBVA Compass Bowl appearance, but his 17 interceptions are about 10 too many.
He took mental reps this spring after undergoing offseason surgery,and will have to hit the ground running when fall camp begins.
If he can cut down on those mistakes, Wallace can be one of the SEC's top quarterbacks in 2013. He plays in a big-play offense that can utilize his dual-threat capabilities to create all kinds of holes in the defense.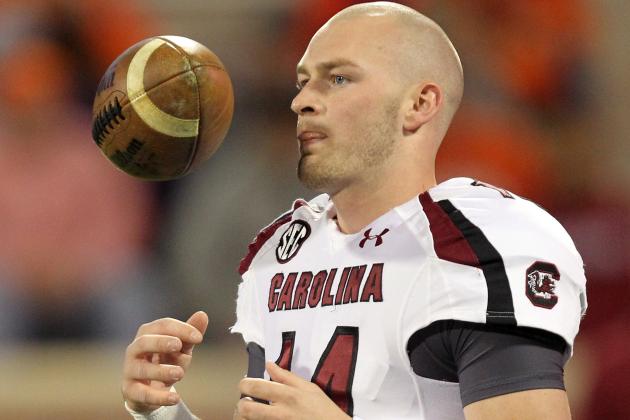 Streeter Lecka/Getty Images
South Carolina QB Connor Shaw
I know, I know..."Connor Shaw isn't a playmaker."
Slow your roll, he absolutely is. A big-time playmaker, at that.
The rising senior signal-caller for the South Carolina Gamecocks has shown during his first three years in Columbia that he has what it takes to be a big-time dual-threat quarterback in the SEC, throwing for for 32 touchdowns and running for 11 more during his first three seasons.
He will find himself in a battle with junior Dylan Thompson this fall, but that doesn't take away from the fact that Shaw is a stud. He finished second in the SEC in completion percentage in each of the last two seasons and finished 10th in the nation in passing efficiency in 2012 with a 158.06 passer rating.
He has struggled with injuries, most recently missing spring practice after undergoing offseason foot surgery. But his 17-3 record as a starter indicates that he's a true leader in the huddle. When healthy, he has what it takes to lead the Gamecocks to the BCS National Championship.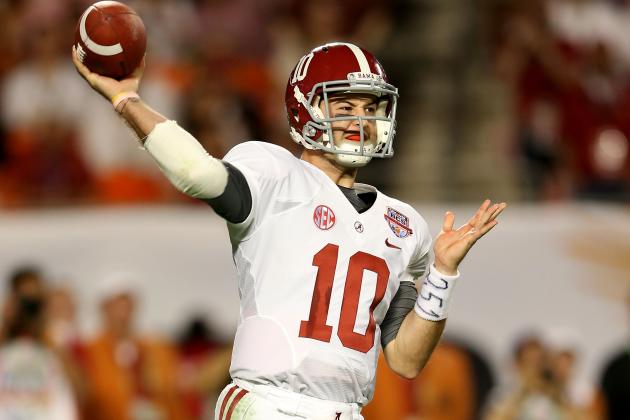 Streeter Lecka/Getty Images
Alabama QB AJ McCarron
Whether you think of Alabama quarterback AJ McCarron as a "game-manager," a "gun-slinger" or something in-between, one label McCarron carries can't be disputed.
"Winner."
If you don't believe me, the fact that he has more BCS National Championship rings than losses as a starting quarterback should end that discussion (yes, he did get a ring when he redshirted in 2009).
A marvel of efficiency, McCarron completed 67.2 percent of his passes for 30 touchdowns and only three interceptions last season for a passer rating of 175.28—the top mark in the country.
But he showed at times that he can be the gun-slinger he was touted to be coming out of St. Paul's Episcopal School in Mobile, Ala. He was named the offensive MVP of the 2012 BCS National Championship Game after throwing for 234 yards against LSU, and he threw for more than 300 yards twice last season.
He absolutely has the ability to put up video-game statistics, and it's a compliment to his program that he doesn't have to.
Scott Cunningham/Getty Images
Georgia QB Aaron Murray
Quarterback Aaron Murray has enjoyed a fantastic college career at Georgia, setting the single-season Bulldog touchdown-pass record in 2011 with 35, only to best that by one score in 2012.
Murray has a firm grasp of what head coach Mark Richt and offensive coordinator Mike Bobo want to do with the offense and is a big reason why the Bulldogs had he SEC's third-best offense last season. He has the freedom to audible at the line of scrimmage, led his team to two consecutive division titles and was within five yards of playing for the crystal football in 2012.
He passed on the NFL last season to come back to Athens and give it one last shot at a title.
Considering what he has shown over the last three seasons and the cast he has coming back around him, there's nothing to suggest that Murray can't lead his team to that position again in 2013.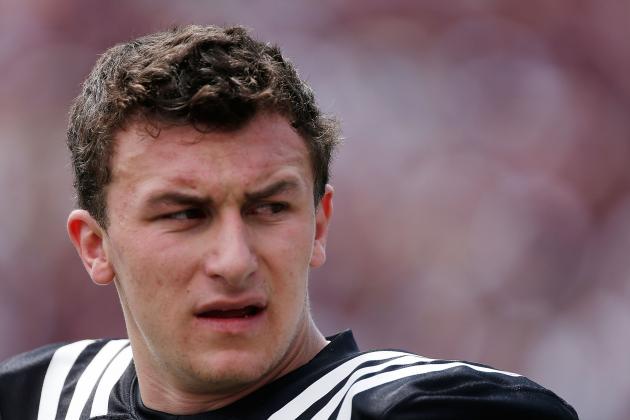 Scott Halleran/Getty Images
Texas A&M QB Johnny Manziel
In one short season, Texas A&M quarterback Johnny Manziel transformed himself from unknown dark horse for the Aggie starting quarterback job to full-fledged college football superstar, complete with a Heisman Trophy in tow.
Not a bad debut. That is, of course, assuming you like dynamic playmaking ability, video game statistics and double-digit win seasons.
Manziel returns for his redshirt sophomore season in College Station with the target on his and his team's back.
He can handle it.
Manziel has underrated arm strength, remarkable accuracy (even when his footwork is lacking) and dynamic scrambling ability that makes him incredibly dangerous.
He can beat you in a variety of ways. With so many weapons around him in 2013, including a four-headed monster at running back and a deep group of talented wide receivers, expect him to do it again in 2013.