Will Dodgers-Red Sox Blockbuster Go Down as MLB's Worst All-Time Trade?
Use your ← → (arrow) keys to browse more stories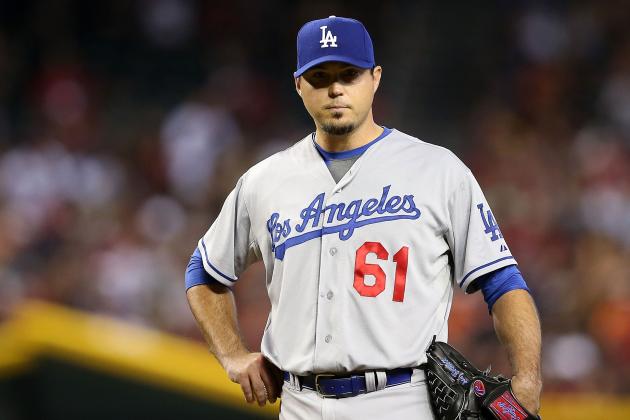 Christian Petersen/Getty Images
It's not a pretty picture in L.A., as Josh Beckett failed to get a win again Tuesday night, making it the first time in his career he's gone winless through seven starts.
Maybe it's time for a Hollywood re-write?
After another loss Tuesday night, the Los Angeles Dodgers sit at 13-19 and in last place in the NL West.
Not quite the script the Dodgers had hoped to pen when the new ownership started remaking the roster in the middle of last season.
That makeover began with separate trades for Hanley Ramirez and Brandon League last July and was capped off by the Zack Greinke signing in December.
Fast-forward several months and Ramirez is starting what is already his second extended DL stint of 2013...League already has a blown save and two losses—the second of which came Tuesday—after inking a $22.5 million extension over the winter...and Zack Greinke hasn't had much of an opportunity to bring a return on the $147 million the Dodgers invested in the right-hander.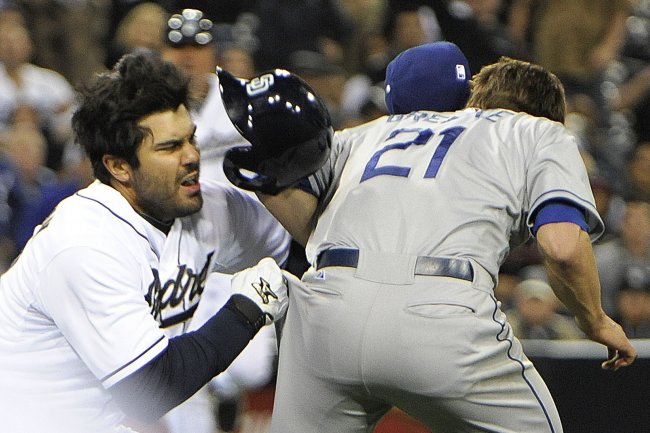 Bad luck? Sure. Injuries? You bet. But all three of those decisions look like potential do-overs. Already.
The one the Dodgers may end up wishing they could push rewind on most, though, is their blockbuster deal from last August, the one that could alter the course of the franchise for the better part of this decade.
You remember the names and the situation, but a quick refresher is always helpful.
After beating the Marlins, 11-4, last Aug. 24, the Dodgers were 68-58, just three games back of the Giants for the NL West lead. With a string of 15 straight intra-division matchups on the horizon and sensing an opening, general manager Ned Colletti, his front office and the new owners went all-in.
In a trade involving nine—nine!—players...
the Dodgers acquired: first baseman Adrian Gonzalez, outfielder Carl Crawford, right-hander Josh Beckett and infielder Nick

Punto

the Red Sox acquired: first baseman James

Loney

, outfielder Jerry Sands, infielder Ivan De Jesus and right-handers

Rubby

De La Rosa and Allen Webster
Nobody quite knew what to make of the deal at the time. Three All-Stars (albeit, Crawford was on the DL at the time) in exchange for a fringy first baseman and four practically unknown players who were in the minor leagues at the time?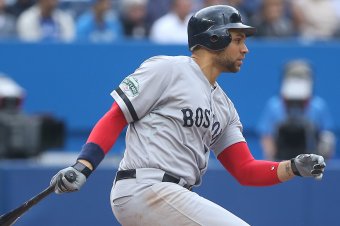 Surely, the Dodgers were now the team to beat in the division, maybe even the National League.
And yet, no one could fathom the ramifications of a trade whose impact goes way, way beyond the final five weeks of the 2012 season.
Of course, this trade was never really about the players as much as it was about the money, which is what makes it so difficult to evaluate and compare to other prominent trades-gone-wrong in baseball history.
Simply put, there hasn't really been another trade like this before. And there may never be again.
By jettisoning Gonzalez, Crawford and Beckett, the Red Sox shed more than—hang on to your hats—$250 million in salary obligations through 2018. Which is, like, five years from now.
Basically, Boston GM Ben Cherington, in his first year after taking over for Theo Epstein, realized his club was going nowhere in 2012 and might be in bigger trouble with so much money tied up in those three players long-term.
Cherington had the foresight—not to mention, the intestinal fortitude—to push the reset button, and he found just the right team at just the right time and in just the right position (both competitively and financially) to enable him to do so.
That Cherington landed a pair of young, high-upside, hard-throwing, nearly big league-ready pitchers in De La Rosa and Webster was just a bonus.
If top prospect Allen Webster reaches his potential, the Dodgers will regret last August's trade with Boston even more.
As if things couldn't be going wronger (it's a word—look it up) for the Dodgers, the latest news out of L.A. is that Gonzalez's pre-shoulder-injury swing may never return, meaning the team is paying upward of $120 mill between now and 2018 for a first baseman who's becoming a high-average, doubles-machine who may come up short in the power department. In other words, a (very) rich man's James Loney.
Add to that Beckett's face-plant—he's 0-4 with a 5.13 ERA—as the 32-year-old no longer possesses the power fastball that made him one of baseball's top pitchers for the better part of a decade. The good news? His contract only runs through next season.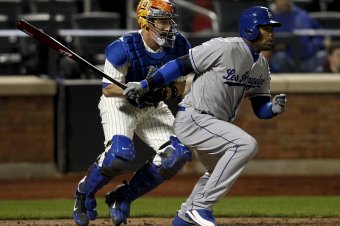 As for Crawford, well, he's at least shown signs he can regain his former form. The left fielder is hitting .304 with five homers, six steals and 22 runs. Of course, we're also talking about a player who missed almost all of last year and whose skill set is built on speed and athleticism—and who turns 32 in August. He's got nearly $100 mill coming his way through 2017.
Given the money owed to Gonzalez, Beckett and Crawford, the Dodgers are stuck with them, so the only hope is that the trio can team with other big-money, slow-starting stars like Matt Kemp, Andre Ethier and eventually Greinke to turn things around. If not this year, then starting with 2014.
All in all, the fortunes of the two teams at this very moment couldn't be any further apart on the spectrum: The Dodgers are languishing in last, while the Red Sox are frolicking in first.
Does that make this trade the worst-ever in MLB history for the Dodgers? We're not even six weeks into the first full season after the deal, so let's not get carried away.
But given the way things have gone so far, here's betting there won't be a sequel.