Five Signs the Boston Red Sox Are Destined to Reach the Playoffs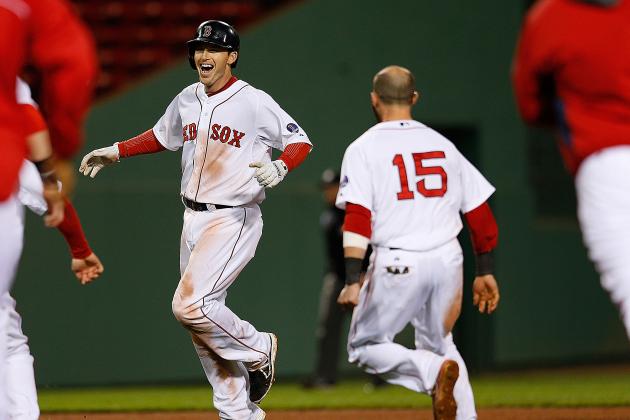 Jim Rogash/Getty Images

Back in January, I highlighted eight reasons why the Red Sox would make the postseason. Of course, everyone thought I was crazy at the time. To be honest, I thought I was a little crazy for a second there. But turns out, I was more on target than I thought.
Through the first month of the season, the Red Sox have managed to exceed all expectations and have now led the AL East since day one.
There is that nagging question, though: Can they keep it up through October or is this just a flash in the pan?
Here are five reasons why the Red Sox will make the postseason.
Begin Slideshow

»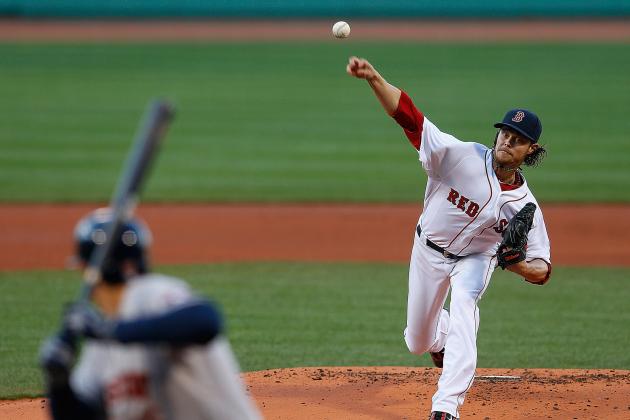 Jim Rogash/Getty Images

The most apparent piece of the Red Sox success so far has been pitching.
As a staff, Boston's pitchers rank third in the league in Fielding Independent Pitching (FIP: a measure of a pitcher's ERA without defensive factors). They also rank third in pitcher's WAR. Most impressively, the Red Sox staff is leading all of baseball in strikeout rate, averaging a brilliant 9.93 strikeouts per nine innings.
Leading Boston's staff has been 29-year-old star Clay Buchholz.
The right-hander leads Red Sox starters with a 1.60 ERA, 2.13 FIP, and 2.0 WAR. Furthermore, his 2.0 WAR ranks tops in all of baseball, ahead of established superstars like Felix Hernandez and Clayton Kershaw. He's currently 6-0 on the season, and the Red Sox have won every game that he has pitched in.
The rest of the rotation has performed admirably. In fact, all of the Red Sox starting pitchers own a FIP under 4.00, an impressive achievement that few other teams can match.
Despite the strength of the rotation, the bullpen is off to a bit of a rocky start. While late-inning staples Junichi Tazawa, Koji Uehara and Andrew Miller have been strong, All-Star relievers Joel Hanrahan and Andrew Bailey have struggled to stay healthy. The 'pen is still a strength, but the injury bug has prevented them from being as good as they can be.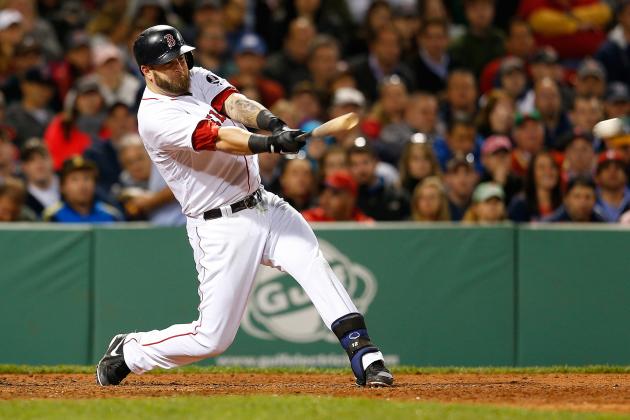 Jim Rogash/Getty Images

For all the hype surrounding Boston's pitching staff, the offense hasn't been too shabby, either, and that's an understatement. They've been excellent.
As a team, Red Sox hitters rank fifth in all of baseball with 158 runs scored, third in walk rate, and an impressive second in WAR at 7.1.
Their elite standing in the league is no fluke, either.
Leadoff hitter Jacoby Ellsbury has hit for average and is leading the league in stolen bases. He ranks second in the league in WAR among center fielders.
No. 3 hitter, and local team sparkplug Dustin Pedroia has been brilliant as well, holding an on-base percentage well over .400 and providing quality defense.
Batting in the heart of the order, recent acquisition Mike Napoli has been a force. He currently leads the league in doubles and ranks second in the league in RBI. His power bat is a huge asset to the Red Sox order.
Daniel Nava has been a surprise performer, as he's posted numbers reminiscent of an MVP, hitting for power and posting his characteristically strong on base percentage.
And of course there's David Ortiz, who has been demolishing baseballs since returning from the DL. He's currently making a bid for Joe DiMaggio's 56-game hit streak. He's almost halfway there.
I could go on, but the gist is that Boston's offense has been a brilliant complement to its superb pitching.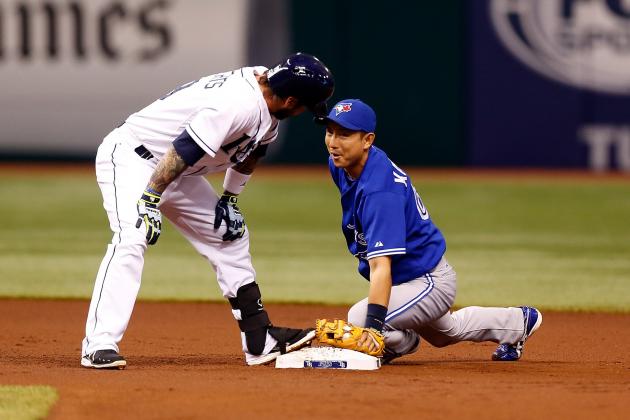 J. Meric/Getty Images

At the start of the season, the biggest concern for the Red Sox wasn't their pitching or their hitting. It was their competition.
Along with the perennial contenders in New York, the Red Sox would also have to deal with a revamped Blue Jays roster, a formidable Rays rotation and an impressive Orioles lineup.
Fortunately for the Red Sox, both the Rays and Blue Jays have been huge disappointments.
The Rays are sitting second to last in the AL East with a losing record thanks in large part to poor pitching. Outside of Matt Moore and reliever Joel Peralta, the Rays pitching staff has just been plain awful, registering a collective 4.39 ERA.
The Blue Jays have been no better. Their pitching staff owns an even uglier 4.73 ERA. Furthermore, injuries to key players like Josh Johnson and Jose Reyes have seriously hampered the Jays' efforts to contend.
While the Orioles and Yankees have proven to be worthy opponents thus far, the severely depleted AL East presents an opportunity for the Red Sox to snag a division title and, with it, their first playoff spot since 2009.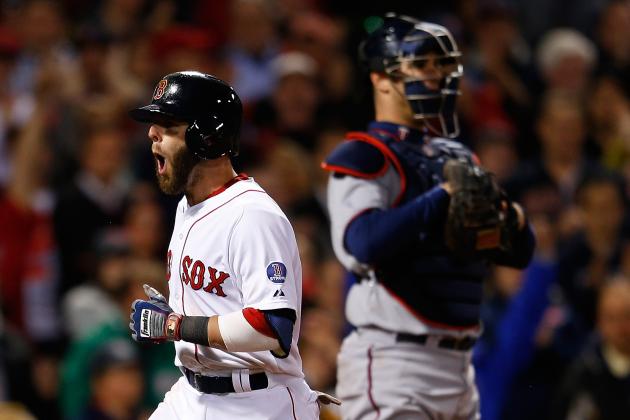 Jim Rogash/Getty Images

We can analyze statistics all day, but the bottom line is simple. If the Red Sox want to make the postseason, their performance so far suggests they're well on their way.
With 21 wins and 12 losses, the Red Sox own the best record in baseball, second to none. The team has also achieved the rare feat of leading the AL East since day one. Boston has also racked up the third best run differential in baseball at plus-33.
In the most recent B/R power rankings, the Red Sox ranked fifth, dropping down from the top spot they held a week earlier. They've been an elite team, at or near the top of the baseball ladder all year. Barring any serious injuries, the Red Sox will likely maintain a spot in the top 5 in the MLB power rankings.
After an extremely hot start, the Red Sox have shown minimal signs of slowing down. While they had a tough weekend trip to Texas, a few losses to a very tough Rangers ball club should do little to weaken the resolve of this revamped, extremely talented group of players.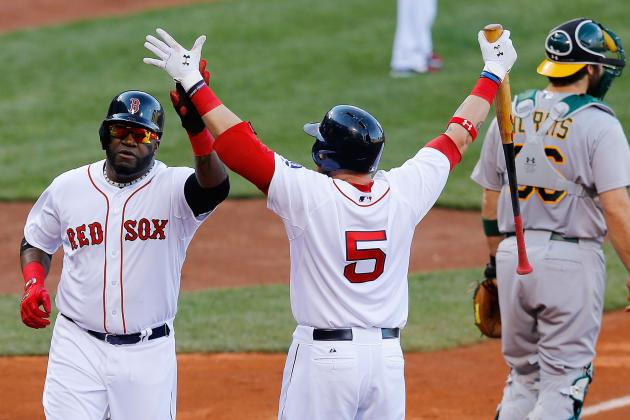 Jared Wickerham/Getty Images
Jonny Gomes congratulates Ortiz on scoring a run
Make no mistake, this is not the same team that lost 93 games last season. While many players remain from that horrid year, the team itself bears absolutely no resemblance to Bobby Valentine's Red Sox.
As Boston fans are all too well aware of by now, having quality player chemistry is just as important to success as having quality players.
With that in mind, Boston's front office struck a huge deal to remove the arrogant, overpaid likes of Josh Beckett, Carl Crawford, and Adrian Gonzalez, replacing them with affordable team-oriented players like Mike Napoli and Shane Victorino. Other new additions like Jonny Gomes and David Ross are also well known for their humorous and supportive attitude in the clubhouse.
While it's nearly impossible to quantify, there is a different mood about the Red Sox these days.
The fresh atmosphere can be described in many ways. Some may call it a newfound drive to win. Others, a more focused approach brought on by new management.
However, the most important perspective on this year's Red Sox is simple: They're having fun enjoying the game of baseball.
After nearly every clutch his this year, the player who scored the hit can be seen smiling and flexing their biceps enthusiastically in the direction of the dugout. This gesture, first performed by Napoli, is just one example of the fun, reinvigorated brand of baseball being played in Boston. And it seems that one of the by-products of a baseball team having fun is winning.
While it may a stretch to say this new clubhouse is reminiscent of the Kevin Millar-led group that took Boston all the way in 2004, they certainly have a cool and enthusiastic attitude on the field that has played a major role in helping them rack up the Ws this year.
Play on, Boston. Play on.