MLB Predictions 2013: 8 Reasons Why the Boston Red Sox Will Make the Postseason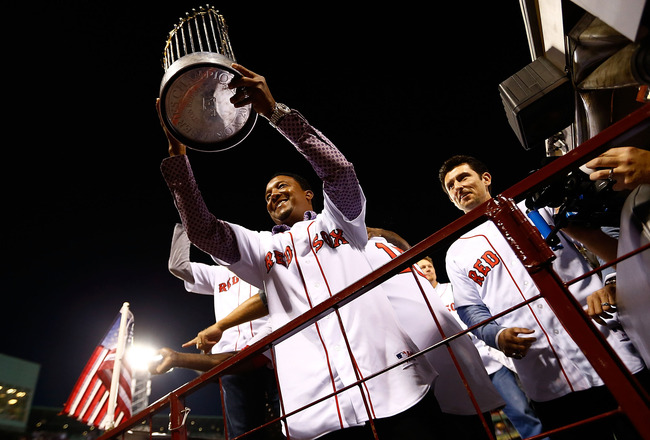 It's been some time since the Red Sox were anywhere near being able to hoist this trophy
Jared Wickerham/Getty Images
As a longtime Red Sox fan, it's hard to be hopeful about the future these days. Pulling off the largest salary dump in history just weeks before the start of the postseason doesn't exactly inspire confidence. And Terry Francona's recent bridge-burning comments about his former employers certainly don't help.
However, in giving up on one era, the Red Sox front office ushered in a new one that closely resembles another time in Red Sox history that led to the 2004 World Series championship.
It seems that Ben Cherington has finally smartened up and decided to rebuild this team from the ground up through player development and smaller free-agent signings, a strategy trademarked by Theo Epstein's early career during his pair of championship runs in Boston.
The organization's turn back towards this proven strategy has breathed a touch of hope into the hearts of Red Sox Nation. With that in mind, here are eight reasons why the Red Sox will reach the postseason this year for the first time since 2009.
Strong Core of Veteran Leaders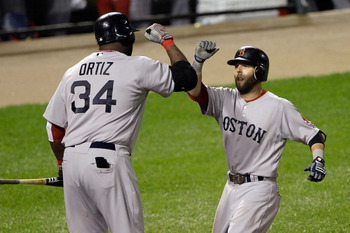 Rob Carr/Getty Images
When the Red Sox decided to unload three of their most talented players to the Dodgers last season, much of the baseball world concluded that Boston's roster had been cleaned out of any useful performers.
Wrong.
When Ben Cherington struck that deal with the Dodgers, he did it with the knowledge that the Red Sox roster was still very strong.
You don't have to look very far for evidence of this. Boston's star second baseman Dustin Pedroia is the unquestioned leader of this team. He is a living, breathing representation of the all-go, no-quit attitude that helped bring home two world championships. He needs to continue to be a leader going forward.
Slugger David Ortiz—the man with an 80-watt smile—loves the Red Sox more than money, as he proved in 2011 when he opted to accept a weak arbitration offer instead of signing a more lucrative contract elsewhere. Ortiz's heart epitomizes Boston's love of baseball.
The recently signed Johnny Gomes is one of baseball's most entertaining personalities, and should provide both hilarious press conferences and a strong clubhouse presence to motivate his team to do great things. Gomes is an eternal optimist, just the kind of Kevin Millar-type player that Boston needs.
I could go on, but the point is that this clubhouse is not only packed with talent, it's also loaded to the brim with genuinely good people who would like nothing more than to see their team succeed.
Smart, Low-Risk Acquisitions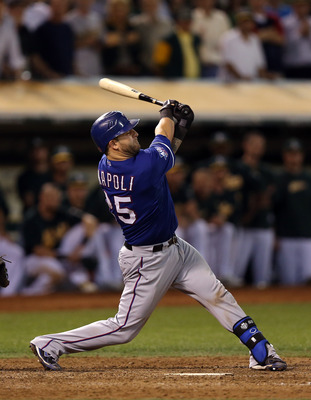 Napoli is one of several low risk, high reward acquisitions this off-season
Ezra Shaw/Getty Images
Like most offseasons, the deep-pocketed Boston Red Sox have had money to spend.
However, the one glaring difference between this year and previous years is that the money spent has not culminated in any superstar names or long-term contracts. Instead, the largest contract of the offseason was less than $40 million, and the signings themselves did not seem like front page news.
This is exactly the approach that the Red Sox took to win their most recent championships.
When the Red Sox signed Bill Mueller and David Ortiz in 2003 for a collective price under $4 million, no one batted an eye as most probably assumed they would be forgettable platoon players. Instead, they were instrumental in the 2004 championship run. The same could be said about Mike Lowell and the 2007 World Series.
On the flip side, the acquisitions of Carl Crawford and Adrian Gonzalez, signed for a total of almost $300 million, did not help to bring home a championship trophy despite the astronomical price tag.
The Red Sox front office is being smart. Instead of handing risky, nearly record-setting contracts to top-of-the-line players like Zack Greinke or Josh Hamilton, the Red Sox have chosen to give low-risk contracts to consistently above-average performers who are valuable contributors (if not superstars).
The signings of guys like Mike Napoli, Ryan Dempster, Koji Uehara and Shane Victorino were far from front-page news when compared to the contracts of Greinke or Hamilton. But considering the relatively small amount of money invested, these comparatively minor signings by the Red Sox may very well end up providing vastly more bang for the buck over the next few years.
Well-Balanced Lineup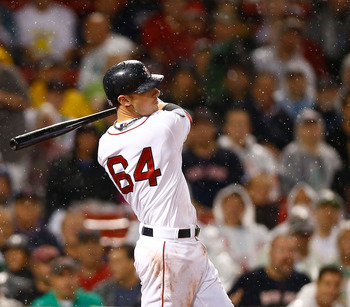 Will Middlebrooks will provide power out of the heart of Boston's lineup
Jared Wickerham/Getty Images
My view of the most likely Red Sox lineup for 2013 is as follows:
Jacoby Ellsbury, CF (L)
Shane Victorino, RF (S)
Dustin Pedroia, 2B (R)
David Ortiz, DH (L)
Will Middlebrooks, 3B (R)
Mike Napoli, 1B (R)
Jarrod Saltalamacchia, C (S)
Johnny Gomes, LF, (R)
Stephen Drew, SS (L)
What we have here is one of the better lineups in baseball. Although it won't be confused with that of the Tigers or Angels, this lineup certainly has the potential to finish near the top of the league in runs scored. Ellsbury, Victorino and Pedroia provide OBP, speed and some power at the top of the order. Ortiz, Middlebrooks and Napoli pack a huge amount of punch into the heart of the order. Salty and Gomes also have bases-clearing pop and Gomes in particular has a knack for getting on base. Drew could jump up a little higher in the order if he exceeds expectations, but he's a very solid number nine hitter who can work a count, get on base and even swipe a few bags here and there.
The Red Sox also don't have to worry about having a surplus of lefties anymore. They can now enjoy a lineup that almost perfectly flips back and forth between righties and lefties, with Middlebrooks and Napoli being the only exception.
As has been the case for many of the past few years, Boston's lineup will do a fair amount of damage—especially in Fenway Park.
The only question is: Now that Darnell McDonald has skipped town, who will be Boston's go-to emergency position player pitcher?
Middlebrooks has a cannon of an arm, but I'd love to see Pedroia have a go on the mound. His natural intensity would be a spectacle.
Deceptively Strong Starting Rotation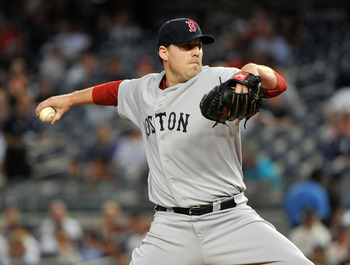 A rejuvenated John Lackey could be a huge asset for the Red Sox rotation
Christopher Pasatieri/Getty Images
Now we get to Boston's biggest potential weakness: its starting rotation.
It is true that the Red Sox starting rotation could be one of the worst in baseball judging by recent performances by the likes of Jon Lester, John Lackey and others. However, Boston's rotation has as much talent as any in baseball.
Let's break down, pitcher by pitcher, why I feel this rotation has so much potential for greatness.
Jon Lester: One of the most exciting players to watch, we've seen Lester go from a young thrower to an ace strikeout artist to a hittable mid-rotation starter in the span of about six years. Despite his statistical disappointment in 2012 and parts of 2011, Lester's stuff has not regressed. His curve is still a hammer, and his fastball routinely sits in the mid-90s deep into games.
Lester's problems stem from inconsistent coaching, a lack of confidence and no longer having Jason Varitek to call his games. With John Farrell returning to the team and with experienced veteran David Ross available to catch for Lester, I see Lester returning to his former glory in short order.
Ryan Dempster: Dempster is a different animal entirely. He's not an ace, and he won't be posting an ERA in the 2.00s as he's done on occasion in his career. He is instead going to do what he does best: eat innings. I expect him to make more than 30 starts, pitch around 200 innings and post an ERA in the 3.75 range.
The Red Sox should be very happy with that, especially considering how injury prone their pitchers have been lately.
Clay Buchholz: Ahh, Buchholz. Boston's ace-in-training who can never find consistency.
Ever since being drafted, Buchholz's electric stuff has been a point of excitement for scouts. He has three plus pitches, all of which he can throw for strikes. He's always been built to lead a rotation.
His biggest problem has been inconsistency. Last season, Buchholz posted a horrendous 7.20 ERA through the first two months of the season before proceeding to put up a marvelous 3.06 ERA for the rest of the year.
Buchholz's struggles mystify a lot of coaches, but the potential is there for him to build on his success and ascend to the top of the rotation.
Felix Doubront: Doubront has a great arm and good deception in his motion. He has strikeout stuff, most notably featuring a curveball and two-seamer that have served him well since his entrance into the majors.
However, he needs to vastly improve his efficiency and command if he wants to stick in the rotation.
But he's still young, so he has plenty of time to work out the kinks.
The best-case scenario for Doubront is a high walk rate with a proportionally high strikeout rate that keeps his ERA down in the mid to low 3.00s. The worst-case scenario is that he can't find his control at all and ends up in the bullpen, or gets demoted to the minors.
I expect Doubront to settles somewhere in the middle and post pedestrian numbers.
John Lackey: Love him or hate him, Lackey is Boston's best option to pitch fifth in the rotation.
To be honest, Lackey is Boston's X-factor. If he returns to the All-Star caliber pitcher he was with the Angels, the Red Sox will have another ace on their hands with a team friendly contract. That right there could spell a postseason berth for Boston.
Of course, if Lackey does not revert to his former glory he'll continue to be Boston's most hated baseball player. (Let's all hope for the former option.) Regardless, you have to give the guy credit for not giving up.
So there you have it, folks. A starting rotation with all the potential for greatness, but very few people believe they can get there. Whether the starting rotation can achieve that greatness will be the deciding factor in Boston's playoff hopes.
A Loaded Bullpen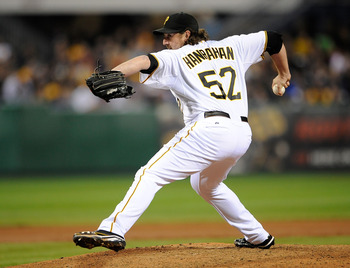 Joel Hanrahan should be a dominant presence at the back end of Boston's bullpen
Joe Sargent/Getty Images
The one bit of good news about pitching is that the Red Sox do not have to worry about the bullpen.
Let's be honest. This bullpen is absolutely stacked from top to bottom. There's so many top-notch pitchers in the relief corps, Boston can't even fit them all on the roster.
Starting from the top, we have two All-Star caliber closers covering the eighth and ninth innings in Joel Hanrahan and Andrew Bailey.
Next, you have one of the game's best setup men in Koji Uehara to pitch the seventh.
Rookie setup man Junichi Tazawa earns the fourth spot in this pecking order after putting up a ridiculous 1.43 ERA in Boston at the end of last year.
Boston has a trio of lefties who have experience pitching late in close games. Andrew Miller and Franklin Morales can go multiple innings, and can start a few games as well. Craig Breslow is the most reliable southpaw, and will be very useful against both lefties and righties.
Alfredo Aceves, AKA "the man with the rubber arm," comes next. If he can keep his temper under control this year, he could be Boston's best reliever once again.
Incredibly, there's no more room on the roster for anyone else. Daniel Bard, Alex Wilson and Chris Carpenter will all have to start in the minors and wait for an injury to open up a spot for them. Clay Mortensen also does not fit on the big league roster, but he is out of minor league options. Boston may try to slip him through waivers, but he will likely be snatched up by another team.
The Red Sox bullpen is dominant in every sense of the word. They will be exciting to watch.
Defense
Shane Victorino will be a huge asset in Fenway's spacious right field
Rob Carr/Getty Images
You know what they say, pitching and defense wins championships. While the pitching part of that equation is still a work in progress in Boston (at least with regards to the rotation), defense is not an issue.
Behind the plate, Salty is nothing to write home about, but he's certainly a more than adequate defender. On the other hand, his backup David Ross is one of the better defensive catchers in the league. Ross throws out runners at an excellent clip and very rarely allows a passed ball. I'd expect him to get a significant amount of playing time as a result.
Will Middlebrooks may not have the best glove, but his arm is a huge asset at the hot corner. He should see marked improvements in his glove work now that he has some big-league experience.
Mike Napoli is likely Boston's weakest defender, but that's fine because life at first base is not particularly difficult. While it won't be easy for Napoli by any means, his defensive shortcomings are not severe enough to seriously alter the outcome of a game.
Up the middle, Dustin Pedroia and Stephen Drew routinely contend for Gold Gloves and post excellent defensive WARs. These two will be a brilliant pairing on the field.
The outfield is very strong defensively. Jonny Gomes may be nothing to brag about, but he's more than capable of covering Boston's miniscule left field.
The best part about the outfield comes in center and right field. Shane Victorino and Jacoby Ellsbury are both past Gold Glove-winning center fielders. They have plus range and excellent glove work. Playing next to each other, Ellsbury and Victorino will take away three-quarters of the outfield easily. Everywhere from left-center field all the way to Pesky pole should be covered by these two lightning-footed defenders.
Boston has a huge asset in these two guys.
The Red Sox have three, possibly four, legitimate Gold Glove candidates. With all that, I nearly forgot to mention the fact that Daniel Nava and Pedro Ciriaco—two more reliable fielders—will be available on the bench.
The strength of Boston's defense will give the starting pitchers some much needed peace of mind.
John Farrell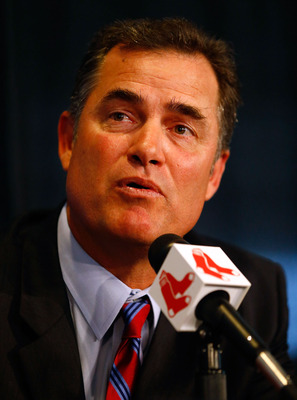 John Farrel should be a welcome improvement over Bobby Valentine
Jared Wickerham/Getty Images
I've mentioned him a few times already—particularly with regards to pitching—but incoming manager John Farrell is more than just a pitching coach now. Yes, he will focus mostly on the pitchers, at least at first (which is probably why he made the unusual decision of hiring two hitting coaches, h/t to the Eagle-Tribune). But I think he's going to be a great manager all around.
Lester, Buchholz and Bard have always been very receptive to coaching from Farrell, as the trio of pitchers had their best statistical seasons under Farrell's tutelage. In his new role, Farrell will be more of a motivator and leader than a coach. But judging by Bard and Lester's lack of mental toughness in recent years, that's exactly what's needed.
In terms of his general skills as a manager, Farrell is a striking contrast to the recently fired Bobby Valentine. Farrell is known for communicating well with his team, much like Terry Francona. Farrell is a player's manager, but he also knows how to be tough with those who need it. Farrell has also gained attention for promoting a very aggressive running game. All of this may be good for the Red Sox, as they have a trio of speedsters at the top of their lineup who will benefit from Farrell's approach to the basepaths.
All in all, I think John Farrell will be a very effective manager. One who could lead the Red Sox to a few championships in the near future if he gets just a bit of luck along the way.
Something to Prove
Buchholz, Saltalamacchia and others will be motivaed to win in 2013 after a disastrous 2012 season
Elsa/Getty Images
However you slice it, this organization, this team and every player on this team all have something to prove.
The front office needs to get back in the good graces of the fan base. A solid playoff run would be a huge first step in that direction.
Just about every player has something to prove. Whether it's people like Lackey and Ellsbury coming off injuries who need to return to form, young stars like Middlebrooks and Tazawa who need to prove they have what it takes to perform in the big leagues, recent signees like Victorino and Dempster who need to get in the good graces of the fans or players like Lester and Pedroia who will be up for contract extensions soon, all of these guys have something to prove.
Add it all up, and what you have is a hugely motivated group that will do whatever it takes to win.
The Boston fan base has changed drastically in the past decade. Before 2004, the Red Sox were a group of lovable losers who always came up short but never lost the support of their faithful fans. Then, they finally broke the curse that had been holding them back for 86 years.
Ever since then, just reaching the playoffs has not been enough for the fans.
These days, if Boston doesn't sign at least one big-name player and make a perennial World Series push, they are deemed a failure by the media and many of the fans. This reaction led to the ownership putting pressure on Theo Epstein to sign more famous players to bigger contracts to keep the fans engaged.
This, of course, backfired dramatically.
Feeding the Monster that is Red Sox Nation has become consistently more difficult since the 2004 World Series win. Having not reached the playoffs for three years, keeping the fans in full-fledged support is more difficult than ever.
Now that the organization has decided to stop signing expensive superstars like Carl Crawford and Adrian Gonzalez, they must win back their fans on the field. A playoff berth and maybe a World Series push would go a long way towards returning this team to its former astronomical popularity in Boston.
The talent is there. The motivation is there. We just have to wait and see.
Keep Reading

Boston Red Sox: Like this team?