Rating the Barcelona Players in Their 4-2 Win Against Real Betis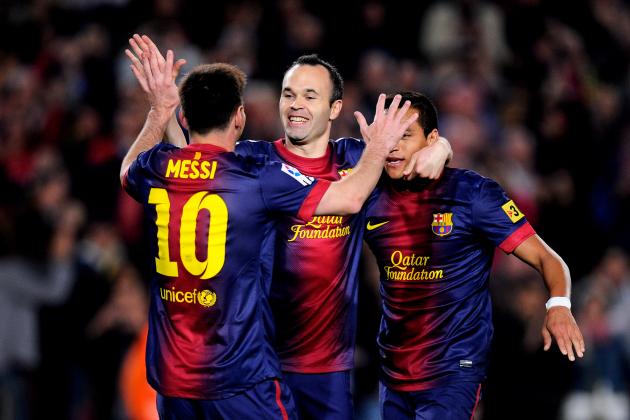 David Ramos/Getty Images

Barcelona was forced to make two comebacks en route to a 4-2 victory against Real Betis at the Camp Nou. However, the score line does not reflect just how dominant the Catalans really were.
Several players missed big chances, but the ability to create scoring opportunities was not in question. As a whole, the Barcelona players gave fans their money's worth at the Camp Nou.
In this article we will take a look at the ratings for the Barcelona players. As always, have a look at the rating system below and note that all statistics are courtesy of WhoScored.com.
1—Absolutely awful
2—No production whatsoever
3—Very little production
4—Worse than average
5—Average performance
6—Above average
7—Good production
8—Very high production
9—Nearly perfect performance
10—Absolute perfection
Begin Slideshow

»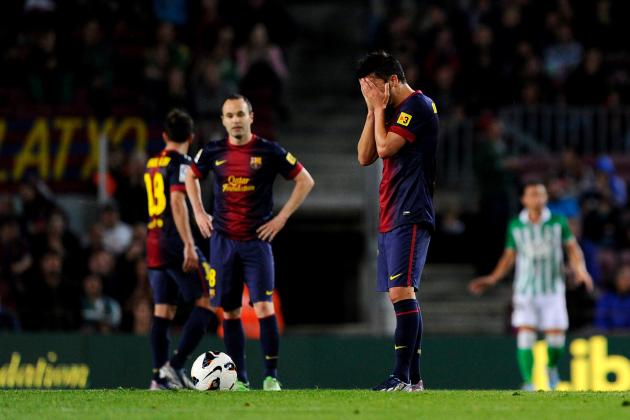 David Ramos/Getty Images

Pinto: 6/10
The Spanish keeper was not called into action very often despite surrendering two goals. Both shots were due to defensive errors and not Pinto. But his remarkable save in the first half to deny Salva Sevilla sees Pinto have a decent night in goal.
Dani Alves: 7/10
This was a relatively quiet night for the Brazilian. Alves made three key tackles and even got a shot off himself in attack. But it was his assist to David Villa that will be seen as his highlight on the night.
Gerard Pique: 6.5/10
Pique was forced to make several defensive stops and did well to hold the back line together. He won every header he contended for and made a few solid stops on the night that saved the Catalans.
Adriano: 4/10
If ever there was a night that showed that Adriano is not a center-back, it was this one. The Brazilian was solely at fault for the first goal and almost gave up a second when he allowed the ball to be taken from him in the box.
Jordi Alba: 7.5/10
The Spanish defender may have been Barcelona's best defender on the night. His three tackles came at key moments in the game, including one stop he made when covering for the center-backs. But Alba also played a very important role in attack as nearly all offensive plays came from his side of the pitch.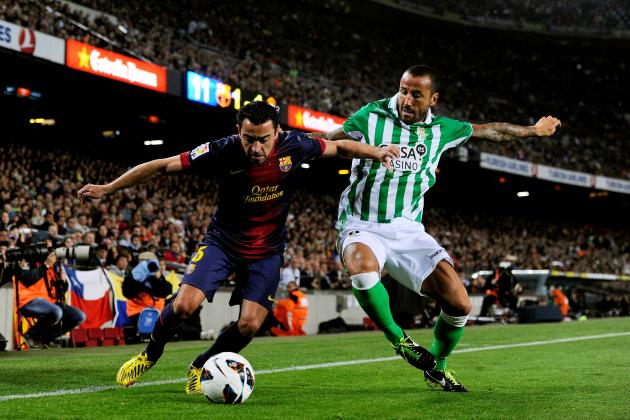 David Ramos/Getty Images

Alex Song: 5.5/10
After several matches of being the best player on the pitch, Song did not show his very best for Barcelona. He only made one tackle on the night and struggled to win headers. His error led to Betis' second goal. It was not a bad night for Song, just not overly strong.
Xavi: 7/10
Xavi enjoyed a passing rating of 94 percent and had close to 130 touches. The maestro pulled all the strings for La Blaugrana and did most of the behind-the-scenes work for the home side.
Andres Iniesta: 8/10
Iniesta continues to dazzle viewers with his ability to beat defenders and make space. His assist led to Barcelona's first goal, and his countless dribbles caused the defense to be pulled out of position. Iniesta has been Barcelona's second-most important player all season.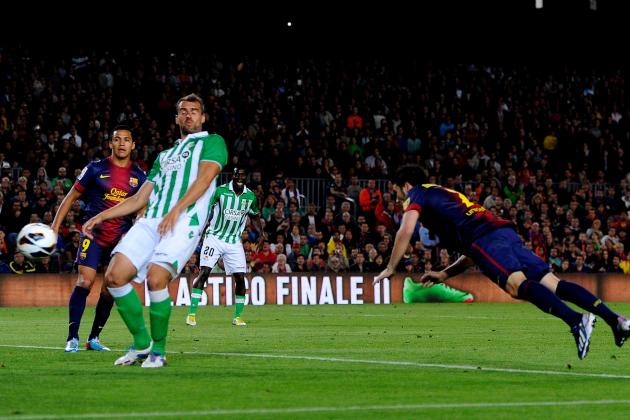 David Ramos/Getty Images

Alexis Sanchez: 8/10
The Chilean winger put in a brilliant performance for Barcelona on the night by scoring the club's first goal. After that, Alexis continued to pull defenders out of position and tracked back well to help defensively.
David Villa: 6/10
To begin with, David Villa did not play badly. He was just very unlucky. The striker had four simple chances to score but was denied by the keeper and himself. But his goal in the second half raises his rating, and the striker worked hard to make up for his earlier chances.
Cristian Tello: 8.5/10
Tello was arguably the best player on the pitch. The young winger won four dribbles and created numerous chances. He nearly assisted Villa twice and even "scored" himself by hitting the post, though it was clear the ball just missed crossing the line. He was a constant threat for Barca and earned more time on the pitch.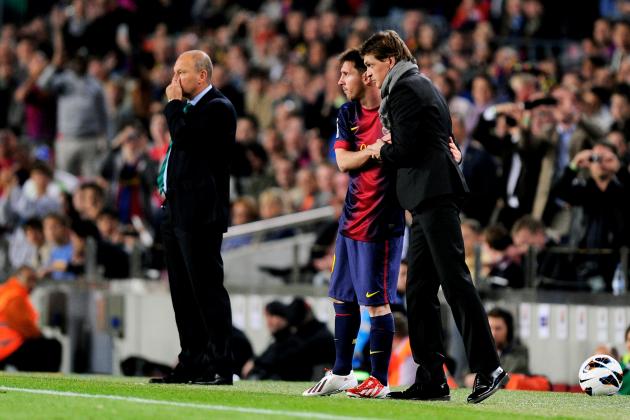 David Ramos/Getty Images

Lionel Messi: 9/10
When Messi was subbed on in the second half, everyone was expecting some magic. And that is exactly what they got. The Argentine scored a brace and had two chances to find the back of the net again. His mere presence changed the entire nature of the match.
Thiago: 6/10
Thiago came on late and provided a spark due to his fresh legs and young age. The Spanish midfielder had a few key passes and was very impressive in buildup play.
Sergio Busquets: N/A
The Catalan midfielder replaced Alex Song late in the second half but did not have enough time to really do anything. Above all else, fans were happy to see his return after a minor groin injury during the week.
How would you rate Barcelona's players on the night? Was Messi the man of the match, or did Tello do enough to earn the honor? Leave your thoughts and comments below.
Tre' Atkinson. Follow me on Twitter for more discussions on Barcelona and La Liga.