Texas A&M Football: How Will Teams Try to Stop Johnny Manziel?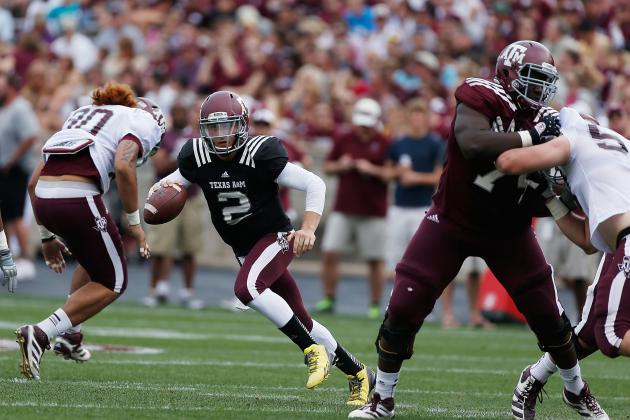 Scott Halleran/Getty Images

Ever since Texas A&M quarterback Johnny Manziel burst onto the scene in 2012, opposing defensive coordinators have been racking their brains for ways to contain him. With an entire offseason at their disposal, all of the Southeastern Conference teams have been trying to answer the question, "How do you stop Johnny Manziel?"
Manziel set an SEC record with 5,116 total yards in his first collegiate season. He led the Aggies to an 11-2 record in their inaugural season in the SEC.
In the process, he broke a multitude of school, conference and NCAA records. Manziel is the only player in collegiate football history to pass for 300 yards and rush for 100 yards in a game on three separate occasions.
Manziel defined prolific in 2012. The scary thing for opposing defensive coordinators is that he should have a better grasp of the Aggie offense in 2013, with a year of experience under his belt.
If Manziel has another season in 2013 like he had in 2012, the Aggies should compete for a conference and national title. This is a look at how opposing defenses will try to stop Manziel in 2013.
Begin Slideshow

»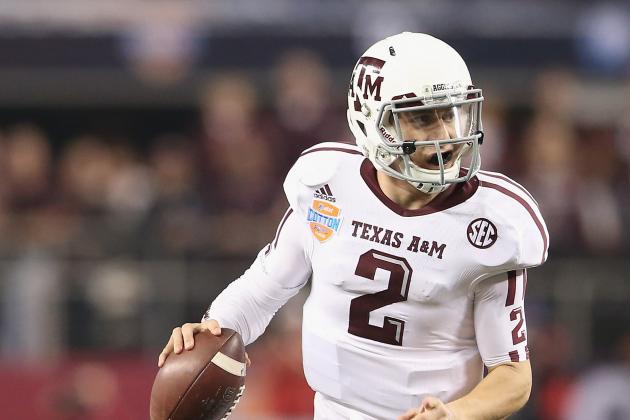 Ronald Martinez/Getty Images

Most defenses tried to use a spy against Manziel in 2012. The theory is to have a single player on the defense assigned to Manziel on every play and have him mirror the Aggie quarterback.
In theory, it is supposed to limit Manziel's ability to scramble. In practice, it is a colossal failure. The problem is that the spy is typically a linebacker or a safety.
Manziel is simply faster than most linebackers and safeties. He was faster than every spy he faced in 2012 and ran circles around them.
There is not much point in assigning a person to mirror Manziel to prevent his scrambling when that player cannot keep up with him when he does scramble.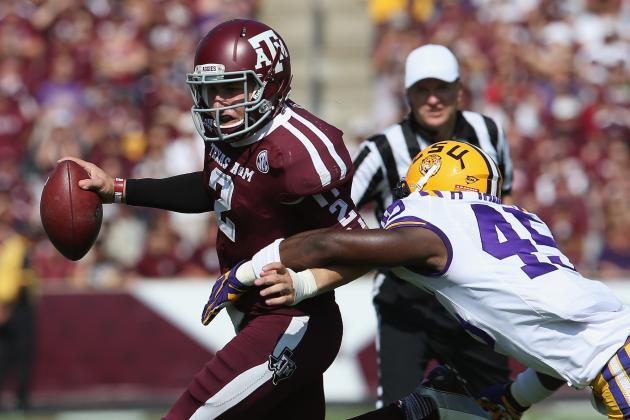 Ronald Martinez/Getty Images

Some teams will try to match Manziel's speed by putting more speed on the field. This was actually effective for LSU in 2012.
The Tigers went to a dime defense in the second half with six defensive backs on the field at one time. The LSU defensive line stayed in the rushing lanes in order to limit Manziel's scrambles.
When he did scramble, the Tigers had enough fast athletes on the field to limit the damage. It was effective, as LSU limited Manziel to his lowest rushing output of the season.
The issue with this scheme is that it is susceptible to the run. With Aggie running backs Ben Malena, Trey Williams, Brandon Williams and Tra Carson in the backfield, the Aggies will feast on defenses set up to defend the pass.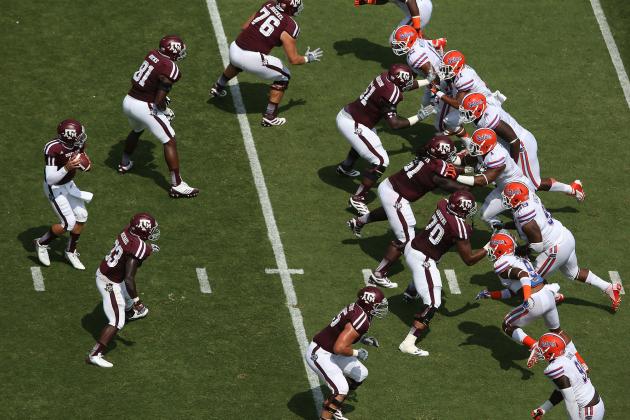 Ronald Martinez/Getty Images

The Florida Gators were able to hold the Texas A&M offense scoreless in the second half of their 2012 contest, but not rushing Johnny Manziel. The Gators had their defensive linemen maintain their rush lanes in order to limit Manziel's scrambling.
The idea was to make Manziel beat Florida by passing the ball. Manziel struggled to adjust in the second half, and Florida won the game.
The problem with this strategy is that it will give Manziel all day to complete passes. Against Florida, and to an extent LSU, this plan worked. It will not work now because he knows where to go with the football.
Manziel spent the first half of 2012 scrambling around and making plays on the fly. Now he knows how to run the offense and move a team down the field through the air, while running the plays that were called.
If a team limits its pass rush, Manziel will slice and dice the secondary in a blowout win.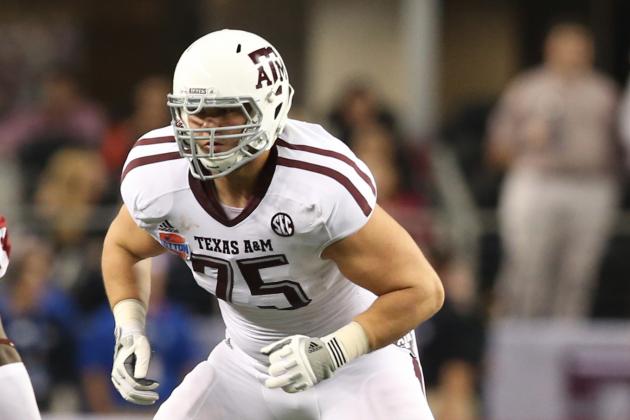 USA TODAY Sports

Some defenses will simply go with the basic concept of good defense—beat the man in front of you. There are teams who will stick with their normal defensive scheme and try to be better than the Aggie offense.
This is probably the best strategy of them all. If an opposing defensive line can consistently beat the Texas A&M offensive line, then it stands the best chance of stopping the Aggie offense.
The issue is that the Texas A&M OL should be very good in 2013 with the return of three starters, including All-American tackle Jake Matthews. More than likely, an opposing defensive line is not going to be able to consistently get pressure on Manziel and stop the Aggie running game.
If the defensive line can get pressure on Manziel, there is always the possibility that he will use his elusiveness to escape the rush and gash a defense with his scrambling.
This is still the best scheme to slow down Manziel and the Aggie offense. If a defense can control the line of scrimmage, it should be able to keep him in check.
Some of the defensive coordinators will try to outsmart Johnny Manziel by throwing multiple coverages and blitzes at him. This is a mistake, as it will only leave other areas of the defense open for exploitation.
Manziel now understands what his role in the offense is. He knows where the hot receiver is going to be. If you blitz a defender, he is going to find the open man.
Manziel is at his best when a play breaks down. If there are open areas of the field he can scramble to because a blitz was called, all the better for him.
You are not going to consistently trick Manziel and this offense for an entire game. Eventually, he is going to make you pay.