Report Card Grades for Washington Redskins' Undrafted Free-Agent Signings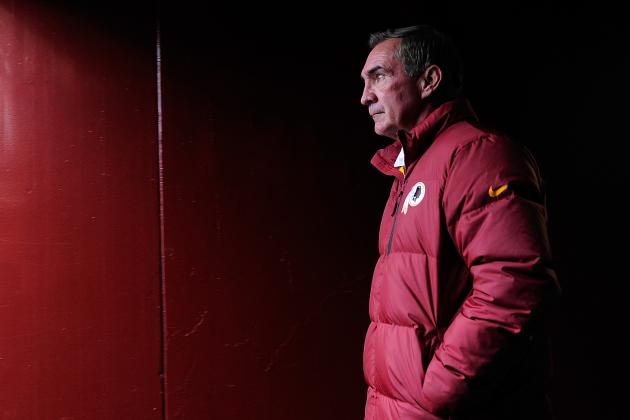 Patrick McDermott/Getty Images
Mike Shanahan has supplemented his draft picks with some interesting undrafted free-agent signings.
The Washington Redskins added further depth to their draft by bringing in undrafted free agents this week. It's impossible to predict the future, which makes grades not much more than a formality.
However, it is possible to look at the rookies' college performances and assess their suitability for the scheme of their new team.
That's what determines the grades within this piece: Can they contribute, and can they do it now? It's a big task, but for a team with no cap room and no first-round pick—either this year or next—it's really the only fair way to assign grades.
Let's get into it.
Begin Slideshow

»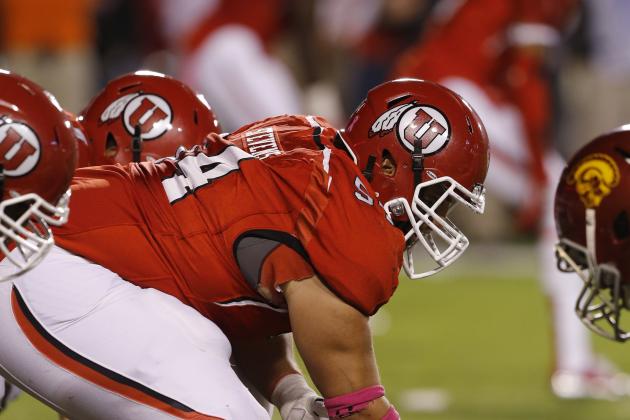 George Frey/Getty Images
Tevita Stevens has zone-blocking experience that will serve him well.
The Redskins failed to address the offensive line in the draft, but their UDFA moves have established a competition for roster spots.
Tevita Stevens played in a zone-blocking scheme at Utah that should see him make a smooth transition to the Washington offense. He has played both right guard and center, started the final 48 games of his college career and received an All-Pac 12 honorable mention in 2012.
Will Montgomery will be 30 this season, and Mike Shanahan hasn't done a whole lot to replace him. With a good rookie camp, we could hear more from Stevens in 2013.
Grade: C+
The selection of Jason Thompson certainly has merit, but it's difficult to see him making much of an impact past camp. At New Haven he was a productive receiver, averaging 20 yards per reception last year and being named to the All-Conference team.
Thompson runs good routes and has safe hands, but at 6'2" and 180 pounds, he will struggle to shed blocks and get off jams. His blocking is also a weak point, which is likely to hinder his progress in Kyle Shanahan's offense.
Grade: D-
Eric Francis/Getty Images
Compton had great success at Nebraska.
London Fletcher can't go on forever, so it makes sense to bring in some more bodies to compete for playing time at linebacker. Brandon Jenkins was drafted to make some plays on the outside, so Compton could be a useful choice inside.
At Nebraska he was a productive player, with his senior season bringing 82 tackles (six for loss), three quarterback hurries and 0.5 sacks. In 2011 he was an honorable All-Big Ten selection and has proven himself to be a dedicated football player.
Competing for time behind Keenan Robinson and Perry Riley, it's unlikely that Compton will feature heavily in 2013, but he'll learn a lot and could find his way on to the field before the year is out.
Grade: B-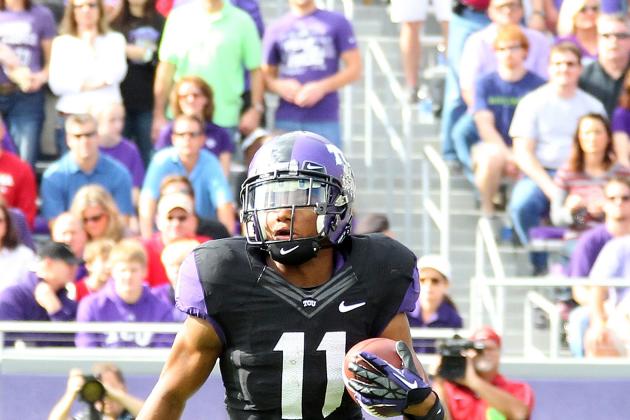 R. Yeatts/Getty Images
Skye Dawson has the pace to make an impact, but questions surround his route-running and catching.
Skye Dawson has the sort of speed that means he is always a threat to produce a big play. If he makes the field in 2013 and Robert Griffin III hits him in space, Dawson is going to the house. He changes direction well and makes defenders miss, which makes him a dangerous guy to have on your team.
Unfortunately, this is offset by his propensity for drops and lackluster route-running. He is also undersized and sometimes appears to lose the ball completely over the course of a play.
Some of this will be fixable by good coaching, but don't expect Dawson to compete for meaningful playing time this year.
Grade: D-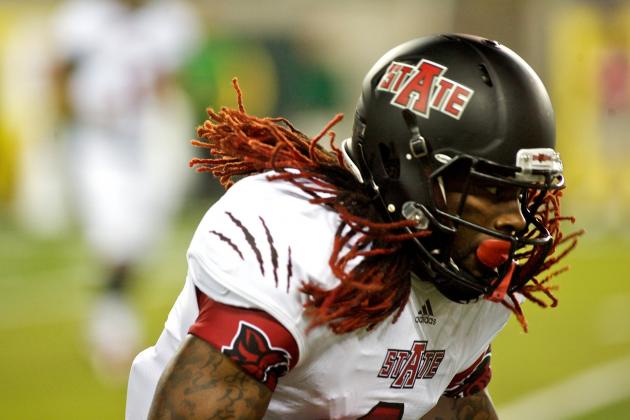 Craig Mitchelldyer/Getty Images
Jarboe has had a lot of problems but gets a chance to put them behind him with the Redskins.
Josh Jarboe is not what you would call a high-character guy. Expelled from high school for a combination of receiving stolen property and bringing a gun to school, he was then expelled from Oklahoma and Troy for violence-related incidents before finally settling at Arkansas State.
Despite this, there's no denying that Jarboe has talent, which is why he makes this list. Although he is only invited to tryout, at 6'3" and 215 pounds, he has the size and strength to get separation along the sideline.
Like Dawson, however, his route-running works against his natural ability, and he sometimes struggles to get open. He can also be seen to drift off during games, looking uncommitted to the cause.
If he can stay out of trouble and show willingness to work on his flaws, Jarboe can make some plays. He's a project at this stage, however.
Grade: C-
Jeremy Kimbrough is a player who may have to make his NFL living on special teams, but that's not to say that he's short on ability. He was named Southern Conference Co-Defensive Player of the Year last year and posted 143 tackles, 12.5 tackles for loss, 4.5 sacks and an interception.
Watching Kimbrough play, the immediate conclusion is that he works really hard at his game. His angles are good, and he makes the right decisions as the play develops. He's got a good attitude, and he gives his all on every play.
Unfortunately, this studious nature is necessary to make up for his deficiencies in coverage. He's not the quickest of players and his size—5'9" and 236 pounds—means he sometimes gets overpowered on his blocks.
Grade: C
Sam Greenwood/Getty Images
Xavier Nixon has the tools to make the right tackle spot his own in the future.
Probably the highest-profile signing on this list, Xavier Nixon has the potential to compete for—and win—the starting right tackle job. Whether this is in 2013 remains to be seen, but there's no denying Nixon's potential.
His blocking is strong, although he can sometimes be beaten by sheer pace and would struggle if asked to start immediately. He is quick on his feet—which is required within Shanahan's ZBS—and able to force his way to the second level, but his hands sometimes let him down.
Overall, however, Nixon is a great addition to the squad, and it will be interesting to see how he fares in camp.
Grade: A-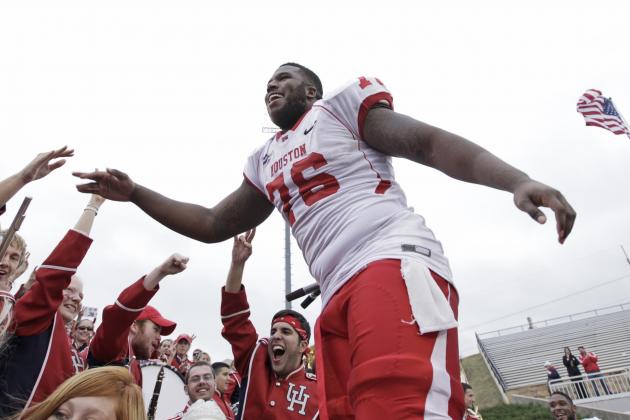 Brett Deering/Getty Images
Ashworth is a versatile lineman who could force his way onto the roster.
Jacolby Ashworth is an All-Conference USA guard who also spent three years at left tackle, consistently performing for Houston. Brother Jermichael Finley plays for the Green Bay Packers, so he also has NFL bloodlines.
Ashworth's versatility should ensure he is more than just a camp body, and his consistency allowed Houston back Charles Sims to rush for four separate 100-yard games in 2012.
Don't be surprised to see Ashworth make the roster
Grade: B-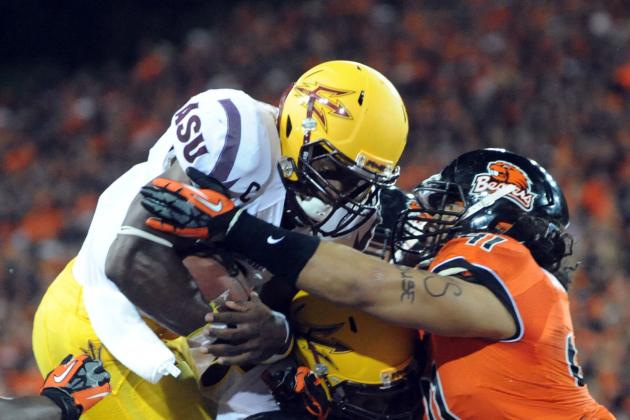 Steve Dykes/Getty Images
Seumalo has some work to do but has also shown flashes of real talent.
Andrew Seumalo is a solid pickup who has shown he can make plays against both the pass and run, and he provides good depth along the defensive line.
He can move to the second level if he gets off the line quickly, and his footwork is good. However, he's also overpowered by stronger linemen. More complex plays can leave him stranded, and he needs to work on his reaction speed, which will come with better understanding.
Grade: D+
Kyle Wilborn could end up being something of a steal for Mike Shanahan. He moves quickly, has good footwork and is strong to his blocks. However, it's his attitude to bettering his football knowledge that will stand him in good stead at the next level.
When talking to NFLDraftZone.com, he explained his process of breaking down film before games:
I begin by identifying the defense in what they run, from a four down to a three down front and how they use their linebackers. I look for tendencies in blitzes, stunts, personnel, and in what situations they tend to execute them. I look for how the safeties line up, a one or two high look and if they roll their coverage pre-snap in preparation of blitzing and whether or not the corner to the short side of the field is in press coverage or off the ball. Once I feel like I have good understanding of the opposing defense, I start identifying each potential player that I will face. I find the player that is the strength of the defensive line, the one that has the greatest impact within their unit. From there, I begin by identifying each player's tendencies, whether or not they prefer a certain move or any pre-snap give away in their stance. After establishing a good understanding of the opposing line, I repeat this process with the linebackers.
If he carries this through and develops his technique, he'll find his way onto the field before long.
Grade: B+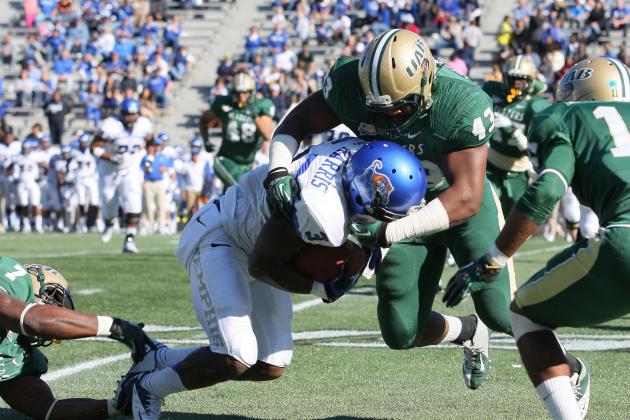 Marvin Gentry-USA TODAY Sports
Burdette has been very productive at UAB and shows a good knack for locating the ball.
Marvin Burdette is ideally suited for a 3-4 alignment, making plays against the run and showing quick instincts when hunting the football.
He carried a quad injury through his pro day, which hampered his progress, but he has the aptitude for the game, which should see him make a solid backup in the NFL.
Burdette set UAB tackling records for both career (406) and single-season (157) performances. He may need to add some bulk to his frame in order to succeed in Washington, but the ability is there.
Grade: C+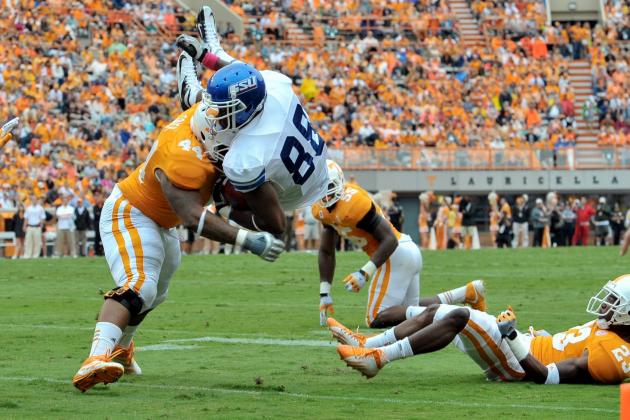 Jim Brown-USA TODAY Sports
Ogbuehi is a big tight end who could perform a dual role in Washington.
In addition to drafting Jordan Reed, the Redskins have brought in Georgia State tight end Emmanuel Ogbuehi. At 6'3" at 245 pounds, Ogbuehi fits with the new breed of tight ends coming through the ranks.
He can function as a straight tight end or work out of the backfield as an H-back. This will obviously be familiar to Redskins fans, as it fits the job description of Chris Cooley when with the team.
Ogbuehi put on a good show at his pro day and told GeorgiaState.247Sports.com that the Redskins scout came up to him immediately after and got him to run some routes. He's an interesting prospect, and he's one who could find himself with a role to play this year.
Grade: B-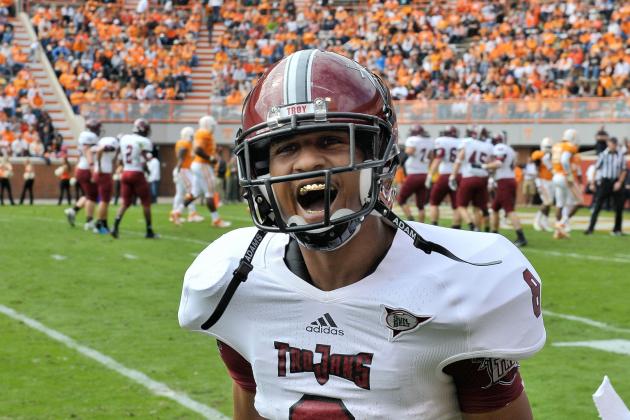 Jim Brown-USA TODAY Sports
Reeves is a playmaker but faces an uphill battle to make the roster.
Another Trojans player to find himself in Washington, Chip Reeves will likely compete with Skye Dawson for the chance to make his mark as a rookie. Like Dawson, Reeves could struggle with the step up in physicality at NFL level, but he gains good yards after the catch and shows some elusiveness to make defenders miss.
Again, he'll need to add some bulk to progress his career, especially as he'll need to perform as a blocker within the Redskins' offense. He'll need a great camp in order to force his way into the coaches' minds.
Grade: D-