Full Review of Los Angeles Dodgers vs. San Francisco Giants Rivalry Clash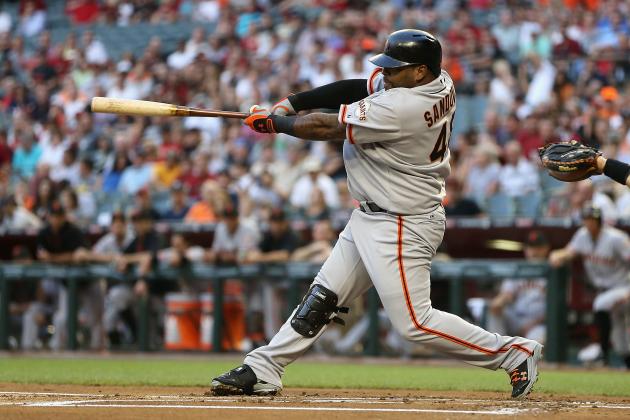 Christian Petersen/Getty Images
Pablo Sandoval set a Giants record with 35 hits in April.
The San Francisco Giants and Los Angeles Dodgers renew their rivalry with a three-game series in San Francisco.
When these two teams met in the opening series of the year, it was Clayton Kershaw who shut the Giants out in the opener. The Giants came back to win the last two games and take the series.
The majority of experts predicted the Giants and Dodgers to battle it out for the NL West crown. That could still happen, but it's the Colorado Rockies that stand atop the division with a 17-11 record. The Giants are one game back at 16-12.
The Arizona Diamondbacks are in third at 15-13, with the Dodgers fourth, one game below .500, at 13-14. Even the Padres have proven formidable, having swept the Giants in San Diego when the two teams squared off.
The winner of this series solidifies their position in the division and although it's still early, neither the Giants nor the Dodgers want to stumble.
The rivalry is heated once again, as the new Dodgers' ownership has vowed to bring a world championship to Los Angeles. They have shown no hesitation to spend whatever it takes to get top caliber talent.
If Dodger manager Don Mattingly can get his team moving together on the right track, look out. The Dodgers and Giants rivalry is hot once again.
Begin Slideshow

»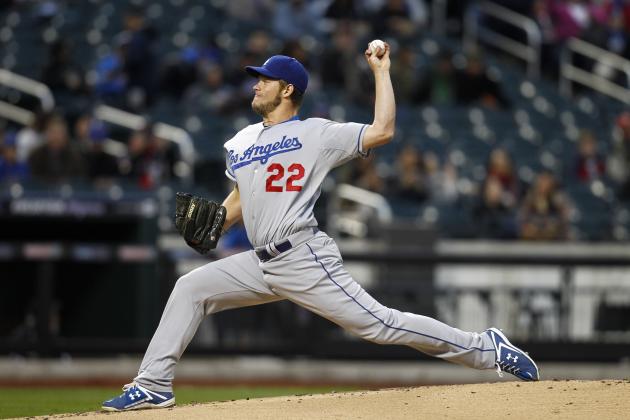 Jeff Zelevansky/Getty Images
Clayton Kershaw dominated the Giants on Opening Day.
It was Opening Day and the new regime in Los Angeles had something special in store for their fans. Hall of Fame pitcher Sandy Koufax was on hand to throw out the first ball. Greeted with all the respect and admiration he deserves, the Dodgers indeed got the season off to a great start.
Current ace pitcher Clayton Kershaw did his best Koufax imitation by blanking the Giants and throwing a complete game.
A complete game on Opening Day is a rarity, as managers typically do not want to start the season by overloading their starting pitchers. Kershaw was truly dominant, showing no signs of fatigue, and went on to record the shutout.
For the season, Kershaw has a record of 3-2 with an ERA of 1.73 and WHIP of 0.912. His mastery is evident when you consider that he has thrown 41.2 innings, allowed only 26 hits and struck out 47 batters.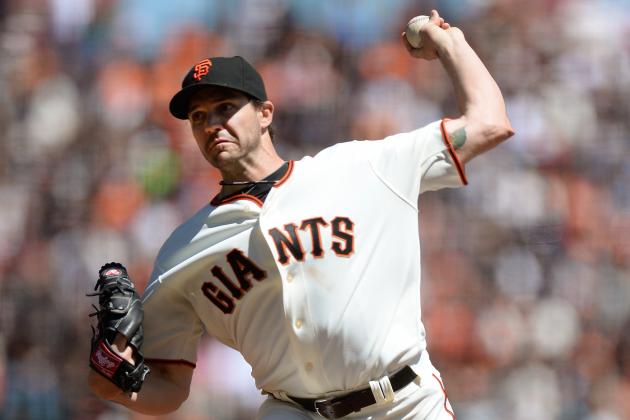 Thearon W. Henderson/Getty Images
Barry Zito has fared much better at home than on the road.
The Giants will counter Clayton Kershaw with Barry Zito. He has been extremely successful at home, having started three games and pitched 21 innings without allowing a run.
The Giants have won all three of Zito's home starts, while losing both of his outings on the road. In Zito's road starts, he has lasted only 6.1 innings, while allowing 15 runs, 10 earned.
Zito has come up big in recent history. He was outstanding in 2012 when the Giants had their backs to the wall. Expect a well-pitched game out of Zito and another intense, close contest in Game 1 of this series.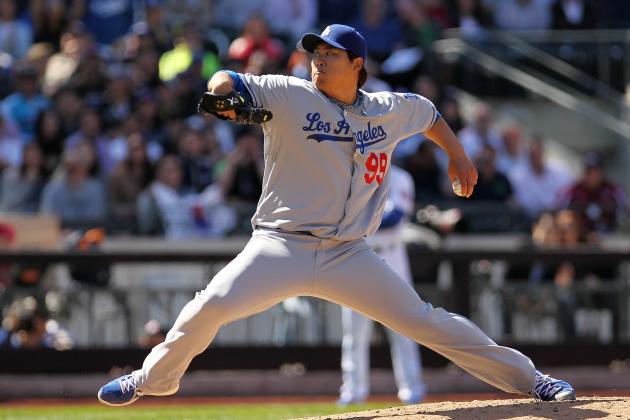 Mike Stobe/Getty Images
Hyun-Jin Ryu will start the final game of the series vs. San Francisco.
The Dodgers have not announced their Game 2 starter yet. In the final game of the series, left-hander Hyun-Jin Ryu will oppose Matt Cain.
The Giants hit Ryu hard in the first series, but Ryu has pitched well in his last few outings. Ryu has a record of 3-1 with an ERA of 3.35 and WHIP of 1.142.
Ryu has excellent strikeout-to-walk numbers. He has thrown 37.2 innings, striking out 46 and allowing only 10 walks.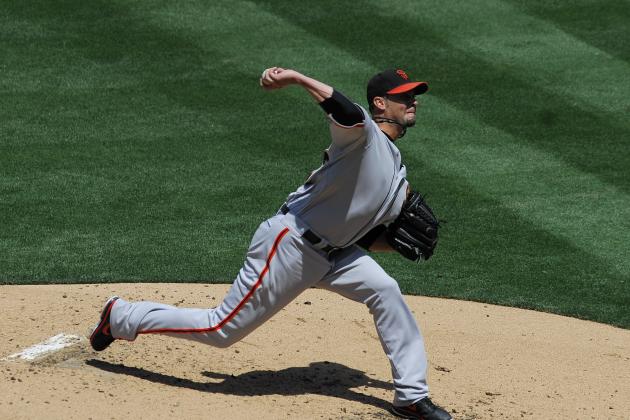 Denis Poroy/Getty Images
Ryan Vogelsong will start the second game of the series.
Ryan Vogelsong and Matt Cain have struggled this season. Vogelsong starts the second game of the series, while Cain goes in Game 3.
Vogelsong has thrown 31.2 innings, allowing 37 hits and 10 walks. His 6.23 ERA and 1.549 WHIP are easily the worst of his career.
In six starts spanning 34.2 innings, Cain has allowed 35 hits and 10 walks, while striking out 32. His ERA is 6.49 and WHIP is 1.298.
Command has been the problem for Vogelsong and Cain. They have caught the center of the strike zone far too often already this year. Cain has allowed an alarming nine home runs and Vogelsong seven.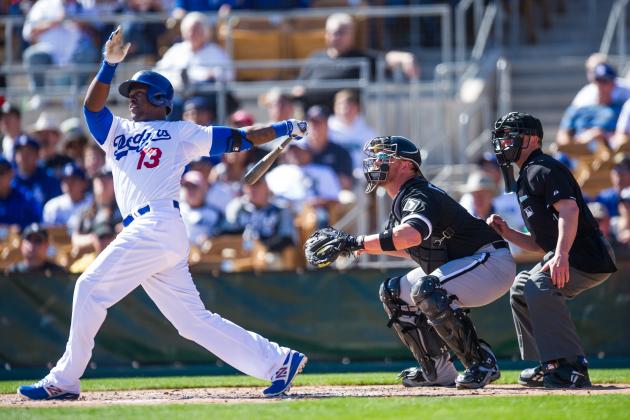 Rob Tringali/Getty Images
Hanley Ramirez has played only three games this year.
Hanley Ramirez has returned to the Los Angeles lineup.
Ramirez injured his thumb in the final game of the World Baseball Classic. He underwent surgery to repair a torn ligament and that cost him the first 24 games of the year.
Since his return three games ago, Ramirez has looked good at the plate. He has collected five hits in nine at-bats, for a .556 batting average. He has one home run and has stolen a base.
Ramirez's presence in the lineup gives the Dodgers another slugger to bolster their batting order.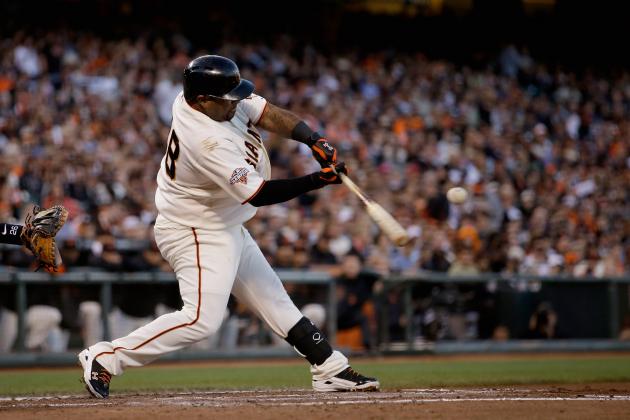 Ezra Shaw/Getty Images
Pablo Sandoval is off to a great start for the Giants.
Pablo Sandoval set an all-time Giants record with 35 hits in the month of April. He is currently hitting .327 with an OBP of .359 and OPS of .850.
Sandoval has been the Giants' best run producer, with four home runs and 23 RBI in 110 at-bats.
Sandoval and the Giants will be facing two, perhaps even three, left-handed starters. As switch hitters, Sandoval and Angel Pagan will bat from the right side for much of the upcoming series.
The Giants have relied on Sandoval's production, especially with Buster Posey struggling at the plate with a .267 batting average and only 15 RBI. For San Francisco to win this series, Sandoval will need to continue his hot hitting.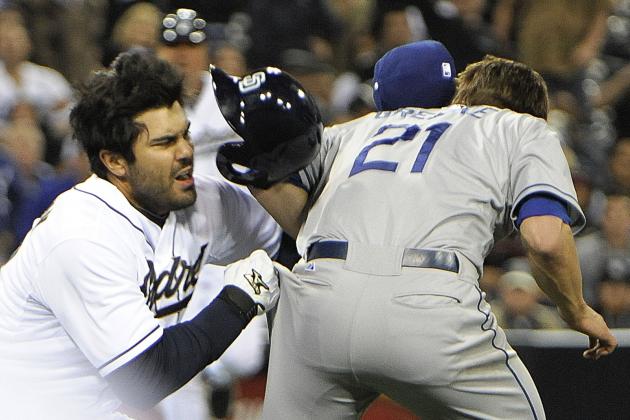 Denis Poroy/Getty Images
Carlos Quentin of the Padres hits Zack Greinke, breaking his collarbone.
The Los Angeles Dodgers have suffered several key injuries already this season.
Hanley Ramirez had thumb surgery and missed 24 games.
Second baseman Mark Ellis has a quad strain that will likely keep him out for this series.
The Dodgers have also seen several starting pitchers go down, with the most serious being Zack Greinke's broken collarbone and Chad Billingsley's arm.
The Dodgers signed Greinke to a six-year, $147 million deal this offseason. The prognosis is that Greinke will miss about eight weeks, which would mean he would be due to return in early June.
Billingsley underwent Tommy John surgery and is lost for the season.
Chris Capuano is due to return shortly, following a DL stint due to a strained calf muscle.
Ted Lilly is the pitcher the Dodgers hoped would be able to start against the Giants in Game 2 of the series. Lilly has a back strain, which may force the Dodgers to go with another option.
With the Dodgers battling so many injuries, now is the time for the Giants to create some distance ahead of this dangerous team.
After a few years of lackluster play, the Dodgers are again a force to be reckoned with. The Giants have won two of the past three World Series titles, so this rivalry is heating up. Let the games begin.