Fighter of the Year Watch: May 2013 Edition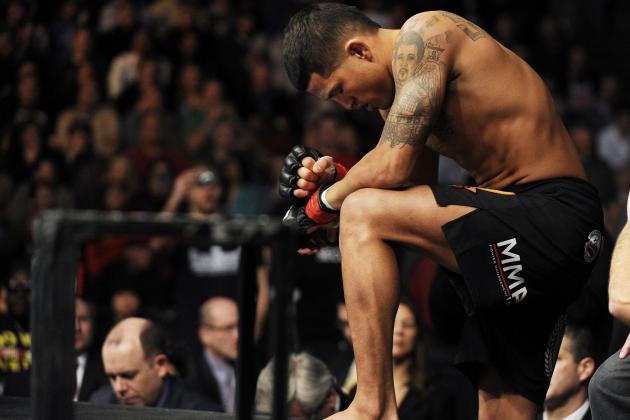 David Banks-USA TODAY Sports

Compiling a list of candidates for Fighter of the Year is trickier than it seems. It isn't simply a black-and-white picture.
Instead, one needs to abide by certain laws and guidelines to make sure the right names make the cut.
For instance, putting guys like Mark Hunt and Wanderlei Silva into this group seems justifiable. But just because these knockout specialists produced devastatingly memorable finishes doesn't mean they pass other standouts for 2013 honors.
Knockouts are awesome and propel certain names into the discussion, but victory, whether pretty or not, is what a fighter strives for in order to reach championship status.
So even though some knockouts lead to title opportunities, if they don't, what's the point?
With that said, assuming most of these names compete again in 2013, here's how the Fighter of the Year picture breaks down leading into May.
Begin Slideshow

»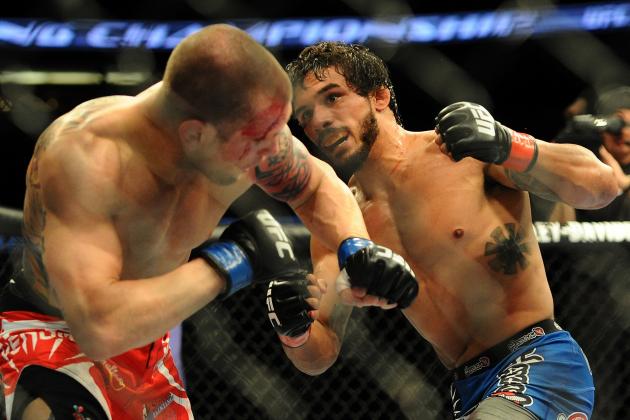 Jayne Kamin-Oncea-USA TODAY Sports

2013 MMA Record: 1-0
Notable Achievements: Fight of the Night, Fight of the Year candidate
Next Fight: vs. Max Holloway at UFC 160
Dennis Bermudez may only have one victory thus far in 2013, but it came in arguably the best mixed martial arts fight of the past four months.
Matt Grice put up as much of a fight as he could, withstanding offensive barrage after offensive barrage, but Bermudez proved too much en route to earning his third-straight UFC victory.
He's one of the only fighters on this list with one win this year and no belt, but his selection is well deserving considering his efforts opposite Grice could capture Fight of the Year honors.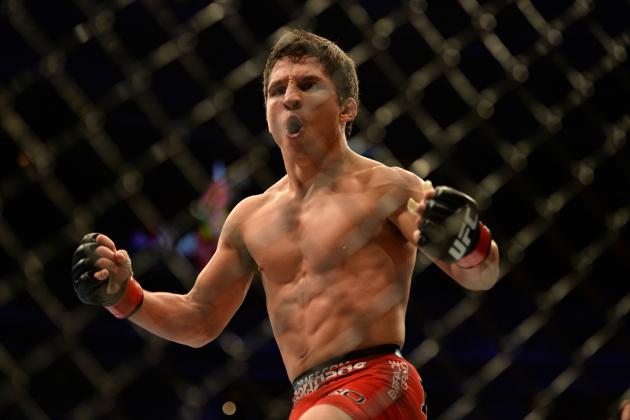 Kyle Terada-USA TODAY Sports

2013 MMA Record: 2-0
Next Fight: N/A
Joseph Benavidez is in a weird spot. He's wasn't fast enough to defeat flyweight champion Demetrious Johnson back in September, but he's far too skilled for the rest of the division.
The former No. 1 contender has racked off consecutive victories over formidable flyweights Ian McCall and Darren Uyenoyama, whom he finished by landing a nasty liver kick in the second round.
In any case, Benavidez looks poised to beat every fighter in his path until the UFC gives him another title shot.
It's possible that he ends 2013 with four wins inside the Octagon.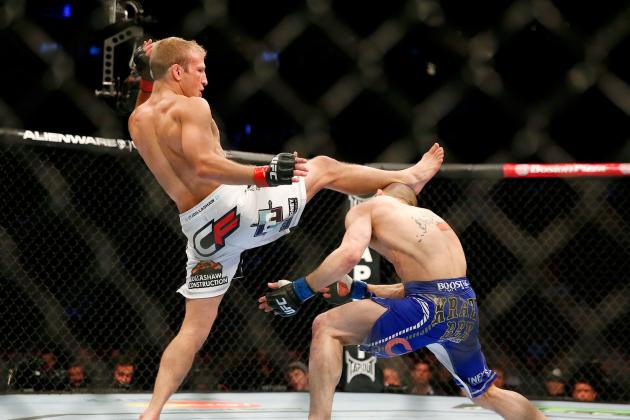 espn.go.com
2013 MMA Record: 2-0
Notable Achievements: consecutive finishes (KO and TKO)
Next Fight: N/A
Finally, T.J. Dillashaw is showcasing the elite skill set that made him such a hot commodity during The Ultimate Fighter Season 14.
Dillashaw, who hails from Team Alpha Male, has earned two-straight finishes inside the cage, including a devastating flying-knee knockout against Issei Tamura.
For a wrestler like Dillashaw, finding a way to keep opponents at bay with hands and knees has transformed his game into the well-rounded entity it needs to be in order to challenge the division's best.
The 29-year-old has proved he's capable of doing just that and should find immediate success going forward.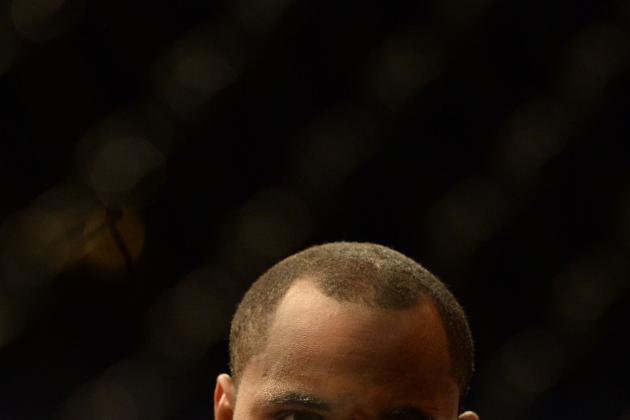 Kyle Terada-USA TODAY Sports

2013 MMA Record: 2-0
Notable Achievements: UFC debut
Next Fight: N/A
Daniel Cormier was far from impressive during his UFC debut opposite a tenured Frank Mir, but the power wrestler still has two victories under his MMA belt in 2013 and should still be considered a top title contender in the light heavyweight and heavyweight divisions.
The bottom line is that Cormier has the potential to earn Fighter of the Year when it's all said and done, but he can't fight nervously and out of sorts like he did against Mir.
If that happens again, Cormier could end up tasting defeat for the very first time and find his momentous arrival to the UFC take a backseat to other heavyweight names like Antonio "Bigfoot" Silva and Mark Hunt.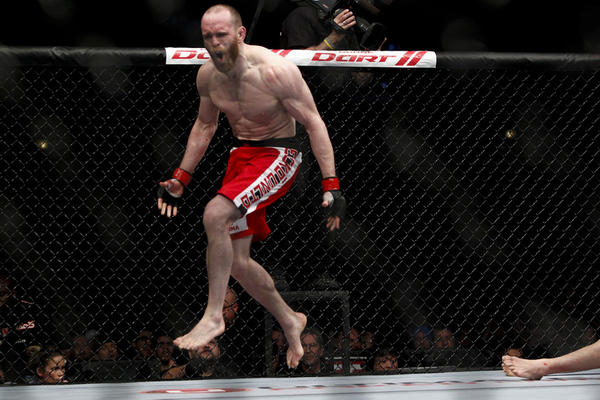 fightlinker.com
2013 MMA Record: 1-0
Next Fight: vs. Gray Maynard at UFC 160 (No. 1 contender's bout)
TJ Grant's lone victory in 2013 over Matt Wiman was impressive to say the least, but when you consider it earned him a No. 1 contender's bout opposite Gray Maynard, it makes it that more special.
Since his lightweight arrival back in 2011, Grant hasn't lost a fight (4-0). In fact, he's looked like one of the most well-rounded fighters in the division by showcasing excellent range, finishing ability and composure.
His next 155-pound test will be the always formidable and powerful Maynard. If Grant can get past "The Bully" and find himself inside the same cage as Benson Henderson by the end of 2013, there's no saying how high he'll finish on this list.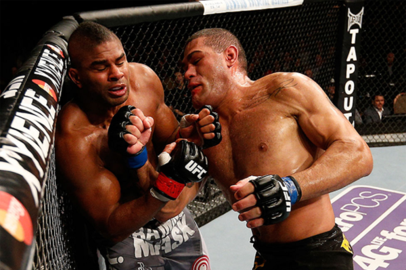 themmanews.com
2013 MMA Record: 1-0
Notable Achievements: Knockout of the Night
Next Fight: vs. Cain Velasquez at UFC 160 for the UFC Heavyweight Championship
With arguably the most improbable and memorable heavyweight knockout in recent history, Antonio "Bigfoot" Silva has put his name back on the short list of top title contenders in the UFC heavyweight division.
His brutal finish of Alistair Overeem at UFC 156 earned Silva a rematch with current champion Cain Velasquez later this summer.
The victory not only reminded people of how dangerous Silva is inside the cage, but how a low testosterone level could effect Overeem's abilities and composure when the tough gets going.
In any case, Silva blasted his way to Knockout of the Night honors and a chance to capture UFC gold in 2013.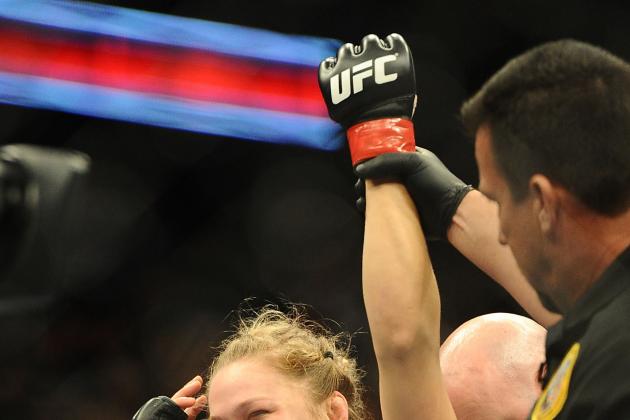 Jayne Kamin-Oncea-USA TODAY Sports

2013 MMA Record: 1-0
Notable Achievements: UFC debut, first UFC women's bantamweight champion, named new coach for The Ultimate Fighter
Next Fight: vs. Cat Zingano at TBD
Nobody in the fight game has received more publicity and coverage over the past few months than UFC women's bantamweight champion Ronda Rousey.
The combination of her image outside of the cage and her naturally punishing skill set inside of it has rendered the 26-year-old out-of-this-world popular.
In just a matter of months, Rousey became the first woman to capture Octagon glory and the first woman to be named a coach on The Ultimate Fighter. She also added another first-round armbar finish over Liz Carmouche to stretch her streak to seven.
It's been a good year for "Rowdy," to say the least.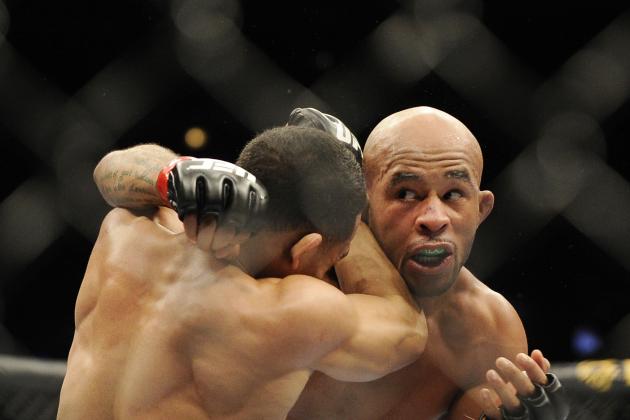 David Banks-USA TODAY Sports

2013 MMA Record: 1-0
Notable Achievements: Fight of the Night, first flyweight title defense
Next Fight: vs. John Moraga at UFC on Fox 8
With the first-ever flyweight title defense in UFC history, Demetrious Johnson is starting to turn heads as one of the best pound-for-pound fighters on the planet.
Not for nothing, but he's already the quickest. Another victory or two and Johnson will have to be mentioned alongside the world's top-ranked champions.
Johnson was scheduled to take on John Moraga at the TUF 17 Finale after dismantling John Dodson back in January, but "Mighty Mouse" suffered an injury and was forced to postpone the fight until UFC on Fox 8 in July.
It will be the champion's second-straight title fight on Fox and yet another opportunity for fight fans to recognize and respect the blazing skills of the flyweight guru.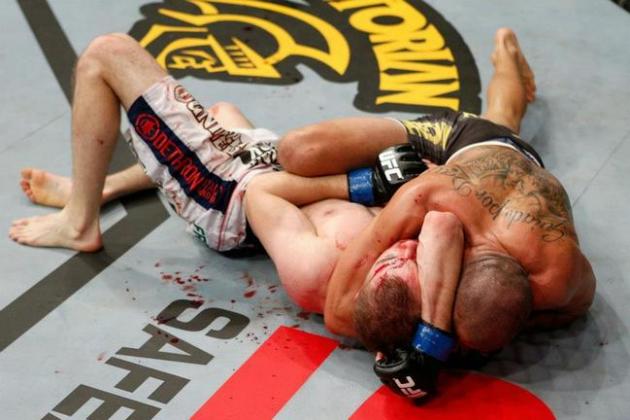 www.graciemag.com
2013 MMA Record: 1-0
Notable Achievements: Submission of the Night, first interim bantamweight title defense
Next Fight: vs. Eddie Wineland at UFC 161 for the interim UFC Bantamweight Championship
In his toughest match to date, Renan Barao withstood the power and promise of 22-year-old Michael McDonald to remain the interim UFC bantamweight champion at UFC on Fuel TV 7 in February.
Barao not only ate some of McDonald's most powerful punches, but he ended the young prospect's divisional rise by sinking in a fourth-round arm-triangle choke. The finish earned him his first Submission of the Night bonus.
The Brazilian has now looked like the true bantamweight champion in his last two fights and will have a lot to say when Dominick "Mr. Glass" Cruz finally regains the strength to come back intact.
For now, Barao has his sights set on Eddie Wineland for a title fight in June. He can become the first UFC champion to win two times in 2013.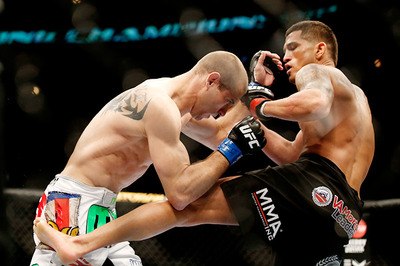 www.elblogmma.com
2013 MMA Record: 1-0
Notable Achievements: Knockout of the Night
Next Fight: vs. Jose Aldo at UFC 163 for the UFC Featherweight Championship
What a great couple of months for Anthony "Showtime" Pettis. Not only was the 26-year-old able to liver kick his way past an irritated Donald Cerrone with relative ease, but he was able to drop down to featherweight and earn an immediate title shot.
Unfortunately for Pettis, that shot comes against pound-for-pound standout Jose Aldo. Their matchup is going to be a dynamic offensive exchange between two of the most well-rounded strikers in the game.
A victory for "Showtime" will more than likely secure him the No. 1 spot on this list entering the final stretch of 2013.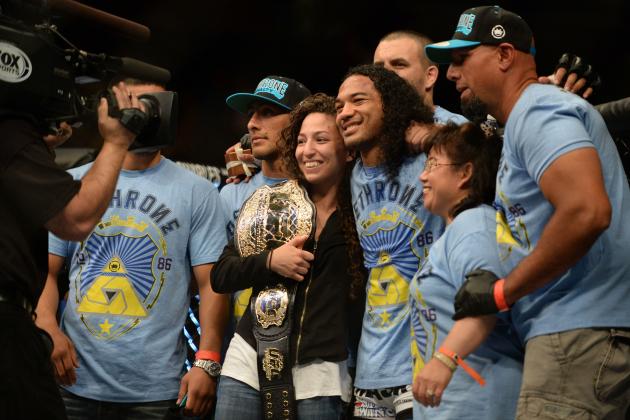 Kyle Terada-USA TODAY Sports

2013 MMA Record: 1-0
Notable Achievements: third-straight lightweight title defense
Next Fight: winner of Gray Maynard vs. TJ Grant
It wasn't beautiful or unanimous, but Benson Henderson did what he needed to do to stop Gilbert Melendez from tasting UFC glory in his promotional debut.
The split-decision victory has raised many eyebrows around the sport as to how good Henderson truly is considering he hasn't ended a fight in the UFC, but that shouldn't take away too much from what he's doing atop the lightweight division.
Henderson has been, for the lack of a better word, unbeatable. He doesn't kill opponents, but it doesn't get caught either.
The champion will have another opportunity in 2013 to prove he can finish a top contender when he takes on the winner of Gray Maynard vs. TJ Grant later this year.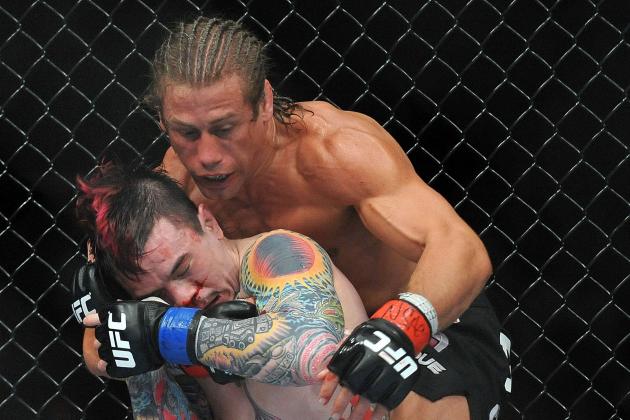 Gary A. Vasquez-USA TODAY Sports

2013 MMA Record: 2-0
Notable Achievements: consecutive submission victories
Next Fight: N/A
Don't look now, but Urijah Faber is making yet another rise to contention after collecting consecutive submission victories to start off 2013.
Not only has Faber looked dominant in each one of his fights, but those rear-naked chokes came against formidable contenders in Scott Jorgensen and Ivan Menjivar.
For the UFC and fans alike, having Faber finish opponents in fashion is good for everyone. He still possesses one of the biggest followings in the sport and can sell out any pay-per-view event.
As long as he can maintain the championship focus that has revamped his career at the make-or-break age of 33, Faber should be fighting for a title by the end of December.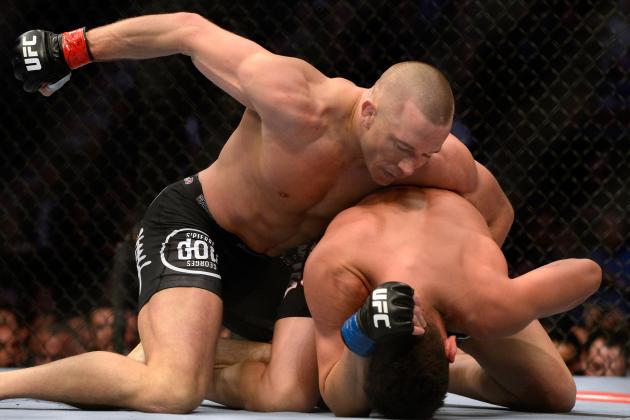 Eric Bolte-USA TODAY Sports

2013 MMA Record: 1-0
Notable Achievements: eighth-straight welterweight title defense
Next Fight: Johny Hendricks or Anderson Silva
Whether he aims to finish fights or not, Georges St-Pierre is still one of the most dangerously outfitted fighters in the world.
His knack of controlling fights for as long as he wants has propelled GSP into the pound-for-pound top five. In fact, when he's on his game, the Canadian may be the toughest champion to defeat in the UFC.
That's why he was able to shrug off Nick Diaz's inefficient boxing at UFC 158 and wrestle his way to yet another unanimous decision. It wasn't necessarily pretty, but the welterweight champion dominated one of the biggest gamers in the sport.
If he can manage to outduel and pick apart a rather one-dimensional Johny Hendricks when the two presumably meet sometime in the near future, St-Pierre, yet again, would be the quintessential candidate for Fighter of the Year.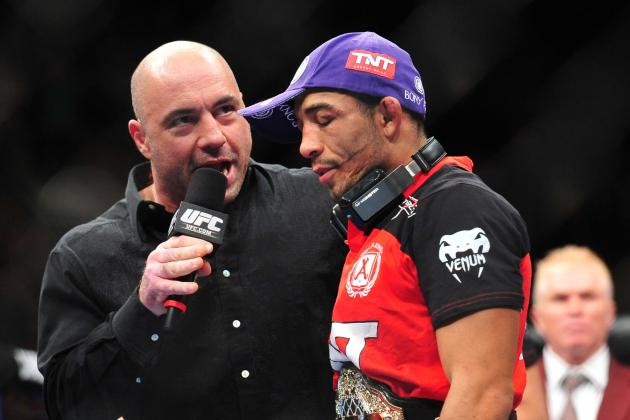 Gary A. Vasquez-USA TODAY Sports

2013 MMA Record: 1-0
Notable Achievements: Fight of the Night, Fight of the Year candidate, fourth-straight featherweight title defense
Next Fight: vs. Anthony Pettis at UFC 163 for the UFC Featherweight Championship
With a win over former UFC lightweight champion Frankie Edgar at UFC 156, Jose Aldo not only proved he's capable of prolonged featherweight success, but that he's by far one of the baddest dudes in the game.
Even a guy like Edgar, who pushes the pace and brings his best stuff with every punch, couldn't withstand the technical prowess of a superior athlete like Aldo. Edgar wasn't able to defend the power and speed of the Brazilian.
The victory confirmed that Aldo should be considered a top-three fighter in the world, if not the best. He has done it time and time again, making his opponents look lopsided and uncharacteristically depleted.
A future title defense over a showstopper like Anthony Pettis should give the Brazilian what he needs to make a run at the top of this list.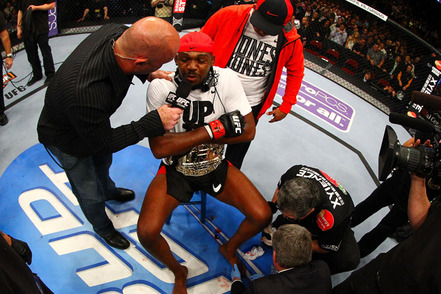 sportsillustrated.cnn.com
2013 MMA Record: 1-0
Notable Achievements: fifth-straight light heavyweight title defense, third first-round TKO finish in the UFC
Next Fight: Alexander Gustafsson or Lyoto Machida
Despite a rather gruesome toe injury that left him beside himself during the post-fight interview, UFC light heavyweight champion Jon Jones looked ever so dominating against Chael P. Sonnen at UFC 159.
To be fair, Jones looked even more focused in this fight than he has in the past, using the aggression he built up from Sonnen's pre-fight banter to fuel his cause.
He made it look easier than ever to remain the most untouchable champion in the sport. He made Sonnen look like a welterweight instead of a 220-pound world-class wrestler who nearly beat Anderson Silva.
So when it was all said and done, Jones came through on his promise to remain the light heavyweight champion. Nobody knows for sure what's next for the UFC's most prized possession, but Jones should feel no guilt in resting his injured toe and snickering over how anybody in his right mind would think that he could defeat "Bones."
For more UFC news and coverage, Follow @DHiergesell