Post-Spring Game-by-Game Predictions for 2013
Randy Sartin-USA TODAY Sports

The spring is over and summer awaits. Studs like MarQuez North, Josh Dobbs and Jason Carr are ready to join the Tennessee Volunteers and make an immediate impact. The development over the next few months of these new players and current Vols will determine the game-by-game results in the fall.
After seeing the Orange and White Game and reading the postgame comments from coaches and players, I felt the need to take the edge off my bullish 8-4 prediction from a few months ago. I was hoping for a little more offensive electricity.
A bowl invitation still seems likely, but Tennessee must have a quarterback step up soon. I recently wondered aloud if true freshman Dobbs could be the starter.
Assuming this lingering question is answered, here's how I see the Vols' 2013 season shaking out...
Begin Slideshow

»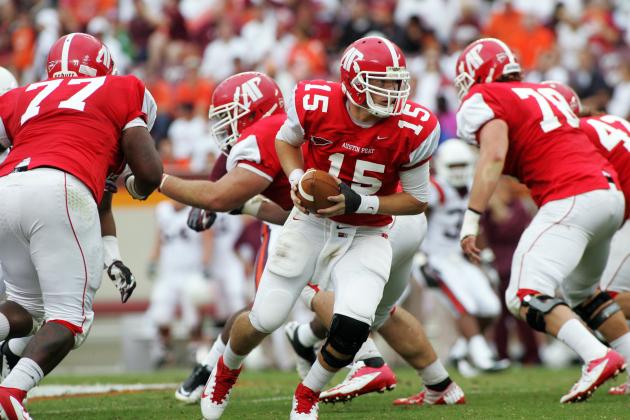 Peter Casey-USA TODAY Sports

Austin Peay went 2-9 last year in the Ohio Valley Conference. The first game of the year will be all about getting the offense into a rhythm and seeing the defense play with proper fundamentals.
It will also be about the Vol faithful's support for Butch Jones. Be there!
Prediction: Win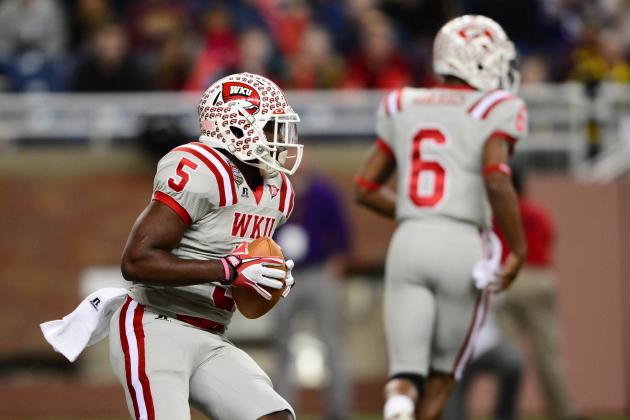 Andrew Weber-USA TODAY Sports

There are two groups of people pumping up the September 7 bout between Tennessee and Western Kentucky: fans of the Hilltoppers and college football fans hungry for an upset.
That leaves two groups not so enthralled with the matchup: Tennessee fans and college football realists.
I'm fully aware of the offensive prowess new head coach Bobby Petrino brings to Bowling Green. But Western Kentucky had a special 2012 season where several players at key positions were seniors, including quarterback Kawaun Jakes. They're gone.
It will be important for the Vols to jump out early and not give the Toppers any reason to believe they can win.
Prediction: Win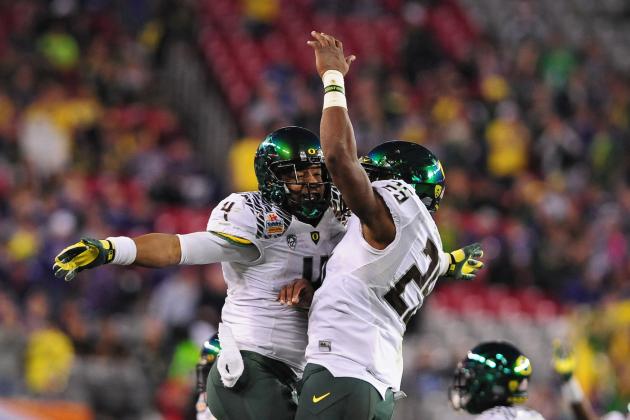 USA TODAY Sports

Autzen Stadium is an awesome venue to play football. Oregon is well-known for its rabid fans, fast offense and really, really weird uniforms. The Ducks are also known for recent dominance in college football.
Though Chip Kelly bolted for the NFL over the offseason, many of the same players that made Oregon a powerhouse remain. Former offensive coordinator Mark Helfrich's promotion to head coach should provide the Ducks a relatively seamless transition.
Oregon is simply too much for a Tennessee squad that is beginning a strong rebuilding campaign. Let's call this a character-building game.
Prediction: Loss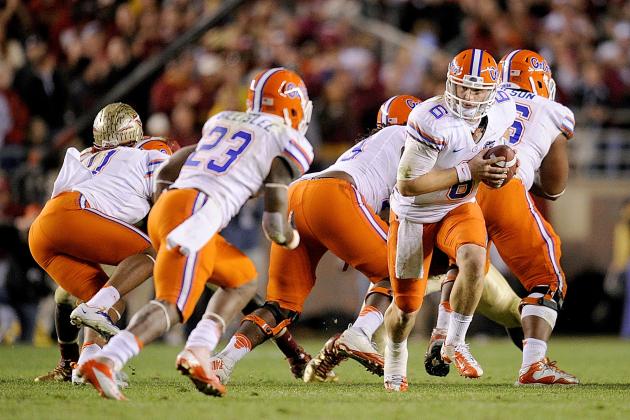 Kevin Liles-USA TODAY Sports

Will I be shocked if the Volunteers get their first win in the Swamp in 10 years? Not really, but I'm also not banking on it, either.
Casey Clausen is the last Tennessee quarterback to beat Florida in the Swamp, and he also won in Knoxville. Such an underrated player...
The Gators rose up and competed nationally a couple years sooner than many predicted under head coach Will Muschamp last season. They continue to successfully recruit the bevy of talent in the Sunshine State and can be counted on to have a talented team every year.
Not this year. Maybe next year.
Prediction: Loss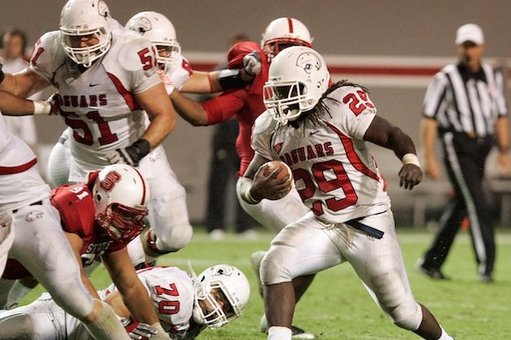 sports.yahoo.com
Similar to the Georgia State team in 2012, South Alabama is a program that is still brand new and steadily rising through the divisional ranks. There are a lot of growing pains.
For example, the Jaguars turned in a 2-11 record last year in the Sun Belt Conference.
After perhaps the toughest two-game road stretch of any team in the 2013 season, Tennessee will be able to take an ever-so-slight breather, not that Butch Jones will admit to it.
Prediction: Win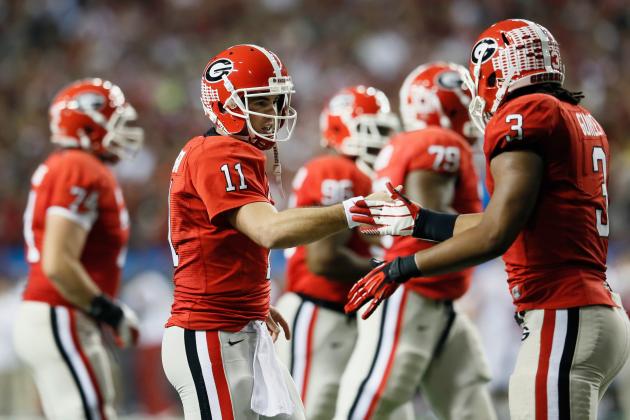 Kevin C. Cox/Getty Images

I can't help but think Tennessee has a chance to win this game. Last year's crew, in all of its defensive atrocity, almost upset Georgia in Athens.
Of course, this team lacks the elite wide receivers of last year, which make all the difference in the world.
The Bulldogs always seem to overachieve when they're an afterthought and underachieve when they're spotlighted. I guess we'll have to see which one they'll be when this game comes up October 5.
A Volunteers win would be the first since Lane Kiffin's team dominated in 2009. That team, however, had a confident, polished quarterback in Jonathan Crompton. I'm not sure Justin Worley, Nathan Peterman or Josh Dobbs are quite at that level yet.
Prediction: Loss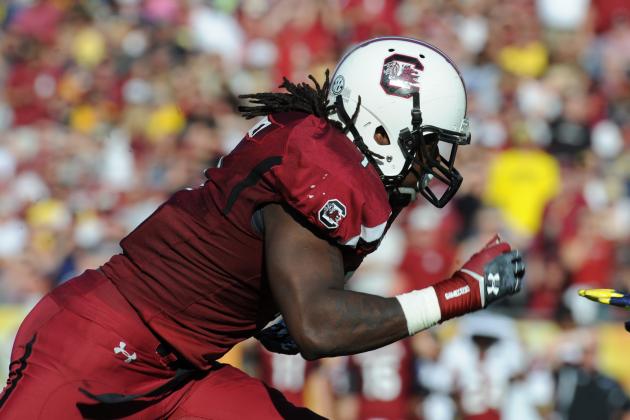 Al Messerschmidt/Getty Images

South Carolina is another team that Tennessee could certainly beat. The Vols aren't as good as the Gamecocks, but that was true last year when the Big Orange came within minutes of a victory in Columbia.
The Gamecocks lost just three defensive players from their strong 2012 team, none of which were named Jadeveon Clowney. Marcus Lattimore is gone now, but injuries prevented him from being a factor in either of the last two games between Tennessee and South Carolina.
In other words, this Gamecock team is a more experienced version of the 2010, 2011 and 2012 teams that have all beaten the Volunteers.
Indeed, this is another game that Tennessee hasn't won since Lane Kiffin.
Prediction: Loss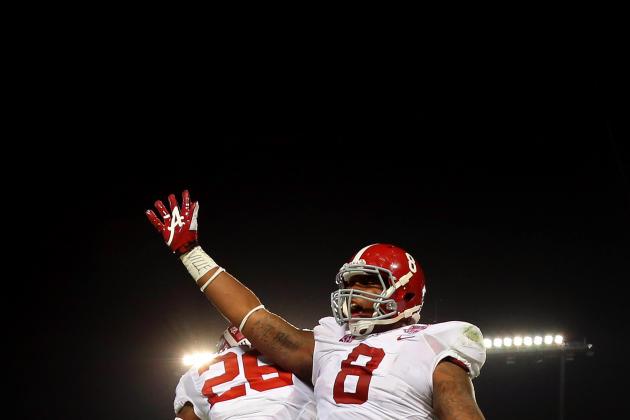 Mike Ehrmann/Getty Images

This rivalry is still a couple years away from regaining proper balance. I'm eyeing 2015 as the next win for the Volunteers when Josh Dobbs, MarQuez North and Jalen Hurd are juniors and sophomores.
Prediction: Loss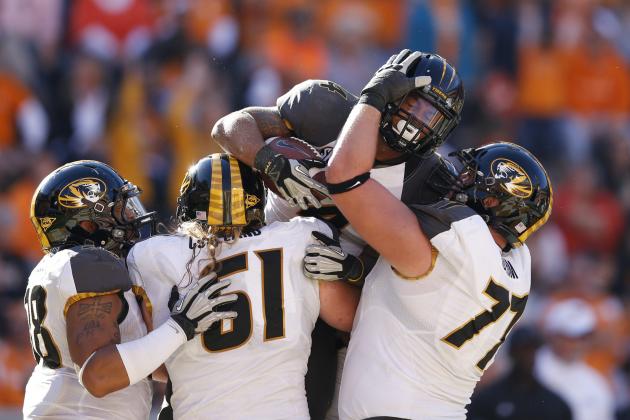 Joe Robbins/Getty Images

After potentially three straight losses, some Tennessee fans may be down on their team. But they are all top-10 teams. It's important to keep a sense of proportion here.
The Volunteers' remaining four games are completely and utterly winnable. The first is a trip to Columbia, Missouri to face the Tigers on November 2.
Last year's game got off to a great start with typically great offense and unusually strong defense. But then the second half game, and Tennessee "dooleyed" it. (New verb I made up—dooley. Use appropriately.)
Mizzou is simply not talented enough for the SEC yet. That was made apparent during its 2012 SEC debut record of 2-6. Of course, the Vols' was worse at 1-7, but like I said, we dooleyed the game against the Tigers.
Prediction: Win; we're going to Butch it.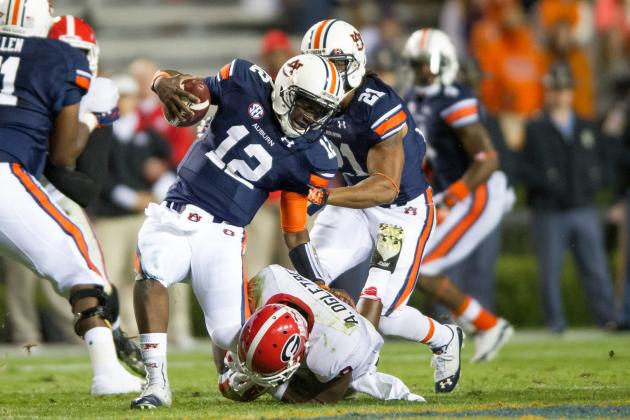 Michael Chang/Getty Images

There are few conference teams that were clearly worse than Tennessee in 2012, but Auburn was one. The Tigers were winless in the SEC and earned a 3-9 record overall.
New head coach Gus Malzahn is positioned nicely to turn Auburn around, but even Nick Saban needed some time to make Alabama into a contender; the Tide lost to Louisiana-Monroe in his first year.
An at-home game against a depleted team with a new coach is a virtual must-win.
Prediction: Win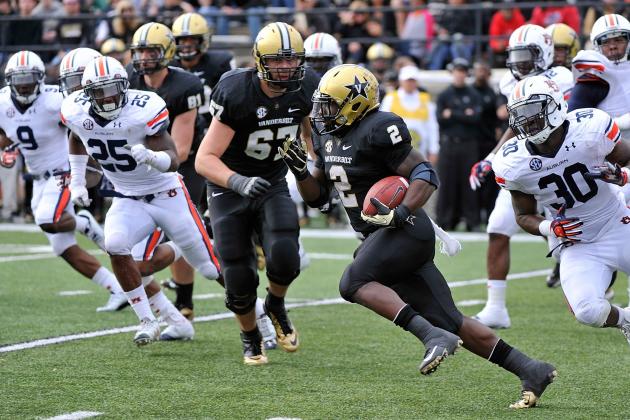 Frederick Breedon/Getty Images

Time to face facts: We've entered a new era in the Tennessee-Vanderbilt football relationship. It is, in fact, a rivalry again for two reasons: James Franklin and Derek Dooley.
Franklin has come in and assumed confidence for no reason. It worked. Players already on the roster played harder and prospects decided to take the Commodore plunge.
Dooley did his thing. We don't need to rehash that.
But Vanderbilt lost nine starters from last year's team, including its quarterback, running back and two offensive linemen. The 2012 season was a special year for them, but there is too much new blood to deal with the Vols' rage.
Prediction: Win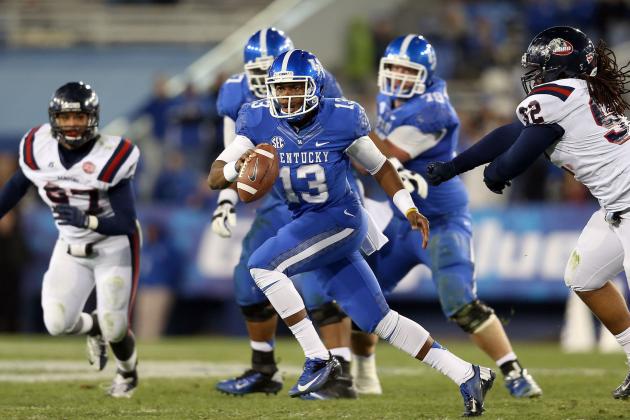 Andy Lyons/Getty Images

Kentucky is excited about new head coach Mark Stoops, and why not? New coaches are fun. The only problem is the Wildcats are still terrible.
Prediction: Win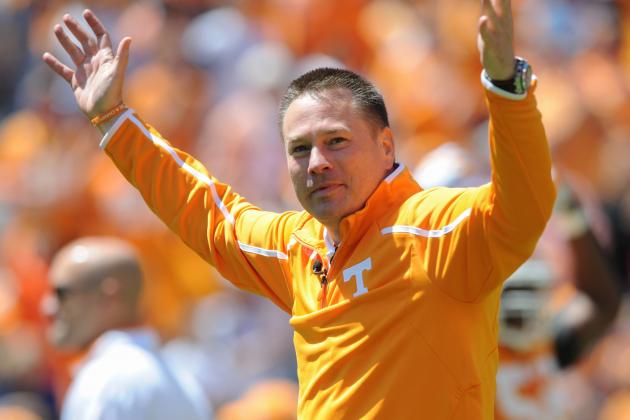 Randy Sartin-USA TODAY Sports

I've got the Tennessee Volunteers going 7-5 in 2013. If they squeak out a win against Georgia or South Carolina, it can balloon to eight, but at the same time, if the trip to Missouri or hosting of Vanderbilt end up sour, it can shrink to six.
Anything below six will not only be a disappointment to fans, it will be detrimental to the program.
A 7-5 record would put the Vols in a winnable bowl like the Music City Bowl or BBVA Compass Bowl. At this stage in the "brick by brick" rebuild, any bowl is good.
And before the cliched "saying 'any bowl is good' just tells us where the Tennessee program is" comments start flying, let me add winning a bowl in 2013 will serve as an excellent springboard into 2014 and 2015 campaigns aimed at competing for the SEC East.